Abstract
This study was conducted to investigate the relationship between ground-dwelling spider communities and the degree of soil contamination of heavy metals, Cd and Pb. Six sites were selected according to expected differences in Cd and Pb contamination levels in soil and similarity in vegetation composition. Ground-dwelling spiders were collected monthly in 2003 and 2004 by pitfall trapping. Species diversity of ground-dwelling spiders between unpolluted and moderately polluted sites was not significantly different although the value was higher in the unpolluted site. Species diversity tended to decrease with increasing Pb levels in soil although no statistical significance was obtained. No trend was shown between species diversity and Cd levels in soil. The community structure of ground-dwelling spiders was similar for the two types of sites. Overall ground-dwelling spider communities may be not sensitive enough to discriminate moderate heavy metal contamination levels in soil. However, among the dominant spider families, the composition and structure of Linyphiidae separated unpolluted and moderately polluted sites. Pardosa astrigera and P. laura (Lycosidae) have a potential as heavy metal accumulator indicator species and Oedothorax insulanus (Linyphiidae) has a potential as a heavy metal sentinel indicator species.
Access options
Buy single article
Instant access to the full article PDF.
US$ 39.95
Tax calculation will be finalised during checkout.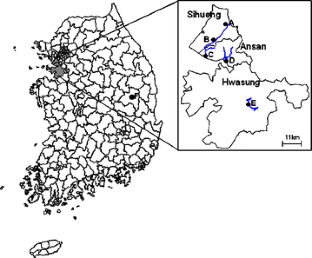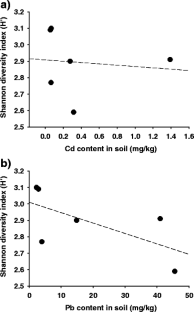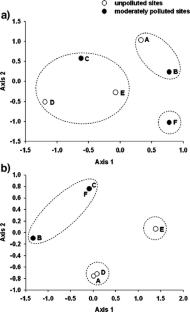 References
Ann, Y. H., Kim, I. S., Kim, E. K., & Kim, M. H. (2003). Contamination and clean of soil environment. Seoul: Goomibook in Korean).

Bargagli, R. (1998). Trace elements in terrestrial plants. Berlin: Springer.

Churchill, T. B. (1997). Spiders as ecological indicators, an overview for Australia. Memoirs of Museum Victoria, 56, 331–337.

Clarke, K. R. (1993). Non-parametric multivariate analyses of changes in community structure. Australian Journal of Ecology, 18, 117–143.

Clarke, K. R., & Gorley, R. N. (2001). PRIMER v5: user manual/tutorial. Plymouth: PRIMER-E.

Clarke, K. R., & Warwick, R. M. (2001). Change in marine communities: An approach to statistical analysis and interpretation, (2nd ed.). Plymouth: PRIMER-E.

Clements, W. H., & Newman, M. C. (2002). Community ecotoxicolgy. Chichester: Wiley.

Fountain, M. T., Brown, V. K., Gange, A. C., Symondson, W. O. C., & Murray, P. J. (2007). The effects of the insecticide chlorpyrifos on spider and Collembola communities. Pedobiologia, 51, 147–158.

Heininger, P., Hoss, S., Claus, E., Pelzer, J., & Traunspurger, W. (2007). Nematode communities in contaminated river sediments. Environmental Pollution, 146, 64–76.

Hopkin, S. P., & Harmes, C. A. C. (1994). Zinc, among a "cocktail" of metal pollutants, is responsible for the absence of the terrestrial isopod Procellio acaber form the vicinity of a primary smelting works. Ecotoxicology, 2, 68–78.

Jung, C. -S., Lee, S. B., Jung, M. -P., Lee, J. -H., Lee, S., & Lee, S. H. (2005). Accumulated heavy metal content in wolf spider, Pardosa astrigera (Araneae: Lycosidae), as a bioindicator of exposure. Journal of Asia-Pacific Entomology, 8, 185–192.

Jung, M. -P., Kim, S. -T., Kim, H., & Lee, J. -H. (2007). Risk analysis of heavy metal contamination habitats a wolf spider, Pardosa astrigera (Araneae: Lycosidae). In C. A. Brebbia (Ed.), Environmental health risk IV (pp. 229–236). Southampton: WIT.

Jung, M. -P., Kim, S. -T., Kim, H., & Lee, J. -H. (2008). Biodiversity and community structure of ground-dwelling spiders in four different field margin types of agricultural landscapes in Korea. Applied Soil Ecology, 38, 185–195.

Klok, C., Goedhart, P. W., & Vandecasteele, B. (2007). Field effects of pollutants in dynamic environments. A case study on earthworm populations in river floodplains contaminated with heavy metals. Environmental Pollution, 147, 26–31.

Koponen, S., & Niemela, P. (1993). Ground-living spiders in a polluted pine forest, SW Finland. Bollettino della Accademia Gioenia di scienze naturali, 26, 331–226.

Maelfait, J. P. (1996). Soil spiders and bioindiation. In N. M. Van Straalen, & D. A. Krivolutsky (Eds.), Bioindicator systems for soil pollution (pp. 165–178). Dordrecht: Kluwer.

Marc, P., Canard, A., & Ysnel, F. (1999). Spiders (Araneae) useful for pest limitation and bioindication. Agriculture Ecosystems & Environment, 74, 229–273.

Migliorini, M., Pigino, G., Caruso, T., Fanciulli, P. P., Leonzio, C., & Bernini, F. (2005). Soil communities (Acari Oribatida; Hexapoda Collembola) in a clay pigeon shooting range. Pedobiologia, 49, 1–13.

Ministry of Environment (ME). (2005). Soil Groundwater Information System.

Nadal, M., Schuhmacher, M., & Domingo, J. L. (2004). Metal pollution of soils and vegetation in an area with petrochemical industry. Science of the Total Environment, 321, 59–69.

Nahmani, J., & Lavelle, P. (2002). Effects of heavy metal pollution on soil macrofauna in a grassland of Northern France. European Journal of Soil Biology, 38, 297–300.

Pearson, D. L. (1994). Selecting indicator taxa for quantitative assessment of biodiveristy. Philosophical Transaction of the Royal Society of London Series B, 345, 75–79.

Platnick, N. I. (2007). The world spider catalog, version 8.0. American Museum of Natural History. Retrieved from http://research.amnh.org/entomology/spiders/catalog/index.html.

Posthuma, L., & van Straalen, N. M. (1993). Heavy-metal adaptation in terrestrial invertebrates: a review of occurrence, genetics, physiology and ecological consequences. Comparative Biochemistry and Physiology Part C, 106, 11–38.

Sanchez-Moreno, S., & Navas, A. (2007). Nematode diversity and food web condition in heavy metal polluted soils in a river basin in southern Spain. European Journal of Soil Biology, 43, 166–179.

SAS institute (2003). SAS OnlineDoc®, Version 9.1. Cary, NC: SAS Institute.

Spurgeon, D. J., Sandifer, R. D., & Hopkin, S. P. (1996). The use of macro-invertebrates for population and community monitoring of metal contamination – Indicator taxa, effect parameters and the need for a soil invertebrate prediction and classification scheme (SIVPACS). In N. M. Van Straalen, & D. A. Krivolutsky (Eds.), Bioindicator systems for soil pollution (pp. 95–110). Dordrecht: Kluwer.

Uetz, G. W. (1991). Habitat structure and spider foraging. In S. S. Bell, E. D. Mccoy, & H. R. Mushinsky (Eds.), Habitat structure (pp. 325–348). London: Chapman and Hall.

Vandecasteele, B., Samyn, J., Quataert, P., Muys, B., & Tack, F. M. G. (2004). Earthworm biomass as additional information for risk assessment of heavy metal biomagnification: a case study for dredged sediment-derived soils and polluted floodplain soils. Environmental Pollution, 129, 363–375.

Wheater, C. P., Cullen, W. R., & Bell, J. R. (2000). Spider communities as tools in monitoring reclaimed limestone quarry landforms. Landscape Ecology, 15, 401–406.

Zaitsev, A. S., & Van Straalen, N. M. (2001). Species diversity and metal accumulation in orbatid mites (Acari, Oribatida) of forests affected by a metallurgical plant. Pedobiologia, 45, 467–479.
Acknowledgement
This work was supported by the Ministry of Environment (091-081-043), and the Brain Korea 21 program.
Appendix
Appendix
About this article
Cite this article
Jung, MP., Kim, ST., Kim, H. et al. Species Diversity and Community Structure of Ground-Dwelling Spiders in Unpolluted and Moderately Heavy Metal-Polluted Habitats. Water Air Soil Pollut 195, 15 (2008). https://doi.org/10.1007/s11270-008-9723-y
Received:

Accepted:

Published:
Keywords
Ground-dwelling spider community

Heavy metal

Species diversity

Linyphiidae

Lycosidae

Oedothorax insulanus
Pardosa astigera
Pardosa laura