Abstract
Digital elevation models (DEMs) enable extraction of stream networks, delineation of watersheds and determination of geomorphological characteristics. A widely used method for stream network extraction is to specify a threshold area required to initiate a channel. This is achieved by applying a threshold area value (As) in GIS software which displays the accumulated flow to each cell. In this study, the effect of the assigned As on the direct runoff hydrographs was analyzed. Of using different threshold values varying in a wide range, stream network extraction and watershed delineation were performed, and then stream orders, main channel lengths and related morphometric parameters were computed. The geomorphological instantaneous unit hydrograph (GIUH) theory was adopted to obtain the hydrological response of the watershed and three direct runoff hydrographs were considered for validation. Statistical parameters and cumulative density functions of both observed and simulated hydrographs were computed and uncertainty analysis was performed. The best performing value of As with respect to the stream order and main channel length was determined using hesitant probabilistic fuzzy linguistic sets for different runoff hydrographs and criteria considered. It was found that the As value affected the stream order as expected and a stream order of maximum 3 was adequate for estimation of the runoff hydrograph with acceptable accuracy without unreasonably increasing the computational effort.
Access options
Buy single article
Instant access to the full article PDF.
USD 39.95
Price includes VAT (USA)
Tax calculation will be finalised during checkout.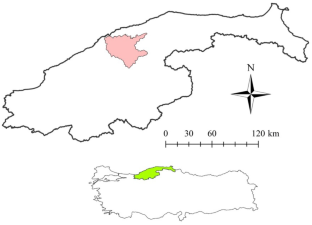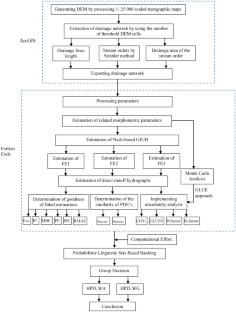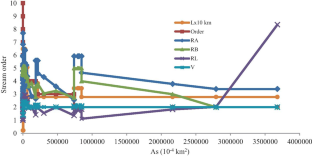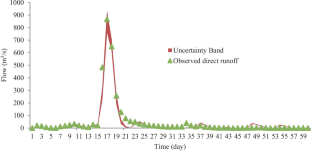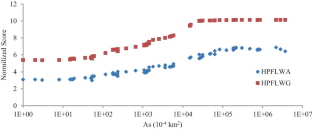 Data Availability
Data is available upon request.
References
Abbaspour KC, Vaghefi SA, Srinivasan R (2018) A guideline for successful calibration and uncertainty analysis for soil and water assessment: a review of papers from the 2016 International SWAT Conference. Water-Sui 10(1):6

Akay H, Koçyiğit MB, Yanmaz AM (2018) Effect of using multiple stream gauging stations on calibration of hydrologic parameters and estimation of hydrograph of ungauged neighboring basin. Arab J Geosci 11(11):282

Alarcon VJ, O'hara CG (2006) Advanced techniques for watershed visualization. In: 35th IEEE Applied Imagery and Pattern Recognition Workshop (AIPR'06). IEEE, p 30. https://doi.org/10.1109/AIPR.2006.10

Al-Wagdany A, Elfeki A, Kamis AS, Bamufleh S, Chaabani A (2020) Effect of the stream extraction threshold on the morphological characteristics of arid basins, fractal dimensions, and the hydrologic response. J Afr Earth Sci 172:103968

Ariza-Villaverde AB, Jiménez-Hornero FJ, De Ravé EG (2015) Influence of DEM resolution on drainage network extraction: a multifractal analysis. Geomorphol 241:243–254

Azizian A, Shokoohi A (2014) DEM resolution and stream delineation threshold effects on the results of geomorphologic-based rainfall runoff models. Turk J Eng Environ Sci 38(1):64–78

Azizian A, Shokoohi A (2015) Effects of data resolution and stream delineation threshold area on the results of a kinematic wave based GIUH model. Water SA 41(1):61–70

Baduna Koçyiğit M, Akay H, Yanmaz AM (2017) Effect of watershed partitioning on hydrologic parameters and estimation of hydrograph of an ungauged basin: a case study in Gokirmak and Kocanaz, Turkey. Arab J Geosci 10(15):331

Bamufleh S, Al-Wagdany A, Elfeki A, Chaabani A (2020) Developing a geomorphological instantaneous unit hydrograph (GIUH) using equivalent Horton-Strahler ratios for flash flood predictions in arid regions. Geomat Nat Haz Risk 11(1):1697–1723

Band LE (1986) Topographic partition of watersheds with digital elevation models. Water Resour Res 22(1):15–24

Band LE (1989) A terrain-based watershed information system. Hydrol Process 3(2):151–162

Beven K, Binley A (1992) The future of distributed models: model calibration and uncertainty prediction. Hydrol Process 6(3):279–298

Chavan SR, Srinivas VV (2015) Effect of DEM source on equivalent Horton-Strahler ratio based GIUH for catchments in two Indian river basins. J Hydrol 528:463–489

Chen Y, Shi P, Ji X, Qu S, Zhao L, Dong F (2019) New method to calculate the dynamic factor–flow velocity in geomorphologic instantaneous unit hydrograph. Sci Rep 9(1):1–13

Chorowicz J, Ichoku C, Riazanoff S, Kim YJ, Cervelle B (1992) A combined algorithm for automated drainage network extraction. Water Resour Res 28(5):1293–1302

da Ros D, Borga M (1997) Use of digital elevation model data for the derivation of the geomorphological instantaneous unit hydrograph. Hydrol Process 11(1):13–33

de Moura MM, Beskow S, da Silva Terra F, de Mello CR, da Cunha ZA, Cassalho F (2021) Evaluation of geomorphological approaches combined with digital elevation models for the Nash's instantaneous unit hydrograph. J S Am Earth Sci 107:103153

Elsheikh S, Guercio R (1997) GIS topographic analysis applied to unit hydrograph models: sensitivity to DEM resolution and threshold area. IAHS Publications-Series of Proceedings and Reports-Intern Assoc Hydrological Sciences 242:245–254

Gandolfi C, Bischetti GB (1997) Influence of the drainage network identification method on geomorphological properties and hydrological response. Hydrol Process 11(4):353–375

Gao Y, Chen Y, Jiang Y (2015) Effects of DEM source and resolution on the HEC-HMS hydrological simulation [J]. Adv Water Sci 26(5):624–630

Gardner TW, Sasowsky KC, Day RL (1990) Automated extraction of geomorphometric properties from digital elevation data. Zeitschrift Fur Geomorphol, Supplementband 80:57–68

Ghumman AR, Al-Salamah IS, AlSaleem SS, Haider H (2017) Evaluating the impact of lower resolutions of digital elevation model on rainfall-runoff modeling for ungauged catchments. Environ Monit Assess 189(2):54

Ghumman AR, Ghazaw Y, Abdel-Maguid RH, Zafar A (2019) Investigating parameters of geomorphic direct runoff Hydrograph models. Water Resour 46(1):19–28

Goyal MK, Panchariya VK, Sharma A, Singh V (2018) Comparative assessment of SWAT model performance in two distinct catchments under various DEM scenarios of varying resolution, sources and resampling methods. Water Resour Manage 32(2):805–825

Hancock GR, Martinez C, Evans KG, Moliere DR (2006) A comparison of SRTM and high-resolution digital elevation models and their use in catchment geomorphology and hydrology: Australian examples. Earth Surf Process Landf: The Journal of the British Geomorphological Research Group 31(11):1394–1412

Hastings DA, Dunbar P (1998) Development & assessment of the global land one-km base elevation digital elevation model (GLOBE). ISPRS Archives 32(4):218–221

Hoover KA, Foley MG, Heasler PG, Boyer EW (1991) Sub-grid-scale characterization of channel lengths for use in catchment modeling. Water Resour Res 27(11):2865–2873

Hosseini SM, Mahjouri N, Riahi S (2016) Development of a direct geomorphologic IUH model for daily runoff estimation in ungauged watersheds. J Hydrol Eng 21(6):05016008

Jenson SK, Domingue JO (1988) Extracting topographic structure from digital elevation data for geographic information system analysis. Photogramm Eng Remote Sens 54(11):1593–1600

Joshi DK, Beg I, Kumar S (2018) Hesitant probabilistic fuzzy linguistic sets with applications in multi-criteria group decision making problems. Mathematics 6(4):47

Karimi S, Amiri BJ, Malekian A (2019) Similarity metrics-based uncertainty analysis of river water quality models. Water Resour Manage 33(6):1927–1945

Kozlov DV, Ghebrehiwot AA (2019) Efficacy of digital elevation and Nash models in runoff forecast. Mag Civil Eng 87(3):103–122

Lehbab-Boukezzi Z, Boukezzi L (2019) Bayesian calibration of HEC-HMS model using two different algorithms. Arab J Geosci 12(23):718

Ludwig R, Schneider P (2006) Validation of digital elevation models from SRTM X-SAR for applications in hydrologic modeling. ISPRS J Photogramm Remote Sens 60(5):339–358

Moussa R (2008) Effect of channel network topology, basin segmentation and rainfall spatial distribution on the geomorphologic instantaneous unit hydrograph transfer function. Hydrol Process: An International Journal 22(3):395–419

Moussa R (2009) Definition of new equivalent indices of Horton-Strahler ratios for the derivation of the geomorphological instantaneous unit hydrograph. Water Resour Res 45(9):W09406

Moussa R, Bocquillon C (1996) Fractal analyses of tree-like channel networks from digital elevation model data. J Hydrol 187(1–2):157–172

Narayanamoorthy S, Annapoorani V, Kang D, Ramya L (2019) Sustainable assessment for selecting the best alternative of reclaimed water use under hesitant fuzzy multi-criteria decision making. IEEE Access 7:137217–137231

Narayanamoorthy S, Annapoorani V, Kalaiselvan S, Kang D (2020) Hybrid hesitant fuzzy multi-criteria decision making method: a symmetric analysis of the selection of the best water distribution system. Symmetry 12(12):2096

Nash JE (1957) The form of the instantaneous unit hydrograph. Int Assoc Sci Hydrol, Publ 3:114–121

Nemes G (2010) New asymptotic expansion for the Gamma function. Arch Math 95(2):161–169

O'Callaghan JF, Mark DM (1984) The extraction of drainage networks from digital elevation data. Comput Graphics Image Process 28(3):323–344

Rodríguez-Iturbe I, Valdés JB (1979) The geomorphologic structure of hydrologic response. Water Resour Res 15(6):1409–1420

Rosso R (1984) Nash model relation to Horton order ratios. Water Resour Res 20(7):914–920

Qin CZ, Zhan L (2012) Parallelizing flow-accumulation calculations on graphics processing units—from iterative DEM preprocessing algorithm to recursive multiple-flow-direction algorithm. Comput Geosci 43:7–16

Qiu X, Wu SS, Chen Y (2010) Effects of threshold drainage area and study region size on HAZUS flood analysis. Cartogr Geogr Inf Sci 37(2):93–104

Sahoo B, Chatterjee C, Raghuwanshi NS, Singh R, Kumar R (2006) Flood estimation by GIUH-based Clark and Nash models. J Hydrol Eng 11(6):515–525

Torra V (2010) Hesitant fuzzy sets. Int J Intell Syst 25(6):529–539

Wolock DM, Price CV (1994) Effects of digital elevation model map scale and data resolution on a topography-based watershed model. Water Resour Res 30(11):3041–3052

Xu Z, Zhou W (2017) Consensus building with a group of decision makers under the hesitant probabilistic fuzzy environment. Fuzzy Optim Decis Making 16(4):481–503

Xu Y, Cabrerizo FJ, Herrera-Viedma E (2017) A consensus model for hesitant fuzzy preference relations and its application in water allocation management. Appl Soft Comput 58:265–284

Yanmaz M (2013) Applied Water Resources Engineering. Metu Press, Ankara

Zhang W, Fu C, Yan X (2005) Automatic watershed delineation for a complicated terrain in the Heihe river basin, northwestern China. In: Proceedings 2005 IEEE International Geoscience and Remote Sensing Symposium, 2005, IGARSS'05 (vol. 4), IEEE, p 2347–2350. https://doi.org/10.1109/IGARSS.2005.1525446

Zhang S, Xu Z, Zeng XJ, Yan X (2020) Integrations of continuous hesitant Fuzzy information in group decision making with a case study of water resources emergency management. IEEE Access 8:146134–146144

Zhao F, Wu Y, Qiu L, Sun Y, Sun L, Li Q, Wang G (2018) Parameter uncertainty analysis of the SWAT model in a mountain-loess transitional watershed on the Chinese Loess Plateau. Water 10(6):690
Funding
This research was funded by the Scientific and Technological Research Council of Turkey (Türkiye Bilimsel ve Teknolojik Araştırma Kurumu), grant number 114M292.
Ethics declarations
Ethics Approval
Compliance with ethical standards.
Consent to Participate
All authors consent to participate in this research /publication.
Consent for Publication
This research does not have any consent to publish.
Conflict of Interest
The authors declare that they have no conflicts of interest.
Additional information
Publisher's Note
Springer Nature remains neutral with regard to jurisdictional claims in published maps and institutional affiliations.
About this article
Cite this article
Akay, H., Baduna Koçyiğit, M. An Approach for Determination of the Drainage Network Effect on GIUH Using Hesitant Probabilistic Fuzzy Linguistic Sets. Water Resour Manage 35, 3873–3902 (2021). https://doi.org/10.1007/s11269-021-02935-y
Received:

Accepted:

Published:

Issue Date:
Keywords
Geomorphological instantaneous unit hydrograph

Drainage network

Hesitant probabilistic fuzzy linguistic sets

Uncertainty