Abstract
The satellite-based regression model provides the data model that identifies water quality for inland and coastal waters. However, the satellite regression usually depends on the selection of observation, satellite data, and model type. A resampling simulation technique, such as sequential simulation using geographically weighted regression (GWR simulation), can be applied in generating multiple realizations for water quality estimation to reduce the sampling effect and consider spatial heterogeneity. Traditional models often result in considerable underestimation in extreme observations. The GWR simulation provides the best goodness of fit and spatial varying relationship between observed water quality and remote sensing considering parameter outlier and noise removal for parameter stability. This simulation model can increase the sampling diversity from various observations and reduce the neighboring effects of observations using outlier and noise removal. The model that handles spatial uncertainty and heterogeneity is a novel tool for inferring the characteristics of water quality from a series of sample subsets.
This is a preview of subscription content, log in to check access.
Access options
Buy single article
Instant access to the full article PDF.
US$ 39.95
Price includes VAT for USA
Subscribe to journal
Immediate online access to all issues from 2019. Subscription will auto renew annually.
US$ 99
This is the net price. Taxes to be calculated in checkout.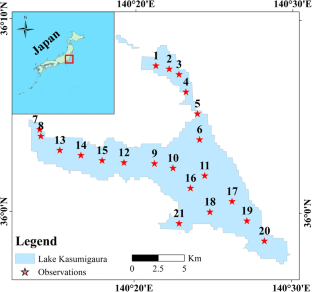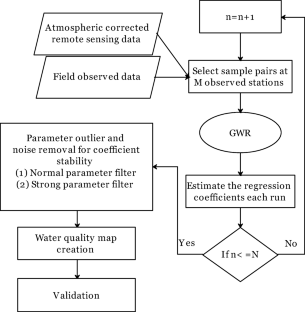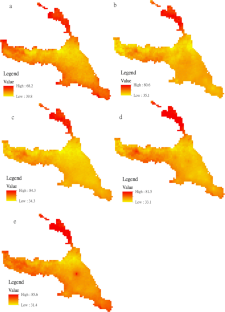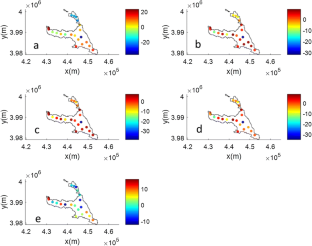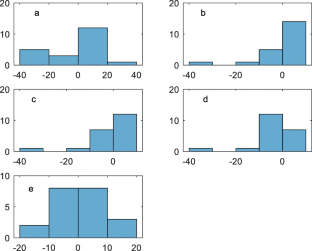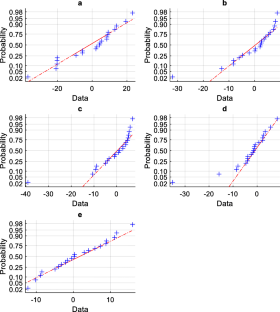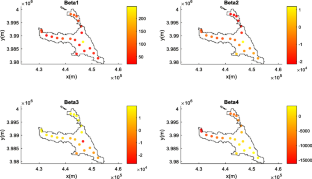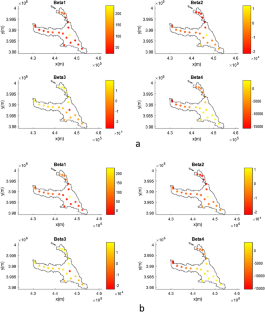 References
Bailey SW, Franz BA, Werdell PJ (2010) Estimation of near-infrared water-leaving reflectance for satellite ocean color data processing. Opt Express 18(7):7521–7527

Brunsdon C, Fotheringham AS, Charlton ME (1996) Geographically weighted regression: a method for exploring spatial nonstationarity. Geogr Anal 28(4):281–298

Carlson RE (1977) A trophic state index for lakes. Limnol Oceanogr 22(2):361–369

Chu HJ (2012) Assessing the relationships between elevation and extreme precipitation with various durations in southern Taiwan using spatial regression models. Hydrol Process 26(21):3174–3181

Chu HJ, Lin YP, Huang YL, Wang YC (2009) Detecting the land-cover changes induced by large-physical disturbances using landscape metrics, spatial sampling, simulation and spatial analysis. Sensors 9(9):6670–6700

Chu HJ, Kong SJ, Chang CH (2018) Spatio-temporal water quality mapping from satellite images using geographically and temporally weighted regression. Int J Appl Earth Obs Geoinf 65:1–11

Draper D (1995) Assessment and propagation of model uncertainty. J R Stat Soc Ser B Methodol 57(1):45–70

Efron B, Tibshirani R (1997) Improvements on cross-validation: the 632+ bootstrap method. J Am Stat Assoc 92(438):548–560

Farber S, Pa'ez, A. (2007) A systematic investigation of crossvalidation in GWR model estimation: empirical analysis and Monte Carlo simulations. J Geogr Syst 9:371–396

Fink G, Burke S, Simis SG, Kangur K, Kutser T, Mulligan M (2018) Management options to improve water quality in Lake Peipsi: insights from large scale models and remote sensing. Water Resour Manag:1–14

Fotheringham AS, Brunsdon C, Charlton M (2003) Geographically weighted regression: the analysis of spatially varying relationships. Wiley

Fukushima T, Arai H (2015) Regime shifts observed in Lake Kasumigaura, a large shallow Lake in Japan: analysis of a 40-year Limnological record. Lakes Reserv Res Manag 20(1):54–68

Fukushima T, Park J-c, Imai A, Matsushige K (1996) Dissolved organic carbon in a eutrophic Lake; dynamics, biodegradability and origin. Aquat Sci 58(2):139–157

Gholizadeh MH, Melesse AM, Reddi L (2016) A comprehensive review on water quality parameters estimation using remote sensing techniques. Sensors 16(8):1298

Ghosh D, Vogt A (2012) Outliers: an evaluation of methodologies. In: Joint statistical meetings. American Statistical Association, San Diego, pp 3455–3460

Giardino C, Bresciani M, Villa P, Martinelli A (2010) Application of remote sensing in water resource management: the case study of Lake Trasimeno, Italy. Water Resour Manag 24(14):3885–3899

Gonzalo-Martın C, Lillo-Saavedra M, Garcıa-Pedrero A, Lagos O, Menasalvas E (2017) Daily evapotranspiration mapping using regression random Forest models. IEEE J Sel Top Appl Earth Obs Remote Sens 10(12)

Guo L, Ma Z, Zhang L (2008) Comparison of bandwidth selection in application of geographically weighted regression: a case study. Can J For Res 38(9):2526–2534

Gurlin D, Gitelson AA, Moses WJ (2011) Remote estimation of chl-a concentration in turbid productive waters—return to a simple two-band NIR-red model? Remote Sens Environ 115(12):3479–3490

Hadjimitsis DG, Clayton CRI, Hope VS (2004) An assessment of the effectiveness of atmospheric correction algorithms through the remote sensing of some reservoirs. Int J Remote Sens 25(18):3651–3674

Jaelani LM, Matsushita B, Yang W, Fukushima T, Muhamad L, Matsushita B, Yang W, Fukushima T (2015) An improved atmospheric correction algorithm for applying MERIS data to very turbid inland waters. Int J Appl Earth Obs Geoinf 39:128–141

Kalantar B, Pradhan B, Naghibi SA, Motevalli A, Mansor S (2018) Assessment of the effects of training data selection on the landslide susceptibility mapping: a comparison between support vector machine (SVM), logistic regression (LR) and artificial neural networks (ANN). Geomat Nat Haz Risk 9(1):49–69

Karimi N, Bagheri MH, Hooshyaripor F, Farokhnia A, Sheshangosht S (2016) Deriving and evaluating bathymetry maps and stage curves for shallow lakes using remote sensing data. Water Resour Manag 30(14):5003–5020

Kiage LM, Walker ND (2009) Using NDVI from MODIS to monitor duckweed bloom in Lake Maracaibo, Venezuela. Water Resour Manag 23(6):1125–1135

Matthews MW (2011) A current review of empirical procedures of remote sensing in inland and near-coastal transitional waters. Int J Remote Sens 32(21):6855–6899

Mountrakis G, Im J, Ogole C (2011) Support vector machines in remote sensing: A review. ISPRS J Photogramm Remote Sens 66(3):247–259

Muraoka K, Fukushima T (1986) On the box model for prediction of water quality in Eutrophic Lakes. Ecol Model 31(1–4). Elsevier: 221–36

NIES (2018) Lake Kasumigaura Database. National Institute for Environmental Studies, Japan. http://db.cger.nies.go.jp/gem/moni-e/%0Ainter/GEMS/database/kasumi/index.html

Oyama Y, Matsushita B, Fukushima T, Matsushige K, Imai A (2009) Application of spectral decomposition algorithm for mapping water quality in a turbid Lake (Lake Kasumigaura, Japan) from Landsat TM data. ISPRS J Photogramm Remote Sens 64(1):73–85

Seo S (2006) A review and comparison of methods for detecting outliers in univariate data sets (Doctoral dissertation, University of Pittsburgh)

Tyler AN, Svab E, Preston T, Présing M, Kovács WA (2006) Remote sensing of the water quality of shallow lakes: a mixture modelling approach to quantifying phytoplankton in water characterized by high-suspended sediment. Int J Remote Sens 27(8):1521–1537

Wang K, Zhang C, Li W (2013) Predictive mapping of soil total nitrogen at a regional scale: a comparison between geographically weighted regression and cokriging. Appl Geogr 42:73–85

Watanabe FSY, Alcântara E, Rodrigues TWP, Imai NN, Barbosa CCF, Rotta LHDS (2015) Estimation of chlorophyll-a concentration and the trophic state of the Barra Bonita hydroelectric reservoir using OLI/Landsat-8 images. Int J Environ Res Public Health 12(9):10391–10417
Acknowledgements
We would like to thank University of Tsukuba for the invaluable dataset. Apart from this, we are very grateful for the financial assistance from our Ministry of Science and Technology (106-2923-M-006-003-MY3), Taiwan.
Ethics declarations
Conflict of Interest
None.
Additional information
Publisher's Note
Springer Nature remains neutral with regard to jurisdictional claims in published maps and institutional affiliations.
About this article
Cite this article
Chu, H., Nguyen, M.V. & Jaelani, L.M. Satellite-Based Water Quality Mapping from Sequential Simulation with Parameter Outlier Removal. Water Resour Manage 34, 311–325 (2020). https://doi.org/10.1007/s11269-019-02443-0
Received:

Accepted:

Published:

Issue Date:
Keywords
Lake

Water quality

Mapping

Satellite images

GWR simulation; outlier removal