Abstract
Water managers may modify many components of urban water systems to minimize water shortage. Since each modification activity has its own positive and negative effects, it is necessary to define an appropriate procedure to predict the consequences of each action. As the parameters of urban water supply and demand system have internal relationships in the time domain, a dynamic model is needed to forecast the result of changes and select the best modification activity. Here the Vensim® is applied as a modeling tool to choose the most effective water management activities in Tehran province. It has been found that the annual increase rate of water tariff by 16.4% and assigning 4.5% of revenue on reducing non-revenue water may be the most effective demand management activity to reduce water shortage in Tehran province. It has also been revealed that, even by implementing the most effective demand management activities in Tehran, the amount of required water in the next 10 years is more than the sustainable capacity of its resources and activities like seawater desalination are inevitable to prevent unsustainable use of water sources.
Access options
Buy single article
Instant access to the full article PDF.
US$ 39.95
Tax calculation will be finalised during checkout.
Subscribe to journal
Immediate online access to all issues from 2019. Subscription will auto renew annually.
US$ 79
Tax calculation will be finalised during checkout.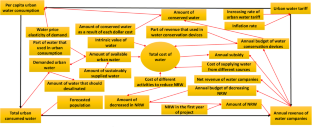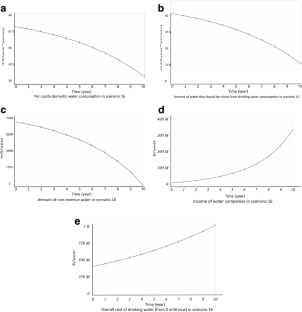 Notes
1.

Device or activity that is produced/ done in the country using its own resources

2.

Device/service that is not produced/done using the country's own resources, but imported from the other countries

3.

water that is produced, but because of physical(leaks and…) or apparent losses(metering problems, theft and etc.) the consumers did not pay for

4.

As Gross Domestic Product(GDP) in Iran 2017 is 439.5 billion dollars (The world Bank 2018), 0.29% of a total GDP of Iran have to pay for desalination in the first year of project
References
Aher A, Chouthai A, Chandrasekar L, Corpening W, Russ L, Vijapur B (1991) East Bay municipal Utility District Water conservation study. Stevens Institute of Technology, Oakland

Ahmad S, Prashar D (2010) Water Resour Manag 24:3371. https://doi.org/10.1007/s11269-010-9611-2

Anderson DL, Mulville-Friel D, Nero WL (1993) The impact of water conserving fixtures on residential water use characteristics in Tampa, Florida. Proceedings of Conserv 93:611–628

Cederstrom D (1974) Cost analysis of groundwater supplies in the north Atlantic Region. Water Well J 28(8):39–43 AUGUST 1974. 3 TAB

Center of Statistic of Iran (2018) https://www.amar.org.ir/Portals/0/Files/.../b_ostani_85-95.xls. Accessed 2 Jan 2018

Central Bank of Iran (2018) https://www.cbi.ir/page/16734.aspx. Accessed 28 May 2018

Dong Q, Zhang X, Chen Y, Fang D (2019) Dynamic management of a water resources-socioeconomic-environmental system based on feedbacks using system dynamics. Water Resour Manag 33:2093–2108. https://doi.org/10.1007/s11269-019-02233-8

Edwards E, Bosworth R, Adams P, Baji V, Burrows A, Gerdes C, Jones M (2017) Economic insight from Utah's water efficiency supply curve. Water 9(3):214

Erteghayee K (2016) Resistant economy meeting of CEO of Tehran regional water company. (in Persian). http://www.ostan-th.ir/mobile/?m_t=news&Type=News&TypeID=2&id=1262&BasesID=1. Accessed 10 Apr 2017

Espey M, Espey J, Shaw WD (1997) Price elasticity of residential demand for water: a meta-analysis. Water Resour Res 33(6):1369–1374

Fibich G, Gavious A, Lowengart O (2005) The dynamics of price elasticity of demand in the presence of reference price effects. J Acad Mark Sci 33(1):66–78

Gleick PH, Haasz D, Henges-Jeck C, Srinivasan V, Wolff G, Cushing KK, Mann A (2003) Waste not, want not. The potential for urban water conservation in California. Pacific Institute, California

Howard G, Bartram J, Water S, World Health Organization (2003) Domestic water quantity, service level and health (no. WHO/SDE/WSH/03.02). World Health Organization, Geneva

Hutton G, Haller L, Water S, World Health Organization (2004) Evaluation of the costs and benefits of water and sanitation improvements at the global level (no. WHO/SDE/WSH/04.04). World Health Organization, Geneva

Jahani HR (2011) Role of ground water in the Tehran water supply. Ground Manag Pract 111–122

Jahani HR, Reyhani M (2006) Role of ground-water in Tehran water crisis mitigation, proceedings of the international workshop on ground water for emergency situation. Water Research Institute, Tehran

Madani K (2014) Water management in Iran: what is causing the looming crisis? J Environ Stud Sci 4(4):315–328

Mayer PW, DeOreo WB, Optiz EM (1999) Residential end uses of water: American Water Works Association Research Foundation project report. Denver CO

Mirchi A, Madani K, Watkins D, Ahmad S (2012) Synthesis of system dynamics tools for holistic conceptualization of water resources problems. Water Resour Manag 26(9):2421–2442

Mohadjer P (2003) Residential ultra-low-flush toilet replacement program. Jordan Valley Water Conservancy District, West Jordan

Non-revenue Water Office of Water and Waste Water Company of Tehran (NRWO) (2017) Data that collected by the researchers

Pour MT, Kalashami MK (2012) Applying CVM for economic valuation of drinking water in Iran. Int J Agric Manag Dev (IJAMAD) 2(1047-2016-85424):209–214

Pugh C, Tomlinson J (1999) High efficiency washing machine demonstration, Bern, Kansas. Proceedings: American Water Works Association

Qaiser K, Ahmad S, Johnson W, Batista J (2011) Evaluating the impact of water conservation on fate of outdoor water use: a study in an arid region. J Environ Manag 92(8):2061–2068

Sadr SK, Abdiyan M, Khodarahmi G (1994) Evaluation of water system functions of Tehran, water, 13, 47–58. (In Persian). http://www.sid.ir/fa/journal/ViewPaper.aspx?ID=26983. Accessed on 12 Feb 2018

Semiat R (2000) Present and future. Water Int 25(1):54–65

Simonovic SP, Fahmy H, El-Shorbagy A (1997) The use of object-oriented modeling for water resources planning in Egypt. Water Resour Manag 11(4):243–261

Stave KA (2003) A system dynamics model to facilitate public understanding of water management options in Las Vegas, Nevada. J Environ Manag 67(4):303–313

Tajrishi M, Abrishamchi A (2005) Demand management of water resources in Iran, First congress of methods of preventing the waste in water resources (in Persian). https://www.civilica.com/Paper-SNRLP01-SNRLP01_057.html. Accessed on Oct 2016

The World Bank (2018) http://www.worldbank.org/en/country/iran/overview. Accessed 26 June 2018

The World Bank (1) (2017) https://data.worldbank.org/indicator/FP.CPI.TOTL.ZG. Accessed 1 Nov 2017

The World Bank (2) (2017) https://data.worldbank.org/indicator/NY.GDP.MKTP.PP.CD. Accessed 1 Nov 2017

US General Accounting Office (2000) Water infrastructure: Water-efficient plumbing fixtures reduce Water consumption and wastewater flows

Waste and Resources Action Program (2005) Cost-effective water saving devices and practices for industrial sites, http://www.wrap.org.uk. Accessed 20 Nov 2011

World Health Organization (WHO, & UNICEF (2000) Global water supply and sanitation assessment 2000 report. World Health Organization (WHO)

Xi X, Poh KL (2013) Using system dynamics for sustainable water resources management in Singapore. Proc Comput Sci 16:157–166

Yu PS, Yang TC, Kuo CM, Wang YT (2014) A stochastic approach for seasonal water-shortage probability forecasting based on seasonal weather outlook. Water Resour Manag 28:3905–3920. https://doi.org/10.1007/s11269-014-0717-9

Zhou Y, Tol RS (2005) Evaluating the costs of desalination and water transport. Water Resour Res 41(3)
Additional information
Publisher's Note
Springer Nature remains neutral with regard to jurisdictional claims in published maps and institutional affiliations.
The original version of this article was revised due to incorrect figures 1-3.
About this article
Cite this article
Karimlou, K., Hassani, N., Rashidi Mehrabadi, A. et al. Developing a Model for Decision-Makers in Dynamic Modeling of Urban Water System Management. Water Resour Manage 34, 481–499 (2020). https://doi.org/10.1007/s11269-019-02428-z
Received:

Accepted:

Published:

Issue Date:
Keywords
Water

System dynamics

Price elasticity of demand

Tariff

Conservation devices

Non-revenue water