Abstract
Governments stimulate efficiency measures to save water resources, particularly in areas with high water stress and those that experience droughts. However, economic theory and some empirical studies tell us that the effects of efficiency improvements of a resource may not lead to a global reduction in the use of that resource. We assess the effects of improving water resources productivity in Spain on the global use of water using a dynamic water-economy computable general equilibrium model. We set an overall annual improvement of water efficiency of 50% and find that the economy-wide water rebound effect is 100.47%. This means that there are no savings of water after an efficiency improvement, and there is actually a slight global increase in water use.
This is a preview of subscription content, log in to check access.
Access options
Buy single article
Instant access to the full article PDF.
US$ 39.95
Tax calculation will be finalised during checkout.
Subscribe to journal
Immediate online access to all issues from 2019. Subscription will auto renew annually.
US$ 99
Tax calculation will be finalised during checkout.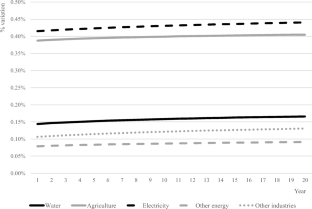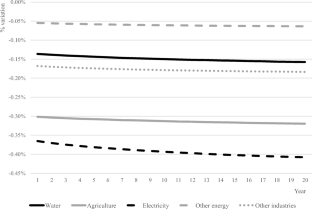 Notes
1.

2.

The adjustments were mainly made to reduce the dimension of the matrix because some sectors that were originally included were very small and could generate errors when running the models.

3.

The Cobb–Douglas production function represents the technological relationship between the amounts of different inputs such as capital, labor, energy, and materials that produces the output of a specific industry.

4.

We only test 50% water efficiency improvement as an example because we obtain the same rebound effect with different efficiency improvements.
References
Barker T, Ekins P, Foxon T (2007) The macro-economic rebound effect and the UK economy. Energy Policy 35(10):4935–4946

Berbel J, Mateos L (2014) Does investment in irrigation technology necessarily generate rebound effects? A simulation analysis based on an agro-economic model. Agric Syst 128:25–34

Berbel J, Gutiérrez-Martín C, Rodríguez-Díaz JA, Camacho E, Montesinos P (2015) Literature review on rebound effect of water saving measures and analysis of a Spanish case study. Water Resour Manag 29(3):663–678

Berkhout PH, Muskens JC, Velthuijsen JW (2000) Defining the rebound effect. Energy Policy 28:425–432

Binswanger M (2001) Technological progress and sustainable development: what about the rebound effect? Ecol Econ 36(1):119–132

Broberg T, Berg C, Samakovlis E (2015) The economy-wide rebound effect from improved energy efficiency in Swedish industries–a general equilibrium analysis. Energy Policy 83:26–37

Brookes LG (1979) A low energy strategy for the UK, at G. Leach et al.: a review and reply. Atom 269:3–8

Cao J, Ho S, Jorgenson DW (2013) The economics of environmental policies in China. In: Nielsen CP, Ho MS (eds) Clearer skies over China. MIT Press, Cambridge, pp 329–372

Druckman A, Chitnis M, Sorrell S, Jackson T (2011). Missing carbon reductions? Exploring rebound and backfire effects in UK households. Energy Policy 39(6)3572–3581

FAO (2013) Reviewed strategic framework. Thirty-eighth session. Rome, 15–22 June 2013

Font Vivanco D, McDowall W, Freire-González J, Kemp R, van der Voet E (2016) The foundations of the environmental rebound effect and its contribution towards a general framework. Ecol Econ 125:60–69

Freire-González J (2011a) Methods to empirically estimate direct and indirect rebound effect of energy-saving technological changes in households. Ecol Model 223(1):32–40

Freire-González J (2011b) Assessing the macroeconomic impact of water supply restrictions through an input–output analysis. Water Resour Manag 25(9):2335–2347

Freire-González J, Font Vivanco D (2017) The influence of energy efficiency on other natural resources use: an input-output perspective. J Clean Prod 162:336–345

Freire-González J, Ho MS (2018) Environmental fiscal reform and the double dividend: evidence from a dynamic general equilibrium model. Sustainability 10(2):501

Freire-González J, Ho MS (2019) Carbon taxes and the double dividend hypothesis in a recursive-dynamic CGE model for Spain. Econ Syst Res. https://doi.org/10.1080/09535314.2019.1568969

Grepperud S, Rasmussen I (2004) A general equilibrium assessment of rebound effects. Energy Econ 26(2):261–282

Gutierrez-Martin C, Gomez CG (2011) Assessing irrigation efficiency improvements by using a preference revelation model. Span J Agric Res 9(4):1009–1020

Ho MS, Jorgenson D (2007) Policies to control air pollution damages. In: Ho MS, Nielsen CP (eds) Clearing the air: the health and economic damages of air pollution in China. MIT Press, Cambridge, pp 331–372

Hoekstra AY, Chapagain AK (2008) Globalization of water: sharing the planet's freshwater resources. Blackwell, Oxford

Jäger K (2016) EU KLEMS growth and productivity accounts 2016 release, Statistical Module. Description of methodology and country notes for Spain

Jevons WS (1865) The coal question. Macmillan and Co, London

Jorgenson DW, Wilcoxen PJ (1993) Reducing U.S. carbon emissions: an econometric general equilibrium assessment. Resour Energy Econ 14:243–268

Khazzoom JD (1980) Economic implications of mandated efficiency standards for household appliances. Energy J 1:21–39

Pfeiffer L, Lin CYC (2014) Does efficient irrigation technology lead to reduced groundwater extraction? Empirical evidence. J Environ Econ Manag 67(2):189–208

Song J, Guo Y, Wu P, Sun S (2018) The agricultural water rebound effect in China. Ecol Econ 146:497–506

Sorrell S (2007) The rebound effect: an assessment of the evidence for economy-wide energy savings from improved energy efficiency. UK Energy Research Centre, London

Sorrell S, Dimitropoulos J, Sommerville M (2009) Empirical estimates of the direct rebound effect: a review. Energy Policy 37(4):1356–1371

Tukker A, de Koning A, Wood R, Hawkins T, Lutter S, Acosta J, Rueda Cantuche JM, Bouwmeester M, Oosterhaven J, Drosdowski T, Kuenen J (2013) EXIOPOL—development and illustrative analyses of a detailed global MR EE SUT/IOT. Econ Syst Res 25(1):50–70

Turner K (2008) A computable general equilibrium analysis of the relative price sensitivity required to induce rebound effects in response to an improvement in energy efficiency in the UK economy. Discussion paper. SIRE-DP-2008-20. University of Strathclyde

Turner K, Lange I, Lecca P, Jung Ha S (2012) Econometric estimation of nested production functions and testing in a computable general equilibrium analysis of economy-wide rebound effects. Stirling Economics Discussion paper 2012–08. University of Stirling

UN (2018) United nations world water development report 2018. UNESCO, Paris

Velázquez E (2006) An input–output model of water consumption: Analysing intersectoral water relationships in Andalusia. Ecol Econ 56:226–240

Wang H, Zhou P, Zhou DQ (2012) An empirical study of direct rebound effect for passenger transport in urban China. Energy Econ 34(2):452–460

Wood R, Stadler K, Bulavskaya T, Lutter S, Giljum S, de Koning A, Kuenen J, Schütz H, Acosta-Fernández J, Usubiaga A, Simas M, Ivanova O, Weinzettel J, Schmidt JH, Merciai S, Tukker A (2015) Global sustainability accounting: developing exiobase for multi-regional footprint analysis. Sustainability 7(1):138–163
Acknowledgements
The author would like to thank the financial support from the Government of Catalonia, Agència de gestió d'Ajuts Universitaris i Recerca, through a Beatriu de Pinós Fellowship (2017 BP 00009).
Ethics declarations
Conflict of Interest
None.
Additional information
Publisher's Note
Springer Nature remains neutral with regard to jurisdictional claims in published maps and institutional affiliations.
About this article
Cite this article
Freire-González, J. Does Water Efficiency Reduce Water Consumption? The Economy-Wide Water Rebound Effect. Water Resour Manage 33, 2191–2202 (2019). https://doi.org/10.1007/s11269-019-02249-0
Received:

Accepted:

Published:

Issue Date:
Keywords
Water economics

Efficiency

Rebound effect

Computable general equilibrium