Abstract
Cities across the globe manage stormwater to enhance water supplies. Capturing and using stormwater in urban watersheds can have benefits for groundwater recharge, reduced pollutant loading in downstream watersheds, and habitat management. In California, metropolitan areas in the southern coastal regions of the state have for decades captured an average of 493 Million Cubic Meters (400,000 acre-feet) of runoff annually to recharge groundwater. But in a state with highly managed watersheds and seasonal precipitation, capturing stormwater for water supply goals can affect urban streamflows. Using a model with simulation and optimization of regional urban water resources management in Los Angeles County (Artes), we analyze the potential effects of increasing stormwater capture and infiltration on urban streamflow volumes. Results indicate that for many watersheds in LA, further increasing stormwater capture and use would significantly reduce urban streamflow volumes, especially in downstream basins. But in some basins, streamflows are increased to preferentially direct water to existing stormwater capture basins. Results illustrate potential tradeoffs in water supply, in-stream water flows, and aquatic habitat that must be considered when looking to increase use of local water sources through more stormwater capture.
This is a preview of subscription content, log in to check access.
Access options
Buy single article
Instant access to the full article PDF.
US$ 39.95
Tax calculation will be finalised during checkout.
Subscribe to journal
Immediate online access to all issues from 2019. Subscription will auto renew annually.
US$ 79
Tax calculation will be finalised during checkout.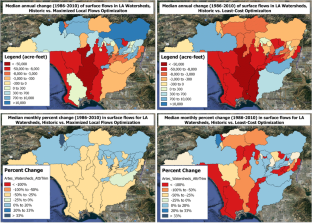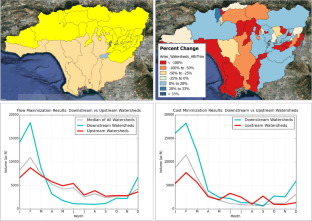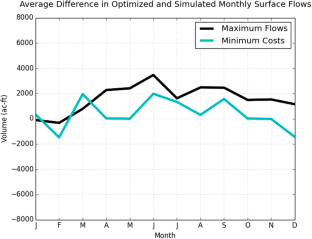 References
Blomquist WA (1992) Dividing the waters: governing groundwater in Southern California. ICS Press, San Francisco, Calif.; Lanham, Md

Brandt A (2015) Stormwater and green infrastructure: the next generation of Los Angeles Stormwater infrastructure. American Bar Association, Section of Environment, Energy and Resources, Chicago

Center for Watershed Protection (2011) Stormwater management. http://www.cwp.org/your-watershed-101/stormwater-management.html. Accessed 24 Feb 2012

Dietz ME (2007) Low impact development practices: a review of current research and recommendations for future directions. Water Air Soil Pollut 186:351–363. https://doi.org/10.1007/s11270-007-9484-z

Dietz ME, Clausen JC (2008) Stormwater runoff and export changes with development in a traditional and low impact subdivision. J Environ Manag 87:560–566. https://doi.org/10.1016/j.jenvman.2007.03.026

Engels F (1887) The Condition of the Working Class in England (Die Lage der arbeitenden Klasse in England). Otto Wigand, Leipzig, Germany

EPA (2008) Managing wet weather with green infrastructure: action strategy 2008. American Rivers, Association of State and Interstate Water Pollution Control Administrators, National Association of Clean Water Agencies, Natural Resources Defense Council, The Low Impact Development Center, and EPA

Gelo KK, Howard K (2002) Intensive groundwater use in urban areas: the case of megacities. In: Intensive Use of Groundwater: Challenges and Opportunities. CRC Press, p 484

Halaburka BJ, Lawrence JE, Bischel HN et al (2013) Economic and ecological costs and benefits of streamflow augmentation using recycled water in a California coastal stream. Environ Sci Technol 47:10735–10743. https://doi.org/10.1021/es305011z

Hollis GE (1975) The effect of urbanization on floods of different recurrence interval. Water Resour Res 11:431. https://doi.org/10.1029/WR011i003p00431

Hundley N (2001) The great thirst: Californians and water: a history. University of California Press, Berkeley and Los Angeles

LACDPW and Tetra Tech (2009) Loading simulation program in C++(LSPC) Version 3.1 User's Manual. Fairfax, Va

Leopold L (1968) Hydrology for urban land planning – a guidebook on the hydrologic effects of urban land use. U.S. Geological Survey, Reston, VA

Low Impact Development Center (2000) Low Impact Development (LID): a literature review. US EPA and Low Impact Development Center, Washington, D.C.

Manago KF, Hogue TS (2017) Urban streamflow response to imported water and water conservation policies in Los Angeles, California. JAWRA J Am Water Resour Assoc 53:626–640. https://doi.org/10.1111/1752-1688.12515

McCuen R (1979) Downstream effects of Stormwater management basins. J Hydraul Div 105:1343–1356

Melosi M (2001) Effluent America: cities, industry, energy, and the environment. University of Pittsburgh Press, Pittsburgh

Porse E, Mika KB, Litvak E et al (2017) Systems analysis and optimization of local water supplies in Los Angeles. J Water Resour Plan Manag 143

Porse E, Mika KB, Litvak E et al (2018) The economic value of local water supplies in Los Angeles. Nat Sustain. https://doi.org/10.1038/s41893-018-0068-2

Porse E, Sandoval-Solis S, Lane BA (2015) Integrating environmental flows into multi-objective reservoir management for a transboundary, water-scarce river Basin: Rio Grande/Bravo. Water Resour Manag 29:2471–2484. https://doi.org/10.1007/s11269-015-0952-8

Rogowski PA, Terrill E, Schiff K, Kim SY (2015) An assessment of the transport of southern California stormwater ocean discharges. Mar Pollut Bull 90:135–142. https://doi.org/10.1016/j.marpolbul.2014.11.004

Stein ED, Mazor RD, Sengupta A et al (2017) Development of recommended flow targets to support biological integrity based on regional flow-ecology relationships for benthic macroinvertebrates in southern California streams. Southern California Coastal Watershed Research Project, Santa Ana, CA

Stein ED, Taylor J, Sengupta A, Yarnell S (2018) Evaluating the effect of changes in flow and water temperature on stream habitats and communities in the Los Angeles/Ventura Region: Conceptual Approach and Summary of Available Data. Southern California Coastal Watershed Research Project, Santa Ana, CA

Tarr J, McCurley J, McMichael F, Yosie T (1984) Water and wastes: a retrospective assessment of wastewater technology in the U.S., 1800-1932. Technol Cult 25:226–263

Thorne K, MacDonald G, Ambrose R et al (2016) Effects of climate change on tidal marshes along a latitudinal gradient in California. U.S. Geological Survey, Los Angeles

Tisdell J (2010) Acquiring water for environmental use in Australia: an analysis of policy options. Water Resour Manag 24:1515–1530. https://doi.org/10.1007/s11269-009-9511-5

USBR and LACDPW (2016) Los Angeles basin study: the future of stormwater conservation. Task 6- Trade-Off Analysis & Opportunities. U.S. Bureau of Reclamation, LA County Department of Public Works, Los Angeles County

Walsh CJ, Fletcher TD, Burns MJ (2012) Urban Stormwater runoff: a new class of environmental flow problem. PLoS One 7:e45814. https://doi.org/10.1371/journal.pone.0045814
Ethics declarations
Conflict of Interest Statement
The authors certify that they have no conflicts of interest.
Additional information
Publisher's Note
Springer Nature remains neutral with regard to jurisdictional claims in published maps and institutional affiliations.
Electronic supplementary material
About this article
Cite this article
Porse, E., Pincetl, S. Effects of Stormwater Capture and Use on Urban Streamflows. Water Resour Manage 33, 713–723 (2019). https://doi.org/10.1007/s11269-018-2134-y
Received:

Accepted:

Published:

Issue Date:
Keywords
Stormwater capture

Runoff

Los Angeles

California

Hydrologic modeling

Optimization