Abstract
This study proposes a framework for assessing and ranking a set of sustainable alternatives for instream use of the Corumba IV reservoir, a multipurpose water resource located in the center-east of Brazil. The model is structured with six applicable sustainable benefits and five sustainable water uses, identified through in-depth interviews with four interest groups. The fuzzy analytic hierarchy process was used to calculate the sustainable benefit weights and the performance of water uses relative to the sustainable benefits, which were inputs to the Electre III method, used to determine the rank order of water uses for the interest groups. The hierarchies of the set of water use preferences indicate conflicts. The results demonstrate the need to develop an institutional framework governing the sustainable multiple use of the reservoir analyzed, negotiating adverse impacts associated with population growth, regional development and mitigation of conflicts among the four stakeholders.
This is a preview of subscription content, log in to check access.
Access options
Buy single article
Instant access to the full article PDF.
US$ 39.95
Price includes VAT for USA
Subscribe to journal
Immediate online access to all issues from 2019. Subscription will auto renew annually.
US$ 99
This is the net price. Taxes to be calculated in checkout.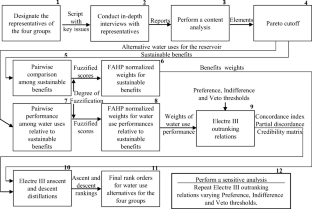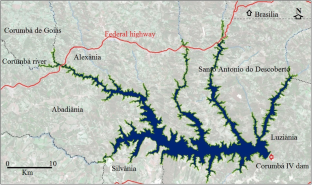 References
Alipour MH (2015) Risk-informed decision making framework for operating a multi-purpose hydropower reservoir during flooding and high inflow events, case study: Cheakamus River system. Water Resour Manag 29:801–815. https://doi.org/10.1007/s11269-014-0844-3

Alvarado A, Esteller MV, Quentin E et al (2016) Multi-criteria decision analysis and GIS approach for prioritization of drinking water utilities protection based on their vulnerability to contamination. Water Resour Manag 30:1549–1566. https://doi.org/10.1007/s11269-016-1239-4

Bárdossy A, Duckstein L (2007) Analysis of a karstic aquifer management problem by fuzzy composite programming. J Am Water Resour Assoc 28:63–73. https://doi.org/10.1111/j.1752-1688.1992.tb03154.x

Boggia A, Rocchi L (2010) Water use scenarios assessment using multicriteria analysis. J Multicrit Decis Anal 17:125–135. https://doi.org/10.1002/mcda.457

Boyce C, Neale P (2006) Conducting in-depth interview: a guide for designing and conducting in-depth interviews for evaluation input. Pathfinder international tool series, monitoring and evaluation 2. Pathfinder International, Watertown. Retrieved from http://www2.pathfinder.org/site/DocServer/m_e_tool_series_indepth_interviews.pdf

Branche E (2017) The multipurpose water uses of hydropower reservoir: the SHARE concept. Comptes Rendus Physique 18:469–478. https://doi.org/10.1016/j.crhy.2017.06.001

Briedenhann J, Wickens E (2004) Tourism routes as a tool for the economic development of rural areas - vibrant hope or impossible dream? Tour Manag 25:71–79. https://doi.org/10.1016/S0261-5177(03)00063-3

Brito MM, Evers M (2016) Multi-criteria decision-making for flood risk management: a survey of the current state of the art. Nat Hazards Earth Syst Sci 16:1019–1033. https://doi.org/10.5194/nhess-16-1019-2016

Cetinkaya CP, Gunacti MC (2018) Multi-criteria analysis of water allocation scenarios in a water scarce basin. Water Resour Manag 32:2867–2884. https://doi.org/10.1007/s11269-018-1963-z

Chang DY (1996) Applications of the extent analysis method on fuzzy AHP. Eur J Oper Res 95:649–655. https://doi.org/10.1016/0377-2217(95)00300-2

Che D (2006) Developing ecotourism in first world, resource-dependent areas. Geoforum 37:212–226. https://doi.org/10.1016/j.geoforum.2005.02.010

Darwiche-Criado N, Sorando R, Eismann SG et al (2017) Comparing two multi-criteria methods for prioritizing wetland restoration and creation sites based on ecological, biophysical and socio-economic factors. Water Resour Manag 31:1227–1241. https://doi.org/10.1007/s11269-017-1572-2

Fedrizzi M, Krejčí J (2015) A note on the paper "fuzzy analytic hierarchy process: fallacy of the popular methods". Int J Uncertain Fuzzy 23:965. https://doi.org/10.1142/S0218488515500440

Few R, Brown K, Tompkins E (2007) Public participation and climate change adaptation: avoiding the illusion of inclusion. Clim Pol 7:46–59. https://doi.org/10.1080/14693062.2007.9685637

Figueira J, Greco S, Roy B, Slowinski R (2010) Electre methods: main features and recent developments. Cahier du Lamsade 298. Laboratoire d'Analyse et Modélisation de Systèmes pour l'Aide à la Décision - Dauphine Université, Paris hal-00876980

Govindan K, Jepsen MB (2016) ELECTRE: a comprehensive literature review on methodologies and applications. Eur J Oper Res 250:1–29. https://doi.org/10.1016/j.ejor.2015.07.019

Honey M (2008) Ecotourism and sustainable development: who onws paradise? 2nd edn. Island Press, Washington

Hsieh HF, Shannon SE (2005) Three approaches to qualitative content analysis. Qual Health Res 15:1277–1288. https://doi.org/10.1177/1049732305276687

IBGE (2018) Brasil panorama. Instituto Brasileiro de Geografia e Estatística, Rio de Janeiro. Retrieved from https://cidades.ibge.gov.br/brasil/panorama

Jaiswal RK, Ghosh NC, Lohani AK et al (2015) Fuzzy AHP based multi criteria decision support for watershed prioritization. Water Resour Manag 29:4205–4227. https://doi.org/10.1007/s11269-015-1054-3

Jenerette GD, Larsen L (2006) A global perspective on changing sustainable urban water supplies. Glob Planet Chang 50:202–211. https://doi.org/10.1016/j.gloplacha.2006.01.004

Kubler S, Robert J, Derigent W et al (2016) A state-of the-art survey & testbed of fuzzy AHP (FAHP) applications. Expert Syst Appl 65:398–422. https://doi.org/10.1016/j.eswa.2016.08.064

Kumar P, Thakur PK, Bansod BK et al (2017) Multi-criteria evaluation of hydro-geological and anthropogenic parameters for the groundwater vulnerability assessment. Environ Monit Assess 189:564. https://doi.org/10.1007/s10661-017-6267-x

Liang C, Xin S, Dongsheng W et al (2016) The ecological benefit–loss evaluation in a riverine wetland for hydropower projects – a case study of Xiaolangdi reservoir in the Yellow River, China. Ecol Eng 96:34–44. https://doi.org/10.1016/j.ecoleng.2015.12.037

Lu H, Feng M, He L et al (2015) Optimization-based multicriteria decision analysis for identification of desired petroleum-contaminated groundwater remediation strategies. Environ Sci Pollut Res 22:9505–9514. https://doi.org/10.1007/s11356-015-4081-y

Martin DM, Hermoso V, Pantusd F, Olley J, Linke S, Poff L (2016) A proposed framework to systematically design and objectively evaluate non-dominated restoration tradeoffs for watershed planning and management. Ecol Econ 127:146–155. https://doi.org/10.1016/j.ecolecon.2016.04.007

Mostafazadeh R, Sadoddin A, Bahremand A et al (2017) Scenario analysis of flood control structures using a multi-criteria decision-making technique in Northeast Iran. Nat Hazards 87:1827–1846. https://doi.org/10.1007/s11069-017-2851-1

Pisinaras V, Polychronis C, Gemitzi A (2016) Intrinsic groundwater vulnerability determination at the aquifer scale: a methodology coupling travel time estimation and rating methods. Environ Earth Sci 75:85. https://doi.org/10.1007/s12665-015-4965-7

Ren L, He L, Lu H, Li J (2017) Rough-interval-based multicriteria decision analysis for remediation of 1,1-dichloroethane contaminated groundwater. Chemosphere 168:244–253. https://doi.org/10.1016/j.chemosphere.2016.10.042

Ribas JR (2014) An assessment of conflicting intentions in the use of multipurpose water reservoirs. Water Resour Manag 28:3989–4000. https://doi.org/10.1007/s11269-014-0722-z

Richter BD, Mathews R, Harrison DL et al (2003) Ecologically sustainable water management: managing river flows for ecological integrity. Ecol Appl 13:206–224. https://doi.org/10.1890/1051-0761(2003)013[0206:ESWMMR]2.0.CO;2

Rossi G, Cancelliere A, Giuliano G (2005) Case study: multicriteria assessment of drought mitigation measures. J Water Resour Plan Manag 131:449. https://doi.org/10.1061/(ASCE)0733-9496(2005)131:6(449

Srdjevic Z, Srdjevic B (2014) Modelling multicriteria decision making process for sharing benefits from the reservoir at Serbia-Romania border. Water Resour Manag 28:4001–4018. https://doi.org/10.1007/s11269-014-0723-y

The International Ecotourism Society (1990) What is ecotourism? https://www.ecotourism.org/what-is-ecotourism

Trojan F, Morais DC (2015) Multicriteria decision analysis applied to water supply network. In: Guarnieri P (ed) Decision models in engineering and management. Decision engineering. Springer, Cham, pp 197–223. https://doi.org/10.1007/978-3-319-11949-6_11

Yilmaz B, Harmancioglu NB (2010) Multi-criteria decision making for water resource management: a case study of the Gediz River Basin, Turkey. Water SA 36(5):563–576. https://doi.org/10.4314/wsa.v36i5.61990

Zardari NH, Ian Cordery I, Sharma A (2010) An objective multiattribute analysis approach for allocation of scarce irrigation water resources. J Am Water Resour Assoc 46:412–428. https://doi.org/10.1111/j.1752-1688.2009.00410.x

Zavadskas EK, Antucheviciene J, Vilutiene T et al (2018) Sustainable decision-making in civil engineering, construction and building technology. Sustainability 10:1–22. https://doi.org/10.3390/su10010014

Zhu F, Zhong P, Sun Y, Xu B (2017) Selection of criteria for multi-criteria decision making of reservoir flood control operation. J Hydroinf 19:558–571. https://doi.org/10.2166/hydro.2017.059

Zopounidis C, Doumpos M (2002) Multicriteria classification and sorting methods: a literature review. Eur J Oper Res 138:229–246. https://doi.org/10.1016/S0377-2217(01)00243-0
Ethics declarations
Conflict of Interest
None.
About this article
Cite this article
Ribas, J.R., Diaz, J.I.P. Assessment of Sustainable Use of a Multipurpose Reservoir through the Multicriteria Approach: the Case of Corumbá IV Reservoir, Brazil. Water Resour Manage 33, 591–602 (2019). https://doi.org/10.1007/s11269-018-2121-3
Received:

Accepted:

Published:

Issue Date:
Keywords
Multicriteria analysis

Water resource management

FAHP, Electre III

Multipurpose reservoir

Sustainable benefits