Abstract
Assessing potential deviations of the fundamental river basins' hydrological processes and streamflow characteristics from the "natural trajectory" represents a high-priority objective to understand the biological impact of altered flow regime on river ecosystems. Existing approaches are mainly based on the analysis of daily-based indicators of hydrologic alteration, which requires wide database, including "pre-impact" and "post-impact" daily flow data frequently unavailable. The hydrological modeling is commonly used to face data missing problems or reconstruct natural conditions, even if models, especially at the daily scales, are often complex and computationally intensive. The use of simpler and more parsimonious models results, sometimes, essential for practical applications, also in consideration of the typical scarce availability of some data. This paper proposes an alternative approach for the evaluation of rivers flow regime alterations, based on different monthly hydrological indicators that are first computed and then combined to provide a global index of alteration. The procedure, conceptually derived from the Range of Variability Approach (RVA), is applied and tested on two Sicilian river basins (Italy) subject to anthropogenic influence. Streamflow regime for both the basins results differently disturbed by upstream human pressures. An alteration index is computed using available observations as "post-impact" monthly flow time-series, while time-series relative to "pre-impact" conditions have been reconstructed by the Tri.Mo.Ti.S. model, an innovative monthly and high-performing regional regressive hydrological model. The methodology, easily transferable to other regions, has revealed particularly efficacious in identifying and quantifying the existing human pressures and can be considered as a suitable tool for water resource management and policy planning activities.
Access options
Buy single article
Instant access to the full article PDF.
US$ 39.95
Tax calculation will be finalised during checkout.
Subscribe to journal
Immediate online access to all issues from 2019. Subscription will auto renew annually.
US$ 79
Tax calculation will be finalised during checkout.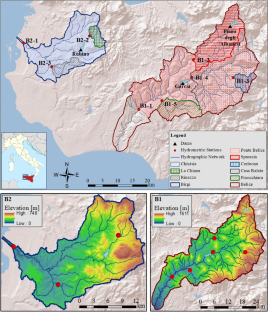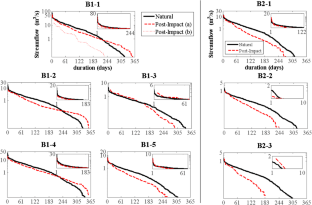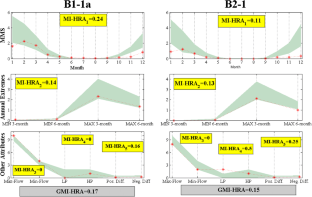 References
Alcamo J, Döll P, Henrichs T, Kaspar F, Lehner B, Rösch T, Siebert S (2003) Development and testing of the WaterGAP 2 global model of water use and availability. Hydrol Sci J 48(3):317–337

Almagir M, Turton ST, Macgregor CJ, Pert PL (2016) Assessing regulating and provisioning ecosystem services in a contrasting tropical forest landscape. Ecol Indic 64(2016):319–334. https://doi.org/10.1016/j.ecolind.2016.01.016

Arnold JG, Srinivasan R, Muttiah RS, Williams JR (1998) Large area hydrologic modeling and assessment. Part I: model development. J Am Water Resour Assoc 34(1):73–89

Bergström S (1995) The HBV model. In: Singh VP (ed) Computer models of watershed hydrology. Water Resources Publications, Highlands Ranch, pp 443–476

Bunn SE, Arthington AH (2002) Basic principles and ecological consequences of altered flow regimes for aquatic biodiversity. Environ Manag 30(4):492–507

Burnash RJC (1995) The NWS River Forecast System-catchment modeling. In: Singh VP (ed) Computer models of watershed hydrology. Water Resources Publications, Colorado, pp 311–366

De Girolamo AM, Lo Porto A, Pappagallo G, Gallart F (2015) Assessing flow regime alterations in a temporary river – the river Celone case study. J Hydrol Hydromech 63(3):263–272. https://doi.org/10.1515/johh-2015-0027

EC (2000) Directive 2000/60/EC of the European Parliament and the council directive establishing a framework for community action in the field of water policy. Off J Eur Communities, Brussels, 22/12/2000

Gao Y, Vogel RM, Kroll CN, Poff NL, Olden JD (2009) Development of representative indicators of hydrologic alteration. J Hydrol 374:136–147. https://doi.org/10.1016/j.hydrol.2009.06.009.

Henriksen JA, Heasley J, Kennen JG, Niewsand S (2006) Users' manual for the hydroecological integrity assessment process software (including the New Jersey assessment tools). U.S. Geological Survey, biological resources discipline, open file report 2006-1093, 71 p: http://www.nature.org/initiatives/freshwater/conservationtools/art17004.html

ISPRA (2011) Implementazione della Direttiva 2000/60/CE - Analisi e valutazione degli aspetti idromorfologici: Versione 1.1, Roma, 85 p. [Water Framework Directive 2000/60/CE implementation - Analysis and assessment of hydromorphological aspects: Version 1.1, Rome, 85 p.]. Available at: www.sintai.sinanet.apat.it/view/index.faces

Laizé CLR, Acreman M, Schneider C, Dunbar M, Houghton-Carr H, Flörke M, Hannah DM (2014) Projected flow alteration and ecological risk for pan-European rivers. River Res Appl 30:299–314. https://doi.org/10.1002/rra.2645

Lo Conti F, Francipane A, Pumo D, Noto LV (2015) Exploring single polarization X-band weather radar potentials for local meteorological and hydrological applications. J Hydrol 531(Part 2):508–522. https://doi.org/10.1016/j.jhydrol.2015.10.071

Martínez Santa-María C, Fernández Yuste JA (2008) IAHRIS Índices de Alteración Hidrológica en Ríos. Manual de Referencia Metodológica. Versión 1 [IAHRIS Indicators of Hydrologic Alteration in Rivers. Methodological Reference Manual. Version 1.1]. CEDEX (Centro de Estudios y Experimentaciòn De Obras Pùblicas) [Center for Studies and Experimentation of Public Works]. (In Spanish)

Nash JE, Sutcliffe JV (1970) River flow forecasting through conceptual models, 1. A discussion of principles. J Hydrol 10:282–290

Noto LV (2014) Exploiting the topographic information in a PDM-based conceptual hydrological model. J Hydrol Eng 19(16):1173–1185. https://doi.org/10.1061/(ASCE)HE.1943-5584.0000908

Pekárová P, Pramuk B, Halmová D, Miklánek P, Prohaska S, Pekár J (2016) Identification of long-term high-flow regime changes in selected stations along the Danube River. J Hydrol Hydromech 64(4):393–403

Poff NL, Allan JD, Bain MB, Karr JR, Prestegaard KL, Richter BD, Sparks RE, Stomberg JC (1997) The natural flow regime: a paradigm for river conservation and restoration. Bioscience 4:769–784

Pumo D, Viola F, La Loggia G, Noto LV (2014) Annual flow duration curves assessment in ephemeral small basins. J Hydrol 519:258–270. https://doi.org/10.1016/j.jhydrol.2014.07.024

Pumo D, Francipane A, Lo Conti F, Arnone E, Bitonto P, Viola F, La Loggia G, Noto LV (2016a) The SESAMO early warning system for rainfall-triggered landslides. J Hydroinf 18(2):256–276. https://doi.org/10.2166/hydro.2015.060

Pumo D, Viola F, Noto LV (2016b) Generation of natural runoff monthly series at ungauged sites using a regional regressive model. Water 8:209. https://doi.org/10.3390/w8050209

Pumo D, Lo Conti F, Viola F, Noto LV (2017) An automatic tool for reconstructing monthly time-series of hydro-climatic variables at ungauged basins. Environ Model Softw 95(2017):381–400. https://doi.org/10.1016/j.envsoft.2017.06.045

Richter BD, Baumgartner JV, Powell J, Braun DP (1996) A method for assessing hydrologic alteration within ecosystems. Conserv Biol 10:1163–1174

Richter BD, Baumgartner JV, Wigington R, Braun DP (1997) How much water does a river need? Freshw Biol 37:231–249

Srinivasan R, Ramanarayanan TS, Arnold JG, Bednarz ST (1998) Large area hydrologic modelling and assessment. Part II: model application. J Am Water Resour Assoc 34(1):91–101

United Nations Educational, Scientific and Cultural Organization (UNESCO) (1979) Map of the world distribution of arid regions: map at scale 1:25,000,000 with explanatory note. MAB technical notes 7. UNESCO, Paris

USDA-SCS (1993) Hydrology. In: National engineering handbook; soil conservation service. Washington D.C., USDA. Section 4, Chapter 4

Viola F, Francipane A, Caracciolo D, Pumo D, La Loggia G, Noto LV (2016) Co-evolution of hydrological components under climate change scenarios in Mediterranean area. Sci Total Environ 544:515–524. https://doi.org/10.1016/j.scitoten.2015.12.004

Viola F, Caracciolo D, Forestieri A, Pumo D, Noto LV (2017) Annual runoff assessment in arid and semiarid Mediterranean watersheds under the Budyko's framework. Hydrol Process 31:1876–1888. https://doi.org/10.1002/hyp.11145

Vogel RM, Fennessey NM (1995) Flow duration curves. II: a review of applications in water resources planning. Water Resour Bull 31(6):1029–1039

Yang ZF, Yan Y, Liu Q (2012) Assessment of the flow regime alterations in the lower Yellow River, China. Ecol Inform 10:56–64

Zuo Q, Liang, S (2016) Regulation model of ecological water demands by sluice-controlled rivers based on hydrological regime analysis. J Hydraul Eng 35(12):70–76 https://doi.org/10.11660/slfdxb.20161207
Acknowledgments
Thanks to the numerous scientists who provided additional information from their studies. The authors also thank anonymous reviewers, editor-in-chief and associate editor for their helpful suggestions on the quality improvement of this present paper.
Ethics declarations
Conflict of Interest
None.
About this article
Cite this article
Pumo, D., Francipane, A., Cannarozzo, M. et al. Monthly Hydrological Indicators to Assess Possible Alterations on Rivers' Flow Regime. Water Resour Manage 32, 3687–3706 (2018). https://doi.org/10.1007/s11269-018-2013-6
Received:

Accepted:

Published:

Issue Date:
Keywords
Hydrological change

Dam impacts

Flow regime alteration

Hydrological indicators

IARI

IHA