Abstract
Adaptive water governance seeks to increase a social-ecological system's adaptive capacity in the face of uncertainty and change. This is especially important in non-linear dryland systems that are already exposed to water scarcity and increasing degradation. Conservation of water ecosystem services is key for increasing adaptive capacity in drylands, however, how stakeholders perceive water ecosystem services greatly affects how they are managed, as well as the potential for adaptive water governance. This paper focuses on identifying the system's potential for enabling adaptive water governance by analysing different stakeholder perceptions on water ecosystem services. It takes the Rio del Carmen watershed as a case study, offering important insights for an increasing number of water-scarce regions. Semi-structured interviews were conducted with key stakeholders in the watershed in order to unravel their perceptions and understand the governance context. We found disparities in how stakeholders perceive water ecosystem services have led to water overexploitation and several conflicts over water access. Our results indicate that stakeholder perceptions have a major influence on the system's adaptability, as they shape the acquisition of water ecosystem services. Divergent stakeholder perceptions act as an important barrier to collaboration. Generating and sharing knowledge could facilitate the development of a common vision, allowing all actors to co-create information about water ecosystem services and the system state, engaging them in a participatory process, suitable for their context, and that will better support adaptive water governance.
Access options
Buy single article
Instant access to the full article PDF.
US$ 39.95
Tax calculation will be finalised during checkout.
Subscribe to journal
Immediate online access to all issues from 2019. Subscription will auto renew annually.
US$ 79
Tax calculation will be finalised during checkout.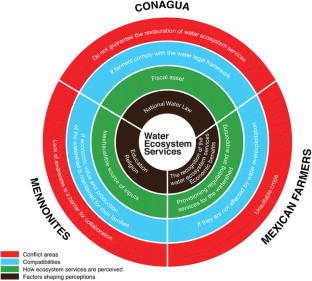 Notes
1.

The character that acquires a public good when it is fundamental for the Government to satisfy collective social and economic needs.

2.

SEMARNAT the acronym in Spanish for the Ministry of the Environment and Natural Resources.

3.

Ejido members; ejidos are agricultural communities that manage their land collectively.

4.

This is the year in which the General Law of Sustainable Forest Development was issued, which establishes the requirements for changing the use of land.

5.

Mexican official standard which states the determination method for water availability, which includes the natural discharge compromised to secure ecosystem functions.
References
Athie K (2016) El Agua, ayer y hoy. Camara de Diputados LXIII Legislatura, Mexico City

Bernard HR (2011) Research methods in anthropology : qualitative and quantitative approaches, 5th edn. AltaMira, Maryland

Bhattacherjee A (2012) Social Science Research: Principles, Methods, and Practices, Book 3. Textbooks Collection

Burnett V (2015) Mennonite Farmers Prepare to Leave Mexico, and Competition for Water. New York Times A6

Chaffin BC, Garmestani AS, Gosnell H, Craig RK (2016) Institutional networks and adaptive water governance in the Klamath River basin, USA. Environ Sci Pol 57:112–121. https://doi.org/10.1016/j.envsci.2015.11.008

Chaffin BC, Gosnell H, Cosens BA (2014) A decade of adaptive governance scholarship: synthesis and future directions. Ecol Soc 19:56. https://doi.org/10.5751/ES-06824-190356

CJF (2016) Consejo de la Judicatura Federal. Respuesta a solicitud de informacion 0320000157416. http://www.plataformadetransparencia.org.mx/web/guest/inicio?p_p_id=buscadoresportlet_WAR_buscadoresportlet&p_p_lifecycle=0&p_p_state=maximized&p_p_mode=view&p_p_col_id=column-2&p_p_col_count=2&_buscadoresportlet_WAR_buscadoresportlet_action=buscardoresPo. Accessed 3 Oct 2017

CONABIO (2014) Comisión Nacional para el Conocimiento y Uso de la Biodiversidad. La biodiversidad en Chihuahua: Estudio de Estado. Mexico

CONAGUA (2015) Disponibilidad por Acuíferos: Comision Nacional del Agua. https://www.gob.mx/conagua/acciones-y-programas/chihuahua-74904. Accessed 11 Sep 2017

Cosens B (2015) Application of the Adaptive Water Governance Project to the management of the Lake Eyre Basin and its connections to the Great Artesian Basin, Report to Flinders University and the Goyder Institution. Adelaide, South Australia

Cosens BA (2013) Legitimacy, adaptation, and resilience in ecosystem management. Ecol Soc 18:3. https://doi.org/10.5751/ES-05093-180103

Cosens BA, Craig RK, Hirsch SL et al (2017) The role of law in adaptive governance. Ecol Soc 22:30. https://doi.org/10.5751/ES-08731-220130

DeCaro DA, Chaffin BC, Schlager E et al (2017) Legal and institutional foundations of adaptive environmental governance. Ecol Soc 22:32. https://doi.org/10.5751/ES-09036-220132

Diario Oficial de la Federacion (1957) ACUERDO que establece el Distrito de Riego de El Carmen, en San Buenaventura y Villa Ahumada, Chih., y declara de utilidad pública la construcción de las obras que lo formen y la adquisición de los terrenos necesarios para alojarlas y operarlas. Diario Oficial de la Federacion, Mexico

Diario Oficial de la Federacion (2015) ACUERDO por el que se actualiza la disponibilidad media anual de agua subterránea de los 653 acuíferos de los Estados Unidos Mexicanos, mismos que forman parte de las regiones hidrológico-administrativas que se indican. In: Dir. Gen. la Com. Nac. del Agua, Órgano Adm. Desconcentrado la Secr. Medio Ambient. y Recur. Nat. http://dof.gob.mx/nota_detalle.php?codigo=5389380&fecha=20/04/2015. Accessed 3 Aug 2017

Diario Oficial de la Federacion (1976) RESOLUCION sobre dotación de aguas, solicitada por vecinos del poblado denominado Benito Juarez, antes Enriquez y Punta de Alamos, Municipio de Buenaventura, Chih. In: El Pres. Const. los Estados Unidos Mex. http://www.dof.gob.mx/nota_detalle.php?codigo=4833085&fecha=05/01/1976. Accessed 8 Sep 2017

Díaz S, Demissew S, Carabias J et al (2015) The IPBES conceptual framework — connecting nature and people. Curr Opin Environ Sustain 14:1–16. https://doi.org/10.1016/j.cosust.2014.11.002

DiCicco-Bloom B, Crabtree BF (2006) The qualitative research interview. Med Educ 40:314–321. https://doi.org/10.1111/j.1365-2929.2006.02418.x

Folke C, Hahn T, Olsson P, Norberg J (2005) Adaptive governance of social-ecological systems. Annu Rev Environ Resour 30:441–473. https://doi.org/10.1146/annurev.energy.30.050504.144511

Forouzani M, Karami E, Zamani GH, Moghaddam KR (2013) Agricultural water poverty: using Q-methodology to understand stakeholders' perceptions. J Arid Environ 97:190–204. https://doi.org/10.1016/j.jaridenv.2013.07.003

Garmestani A, Benson M (2013) A framework for resilience-based governance of social-ecological systems. Ecol Soc 18:9. https://doi.org/10.5751/ES-05180-180109

Gunderson LH, Cosens B, Garmestani AS (2016) Adaptive governance of riverine and wetland ecosystem goods and services. J Environ Manag 183:353–360. https://doi.org/10.1016/j.jenvman.2016.05.024

Huang J, Yu H, Guan X et al (2015) Accelerated dryland expansion under climate change. Nat Clim Chang 6:1–22. https://doi.org/10.1038/nclimate2837

INEGI (2003) Síntesis de Información geográfica del estado de Chihuahua. Aguascalientes, Mexico

Kohlbacher F (2006) The use of qualitative content analysis in case study research. Forum Qual Sozialforsch / Forum Qual Soc Res 7:1–30

Manzanares Rivera JL (2016) Hacer florecer al desierto: Análisis sobre la intensidad de uso de los recursos hídricos subterráneos y superficiales en Chihuahua, México. Cuad Desarro Rural 13:35–61. https://doi.org/10.11144/Javeriana.cdr13-77.hfda

Martin-Ortega J, Ferrier R, Gordon I, Khan S (2015) Water ecosystem services: A global perspective. Cambridge University Press, Cambridge

Medema W, Adamowski J, Orr C et al (2017) Building a foundation for knowledge co-creation in collaborative water governance: dimensions of stakeholder networks facilitated through bridging organizations. Water 9:60. https://doi.org/10.3390/w9010060

Mortimore M, Anderson S, Union. I--TWC, et al (2009) Dryland opportunities : a new paradigm for people, ecosystems and development. IUCN, IUCN ; London : IIED ; New York : UNDP, Gland, Switzerland

Murillo-Licea D, Soares-Moraes D (2013) El péndulo de la gobernabilidad y la gobernanza del agua en México. Tecnol y Ciencias del Agua 4:149–163

North DC (1990) Institutions, institutional change, and economic performance. Cambridge University Press, Cambridge

Österblom H, Folke C (2013) Emergence of global adaptive governance for stewardship of regional marine resources. Ecol Soc 18:4. https://doi.org/10.5751/ES-05373-180204

Pahl-Wostl C, Holtz G, Kastens B, Knieper C (2010) Analyzing complex water governance regimes: the management and transition framework. Environ Sci Pol 13:571–581. https://doi.org/10.1016/j.envsci.2010.08.006

Prell C, Reed MS, Racin L, Hubacek K (2010) Competing structure, competing views: the role of formal and informal social structures in sahping stakeholder perceptions. Ecol Soc 15:34

Quintana VM (2013) Nuevo orden alimentario y disputa por el agua en el norte de México. Apunt Rev Ciencias Soc 40:175–202. https://doi.org/10.21678/APUNTES.73.10

Reed MS, Graves A, Dandy N et al (2009) Who's in and why? A typology of stakeholder analysis methods for natural resource management. J Environ Manag 90:1933–1949. https://doi.org/10.1016/j.jenvman.2009.01.001

Safriel U, Adeel Z, Niemeijer D et al (2005) Ecosystems and human well-being: Current state and trends. Island Press, Washington DC

Schlüter M, Baeza A, Dressler G et al (2017) A framework for mapping and comparing behavioural theories in models of social-ecological systems. Ecol Econ 131:21–35. https://doi.org/10.1016/j.ecolecon.2016.08.008

SEMARNAT (2017) Secretaria de Medio Ambiente y Recursos Naturales. Respuesta a solicitud de informacion 0001600286117

Stringer LC, Reed MS, Fleskens L et al (2017) A new dryland development paradigm grounded in empirical analysis of dryland systems science. L Degrad Dev. https://doi.org/10.1002/ldr.2716

Young OR (2010) Institutional dynamics: resilience, vulnerability and adaptation in environmental and resource regimes. Glob Environ Chang 20:378–385. https://doi.org/10.1016/j.gloenvcha.2009.10.001
Acknowledgments
The first author acknowledges financial support from CONACYT-SECRETARIA DE ENERGIA-SUSTENTABILIDAD ENERGETICA Grant No. 439115.
Ethics declarations
Conflict of Interest
None.
About this article
Cite this article
Lopez Porras, G., Stringer, L.C. & Quinn, C.H. Unravelling Stakeholder Perceptions to Enable Adaptive Water Governance in Dryland Systems. Water Resour Manage 32, 3285–3301 (2018). https://doi.org/10.1007/s11269-018-1991-8
Received:

Accepted:

Published:

Issue Date:
Keywords
Social-ecological resilience

Water scarcity

Agricultural systems

Knowledge sharing

Conflicts

Mexico