Abstract
The dam's reservoir water level varies over the year according to the water inflow and outflow, as a function of environmental events but also of dam exploitation management policy and human decisions. In the Portuguese dam safety regulation (RSB 2007), the normal water level (NWL) is considered as the optimum exploitation level. However, as proved by the continuous monitoring over the lifetime of a set of dams, the NWL is occasionally exceeded for non-negligible time periods. The reservoir water level, to which the water pressure on the upstream face is related, is a fundamental parameter for the safety and reliability analysis of concrete dams. When water-induced actions are considering the leading loads, only the maximum reservoir water level, usually associated with a high-return-period flood, is relevant. However, for other combinations, in particular, earthquake scenarios, the consideration of the variability of the water level over time is crucial. In reliability analysis of concrete dams, the reservoir water level has been considered either as a deterministic variable, once the loading scenario analyzed assume water-induced actions as leading loads (Westberg 2010), or as a random variable defined using hydrological site information of a specific study case (Altarejos et al. Structural Safety 36-37:1–13 2012). This work proposes a probabilistic model of the reservoir water level of any new dam based only on its geometrical properties, which provides a low-cost alternative to in-depth hydrological analysis. The proposed model can be useful in two stages of the lifecycle of dams: (i) initial design and feasibility stages, and (ii) routine safety assessment of existing structures, as in both stages the costs of a complete hydrological analysis is too high for the level of detail required. For that, the recorded reservoir water level of 27 Portuguese large concrete dams is used. A normalized sinusoidal model, with annual period, is adjusted to the reservoir water level annual history of those dams by beta regression. Generally, a good agreement between observations and the proposed model, for most of the annual adjustments, was achieved. The distribution parameters of the random variables were estimated through the maximum likelihood estimation (MLE) method. The physical, model and statistical uncertainties were quantified and can now be included in a reliability analysis procedure.
This is a preview of subscription content, log in to check access.
Access options
Buy single article
Instant access to the full article PDF.
US$ 39.95
Tax calculation will be finalised during checkout.
Subscribe to journal
Immediate online access to all issues from 2019. Subscription will auto renew annually.
US$ 79
Tax calculation will be finalised during checkout.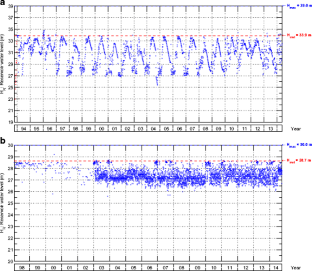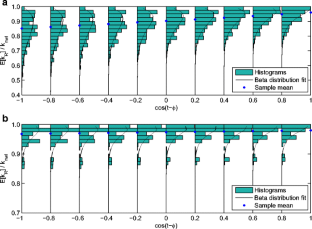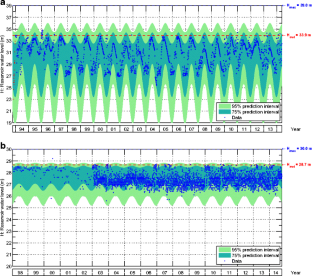 References
Altarejos L, Escuder I, Serrano A, Membrillera M (2012) Methodology for estimating the probability of failure by sliding in concrete gravity dams in the context of risk analysis. Structural Safety 36-37:1–13. https://doi.org/10.1016/j.strusafe.2012.01.001

Faber M H (2005) Risk and Safety in Civil, Surveying and Environmental Engineering. In: Lecture Notes, Swiss Federal Institute of Technology. ETHZ, Zu̇rich

Ferrari S, Cribari-Neto F (2004) Beta regression for modelling rates and proportions. J Appl Stat 31(7):799–815. https://doi.org/10.1080/0266476042000214501

JCSS (2001) Probabilistic model code - part 1: Basis of design. Technical report, Joint Committee on Structural Safety

Kieschnick R, McCullough BD (2003) Regression analysis of variates observed on (0, 1): percentages, proportions and fractions. Stat Modell 3(3):193–213. https://doi.org/10.1191/1471082X03st053oa

Mata J T (2013) Structural safety control of concrete dams aided by automated monitoring systems. PhD thesis, Instituto Superior Tėcnico

NEB (1993). Dam operation guidelines (in Portuguese). Proposta de portaria

NOIB (1993) Dam observation and inspection guidelines (in Portuguese). Decreto-Lei 847/1993

Paolino P (2001) Maximum likelihood estimation of models with beta-distributed dependent variables. Political Anal 9(4):325–346

RSB (2007) Dam safety regulation (in Portuguese). Decreto-Lei 344/2007

Silveira AF (1961) Temperature variations in dams (in Portuguese). LNEC

Westberg M (2010) Reliability-based assessment of concrete dam stability. PhD thesis, Lund University

You JY (2008) Hedging rule for reservoir operation: How much when and how long to hedge. PhD thesis, University of Illinois
Acknowledgements
Thanks are due to the dam's owners for the permission to use the monitored data. Authors also thank the support received from LNEC and the funding by Science and Technology Foundation, through grant SFRH/BD/91131/2012.
About this article
Cite this article
Pereira, R., Batista, A.L. & Neves, L.C. Probabilistic Model for the Representation of the Reservoir Water Level of Concrete Dams During Normal Operation Periods. Water Resour Manage 32, 3041–3052 (2018). https://doi.org/10.1007/s11269-018-1973-x
Received:

Accepted:

Published:

Issue Date:
Keywords
Concrete dams

Reservoir water level

Monitoring

Uncertainty modeling

Reliability analysis