Abstract
A multi-country, multi-sector computable general equilibrium (CGE) model is used for the first time to evaluate the economic and water resource availability effects of trade liberalization (removal of import tariffs) and facilitation (reducing non-tariff barriers) under climate change in the Nile Basin. The analysis uses the GTAP 9 Database and the GTAP-W model that distinguishes between rainfed and irrigated agriculture and implements water as a factor of production directly substitutable in the production process of irrigated agriculture. A full trade liberalization and improved trade facilitation scenario is considered with and without climate change. The study reveals that trade liberalization and facilitation generates substantial economic benefits and enhances economic growth and welfare in the Nile basin. The effect of instituting a free trade policy on water savings is found to be limited, while climate change improves water supply and hence irrigation water use, enhancing economic growth and welfare in the basin.
Access options
Buy single article
Instant access to the full article PDF.
USD 39.95
Price excludes VAT (USA)
Tax calculation will be finalised during checkout.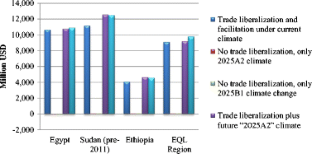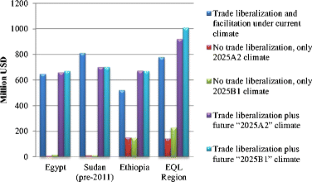 References
Ansink E (2010) Refuting two claims about virtual water trade. Ecol Econ 69(10):2027–2032

Armington, P.A. (1969). A theory of demand for products distinguished by place of production. IMF Staff Papers 16, 159-178. Washington D.C, USA

Bastiaanssen W, Perry C (2009). Agricultural water use and water productivity in the large scale irrigation (LSI) schemes of the Nile Basin. Efficient water use for agricultural production (EWUAP), NBI

Berrittella M, Hoekstra A, Rehadanz K, Roson R, Tol RSJ (2007) The economic impact of restricted water supply: a computable general equilibrium analysis. Water Res 41(8):1799–1813

Berrittella M, Rehdanz K, Tol RSJ, Zhang J (2008) The impact of trade liberalization on water use: a computable general equilibrium analysis. J Econ Integration 23(3):631–655

Beyene T, Lettenmaier DP, Kabat P (2010) Hydrologic impacts of climate change on the Nile River basin: implications of the 2007 IPCC scenarios. Clim Chang 100:433–461. https://doi.org/10.1007/s10584-009-9693-0

Blackmore D, Whittington D (2008) Opportunities for cooperative water resources development on the eastern Nile: risks and rewards. An independent report of the scoping study team to the eastern Nile Council of Ministers. The World Bank, Washington, DC

Block P, Strzepek K (2010) Economic analysis of large-scale Upstream River basin development on the Blue Nile in Ethiopia considering transient conditions, climate variability, and climate change. J Water Resour Plan Manag 136:156–166

Calzadilla A, Rehdanz K, Betts R, Fallon P, Wiltshire A, Tol RSJ (2010) Climate change impacts on global agriculture. Working paper no. Kiel Institute for the World Economy, Germany, p 1617

Calzadilla A, Rehdanz K, Tol RSJ (2011a) Trade liberalization and climate change: a computable general equilibrium analysis of the impacts on global agriculture. Water 3:526–550. https://doi.org/10.3390/w3020526

Calzadilla A, Rehdanz K, Tol RSJ (2011b) The GTAP-W model: accounting for water use in agriculture. Working paper no. Kiel Institute for the World Economy, Germany, p 1745

Conway D (2005) From headwater tributaries to international river: Observing and adapting to climate variability and change in the Nile basin. Global Environmental Change, 15, 99–114

Diao X, Roe T, Doukkali R (2005) Economy-wide gains from decentralized water allocation in a spatially heterogeneous agricultural economy. Environ Dev Econ 10:249–269

Elshamy ME, Seierstad IA, Sorteberg A (2009) Impacts of climate change on Blue Nile flows using bias-corrected GCM scenarios. Hydrol Earth Syst Sci 13:551–565

Falkenmark M (1989) The massive water scarcity threatening Africa-why isn't it being addressed. Ambio 18(2):112–118

FAO (2011) Food and agricultural organization of the United Nations. Farming systems report: synthesis of the country reports at the level of the Nile Basin, Rome

FAO (2013) Food and Agricultural Organization of the United Nations. FAO Statistical Yearbook, Rome

FAO (2015) AQUASTAT main database, food and agriculture organization of the United Nations(FAO). Website accessed on 10 Sept 2015 21:8

Farmer K, Schelnast M (2013) Growth and international trade, springer texts in business and economics. Springer-Verlag Berlin Heidelberg, Germany. https://doi.org/10.1007/978-3-642-33669-0_10

Feng S, Li LX, Duan ZG, Zhang JL (2007) Assessing the impacts of south-to-north a water transfer project with decision support systems. Decis Support Sys Emerg Econ 42(4):1989–2003

Fox A, Francois J, Londono-Kent P (2003) Measuring border crossing costs and their impact on trade flows: the United States-Mexican trucking case. GTAP resource No 1282

Hammond M (2013) The grand ethiopian renaissance dam and the blue nile: implications for transboundary water governance. GWF Discussion Paper 1307. Global Water Forum, Canberra, Australia

Hertel TW (1997) Global trade analysis: modeling and applications. Cambridge University Press, Cambridge

Hertel TW, Walmsley T, Itakura K (2001) Dynamic effects of the "New Age" free trade agreement between Japan and Singapore. GTAP Working Paper 15

Horridge JM (2011a) SplitREG: a program to create a new region in a GTAP database. Monash University, Melbourne, Centre of Policy Studies

Horridge JM (2011b) GTAPAdjust: a program to balance or adjust a GTAP database. Monash University, Melbourne, Centre of Policy Studies

Inachovichina E, McDougall R (2001) Theoretical structure of dynamic GTAP. GTAP Technical Paper No. 19. Purdue University, West Lafayette

Jeuland M (2010) Social discounting of large dams with climate change uncertainty. Water Altern 3(2):185–206

Kahsay TN, Kuik O, Brouwer R, van der Zaag P (2015) Estimation of the transboundary economic impacts of the Grand Ethiopian Renaissance Dam: A computable general equilibrium analysis. Water Resources and Economics, 10:14–30

Karyabwite D (2000) Water sharing in the Nile River valley. Using GIS/Remote Sensing for the Sustainable Use of natural Resources, UNEP/DEWA/GRID, Geneva

Krugman, P.R. and Obstfeld, M. (1997). International economics: theory and policy (4th ed.). Addison Wesley Longman, Inc., USA

Minor P, Tsigas M (2008) Impacts of better trade facilitation in developing countries: analysis with a new GTAP database for the value of time in trade. Paper presented at the 11th annual conference of global economic analysis, Helsinki, Finland

Mukhopadhyay K, Thomassin PJ (2010) Economic and environmental impact of free trade in east and South East Asia. Springer Science+Business Media B.V, New York

NBI (2012) State of the River Nile Basin. Nile Basin Initiative (NBI), Entebbe, Uganda

Nelson GC, Rosegrant MW, Palazzo A, Gray I, Ingersoll C, Robertson R, Tokgoz S, Zhu T, Sulser TB, Ringler C, Msangi S, You I (2010) Food security, farming, and climate change to 2050: scenarios, results. Policy Options, IFPRI, Washington, DC

OECD (2003) Quantitative assessment of the benefits of trade facilitation. OECD document TD/TC/WP(2003)31/Final, Paris, France

Poncet S (2006) The long term growth prospects of the world economy: horizon 2050 CEPII, Working Paper No 2006–16. The World Bank, Washington, DC

Strzepek KM, Yohe GW, Tol RSJ, Rosegrant MW (2008) The value of theHigh Aswan dam to the Egyptian economy. Ecol Econ 66(1):117–126

World Bank (2011) World Bank Doing Business Report 2011: making a difference for entrepreneurs. The World Bank, Washington DC

WDI (2012) World Development Indicators. The World Bank, Washington, DC

Yates D, Strzepek K (1998) Modeling the Nile Basin under climatic change. J Hydrol Eng 3(2):98–108
Acknowledgements
This research was funded under the Netherlands Fellowship Programme (NFP), project number NPT/ETH/205.
Electronic supplementary material
About this article
Cite this article
Kahsay, T.N., Kuik, O., Brouwer, R. et al. The Transboundary Impacts of Trade Liberalization and Climate Change on the Nile Basin Economies and Water Resource Availability. Water Resour Manage 32, 935–947 (2018). https://doi.org/10.1007/s11269-017-1847-7
Received:

Accepted:

Published:

Issue Date:

DOI: https://doi.org/10.1007/s11269-017-1847-7
Keywords