Abstract
Drought is considered as a major natural hazard/ disaster, affecting several sectors of the economy and the environment worldwide. Drought, a complex phenomenon can be characterised by its severity, duration, and areal extent. Drought indices for the characterization and the monitoring of drought simplify the complex climatic functions and can quantify climatic anomalies for their severity, duration, and frequency. With this as background drought indices were worked out for Madurai district of Tamil Nadu using DrinC (Drought Indices Calculator) software. DrinC calculates the drought indices viz., deciles, Standard Precipitation Index (SPI), Reconnaissance Drought Index (RDI), Streamflow Drought Index (SDI) by providing a simple, though flexible interface by considering all the factors. The drought of 3, 6 and 9 months as time series can also be estimated. The results showed that drought index of Madurai region by decile method revealed that among the 100 years, 20 years were affected by drought and it is cyclic in nature and occurring almost every 3 to 7 years once repeatedly, except for some continuous period, i.e., 1923, 1924 and 1985, 1986, etc. During the last five decades, the incidence is higher with 13 events, whereas in the first five decades it was only 7. The SPI and RDI index also followed the similar trend of deciles. However, under SPI and RDI, the severely dry and extremely dry category was only seven years and all other drought years of deciles were moderately dry. Our study indicated that SPI is a better indicator than deciles since here severity can be understood. SDI did not follow the trend similar to SPI or RDI. Regression analysis showed that the SPI and RDI are significantly correlated and if 1st 3 months rainfall data is available one can predict yearly RDI drought index. The results demonstrated that these approaches could be useful for developing preparedness plan to combat the consequences of drought. Findings from such studies are useful tools for devising strategic preparedness plans to combat droughts and mitigate their effects on the activities in the various sectors of the economy.
Access options
Buy single article
Instant access to the full article PDF.
US$ 39.95
Tax calculation will be finalised during checkout.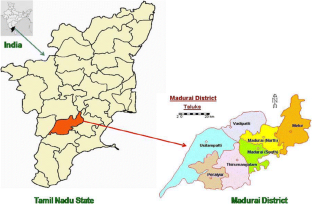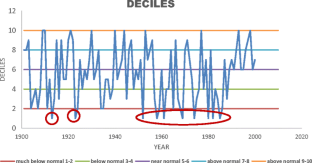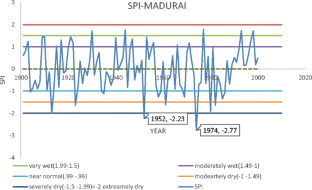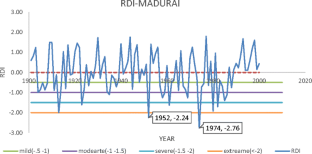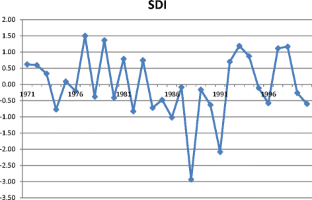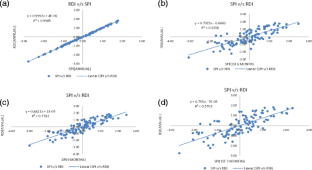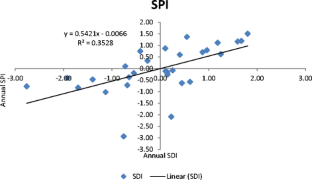 References
Anctil F, Larouche W, Viau AA (2002) Exploration of the standardized precipitation index with regional analysis. Can J Soil Sci 82(1):115–125

Beniston M, Stephenson DB (2004) Extreme climatic events and their evolution under changing climatic conditions. Global Planet Cha 44:1–9

Dai AG (2011) Characteristics and trends in various forms of the palmer drought severity index during 1900–2008. J Geophys Res 116:1–26

Edwards DC, McKee TB (1997) Characteristics of 20th century drought in the United States at multiple time scales. Climatology report number 97, Colorado State University, Fort Collins

Gupta AK, Tyagi P, Vinay KS (2011) Drought disaster challenges and mitigation in India: strategic appraisal. Curr Sci 100(25):1795–1806

Hayes MJ, Svoboda MD, Wilhite DA, Vanyarkho OV (1999) Monitoring the 1996 drought using the standardized precipitation index. Bull Am Meteorol Soc 80:429–438

Mathieu R, Richard Y (2003) Intensity and spatial extension of drought in South Africa at different time scales. Water SA 29(4):489–500

McKee TB, Doesken NJ, Kliest J (1993) The relationship of drought frequency and duration to time scales. Proc. of the 8th conference on applied climatology American Meteorological Society, Boston, pp 179–184

Min SK, Kwon WT, Park EH, Choi Y (2003) Spatial and temporal comparisons of droughts over Korea with East Asia. Int J Climatol 23(2):223–233

Mishra AM, Singh VP (2010) A review of drought concepts. J Hydrol 391:202–216

Mohammad RK, Majid V, Amin A (2014) Drought monitoring using a soil wetness deficit index (SWDI) derived from MODIS satellite data. Agr Water Manage 132:37–45

Nalbantis Ι, Tsakiris G (2009) Assessment of hydrological drought revisited. Water Resour Manag 23(5):881–897

NIH (2002) Study for drought prone districts in Bundelkhand region. Technical report CS(AR)/200.National Institute of Hydrology, Roorkee, pp 1–53

Ntale HK, Gan T (2003) Drought indices and their application to East Africa. Int J Climatol 23:1335–1357

Pandey RP, Ramasastri KS (2001) Relationship between the common climatic parameters and average drought frequency. Hydrol Process 15(6):1019–1032

Surendran U, Sushanth CM, George Mammen Joseph EJ (2014) Modeling the impacts of increase in temperature on irrigation water requirements in Palakkad district – a case study in humid tropical Kerala, J. Water Clim Cha 5(3):471–487. doi:10.2166/wcc.108

Surendran U, Ramasubramoniam S, Raja P, Kumar V, Murugappan V (2016) Budgeting of major nutrients and the mitigation options for nutrient mining in semi arid tropical agro ecosystem of Tamil Nadu, India using NUTMON model. Environ Monit Assess 188(4):1–17

Surendran U, Sushanth CM, George Mammen Joseph EJ (2017) FAO-CROPWAT model-based estimation of crop water need and appraisal of water resources for sustainable water resource management: pilot study for Kollam district – humid tropical region of Kerala, India. Curr Sci 112:76–86

Tigkas D, Vangelis H, Tsakiris G (2012) Drought and climatic change impact on streamflow in small watersheds. Sci Total Environ 440:33–41

Tigkas D, Vangelis H, Tsakiris G (2014) DrinC: a software for drought analysis based on drought indices. Ear Sci Inf. doi:10.1007/s12145-014-0178-y

Tsakiris G, Pangalou D (2009) Drought characterisation in the Mediterranean. In: A. Iglesias et al. (eds.), coping with drought risk in agriculture and water supply systems. Spinger Science & Business Media B.V, pp. 69-80

Tsakiris G, Vangelis H (2005) Establishing a drought index incorporating evapotranspiration. Eur Water 9(10):3–11

Tsakiris G, Nalbantis I, Vangelis H, Verbeiren B, Huysmans M, Tychon B, Jacquemin I, Canters F, Vanderhaegen S, Engelen G, Poelmans L, De Becker P, Batelaan O (2013) A system-based paradigm of drought analysis for operational management. Water Resour Manag 27:5281–5297

Van Lanen HAJ, Wanders N, Tallaksen LM et al (2012) Hydrological drought across the world: impact of climate and physical catchment structure. Hydrol Earth Syst Sci Discuss 9:12145–12192

Vangelis H, Tigkas D, Tsakiris G (2013) The effect of PET method on reconnaissance drought index (RDI) calculation. J Arid Environ 88:130–140

Vasiliades L, Loukas A, Liberis N (2011) A water balance derived drought index for Pinios river basin, Greece. Water Resour Manag 25:1087–1101
About this article
Cite this article
Surendran, U., Kumar, V., Ramasubramoniam, S. et al. Development of Drought Indices for Semi-Arid Region Using Drought Indices Calculator (DrinC) – A Case Study from Madurai District, a Semi-Arid Region in India. Water Resour Manage 31, 3593–3605 (2017). https://doi.org/10.1007/s11269-017-1687-5
Received:

Accepted:

Published:

Issue Date:
Keywords
Drought

DrinC

Drought indices

Strategies