Abstract
There are over 260 transboundary river and lake basins in the world that many of them are facing great challenges of water sharing between riparian countries concerned. The 1997 UN Watercourses Convention, entered into force in 2014, includes articles and factors on water sharing which have not been completely used for modelling of the basins yet. In this paper, legal aspects (i.e. Articles 5, 6, 7 and 10 of the Convention) are integrated with a technical approach for water allocation in transboundary rivers. For this purpose, a new conceptual model is developed for quantification of the Convention provisions concerning equitable and reasonable water sharing. The method is applied to the Sirwan-Diyala transboundary river shared by Iran and Iraq. Some indicators are developed and quantified for determination of water shares of the riparian countries and different scenarios considering extreme and equal weights of the factors are defined. The basin is simulated by WEAP model to evaluate effects of the scenarios on up- and downstream of the basin. Five demand management alternatives comprising increasing of irrigation efficiency and eliminating second cultivation are proposed as appropriate measures for elimination or mitigation of possible significant harm. The proposed technical-legal approach paves the way for enhancing bargaining potentials of the riparian countries and increasing their cooperation to achieve a win-win solution in using waters of transboundary rivers.
Access options
Buy single article
Instant access to the full article PDF.
US$ 39.95
Tax calculation will be finalised during checkout.
Subscribe to journal
Immediate online access to all issues from 2019. Subscription will auto renew annually.
US$ 79
Tax calculation will be finalised during checkout.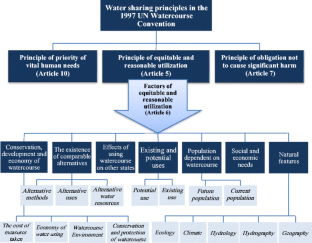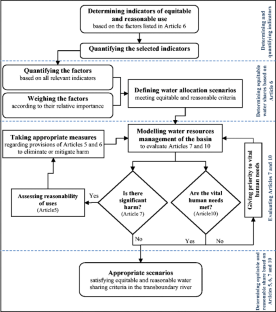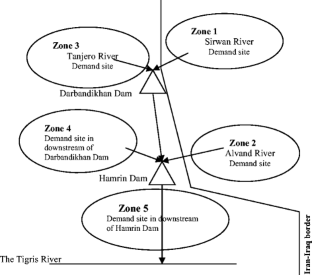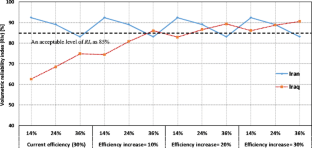 Notes
1.

Water Evaluation And Planning
References
Arjoon D, Tilmant A, Herrmann M (2016) Sharing water and benefits in transboundary river basins. Hydrol Earth Syst Sci 20(6):2135–2150. doi:10.5194/hess-20-2135-2016

Beaumont P (2000) The 1997 UN convention on the law of non-navigational uses of international watercourses: its strengths and weaknesses from a water management perspective and the need for new workable guidelines. International Journal of Water Resources Development 16(4):475–495. doi:10.1080/713672536

Daoudy M (2007) Benefit-sharing as a tool of conflict transformation: applying the inter-SEDE model to the Euphrates and Tigris river basins. Economics of Peace and Security Journal 2(2):26–32

Devi S, Srivastava D, Mahan C (2005) Optimal water allocation for the transboundary Subernarekha River, India. J Water Resour Plan Manag 131(4):253–269

Eskander SM, Janus T, Barbier E (2016) Linking the unlinked: transboundary water-sharing under water-for-leverage negotiations. Agricultural and Applied Economics Association Annual Meeting, Boston, Massachusetts, July 31–August 2

Fisher FM, Arlosoroff S, Eckstein Z, Haddadin M, Hamati SG, Huber-Lee A, Jarrar A, Jayyousi A, Shamir U, Wesseling H (2002) Optimal water management and conflict resolution: the Middle East water project. Water Resour Res 38(11):25–1–25-17. doi:10.1029/2001WR000943

Gleick PH, Yolles P, Hatami H (1994) Water, war, and peace in the Middle East. Environment 36(3):6–42

Hu Z, Wei C, Yao L, Li C, Zeng Z (2016) Integrating equality stability to resolve water allocation issues with a multiobjective bilevel programming model. J Water Resour Plan Manag. doi:10.1061/(ASCE)WR.1943-5452.0000640

International Law Commission (1994) Forty-sixth session on draft articles on the law of the non-navigational uses of international watercourses. UN Doc A/49/10

Kampragou E, Eleftheriadou E, Mylopoulos Y (2007) Implementing equitable water allocation in transboundary basins: the case of river Nestos/Mesta. Water Resour Manag 21(5):909–918. doi:10.1007/s11269-006-9108-1

Kritskiy SN, Menkel MF (1952) Water management computation (in Russian). Gidrometizd, Moscow, Leningrad, p 392

Kucukmehmetoglu M, Guldmann JM (2004) International water resources allocation and conflicts: the case of the Euphrates and the Tigris. Environ and Plan A 36:783–801. doi:10.1068/a3670

Kundzewicz ZW, Kindler J (1995) Multiple criteria for evaluation of reliability aspects of water resources systems. Modelling and Management of Sustainable Basin-scale Water Resources Systems, IAHS Publ 231:217–224

Li B, Tan G, Chen G (2016) Generalized uncooperative planar game theory model for water distribution in transboundary rivers. Water Resour Manag 30(9):225–241. doi:10.1007/s11269-015-1158-9

Mahan RC, Horbulyk TM, Rowse JG (2002) Market mechanisms and the efficient allocation of surface water resources in southern Alberta. Socio Econ Plan Sci 36(1):25–49. doi:10.1016/S0038-0121(01)00013-1

McCaffrey SC (2008) Convention on the law of the non-navigational uses of international watercourses. United Nations. http://legal.un.org/avl/pdf/ha/clnuiw/clnuiw_e.pdf. Accessed 20 Jun 2016

Mehrparvar M, Ahmadi A, Safavi HR (2016) Social resolution of conflicts over water resources allocation in a river basin using cooperative game theory approaches: a case study. Intl J River Basin Management 14(1):33–45. doi:10.1080/15715124.2015.1081209

Mimi ZA, Sawalhi BI (2003) A decision tool for allocating the waters of the Jordan River basin between all riparian parties. Water Resour Manag 17(6):447–461. doi:10.1023/B:WARM.0000004959.90022.ba

Rieu-Clarke A, Moynihan R, Magsig B (2012) UN Watercourses Convention–User's Guide (CWLPS) http://www.gwp.org/Global/OurApproach/StrategicAllies/User'sGuidetotheUNWatercoursesConvention(2012).pdf. Accessed 20 June 2016

Rogers P (1969) A game theory approach to the problems of international river basins. Water Resour Res 5(4):749–760. doi:10.1029/WR005i004p00749

Roozbahani R, Abbasi B, Schreider S, Ardakani A (2014) A multi-objective approach for transboundary river water allocation. Water Resour Manag 28(15):5447–5463. doi:10.1007/s11269-014-0812-y

Roozbahani R, Schreider S, Abbasi B (2015) Optimal water allocation through a multi-objective compromise between environmental, social, and economic preferences. Environ Model Softw 64:18–30. doi:10.1016/j.envsoft.2014.11.001

Salman SMA (2006) International water disputes: a new breed of claims, claimants and settlement institutions. Water Int 31(1):2–11. doi:10.1080/02508060608691909

Salman SMA (2010) Downstream riparians can also harm upstream riparians: the concept of foreclosure of future uses. Water Int 35(4):350–364. doi:10.1080/02508060.2010.508160

Shuval H (1992) Approaches to resolving the water conflicts between Israel and her neighbors: a regional waterforpeace plan. Water Int 17(3):133–143. doi:10.1080/02508069208686133

SIWI (2012) Paper 20: Options for cooperative action in the euphrates and tigris region. http://www.siwi.org/wp-content/uploads/2015/09/Paper_20-Euphrates_and_Tigris_Region_webb. Accessed 20 June 2016

Teasley RL, McKinney DC (2011) Calculating the benefits of transboundary river basin cooperation: Syr Darya basin. J Water Resour Plan Manag 137(6):481–490. doi:10.1061/(ASCE)WR.1943-5452.0000141

van der Zaag P, Seyam IM, Savenije HG (2002) Towards measurable criteria for the equitable sharing of international water resources. Water Policy 4:19–32

Wolf AT (1999) Criteria for equitable allocations: the heart of international water conflict. Nat Res Forum 23(1):3–30. doi:10.1111/j.1477-8947.1999.tb00235.x
About this article
Cite this article
Avarideh, F., Attari, J. & Moridi, A. Modelling Equitable and Reasonable Water Sharing in Transboundary Rivers: the Case of Sirwan-Diyala River. Water Resour Manage 31, 1191–1207 (2017). https://doi.org/10.1007/s11269-017-1570-4
Received:

Accepted:

Published:

Issue Date:
Keywords
Transboundary rivers

The UN watercourse convention

Equitable and reasonable use

Water allocation

WEAP model

The Sirwan-Diyala River