Abstract
Urban growth and development depends on both the local hydrologic conditions and how water resources are procured and managed. The objective of this study was to assess the water security of large urban areas based on their physical hydrology, existing water supply infrastructure, and water management institutions. This study examined 108 large cities (>750,000 people) in the United States (n = 50) and Africa (n = 58), encompassing a broad range of hydrologic and socio-economic conditions, including degrees of institutional complexity. Urban water availability was estimated as the volume of water available from local, natural water sources, as well as water captured via infrastructure such as reservoirs, wellfields, or water transfers. Urban institutional complexity was assessed based on ability to provide, regulate and maintain urban water supplies. Over half of the cities in this study rely on captured water to meet urban demands and maintain high levels of institutional complexity in doing so. Cities able to adequately supply water from local natural sources (37 %) maintain significantly lower institutional complexity than cities using water captured from non-local sources. Cities categorized as water insecure (7 %) had minimal access to either local or captured water resources and operated using the simplest water institutions. Results suggest that low local availability drives the urban response for capturing additional water supplies, and is both the cause and product of more complex institutional frameworks. Efforts to address urban water insecurity should focus more attention on meeting not only the physical but managerial needs of a city.
Access options
Buy single article
Instant access to the full article PDF.
USD 39.95
Price includes VAT (USA)
Tax calculation will be finalised during checkout.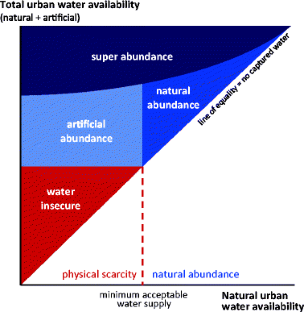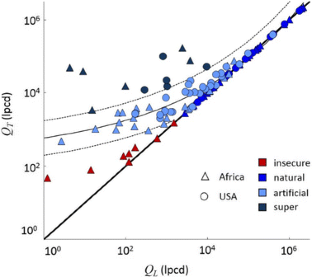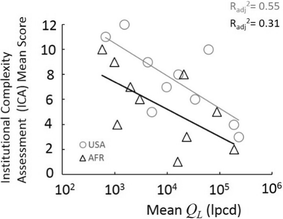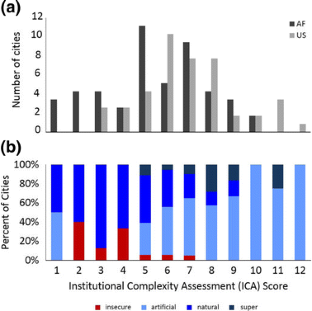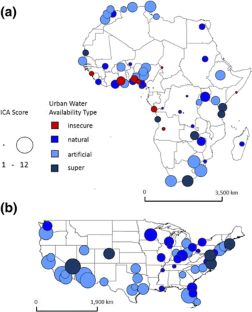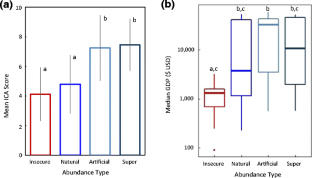 References
AIDC (2013) Africa Development Bank Group- National and Operator Databases. http://www.infrastructureafrica.org/tools. Accessed 9 May 2013

Allen TF, Tainter JA, Hoekstra TW (1999) Supply-side sustainability. Syst Res Behav Sci 16:403–427

AWWA (2004) 2004 Water & wastewater rate survey. American Water Works Association, Denver

Bettencourt L, Lobo J, Helbing D, Kühnert C, West GB (2007) Growth, innovation, scaling, and the pace of life in cities. Proc Natl Acad Sci 104:7301

Blomquist W, Heikkila T, Schlager E (2004) Building the agenda for institutional research in water resource management. J Am Water Resour Assoc 40:925–936

Brown RR, Farrelly MA, et al. (2009) Delivering sustainable urban water management: a review of the hurdles we face. Water Sci Technol 59:839

CIESIN (2004) Global Rural-­-Urban Mapping Project (GRUMP): Urban/Rural Extents. Center for International Earth Science Information Network (CIESIN), Columbia University, International Food Polilcy Research Institute (IPFRI), World Bank and Centro Internacional de Agricultura Tropical (CIAT), Palisades, NY

EPA (2002) 2000 EPA community water system survey. Environmental Protection Agency, Washington D.C

Estache A, Kouassi E (2002) Sector Organization, Governance, and the Inefficiency of African Water Utilities. World Bank Policy Research Working Paper. http://papers.ssrn.com/sol3/papers.cfm?abstract_id=636253. Accessed 4 Apr 2016

Falkenmark M (1990) Rapid population growth and water scarcity: the predicament of Tomorrow's Africa. Popul Dev Rev 16:81–94

Fekete BM, Vörösmarty CJ, Grabs W (2002) High-resolution fields of global runoff combining Observed River discharge and simulated water balances. Glob Biogeochem Cycles 16:15–11

Flood PK (1990) "Water Rights" of the fifty states and territories. In: Wright KR (ed) Water right of the fifty states and territories. American Water Works Association, Denver

Gandy M (2006) Water, Sanitation and the Modern City. Occasional Paper, United Nations Development Programme

Gleick PH (1996) Basic water requirements for human activities: meeting basic needs. Water Int 21:83–92

Graedel TE, Klee RJ (2002) Getting Serious about sustainability. Environ Sci Technol 36:523–529

Grey, D. and C.W. Sadoff, 2007. Sink or swim? Water security for growth and development. Water Policy 9:545.

IBNET (2015) The International Benchmarking Network for Water and Sanitation Utilities (IBNET) Database. https://www.ib-net.org/

Jacobsen M, Webster M, Vairavamoorthy K (2012) The future of water in African cities: why waste water? World Bank Publications, Washington D.C

Jenerette GD, Larsen L (2006) A global perspective on changing sustainable urban water supplies. Glob Planet Chang 50:202–211

Kemper KE (2001) The role of institutional arrangements for more efficient water resources use and allocation. Water Sci Technol 43:111–117

Kiparsky M, Sedlak DL, Thompson BH, Truffer B (2013) The innovation deficit in urban water: the need for an integrated perspective on institutions, organizations, and technology. Environ Eng Sci 30:395–408

Lehner B, Liermann CR, Revenga C, Vörösmarty C, Fekete B, Crouzet P, Döll P, Endejan M, Frenken K, Magome J, Nilsson C, Robertson JC, Rödel R, Sindorf N, Wisser D (2011) High-resolution mapping of the World's reservoirs and dams for Sustainable River-flow management. Front Ecol Environ 9:494–502

Lundqvist J, Tortajada C, Varis O, Biswas A (2005) Water Management in Megacities. AMBIO. A Journal of the Human Environment 34:267–268

MacDonald AM, Bonsor HC, Dochartaigh BÉÓ, Taylor RG (2012) Quantitative maps of groundwater resources in Africa. Environ Res Lett 7:24009

McDonald RI, Douglas I, Revenga C, Hale R, Grimm N, Grönwall J, Fekete B (2011) Global urban growth and the geography of water availability, quality, and delivery. Ambio 40:437–446

McDonald RI, Weber K, Padowski J, Flörke M, Schneider C, Green PA, Gleeson T, Eckman S, Lehner B, Balk D, Boucher T, Grill G, Montgomery M (2014) Water on an urban planet: urbanization and the reach of urban water infrastructure. Glob Environ Chang 27:96–105

Meigh JR, McKenzie AA, Sene KJ (1999) A grid-based approach to water scarcity estimates for eastern and southern Africa. Water Resour Manag 13:85–115

Meinzen-Dick R (2007) Beyond panaceas in water institutions. Proc Natl Acad Sci 104:15200–15205

Muller M (2007) Adapting to climate change water Management for Urban Resilience. Environ Urban 19:99–113

Nafi A, Tcheng J, Beau P (2015) Comprehensive methodology for overall performance assessment of water utilities. Water Resour Manag 29:5429–5450

Nordhaus W, Azam Q, Corderi D, Hood K, Victor N, Mohammed M, Miltner A, Weiss J (2012) The G-econ database on gridded output. Yale University, New Haven

Padowski JC, Jawitz JW (2012) Water availability and vulnerability of 225 large cities in the United States. Water Resour Res 48. doi:10.1029/2012WR012335

Pierce JC, Budd WW, Jr NPL (2011) Resilience and sustainability in US urban areas. Environ Polit 20:566–584

Proença de Oliveria R, Saldanha Matos J, Monteiro AJ (2015) Managing the urban water cycle in a changing environment. Water utility. Journal 9:3–12

Saleth RM, Dinar A (2004) The institutional economics of water. MPG Books Ltd., Cheltenham

Schneider F, Bonriposi M, Graefe O, Herweg K, Homewood C, Huss M, Kauzlaric M, Liniger H, Rey E, Reynard E, Rist S, Schädler B, Weingartner R (2015) Assessing the sustainability of water governance systems: the sustainability wheel. J Environ Plan Manag 58:1577–1600

Scholz, JT and Stiftel B, (2005) Adaptive governance and water conflict: new institutions for collaborative planning. Resources for the Future, Washington, D.C

Showers KB (2002) Water scarcity and urban Africa: an overview of urban–rural water linkages. World Dev 30:621–648

United Nations (2012) Status report on the application of integrated approaches to water resources management. UN Water Report, UN-Water for the Rio + 20 Summit

United Nations (2014) Population division: world urbanization prospects, the 2014 revision. Department of Economic and Social Affairs, New York

USCB (2009) Metropolitan and Micropolitan Statistical Areas. Tables and Datasets. http://www.census.gov/popest/data/metro/totals/2009/index.html.

van Leeuwen CJ, Frijns J, van Wezel A, van de Ven FHM (2012) City blueprints: 24 indicators to assess the sustainability of the urban water cycle. Water Resour Manag 26:2177–2197

Vörösmarty CJ, Douglas EM, Green PA, Revenga C (2005) Geospatial indicators of emerging water stress: an application to Africa. Ambio 34(3):230–236

Weiskel, P.K., R.M. Vogel, P.A. Steeves, P.J. Zarriello, L.A. DeSimone, and K.G.R. III, 2007. Water use regimes: characterizing direct human interaction with hydrologic systems. Water Resour Res 43:W04402.

World Bank (2014) World Bank GNI per Capita Operational Guidelines & Analytical Classifications. http://siteresources.worldbank.org/DATASTATISTICS/Resources/OGHIST.xls.
Acknowledgements
This research was supported in part by USDA National Institute of Food and Agriculture Hatch projects FLA-SWS-005461, the Adaptive Management of Water, Wetlands and Watersheds IGERT program at the University of Florida, the State of Washington Water Research Center and the Center for Environmental Research, Education and Outreach at Washington State University.
About this article
Cite this article
Padowski, J.C., Carrera, L. & Jawitz, J.W. Overcoming Urban Water Insecurity with Infrastructure and Institutions. Water Resour Manage 30, 4913–4926 (2016). https://doi.org/10.1007/s11269-016-1461-0
Received:

Accepted:

Published:

Issue Date:
Keywords
Urban water

Water supply

Water insecurity

USA

Africa

Water institutions