Abstract
The current paper aims at analyzing the behavior of monthly precipitation in the Brazilian and Bolivian parts of the basin of the Madeira river, one of the most important sub-basins of the Amazon basin. Both parts account for 93 % of its total, and studies on this topic are lacking. The research was based on data from 41 rainfall stations considering a historic series from 1978 to 1998, which encompasses two of the largest El Niño events (1982–1983 and 1997–1998), hence its influence on the precipitation of the region was assessed as well. To study precipitation behavior, rainfall was regionalized using data clustering methods (Ward and K-means), with the basin being divided into five regions of homogeneous rainfall. Both methods were applied to the regions and showed similar results, providing a higher reliability for the clusters obtained. The results of the analysis show the homogeneous regions of the basin, the spatial variability of precipitation, seasonality and the influence of the phenomenon on the region.
Access options
Buy single article
Instant access to the full article PDF.
USD 39.95
Price excludes VAT (USA)
Tax calculation will be finalised during checkout.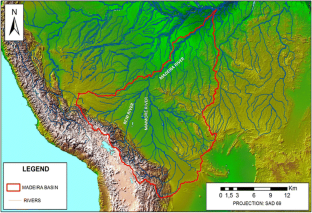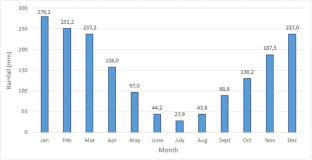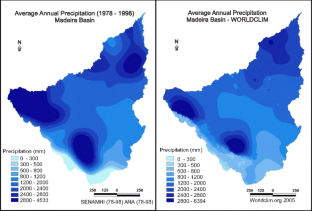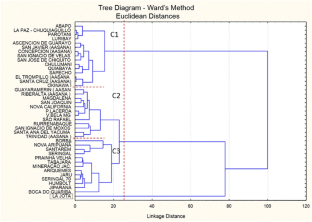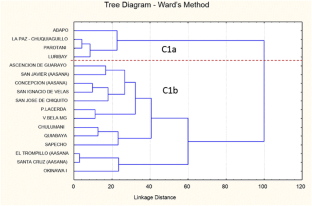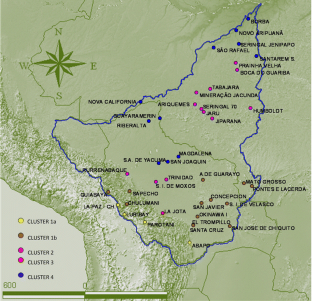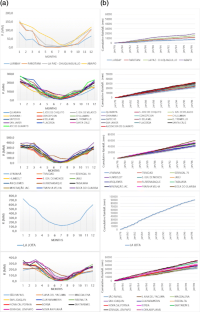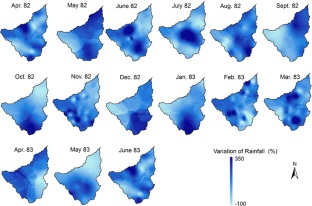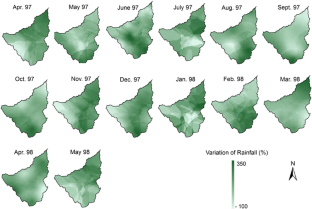 Notes
Rainfall model which employs an information system with data from rainfall stations worldwide, except for Antarctica. In addition to rainfall data, the method considered the availability of the existing relief. Available for free at www.worldclim.org (Hjimans et al. 2005).

In the clustering algorithms, only the precipitation for all rain gauges (in mm) was taken into account, but the authors considered the characteristics of the relief for the final evaluation and analysis of clusters.

Validation metrics (Pakhira et al. 2004).

Periods in which the El Niño phenomenon started and ended, according to the criteria of Trenberth (1997).
References
Aceituno P (1988) On the functioning of the southern oscillation in the south american sector: surface climate. Mon Weather Rev 116:505–524

Barnston AG, Glantz MH, He YX (1999) Predictive skill of statistical and dynamical climate models in SST forecasts during the 1997/98 El Niño episode and the 1998 La Niña onset. Bull Am Meteorol Soc 80:217–243

Brachet C, Valensuela D (2012) The handbook for integrated water resources management in transboundary basins of rivers, lakes and aquifers. INBO-GWP, Paris

CAF, Corporación Andina de Fomento (2007) Aspectos climáticos del fenómeno El Niño en Bolivia. In: Las Lecciones del Niño-Bolivia, 1st edn

Darand M, Mansouri Daneshvar MR (2014) Regionalization of precipitation regimes in iran using principal component analysis and hierarchical clustering analysis. Environ Proc 2(1):514–532

Comisión Económica para América Latina y El Caribe (1998) El Fenómeno El Niño, su naturaleza y los riesgos asociados a su presencia recurrente. CEPAL. http://hdl.handle.net/11362/25288 . Accessed in May 18, 2011

Francou B, Ribstein P, Sémiond H et al (1995) Balances de glaciares y clima en Bolivia y Perú: Impactos de los eventos ENSO. Bull Inst Fr Études Andines 24(3):661–670

Fung GA (2001) Comprehensive overview of basic clustering algorithms. http://www.cs.wisc.edu/~gfung/clustering.pdf. Accessed in Set 25, 2014.war

Ganoulis J (2006) Water resources management and environmental security in Mediterranean transboundary river basins. In: Environmental Security and Environmental Management: The Role of Risk Assessment. Springer Netherlands (1) 49–58. doi 10.1007/1-4020-3893-3_4

Guyot JL (1993) Hydrogéochimie des fleuves de l'Amazonie Bolivienne. ORSTOM, Collection Etudes et Thèses, Paris

Hjimans RJ, Cameron SE, Parra JL et al (2005) Very high resolution interpolated climate surfaces for global land areas. Int J Clim 25:965–1978

Jaiswal RK, Lohani AK, Tiwari HL (2015) Statistical analysis for change detection and trend assessment in climatological parameters. Environ Proc 2(4):729–749. doi:10.1007/s40710-015-0105-3

Kane RP (1999) Rainfall extremes in some selected parts of Central and South America: ENSO and other relationships reexamined. Int J ClimatoAl 19:423–455

Kundzewicz ZW, Hirabayashi Y, Kanae S (2010) River floods in the changing climate—observations and projections. Water Resour Manag 24:2633–2646. doi:10.1007/s11269-009-9571-6

Marengo JA (1992) Interannual variability of surface climate in the Amazon basin. Int J Climatol 12:853–863

Marzban C, Sandgathe S (2006) Cluster analysis for verification of precipitation fields. Weather Forecast 21(5):824–838

Servicio Nacional de Hidrología y Meteorología (1999) Sistema de monitoreo y alerta temprana para zonas propensas a inundaciones en la cuenca del rio Mamoré. SENAMHI

Misir V, Arya DS, Murumkar AR (2013) Impact of ENSO on river flows in Guyana. Water Resour Manag 27(13):4611–4621

Mojena R (1977) Hierarchical grouping methods and stopping rules: an evaluation. Comput J 20:359–363

Molinier M, Guyot JL, Calléde J, Guimarães V, Oliveira E, Filizola N (1997) Hydrologie du bassin amazonien. Environnement et développement en Amazonie brésilienne, Théry H (ed). Belin, Paris

Molion L, Moraes J (1987) Oscilação Sul de descarga de rios na America do Sul tropicana. Rev Bras Eng Caderno de Hidrologia 5(1):53–63

Nadarajah S, Shiau JT (2005) Analysis of extreme flood events for the Pachang River, Taiwan. Water Resour Manag 19:363–374. doi:10.1007/s11269-005-2073-2

OPS, Organización Panamericana de la Salud (2000) Crónicas de Desastres, Fenómeno El Niño 97–98. (Serie Crónicas de Desastres, 8) Washington, D.C., August 2000, 294p

Pakhira MK, Bandyopadhyay S, Maulik U (2004) Validity index for crisp and fuzzy clusters. Pattern Recogn 3:487–501

Philander SGH (1990) El Niño, La Niña, and the Southern Oscillation. Academic Press 293

Instituto Brasileiro do Meio Ambiente e dos Recursos Naturais Renováveis (2007) Analise técnica do EIA/RIMA e de documentos correlatos referentes ao AHE de Santo Antonio e AHE de Jirau. IBAMA. http://www.internationalrivers.org/files/attached-files/ibama_parecer_032007.pdf. Accessed in Jul 24, 2014

Roche MA, Jauregui CF, RiveraI AA et al (1992) Balance hídrico de Bolivia, 1st edn. UNESCO-PHICAB, La Paz

Ronchail J et al (2002) Interannual rainfall variability in the amazon basin and sea-surface temperatures in the equatorial pacific and the tropical Atlantic oceans. Int J Clim 22(13):1663–1686

Sena JA, Beser de Deus LA, Freitas MA et al (2012) Extreme events of droughts and floods in amazonia: 2005 and 2009. Water Resour Manag 26(6):1665–1676. doi:10.1007/s11269-012-9978-3

Trenberth K (1997) The definition of El niño. Bull Am Meteorol Soc 78:2771–2777

UNDP (2006) Human Development Report. Beyond Scarcity: Power, Poverty and the Global Water Crisis. http://papers.ssrn.com/sol3/papers.cfm?abstract_id=2294691. Accessed in May 05, 2014

UNEP (2010) Africa Water Atlas. Division of Early Warning and Assessment (DEWA). United Nations Environment Programme (UNEP). Nairobi,Kenya. http://www.unep.org/pdf/africa_water_atlas.pdf. Accessed in June 26, 2014

Ward JH Jr (1963) Hierarchical grouping to optimize an objective function. J Am Stat Assoc 58:236–244
Ethics declarations
Conflict of interest
No conflict of interest.
About this article
Cite this article
Andrade, C.D., de Azevedo, J.P.S., Freitas, M.A.V. et al. Precipitation Analysis and the Influence of the El Niño Phenomenon on the Transboundary Basin of the Madeira River. Water Resour Manage 30, 3077–3092 (2016). https://doi.org/10.1007/s11269-016-1332-8
Received:

Accepted:

Published:

Issue Date:

DOI: https://doi.org/10.1007/s11269-016-1332-8
Keywords