Abstract
The present work aims at assessing the impact of MSW on the groundwater quality around dumping yard site, located near the Sangamner city by water quality index (WQI) and its integration in geographical information system (GIS). Groundwater samples (n = 15) around the dumping yard were collected using Garmin GPS device in October 2013 and October 2014. Physico-chemical analysis of same samples was carried out for pH, EC, TDS, Na+, K+,Ca2+, Mg2+, TH, Cl−, HCO3 −, SO4 2− and NO3 − along with the heavy metals like Fe, Zn, Cd and Cr by using standard methods. Similarly, SAR, KRs, RSC and SSP were also calculated to know the groundwater quality into irrigation perspective. WQI for 15 samples were calculated using physico-chemical results/data of 12 parameters and its desirable limit of BIS standard. Generated WQI (z) for October 2013 and October 2014 were integrated with latitude (y) and longitude (x) values, collected using GPS during the field work. Integrated xyz data were then interpolated in Surfer-10 GIS software using inverse distance weight (IDW) method to estimate the groundwater quality of the study area. Study revealed that the groundwater quality around the dumping yard area does not confirm to drinking and domestic purposes as per the WQI and BIS standard. However, the groundwater quality is marginally suitable for irrigation as per SAR, KRs, RSC and SSP. The influence of leachate from MSW dumping site to surrounding groundwater is creating a serious concern and susceptible to potential health hazards. Thus, continuous monitoring of groundwater is desperately required in order to minimize the groundwater pollution for control the pollution-caused MSW.
Access options
Buy single article
Instant access to the full article PDF.
US$ 39.95
Tax calculation will be finalised during checkout.
Subscribe to journal
Immediate online access to all issues from 2019. Subscription will auto renew annually.
US$ 79
Tax calculation will be finalised during checkout.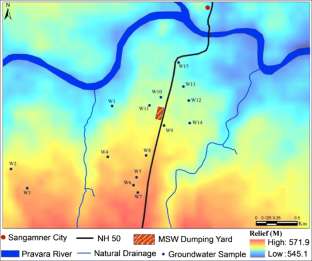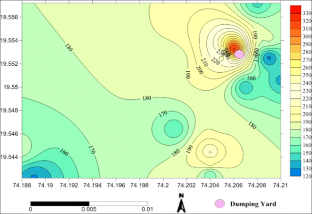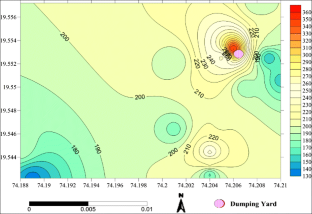 References
Adefemi SO, Awokunmi EE (2010) Determination of Physico-chemical parameters and heavy metals in water samples from Itaogbolu area of Ondo State, Nigeria. Afr J Environ Sci Technol 4:145–148

Aderemi AO, Oriaku AV, Adewumi GA, Otitoloju AA (2011) Assessment of groundwater contamination by leachate near a municipal solid waste landfill. Afr J Environ Sci Technol 5:933–940

Aher SP, Bairagi SI, Deshmukh PP, Gaikwad RD (2012) River change detection and bank erosion identification using topographical and remote sensing data. Int J Appl Inf Syst 2:1–7

Aher SP, Shinde SD, Jarag AP, Mahesh Babu JLV, Gawali PB (2014) Identification of Lineaments in the Pravara Basin from ASTER-DEM Data and Satellite Images for their Geotectonic Implication. Int Res J Earth Sci 2:1–5

Ahmed AM, Sulaiman WN (2001) Evaluation of groundwater and soil pollution in a landfill area using electrical resistivity imaging survey. Environ Manag 28:655–663

Akoteyon IS, Mbata UA, Olalude GA (2011) Investigation of heavy metal contamination in groundwater around landfill site in a typical sub-urban settlement in Alimosho Lagos-Nigeria. Appl Sci Environ Sanitation 6:155–163

Anthony K (2012) Impact of Municipal solid wastes on underground water sources in Nigeria. Eur Sci J 8:1–19

APHA (1998) American Public Health Association, Standard methods for the examination of water and wastewater (17th ed). Washington

Beaven RP, Walker AN (1997) Evaluation of the total pollution load of MSW. In UNSPECIFIED, Padova, IT, CISA, 57-71

Belevi H, Baccini P (1991) Long-term assessment of the leachates from municipal solid waste landfills and bottom ash monofills. J Resour Manag Technol 19:68–73

Bernard A (2008) Cadmium and its adverse effects on human health. Ind J Med Res 128:557–564

Bondre NR, Hart WK, Sheth HC (2006) Geology and geochemistry of the Sangamner mafic dike swarm, western Deccan volcanic province, India: Implications for regional stratigraphy. J Geol 114:155–170

Bureau of Indian Standards (BIS): (1991) Indian standard specification for drinking water IS:10500, 2–4

Bureau of Indian Standards (BIS) (1998) Drinking water specifications (revised 2003). IS:10500

Cointreau SJ, Mundial B (1982) Environmental management of urban solid wastes in developing countries: a project guide (Vol. 5). The World Bank

Davijani MH, Anvar AN, Banihabib ME (2014) Locating Water Desalination Facilities for Municipal Drinking Water Based on Qualitative and Quantitative Characteristics of Groundwater in Iran's Desert Regions. Water Resour Manag 28:3341–3353

Deshmukh KK (2011) The Chemistry of groundwater in Sangamner area with regard to their suitability for drinking purposes. Rasayan J Chem 4:770–779

Deshmukh KK, Aher SP (2014) Particle size analysis of soils and its interpolation using GIS technique from Sangamner area, Maharashtra, India. Int J Environ Sci 3:32–37

Doan PL (1998) Institutionalizing household waste collection: the urban environmental management project in Cote d'Ivoire. Habitat Int 22:27–39

El-Fadel M, Findikakis AN, Leckie JO (1971) Environmental impact of solid waste-land filling. J Environ Manag 50:1–25

Gorai AK, Kumar S (2013) Spatial Distribution Analysis of Groundwater Quality Index Using GIS: A Case Study of Ranchi Municipal Corporation Area. Geoinformatics Geostatist: An Overview 1:1–11

Gupta I, Salunkhe A, Rohra N, Kumar R (2011) Groundwater quality in Maharashtra, India: Focus on nitrate pollution. J Environ Sci Eng 53:453–462

Hameed AS, Sony CN, Velayudhan KT, Vasu K (2000) Proceeding of International Conference on integrated water resource management for sustainable. Dev (ICIWRM) 1:19–21

Horton RK (1965) An index number system for rating water quality. J Water Pollut Control Fed 37:300–305

Jhamnani B, Singh S (2009) Groundwater contamination due to Bhalaswa landfill site in New Delhi. Int J Environ Sci Eng 1:121–125

Kanmani S, Gandhimathi R (2013) Investigation of physicochemical characteristics and heavy metal distribution profile in groundwater system around the open dump site. Appl Water Sci 3:387–399

Karanth KR (1987) Groundwater assessment development and management. Tata Mcgrow-Hill Publication, New Delhi

Kelly WP, Brown SM, Liebig F Jr (1940) Chemical effects of saline irrigation water on soils. Soils Sci 49:95–107

Khan R, Husain T, Khan HU, Khan SM, Hoda A (1990) Municipal solid waste management- A case study. Munic Eng 7:109–116

Kjelsen P, Bjerg PL, Rugge K, Christensen TH, Pedersen JK (1998) Characterization of an old municipal landfill (Grindsted Denmark) as a groundwater pollution source: landfill hydrology and leachate migration. Waste Manag Res 16:14–22

Kulkarni PS, Malik MA, Masoom SM (2014) Groundwater quality of Pravara sub basin, Ahmednagar, Maharashtra, India. J Environ Res Dev 9:298–305

Kumar S, Shirke KD, Pawar NJ (2008) GIS-based colour composites and overlays to delineate heavy metal contamination zones in the shallow alluvial aquifers, Ankaleshwar industrial estate, south Gujarat, India. Environ Geol 54:117–129

Loizidou M, Kapetanios E (1992) Heavy metals removal using zealities in tomatao cultivation in Compost, ACTA Horizontal. Int Soc Hortic Sci 302:63–74

Longe E, Balogun M (2010) Groundwater quality assessment near a municipal landfill, Lagos, Nigeria. Res J Appl Sci Eng Technol 2:39–44

Maiti S, Agrawal PK (2005) Environmental Degradation in the context of growing urbanization: A focus on the metropolitan cities in India. J Hum Ecol 17:277–287

Mathiazhagan M, Selvakumar T, Ganesan M (2013) Detection of solid waste dump site–induced groundwater contamination leachate using electrical resistivity method. Proceedings of National Groundwater Conference, Coimbatore, pp 39–40

Miller JC (1979) Nitrate contamination of the water table aquifer by septic tank system in the coastal plain of Delaware. Presented paper at the rural environmental conference, Warren (V.T.)

Mishra PC, Patel RK (2001) Study of pollution load in the drinking water of Rairangpur: a small tribal dominated town of North Orissa. Ind J Environ Ecoplan 5:293–298

Mohan R, Singh AK, Tripathi JK, Chaudhari GC (2000) Hydrochemistry and quality assessment of groundwater in Naini Industiral area, U.P. J Geol Soc Ind 55:77–79

Momani KA (2007) Trace elements in street and household dusts in Amman. Jordan Soil Sediments Contaminates 16:485–496

Nikumbh JD (1997) Geochemistry of groundwater from Behedi basin, District Nashik, Maharashtra. Ph.D thesis, University of Pune

Omofonmwan SI, Eseigbe JO (2009) Effect of solid waste on the quality of Underground water in Benin Metropolis, Nigeria. J Hum Ecol 26:99–105

Panhalkar SS, Jarag AP (2016) Assessment of Spatial Interpolation Techniques for River Bathymetry Generation of Panchganga River Basin Using Geoinformatic Techniques. Asian J Geoinformatics 15:9–15

Pattnaik S, Reddy MV (2009) Bioconversion of municipal (organic) solid waste into nutrient rich vermincompost by earthworms (Eudrilus eugeniae, Eisenia fetida and Perionyx excavatus). Dyn Soil Dyn Plant 3:122–128

Rajkumar N, Subramani T, Elango L (2010) Groundwater contamination due to municipal solid waste disposal - A GIS based study in Erode city. Int J Environ Sci 1:39–54

Raman N, Narayanan DS (2008) Impact of solid waste effect on ground water and soil quality nearer to Pallavaram solid waste landfill site in Chennai. Rasayan J Chem 1:828–836

Rao YS, Jugran DK (2003) Delineation of Groundwater Potential Zones and Zones of Groundwater Quality Suitable for Domestic Purposes using Remote Sensing and GIS. Hydrol Sci J 48:821–833

Ravikumar P, Mehmood MA, Somashekar RK (2013) Water quality index to determine the surface water quality of Sankey tank and Mallathahalli lake, Bangalore urban district, Karnataka, India. Appl Water Sci 3:247–261

Richards LA (1968) Diagnosis and improvement of saline and alkali soils, U. S. salinity laboratory staff. Agriculture handbook (60). Oxford and IBH Publication Company, New Delhi

Robinson H, Gronow J (1992) Groundwater protection in the UK: assessment of the landfill leachate source-term. Inst Water Eng Manag 6:229–236

Sabohi EA, Abdul RS et al (2009) Leachate compositon and groundwater pollution at municipal solid waste landfill of Ibb city, Yemen. Sains Malaysiana 38:295–304

Saeedi M, Abessi O, Sharifi F, Meraji H (2010) Development of groundwater quality index. Environ Monit Assess 163:327–335. doi:10.1007/s10661-009-0837-5

Sahu P, Sikdar PK (2008) Hydrochemical framework of the aquifer in and around East Kolkata wetlands, West Bengal. India Environ Geol 55:823–835

Saleh A, Al-Ruwaih F, Shehata M (1999) Hydrogeochemical processes operating within the main aquifers of Kuwait. J Arid Environ 42:195–209

Shuchun Y, Bin X, Deyang K (2010) Chronology and nutrients change in recent sediment of Taihu Lake, lower Changjiang River Basin, East China. Chin Geogr Sci 20:202–208

Singh DF (1992) Studies on the water quality index of some major rivers of Pune. Maharashtra. Proc Acad Environ Biol 1(1):61–66

Singh RP, Singh P, Arouja ASF, Ibrahim MH, Sulaiman O (2011) Management of urban solid waste: vermicomposting a sustainable option. Resour Consern Recycle 55:719–729

Smith CJ, Hopmans P, Cook FJ (1996) Accumulation of Cr, Pb, Cu, Ni, Zn and Cd in soil following irrigation with treated urban effluent in Australia. Environ Pollut 94(3):317–323

Thitame SN, Pondhe GM (2010) Assessment of seasonal variation in physico-chemical characteristics and quality of Pravara River water for irrigation use in Sangamner, Dist Ahmednagar, Maharashtra. J Chem Pharm Res 2(2):316–320

USDA (1954) U.S. Salinity Laboratory Staff, Diagnosis and improvement of saline and alkali soils, USDA, handbook No. 60. US Department of Agriculture, Washington

Wilcox LV (1955) The quality of water for irrigation use, Technical Bulletin, 962. US Department of Agriculture, Washington

World Health Organization (2002) Guideline for drinking water quality. Health criteria and other supporting information. Geneva, pp 940–949
Acknowledgments
The authors would like to thank to Post-Graduate Research Centre in Chemistry and Post-Graduate Department of Geography, S. N. Arts, D. J. M. Commerce, B. N. S. Science College, Sangamner, for the support of necessary research facilities.
About this article
Cite this article
Deshmukh, K.K., Aher, S.P. Assessment of the Impact of Municipal Solid Waste on Groundwater Quality near the Sangamner City using GIS Approach. Water Resour Manage 30, 2425–2443 (2016). https://doi.org/10.1007/s11269-016-1299-5
Received:

Accepted:

Published:

Issue Date:
Keywords
Municipal solid waste

Physico-chemical analysis

Water quality index

GIS

Groundwater quality