Abstract
River ecosystems are facing a diversity of threats in many parts of the world. To restore and preserve riverine environments, human societies have established water governance and management responses. However, the means by which a satisfactory environmental state can be achieved in light of different regional contexts is still poorly understood. This article explores whether or not good environmental performance can be achieved through water governance and management in combination with further context factors. To this end, we applied fuzzy set Qualitative Comparative Analysis to examine data on water governance, water management, and environmental performance from a recent international study together with context data on per capita income, corruption, hydro-climate, and use pressure from other datasets. Results demonstrate that the combination of polycentric governance, high per capita income, and low levels of corruption is sufficient for achieving good water management practice. However, a good environmental state in river basins seems to primarily depend upon the overall level of pressure from human use rather than the quality of water management. This demonstrates that water governance and management should be seen as part of a broader societal transformation towards sustainability that focusses on a reduction of pressures in river basins instead of mitigating their impacts.
Access options
Buy single article
Instant access to the full article PDF.
US$ 39.95
Tax calculation will be finalised during checkout.
Subscribe to journal
Immediate online access to all issues from 2019. Subscription will auto renew annually.
US$ 79
Tax calculation will be finalised during checkout.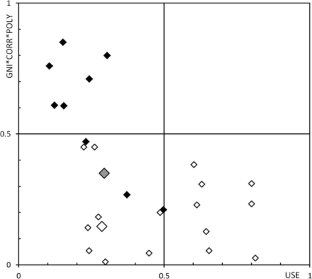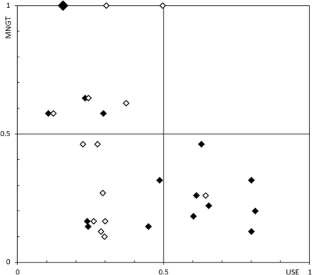 Notes
1.

In this paper, factors denote real-world phenomena that are supposed to influence other phenomena of interest. Indicators are measures describing such phenomena quantitatively or qualitatively. Conditions refer to indicators in an assessment based on Qualitative Comparative Analysis that have been calibrated (see section 2.3). An 'outcome' denotes a condition to be explained through Qualitative Comparative Analysis.

2.

Cf. Schneider and Wagemann (2012) for a comprehensive description of QCA.

3.

For example, if the configurations"A AND B" and "A AND NOT B" are sufficient for an outcome, they will be merged into "A", because in order to achieve the outcome it is irrelevant whether condition A is combined with "B" or "NOT B".

4.

The spatial focus of the Brahmaputra case is on the Indian state of Assam.

5.

Although the calculation required equal-area property, we did not transform the GIS dataset to the sinusoidal projection because the dataset's projection (world cylindrical equal area) is an equal area projection as well.

6.

In QCA, an asterisk (*) denotes a logical AND, a plus (+) a logical OR, and a tilde (~) a logical NOT. An arrow to the right (→) signifies "is/are sufficient for".

7.

Logical minimization allows an alternative most parsimonious solution, CORR*POLY*~USE. It results from the inclusion of the logical remainder ~ GNI*CORR *POLY* ~ USE instead of GNI*CORR*POLY*USE. However, the alternative solution does not pass the PRI consistency threshold and is therefore not considered here.
References
Allan JD (2004) Landscapes and riverscapes: the influence of land use on stream ecosystems. Annu Rev Ecol Evol Syst 35:257–284

Allan JD, Johnson LB (1997) Catchment-scale analysis of aquatic ecosystems. Freshw Biol 37(1):107–111

Amenta E, Poulsen JD (1994) Where to begin: a survey of five approaches to selecting independent variables for qualitative comparative analysis. Sociol Methods Res 23(1):22–53

Benson D, Gain AK, Rouillard JJ (2015) Water governance in a comparative perspective: from IWRM to a 'nexus' approach? Water Alternatives 8(1):756–773

Berg-Schlosser D, De Meur G, Rihoux B, Ragin CC (2009) Qualitative comparative analysis (QCA) as an approach. In: Rihoux B, Ragin CC (eds) Configurational comparative methods. Qualitative Comparative Analysis (QCA) and related techniques. SAGE Publications, Thousand Oaks, pp 1–18

Bucknall J, Damania R, Rao H (2006) Good governance for good water management. In: Evans JW, Roshchupkin VP, Sanhueza A et al (eds) Environment matters at the World Bank: 2006 Annual Review. Washington, DC, pp 20–23, http://siteresources.worldbank.org/INTENVMAT/64199955-1162240805462/21127276/8GoodGovernance.pdf. Accessed 4 March 2015

Center for International Earth Science Information Network - Columbia University (CIESIN), FAO, Centro Internacional de Agricultura Tropical (CIAT) (2005) Gridded population of the world, version 3 (GPWv3): population count grid. Future Estimates NASA Socioeconomic Data and Applications Center (SEDAC), Palisades, NY. doi:10.7927/H42B8VZZ, Accessed 27 May 2014

Cooper B, Glaesser J (2011) Paradoxes and pitfalls in using fuzzy set QCA: illustrations from a critical review of a study of educational inequality. Sociol Res Online 16(3):8

de Sherbinin A, Mara V, Bertule M et al. (forthcoming) Integrated Indicator Analysis. In: UNEP, UNEP-DHI (eds). Transboundary River Basins: Status and Trends. UNEP, Nairobi, pp 135–165

Esty DC, Levy M, Srebotnjak T, de Sherbinin A (2005) Environmental Sustainability Index: benchmarking national environmental stewardship. Yale Center for Environmental Law & Policy, New Haven, http://www.yale.edu/esi/. Accessed 2 June 2015

European Environment Agency (EEA) (2015) The European Environment. State and Outlook 2015. Synthesis Report. Copenhagen. http://www.eea.europa.eu/soer-2015/synthesis/report. Accessed 24 April 2015

Finlayson CM, D'Cruz R et al (2005) Inland water systems. In: Hassan R, Scholes R, Ash N (eds) Ecosystems and human well-being: current state and trends, vol 1, Island Press. Washington, DC, pp 551–583, http://www.unep.org/maweb/en/Condition.aspx. Accessed 9 October 2013

Flörke M, Schneider C, Green P, Vörösmarty C (forthcoming) Water Quantity. In: UNEP, UNEP-DHI (eds). Transboundary River Basins: Status and Trends. UNEP, Nairobi, pp 46–70

Global Vegetation Monitoring (GVM), Joint Research Centre (JRC) (2004) The Global Land Cover Map for the Year 2000. GLC2000 database. http://bioval.jrc.ec.europa.eu/products/glc2000/glc2000.php. Accessed 14 June 2013

Grey D, Sadoff CW (2007) Sink or swim? Water security for growth and development. Water Policy 9(6):545–571

Grigg NS (2015) Problem archetypes as common ground for water resources management education. Water Resour Manag 29(10):3535–3550

Gupta J, Akhmouch A, Cosgrove W et al (2013) Policymakers' reflections on water governance issues. Ecol Soc 18(1):35

Harding JS, Benfield EF, Bolstad PV et al (1998) Stream biodiversity: the ghost of land use past. PNAS 95(25):14843–14847

Karr JR (1999) Defining and measuring river health. Freshw Biol 41(2):221–234

Kenward RE, Whittingham MJ, Arampatzis S et al (2011) Identifying governance strategies that effectively support ecosystem services, resource sustainability, and biodiversity. PNAS 108(3):5308–5312

Langhans SD, Reichert P, Schuwirth N (2014) The method matters: a guide for indicator aggregation in ecological assessments. Ecol Indic 45:494–507

Lawford R, Bogardi J, Marx S et al (2013) Basin perspectives on the Water-Energy-Food Security Nexus. Curr Opin Environ Sustain 5(6):607–616

Malmqvist B, Rundle S (2002) Threats to the running water ecosystems of the world. Environ Conserv 29(2):134–153

Morse S (2006) Is corruption bad for environmental sustainability? A cross-national analysis. Ecol Soc 11(1):22

Müller Schmied H, Eisner S, Franz D et al (2014) Sensitivity of simulated global-scale freshwater fluxes and storages to input data, hydrological model structure, human water use and calibration. Hydrol Earth Syst Sci 18:3511–3538

Naiman RJ, Dudgeon D (2011) Global alteration of freshwaters: influences on human and environmental well-being. Ecol Res 26(5):865–873

Pahl-Wostl C (2007) Transitions towards adaptive management of water facing climate and global change. Water Resour Manag 21(1):49–62

Pahl-Wostl C, Knieper C (2014) The capacity of water governance to deal with the climate change adaptation challenge: using fuzzy set Qualitative Comparative Analysis to distinguish between polycentric, fragmented and centralized regimes. Glob Environ Chang 29:139–154

Pahl-Wostl C, Lebel L (2010, updated 2011) Methods for Comparative Analysis. http://www.twin2go.uos.de/downloads/deliverables/167-d1-3-comparative-methods-v2

Pahl-Wostl C, Lebel L, Knieper C, D'Haeyer T (eds.) (2011, updated 2012) Synthesis Report. Context-Sensitive Comparative Analysis of Associations between Water Governance Properties and Performance in Water Management. http://www.twin2go.uos.de/downloads/deliverables/170-d2-3-synthesis-report-v2

Pahl-Wostl C, Lebel L, Knieper C, Nikitina E (2012) From applying panaceas to mastering complexity: toward adaptive water governance in river basins. Environ Sci Pol 23:24–34

Pahl-Wostl C, Palmer M, Richards K (2013) Enhancing water security for the benefits of humans and nature - the role of governance. Curr Opin Environ Sustain 5(6):676–684

Paul MJ, Meyer JL (2001) Streams in the urban landscape. Annu Rev Ecol Syst 32:333–365

Poff NL, Zimmerman JKH (2010) Ecological responses to altered flow regimes: a literature review to inform the science and management of environmental flows. Freshw Biol 55:194–205

Ragin CC (1987) The comparative method: moving beyond qualitative and quantitative strategies. University of California Press, Berkeley

Ragin CC (2006) Set relations in social research: evaluating their consistency and coverage. Polit Anal 14(3):291–310

Ragin CC (2009) Qualitative Comparative Analysis using fuzzy sets (fsQCA). In: Rihoux B, Ragin CC (eds) Configurational comparative methods. Qualitative Comparative Analysis (QCA) and related techniques. SAGE Publications, Thousand Oaks, pp 87–121

Ragin CC, Sonnett J (2004) Between complexity and parsimony: limited diversity, counterfactual cases and comparative analysis. In: Kropp S, Minkenberg M (eds) Vergleichen in der Politikwissenschaft. VS Verlag für Sozialwissenschaften, Wiesbaden, pp 180–197

Ragin CC, Drass KA, Davey S (2009) Fuzzy-Set/Qualitative Comparative Analysis 2.5. Department of Sociology, University of Arizona, Tucson. http://www.u.arizona.edu/~cragin/fsQCA/software.shtml. Accessed 21 May 2012

Revenga C, Brunner J, Henninger N et al. (2000) Pilot Analysis of Global Ecosystems. Freshwater Systems. http://pdf.wri.org/page_freshwater.pdf. Accessed 10 May 2013

Revenga C, Campbell I, Abell R et al (2005) Prospects for monitoring freshwater ecosystems towards the 2010 targets. Philos T Roy Soc B 360:397–413

Rihoux B, Ragin CC (eds.) (2009) Configurational Comparative Methods. Qualitative Comparative Analysis (QCA) and Related Techniques. SAGE Publications, Thousand Oaks

Rogers P, Hall AW (2003) Effective Water Governance. Elanders Novum, Sweden. http://www.tnmckc.org/upload/document/bdp/2/2.7/GWP/TEC-7.pdf. Accessed 12 March 2014

Schneider C, Wagemann C (2012) Set-theoretic methods for the social sciences: a guide to Qualitative Comparative Analysis. Cambridge University Press, Cambridge

Skaaning SE (2011) Assessing the robustness of crisp-set and fuzzy-set QCA results. Sociol Methods Res 40(2):391–408

Transparency International (2010) Corruption Perceptions Index 2010. http://files.transparency.org/content/download/132/531/2010_CPI_EN.pdf. Accessed 17 October 2014

U.S. Geological Survey (USGS) (2013) HydroSHEDS. 30 sec SHAPE: Drainage Basins (Beta). http://hydrosheds.cr.usgs.gov/datadownload.php?reqdata=30bass. Accessed 27 May 2013

UNEP (2006a) Environmental Data Explorer. Watershed Boundaries Level 2 - HYDRO1k. http://geodata.grid.unep.ch/. Accessed 27 May 2013

UNEP (2006b) Environmental Data Explorer. Administrative Boundaries - First Level (ESRI). http://geodata.grid.unep.ch/options.php?selectedID=290&selectedDatasettype=16. Accessed 27 May 2013

UNEP (2006c) Challenges to International Waters - Regional Assessments in a Global Perspective. UNEP, Nairobi, Kenya

UNESCO (n.d.) WWDRII Data Download Page. http://wwdrii.sr.unh.edu/download.html. Accessed 29 May 2013

Vörösmarty CJ, Lévêque C, Revenga C et al (2005) Fresh water. In: Hassan R, Scholes R, Ash N (eds) Ecosystems and human well-being: current state and trends, volume 1. Island Press, Washington, pp 165–207, http://www.unep.org/maweb/en/Condition.aspx

Vörösmarty CJ, McIntyre PB, Gessner MO et al (2010) Global threats to human water security and river biodiversity. Nature 467:555–561

Vörösmarty CJ, Pahl-Wostl C, Bunn SE, Lawford R (2013) Global water, the anthropocene and the transformation of a science. Curr Opin Environ Sustain 5(6):539–550

Wasson J-G, Villeneuve B, Iital A et al (2010) Large-scale relationships between basin and riparian land cover and the ecological status of European rivers. Freshw Biol 55:1465–1482

Welsch H (2004) Corruption, growth, and the environment: a cross-country analysis. Environ Dev Econ 9:663–693

World Bank (2014) World DataBank. World Development Indicators. http://data.worldbank.org/indicator/NY.GNP.PCAP.PP.KD. Accessed 17 October 2014
Acknowledgments
The research leading to these results has received funding from the European Community's Seventh Framework Programme (FP7/2007-2013) under grant agreement n° 226571. The Rüdiger Kurt Bode Foundation provided co-funding, which facilitated the follow-up research presented here. We thank Christof Schneider (University of Kassel) for providing two useful spatial datasets (Environmental Stress induced by Flow Regime Alterations, coefficient of variation of annual flow) and Luzma Fabiola Nava Jiménez (now International Institute for Applied Systems Analysis, Laxenburg), who contributed data on the Rio Grande case. Finally, we thank our colleagues from Osnabrück University for helpful comments on earlier versions of the paper.
Ethics declarations
Conflict of Interest
The authors declare that they have no conflict of interest.
Electronic supplementary material
Below is the link to the electronic supplementary material.
About this article
Cite this article
Knieper, C., Pahl-Wostl, C. A Comparative Analysis of Water Governance, Water Management, and Environmental Performance in River Basins. Water Resour Manage 30, 2161–2177 (2016). https://doi.org/10.1007/s11269-016-1276-z
Received:

Accepted:

Published:

Issue Date:
Keywords
Polycentric water governance

Water management

Fuzzy set Qualitative Comparative Analysis (fsQCA)

River basins

Environmental state