Abstract
Extreme rainfall events are among the natural hazards with catastrophic impacts on human society. Trend analysis is important to understand the effects of climate change and variability on extreme rainfalls. In this study, extreme rainfall (i.e., annual maximums) trends were investigated in Victoria (Australia) using data from 23 stations for storm durations of 10 and 30 min, and 1, 3, 6, 12, 24 and 48 h. The Mann-Kendal and Spearman's Rho tests were employed for detection of temporal trends. Moreover, the spatial variability of extreme rainfall trends was investigated through interpolation of Theil-Sen's estimator over Victoria. In general, increasing extreme rainfall trends were detected for short storm durations (i.e., 10 and 30 min, and 1 and 3 h), whereas decreasing extreme rainfall trends were found for long storm durations (i.e., 6, 12, 24 and 48 h). Increasing trends for short storm durations were mostly statistically significant, while decreasing trends for long storm durations were statistically insignificant. Trend analysis with respect to the four regions (i.e., Western, Northern, Central and Gippsland) in Victoria showed that increasing trends were present in general in the Northern and east Central Region, whereas decreasing trends were detected in the Western and west Gippsland Regions.
Access options
Buy single article
Instant access to the full article PDF.
USD 39.95
Price excludes VAT (USA)
Tax calculation will be finalised during checkout.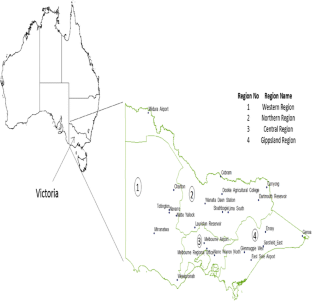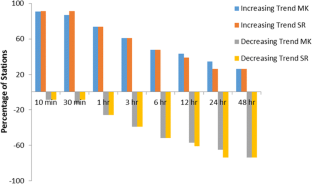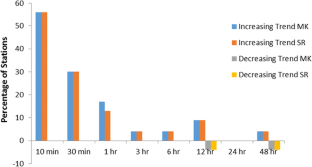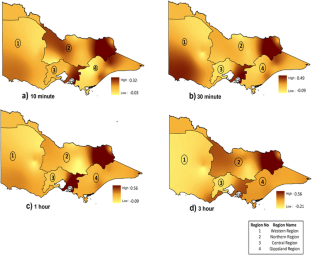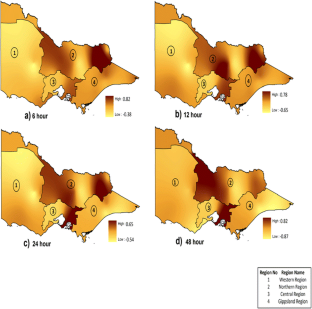 References
Ashok K, Guan Z, Yamagata T (2003) Influence of the Indian Ocean Dipole on the Australian winter rainfall. Geophys Res Lett 30 doi:10.1029/2003GL017926

Australian Bureau of Statistics (ABS) (2014). http://www.abs.gov.au/ausstats/abs@.nsf/Products/3218.0~2012-13~Main+Features~Victoria?OpenDocument. Accessed 01/08/2014

Barua S, Muttil N, Ng AWM, Perera BJC (2012) Rainfall trend and its implications for water resource management within the Yarra River catchment, Australia. Hydrol Process. doi:10.1002/hyp.9311

Basistha A, Arya DS, Goel NK (2008) Spatial distribution of rainfall in Indian Himalayas – A case study of Uttarakhand region. Water Resour Manag 22:1325–1346

Bayazit M, Onoz B (2007) To prewhiten or not to prewhiten in trend analysis? Hydrol Sci J 52(4):611–624

Bonaccorso B, Cancelliere A, Rossi G (2005) Detecting trends of extreme rainfall series in Sicily. Adv Geosci 2:7–11

Chiew F, Siriwardena L (2005) Trend. CRC for catchment hydrology: Australia, 29

Chowdhury RK, Beecham S (2013) Characterization of rainfall spells for urban water management. Int J Climatol 33:959–967. doi:10.1002/joc.3482

Collins DA, Della-Marta PM (2002) Atmospheric indicators for the state of the environment report 2001. Technical Report No. 74, Bureau of Meteorology, Australia, 25 pp

CSIRO, Climate variability and change in south-eastern Australia: a synthesis of findings from Phase 1 of the South Eastern Australian Climate Initiative (SEACI) (2010) Sydney, Australia

DeGaetano AT (2009) Time-dependent changes in extreme-precipitation return-period amounts in the continental United States. J Appl Meteorol Climatol 48:2086–2099. doi:10.1175/2009JAMC2179.1

DEPI (Department of Environment and Primary Industries) (2014) http://www.depi.vic.gov.au/water/governing-water-resources/sustainable-water-strategies. Accessed 15 Nov 2014

Dinpashoh Y, Jhajharia D, Fakheri-Fard A, Singh VP, Kahya E (2011) Trends in reference crop evapotranspiration over Iran. J Hydrol 399:422–433

Gallant AJE, Hennessy KJ, Risbey J (2007) Trends in rainfall indices for six Australian regions: 1910–2005. Aust Meteorol Mag 56:223–239

Groisman PY, Knight RW, Karl TR (2001) Heavy precipitation and high streamflow in the contiguous United States: trends in the twentieth century. Bull Am Meteorol Soc 82:219–246. doi:10.1175/1520-0477(2001)082<0219:HPAHSI>2.3.CO;2

Groisman PY, Knight RW, Easterling DR, Karl TR, Hegerl GC, Razuvaev VN (2005) Trends in intense precipitation in the climate record. J Clim 615(18):1326–1350

Hapuarachchi HAP, Wang QJ, Pagano TC (2011) A review of advances in flash flood forecasting. Hydrol Process 25:2771–2784. doi:10.1002/hyp.8040,2011

Hartkamp AD, De Beurs K, Stein A, White JW (1999) Interpolation techniques for climate variables. NRG-GIS Series 99-01. Mexico, D.F.: CIMMYT

Haylock MR, Peterson TC, Alves LM, Ambrizzi T, Anunciação YMT, Baez J, Barros VR, Berlato MA, Bidegain M, Coronel G, Corradi V, Garcia VJ, Grimm AM, Karoly D, Marengo JA, Marino MB, Moncunill DF, Nechet D, Quintana J, Rebello E, Rusticucci M, Santos JL, Trebejo I, Vincent LA (2006) Trends in total and extreme South American Rainfall in 1960–2000 and links with sea surface temperature. J Clim 19:1490–1512. doi:10.1175/JCLI3695.1

Hong Y, Nix HA, Hutchinson MF, Booth TH (2005) Spatial interpolation of monthly mean climate data for China. Int J Climatol 25:1369–1379. doi:10.1002/joc.1187

Hundecha Y, Bárdossy A (2005) Trends in daily precipitation and temperature extremes across western Germany in the second half of the 20th century. Int J Climatol 25:1189–1202. doi:10.1002/joc.1182

IPCC (2007) Climate change 2007: the physical science basis. In: Solomon S, Qin D, Manning M, Chen Z, Marquis M, Averyt KB, Tignor M, Miller HL (eds) Contribution of working group I to the fourth assessment report of the intergovernmental panel on climate change. Cambridge University Press, Cambridge, United Kingdom and New York

Ishak E, Rahman A, Westra S, Sharma A, Kuczera G (2013) Evaluating the non-stationarity of Australian annual maximum flood. J Hydrol 494:134–145

Iwasaki H (2012) Recent positive trend in heavy rainfall in eastern Japan and its relation with variations in atmospheric moisture. Int J Climatol 32:364–374. doi:10.1002/joc.2269

Khaliq MN, Ouarda TBMJ, Ondo J-C, Gachon P, Bobee B (2006) Frequency analysis of a sequence of dependent and/or non-stationary hydro-meteorological observations: a review. J Hydrol 329:534–552

Khan S, Kuhn G, Ganguly AR, Erickson DJ, Ostrouchov G (2007) Spatio-temporal variability of daily and weekly precipitation extremes in South America. Water Resour Res 43, W11424. doi:10.1029/2006WR005384

Kiktev D, Sexton DMH, Alexander L, Folland CK (2003) Comparison of modeled and observed trends in indices of daily climate extremes. J Clim 16:3560–3571. doi:10.1175/1520-0442(2003)016<3560:COMAOT>2.0.CO;2

Kumar S, Merwade V, Kam J, Thurner K (2009) Streamflow trends in Indiana: effects of long term persistence, precipitation and subsurface drains. J Hydrol 374(1–2):171–183

Kundzewicz ZW, Robson A (2000) Detecting trend and other changes in hydrological data. WCDMP, no. 45; WMO-TD, no. 1013, World Meteorological Organization, Geneva, Switzerland

Kysely J (2009) Trends in heavy precipitation in the Czech Republic over 1961–2005. Int J Climatol 29(1745–1758):2007. doi:10.1002/joc.1784.IPCC

Laz OU, Rahman A, Yilmaz A, Haddad K (2014) Trends in sub hourly, sub daily and daily extreme rainfall events in eastern Australia. Journal of Water and Climate Change 5(4):667–675

Meneghini B, Simmonds I, Smith IN (2007) Association between Australian rainfall and the Southern Annular Mode. Int J Climatol 27:109–121

Min SK, Zhang X, Zwiers FW, Hegerl GC (2011) Human contribution to more-intense precipitation extremes. Nature 470:378–381. doi:10.1038/nature09763

Mohsin T, Gough WA (2009) Trend analysis of long-term temperature time series in the Greater Toronto Area (GTA). Theor Appl Climatol 101:311–327

Murphy BF, Timbal B (2008) A review of recent climate variability and climate change in southeastern Australia. Int J Climatol 28:859–879

Nedovic-Budic Z, Feeney M, Rajabifard A, Williamson I (2004) Are SDIs serving the needs of local planning? Case study of Victoria, Australia, and Illinois, USA. Comput Environ Urban Syst 28:329–351

New M et al (2006) Evidence of trends in daily climate extremes over southern and west Africa. J Geophys Res 111, D14102. doi:10.1029/2005JD006289

Novotny EV, Stefan HG (2007) Stream flow in Minnesota: indicator of climate change. J Hydrol 334(3–4):319–333

Sen PK (1968) Estimates of the regression coefficient based on Kendall's tau. J Am Stat Assoc 63:1379–1389

Shahid S (2011) Trends in extreme rainfall events of Bangladesh. Theor Appl Climatol 104:489–499

Shifteh Some'e B, Ezani A, Tabari H (2012) Spatiotemporal trends and change point of precipitation in Iran. Atmos Res 113:1–12

Smith I (2004) An assessment of recent trends in Australian rainfall. Aust Meteorol Mag 53:163–173

Theil H (1950) A rank invariant method of linear and polynomial regression analysis, part 3. Neth Akad Wet Proc 53:1397–1412

Verdon DC, Wyatt AM, Kiem AS, Franks SW (2004) Multi-decadal variability of rainfall and streamflow– Eastern Australia. Water Resour Res 40, W10201. doi:10.1029/2004WR003234

von Storch VH (1995) Misuses of statistical analysis in climate research. In: von Storch H, Navarra A (eds) Analysis of climate variability: applications of statistical techniques. Springer, Berlin, pp 11–26

Wan Zin WZ, Jamaludin S, Deni SM, Jemain AA (2010) Recent changes in extreme rainfall events in Peninsular Malaysia: 1971–2005. Theor Appl Climatol 99(3-4):303–314

Westra S, Sisson SA (2011) Detection of non-stationarity in precipitation extremes using a max-stable process model. J Hydrol 406(1–2):119–128

Yilmaz AG (2014) The effects of climate change on historical and future extreme rainfall in Antalya, Turkey. Hydrol Sci J. doi:10.1080/02626667.2014.945455

Yilmaz AG, Perera BJC (2014) Extreme rainfall nonstationarity investigation and intensity–frequency–duration relationship. J Hydrol Eng 19(6):1160–1172

Yilmaz AG, Imteaz MA, Gato-Trinidad S, Hossain I (2011) Climate change finger prints in mountainous upper Euphrates Basin. Int J Environ Ecol Geol Min Eng 5(1):1–9

Yilmaz AG, Hossain I, Perera BJC (2014) Effect of climate change and variability on extreme rainfall intensity–frequency–duration relationships: a case study of Melbourne. Hydrol Earth Syst Sci 18:4065–4076

Yue S, Pilon P, Cavadias G (2002) Power of the Mann Kendall and Spearman's rho tests for detecting monotonic trends in hydrological series. J Hydrol 259(1-4):254–271
Conflict of Interest
The authors declare that they have no conflict of interest.
About this article
Cite this article
Yilmaz, A.G., Perera, B.J.C. Spatiotemporal Trend Analysis of Extreme Rainfall Events in Victoria, Australia. Water Resour Manage 29, 4465–4480 (2015). https://doi.org/10.1007/s11269-015-1070-3
Received:

Accepted:

Published:

Issue Date:

DOI: https://doi.org/10.1007/s11269-015-1070-3
Keywords