Abstract
Increased groundwater accessibility resulting from the expansion of deep and shallow tube wells helped Bangladesh attain near self-sufficiency in rice, with national output increasing over 15 million tons in the last two decades. However, problems associated with the excessive exploitation of groundwater notably declining water tables, deteriorating water quality, increasing energy costs and carbon emissions are threatening the sustainability of Bangladesh's groundwater irrigated economy. The forefront challenge, therefore, is to shift the focus from development to management of this precious resource. To ease out pressure on groundwater resources, attention must be diverted to further develop surface water resources. In addition to increasing supplies, water demand also need to be curtailed by increasing water use efficiency through the adoption of water conserving practices such as reduced tillage, raised bed planting, and the right choices of crops. Decreasing water availability both in terms of quantity and quality suggest that the unchecked expansion of dry season boro rice cultivation may not be a long-term option for Bangladesh. Therefore less thirsty wheat and maize crops may be promoted as feasible alternatives to boro. In addition to technical solutions, strong linkage between different institutions will be needed to evaluation strategic options and effective implementation of national policies for the management of groundwater resources.
Access options
Buy single article
Instant access to the full article PDF.
US$ 39.95
Tax calculation will be finalised during checkout.
Subscribe to journal
Immediate online access to all issues from 2019. Subscription will auto renew annually.
US$ 79
Tax calculation will be finalised during checkout.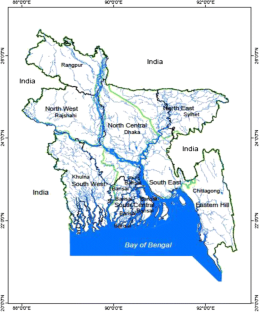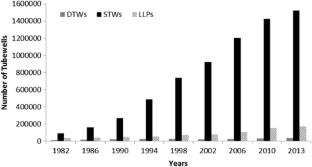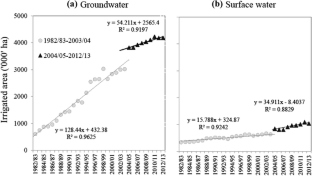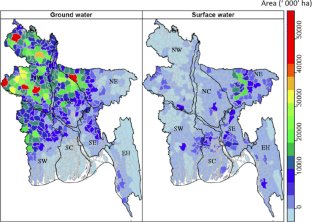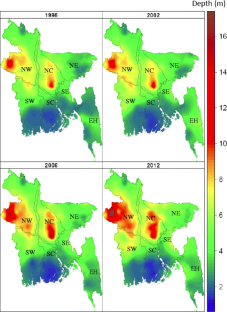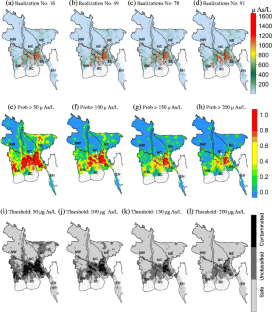 References
Ahmad QK, Biswas AK, Rangachari R, Sainju MM (eds) (2001) Ganges–Brahmaputra–Meghna Region: a framework for sustainable development. The University Press, Dhaka

Ahmed ZU, Panaullah GM, DeGloria SD, Duxbury JM (2011) Factors affecting paddy soil arsenic concentration in Bangladesh: prediction and uncertainty of geo-statistical risk mapping. Sci Total Environ 412–413:324–35

Al-Masum RF (2012). Environmental contamination by CO2 emission through irrigation pumps. MSc. Thesis. Department of Farm Structure and Environmental Engineering. Bangladesh Agricultural University, Mymensingh, Bangladesh

Amarasinghe UA, Sharma BR, Muthuwatta L, Khan ZH (2014) Water for food in Bangladesh: outlook to 2030. Research Report No. 158. International Water Management Institute (IWMI), Colombo, p 32

BADC (Bangladesh Agricultural Development Corporation) (2013) Minor irrigation survey report 2012–2013. Ministry of Agriculture, Dhaka

BARI (Bangladesh Agricultural Research Institute) (2014). ASICT Division, Annual Research Report of 2013–2014. Ministry of Agriculture, Government of Bangladesh. Dhaka

BBS (Bangladesh Bureau of Statistics) (2013) Agricultural statistics yearbook. Dhaka, Bangladesh

BEB (Bangladesh Energy Board) (2012). Ministry of Water, Dhaka, Bangladesh

BGS/DHHE (2001) Arsenic contamination of groundwater in Bangladesh, British Geological Survey (BGS) and Department of Public Health Engineering (DPHE) Govt. of Bangladesh; rapid investigation phase, Final Report

BIDS (Bangladesh Institute for Development Studies) (2012) A citizen's guide to energy subsidies in Bangladesh. BIDS and Institute for Sustainable Development Global Subsidies Initiative, Winnipeg, p 31

Brammer H (2014) Bangladesh's dynamic coastal regions and sea-level rise. Climate Risk Management 1:51--62

BRRI (Bangladesh Rice Research Institute) (2000). In: Annual research review for 1999. XIX. Rice farming systems. October 9–12, 2000

Cassman KG, Dobermann A, Walters DT, Yang H (2003) Meeting cereal demand while protecting natural resources and improving environmental quality. Annu Rev Environ Res 28:315–358

Casta S, Sanz D, Gomez-Alday JJ (2010) Methodology for quantifying groundwater abstractions for agriculture via remote sensing and GIS. Water Resour Manag 24:4. doi:10.1007/s11269-009-9473-7

Chen JF, Lee CH, Yeh TCJ, Yu JL (2005) A water budget model for the Yun-Lin plain, Taiwan. Water Resour Manag 19(5):483–504

Chowdhury NT (2010) Water management in Bangladesh: an analytical review. Water Policy 12:32–51

Dey NC, Bala SK, Saiful Islam AKM, Rashid MA (2013) Sustainability of groundwater use for irrigation in northwest Bangladesh. Policy Report prepared under the National Food Policy Capacity Strengthening Programme (NFPCSP). Dhaka, Bangladesh. 89 pp

Duxbury JM, Panaullah GM, Zavala YJ, Loeppert RU, Ahmed ZU (2009).Impact of use as-contaminated groundwater on soil As content and paddy rice production in Bangladesh. Food and Fertilizer Technology Center. Tech Bull 180

FAO (Food and Agriculture Organization of the United Nations) (2011) AQUASTAT: FAO's information system on water and agriculture. Online: http://www.fao.org/nr/water/aquastat/countries_regions/BGD/index.stm

Hossain M, Deb UK (2003) Trade liberalization and the crop sector in Bangladesh, Paper 23, the Centre for Policy Dialogue, Dhaka, Bangladesh

Jahan CS, Mazumder QH, Akter N, Adham MI, Zaman MA (2010) Hydrogeological environment and groundwater occurrences in the plio-pleistocene aquifer in barind area, northwest Bangladesh. Bangladesh Geosci J 16:23–37

Jasrotia AS, Majhi A, Singh S (2009) Water balance approach for rainwater harvesting using remote sensing and GIS techniques, Jammu Himalaya, India. Water Resour Manag 23:14. doi:10.1007/s11269-009-9422-5

Kasem MA (2006) Evaluation of water management practices for different methods of rice production. PhD Thesis, Faculty of Agricultural Engineering and Technology, Bangladesh Agricultural University, Mymensingh

Krupnik TJ, Santos vale S, McDonald AJ, Justice S, Hossain I, Gathala MK (2013) Made in Bangladesh: scale-appropriate machinery for agricultural resource conservation. CIMMYT, Mexico

Mazza R, La Vigna F, Alimonti C (2014) Evaluating the available regional groundwater resources using the distributed hydrogeological budget. Water Resour Manag 28:3. doi:10.1007/s11269-014-0513-6

Mollah MIU, Bhuyia MSU, Kabir MH (2009) Bed planting—a New crop establishment method for wheat in rice-wheat cropping system. J Agric Rural Dev 7(1&2):23–31

Mukherji A, Banerjee PS, Daschowdhury S (2009) Managing the energy-irrigation nexus in West Bengal, India. In: Mukherji A, Villholth KG, Sharma BR, Wang J (eds) Groundwater governance in the indo-gangetic and yellow river basins: realities and challenges. CRC Press/Balkema, the Netherlands

Panaullah GM, Alam T, Hossain MB, Loeppert RH, Lauren JG, Meisner CA, Ahmed ZU, Duxbury JM (2009) Arsenic toxicity to rice (Oryza sativa L.) in Bangladesh. Plant Soil 317:31–9

Qureshi AS, McCornick PG, Qadir M, Aslam Z (2008) Managing salinity and waterlogging in the Indus Basin of Pakistan. Agric Water Manag 95:1–10

Qureshi AS, McCornick PG, Sarwar A, Sharma BR (2010) Challenges and prospects for sustainable groundwater management in the Indus Basin, Pakistan. Water Resour Manag 24:8. doi:10.1007/s11269-009-9513-3

Rajmohan N, Prathapar SA (2013) Hydrogeology of the Eastern Ganges basin: an overview. IWMI working paper No. 157. International Water Management Institute, Colombo, p 42

Rahman MW, Ahmed R (2008). "Shallow tube well irrigation business in Bangladesh," Paper Presented at Summary and Synthesis Workshop at Kathmandu, Nepal, March 20–24, 2008

Rashid MA (2008) Growth Phase-wise Water Requirements of Rice, Irrigation and Water Management Division, Bangladesh Rice Research Institute (BRRI), Dhaka, Bangladesh

Shah T (2007) The groundwater economy of South-Asia: an assessment of size, significance and socio-ecological impacts. In: Giordano M, Villholth KG (eds) The agricultural groundwater revolution: opportunities and threat to development. CABI, Wallingford, pp 7–36

Shah T, Debroy A, Qureshi AS, Wang J (2003) Sustaining Asia's groundwater boom: an overview of issues and evidence. Nat Resour Forum 27:130–140

Shamsudduha M, Chandler RE, Taylor R, Ahmed KM (2009) Recent trends in groundwater levels in a highly seasonal hydrological system: the Ganges-Brahmaputra-Meghna Delta. Hydrol Earth Syst Sci 13:2373–2385

Talukder RK (2008) Food security in Bangladesh: National and global perspectives. In Proceedings BKAS 13th National Conference and Seminar on Climate Changes: Food Security in Bangladesh, Vol. 13, Dhaka, Bangladesh

Venot JP, Turral H, Samad M, Molle F (2007) Explaining basin closure through shifting waterscape in the lower Krishna Basin, South India. Research Report. International Water Management Institute, Colombo
Acknowledgments
The authors are grateful to Dr. Tushaar Shah of the International Water Management Institute (IWMI) for reviewing and providing valuable comments on an earlier version of this paper. We thank different water and agriculture organizations of Bangladesh for providing needed data and information. This research was conducted under the Cereal Systems Initiative for South Asia – Mechanization and Irrigation (CSISA-MI) project funded by the USAID Mission in Bangladesh.
About this article
Cite this article
Qureshi, A.S., Ahmad, Z.U. & Krupnik, T.J. Moving from Resource Development to Resource Management: Problems, Prospects and Policy Recommendations for Sustainable Groundwater Management in Bangladesh. Water Resour Manage 29, 4269–4283 (2015). https://doi.org/10.1007/s11269-015-1059-y
Received:

Accepted:

Published:

Issue Date:
Keywords
Groundwater management

Bangladesh

Water use efficiency

Boro rice

Tubewell

Arsenic contamination