Abstract
Wetlands are significant examples of ecosystems with high biological diversity and ecological reserve. The quantity of water entering a wetland is a major driver that acts on the ecological state and proper functioning of the wetland ecosystem. Flows that contribute to the sustainability of aquatic habitats and water dependent ecosystem processes are often called environmental flows. There are a number of methods ranging from simple hydrologic assessments to holistic approaches for assessing ecosystem requirements and corresponding environmental flow quantities. These mainly differ by approach rationale, data requirements, addressed ecosystem type, computation time and prediction accuracy. This study introduces a methodological framework for assessing environmental flow potential of a river system with reference to natural hydrologic alteration in river hydrology and probable anthropogenic impacts arising from built-in storage and regulation facilities. It is principally aimed to guide water managers in making decisions for allocating water between the competing economic sectors as well as the environment itself for securing sustainable management. The method is applied to a significant Ramsar wetland selected from the Mediterranean transect of Turkey. The results given in terms of the deficit/surplus rates for the environmental flow potential in the river indicate that the change naturally experienced in hydrologic conditions presents a positive appearance with increased potential for environmental allocations. However, this view is completely reversed in the post-damming period as the storage and regulation effects of an operating dam significantly contribute to decrease in the environmental flow potential, while exacerbating the competition for water in the area.
Access options
Buy single article
Instant access to the full article PDF.
US$ 39.95
Tax calculation will be finalised during checkout.
Subscribe to journal
Immediate online access to all issues from 2019. Subscription will auto renew annually.
US$ 79
Tax calculation will be finalised during checkout.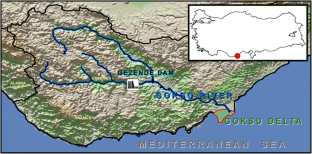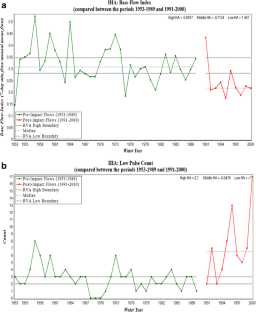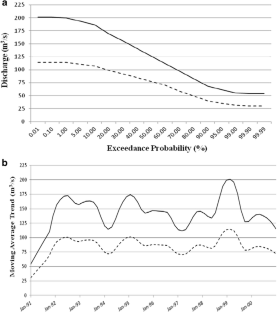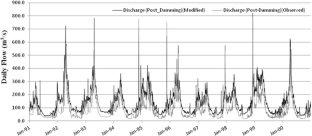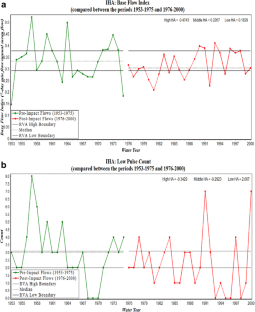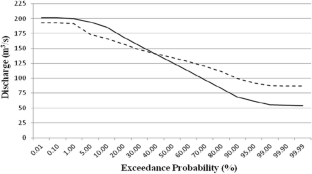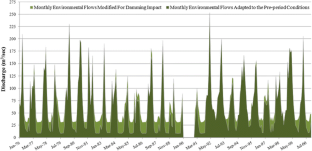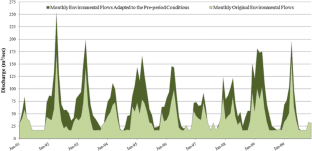 References
Acreman M, Dunbar MJ (2004) Defining environmental river flow requirements - a review. Hydrol Earth Syst Sci 8(5):861–876

Acreman MC, Ferguson AJD (2010) Environmental flows and the european water framework directive. Freshwater Biol 55:32–48

Arthington AH, Tharme RE, Brizga SO, Pusey BJ, Kennard MJ (2004) Environmental flow assessment with emphasis on holistic methodologies. In RL Welcomme, T Petrc (eds) Proceedings of the Second International Symposium on the Management of Large Rivers for Fisheries, Vol. 2. Bangkok, FAO: 37–65

Belmar O, Velasco J, Martínez-Capel F, Peredo-Parada M, Snelder T (2012) Do environmental stream classifications support flow assessments in mediterranean basins? Water Resour Manag 26(13):3803–3817

Cleveland RB, Cleveland WS, McRae JE, Terpenning I (1990) STL: a seasonal-trend decomposition procedure based on loess. j off stat 6(1):3–73

Cleveland WS (1993) Visualizing data. Hobart Press, New Jersey

Dyson M, Bergkamp G, Scanlon J (2008) Flow: The essentials of environmental flows. IUCN (The World Conservation Union), Gland, Switzerland and Cambridge, UK

Gul A, Onusluel Gul G, Dikmen AC, Kuzucu A (2014) Investigating hydrologic alterations for wetland systems in terms of river environmental flows. Water Environ J 28(3):329–339

Kannan N, Jeong J (2011) An approach for estimating stream health using flow duration curves and indices of hydrologic alteration. EPA Region 6 water quality protection division, U.S. Environmental Protection Agency

Kim Z, Singh VP (2014) Assessment of environmental flow requirements by entropy-based multi-criteria decision. Water Resour Manag 28(2):459–474

King JM, Tharme RE, Brown CA (1999) Definition and implementation of instream flows. Thematic report for the world commission on dams. Southern Waters Ecological Research and Consulting, Cape Town

Mackay SJ, Arthington AH, James CS (2014) Classification and comparison of natural and altered flow regimes to support an Australian trial of the ecological limits of hydrologic alteration framework. Ecohydrol 7(6):1485–1507

Mathews R, Richter BD (2007) Application of the indicators of hydrologic alteration software in environmental flow setting. J Am Water Resour As 43(6):1400–1413

Meijer KS, Van der Krogt WNM, Van Beek E (2012) A new approach to incorporating environmental flow requirements in water allocation modeling. Water Resour Manag 26(5):1271–1286

Piniewski M, Laize CLR, Acreman MC, Okruszko T, Schneider C (2014) Effect of climate change on environmental flow indicators in the Narew Basin, Poland. J Environ Qual 43(1):155–167

Richter BD, Baumgartner JV, Powell J, Braun DP (1996) A method for assessing hydrologic alteration within ecosystems. Conserv Biol 10(4):1163–1174

Richter BD, Baumgartner JV, Braun DP, Powell J (1998) A spatial assessment of hydrologic alteration within a river network. Regul River 14:329–340

Smakhtin V, Anputhas M (2006) An assessment of environmental flow requirements of Indian River basins. IWMI Research Report 107, Colombo

Smakhtin VU, Eriyagama N (2008) Developing a software package for global desktop assessment of environmental flows. Environ Model Softw 23(12):1396–1406

Tharme RE (2003) A global perspective on environmental flow assessment: emerging trends in the development and application of environmental flow methodologies for rivers. River Res Appl 19:397–441
Acknowledgments
The author acknowledges Dr. Vladimir Smakhtin and Nishadi Eriyagama from the International Water Management Institute (IWMI), Colombo, Sri Lanka, for sharing the GEFC software.
About this article
Cite this article
Gul, A. Comparing Past and Present Hydrologic Aspects of a Mediterranean Wetland from a Sustainable Management Perspective. Water Resour Manage 29, 2771–2787 (2015). https://doi.org/10.1007/s11269-015-0969-z
Received:

Accepted:

Published:

Issue Date:
Keywords
Wetland

Sustainable management

Environmental flow

Hydrologic alteration