Abstract
Impacts of flood management alternatives are mostly assessed by inundation depth. Other inundation parameters such as velocity and duration are rarely taken into consideration. In this paper, a multi-criteria decision making (MCDM) based framework is used to analyze the effects of inundation velocity and duration on evaluation of flood management alternatives. The framework incorporates a two-dimensional (2D) flood model, Flood2D-GPU and a spatial MCDM (SMCDM) method, Spatial Compromise Programming (SCP). Flood2D-GPU is employed to simulate floods and SCP is applied to rank a set of flood management alternatives. Assessment of flood management options is conducted with multiple different weight set scenarios. First, alternatives are ranked without consideration of inundation velocity and duration. Then, the importance of these parameters increases and the alternatives are ordered in each weight set and a GIS map showing the best alternative in each grid cell is generated in each case. Best alternative maps (BAMs) are compared to investigate the impacts of inundation velocity and duration on selection of best strategy using F fit measure and κ analysis. The framework applicability is illustrated on the Swannanoa River watershed located in the state of North Carolina, US. Case study results indicate up to 49.7 % change of BAM by taking into account inundation velocity and duration. The presented approach addresses the change in selection of flood management strategies resulted by considering other inundation parameters rather than inundation depth. This can potentially reduce the uncertainties associated with the decisions made without consideration of inundation velocity and duration.
Access options
Buy single article
Instant access to the full article PDF.
US$ 39.95
Tax calculation will be finalised during checkout.
Subscribe to journal
Immediate online access to all issues from 2019. Subscription will auto renew annually.
US$ 79
Tax calculation will be finalised during checkout.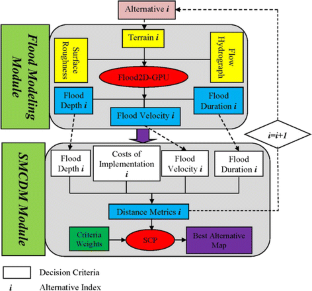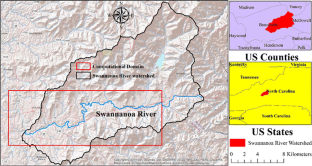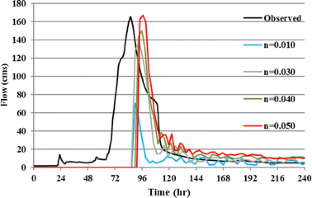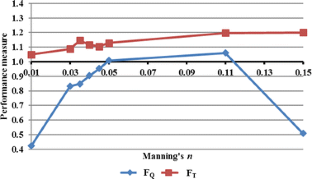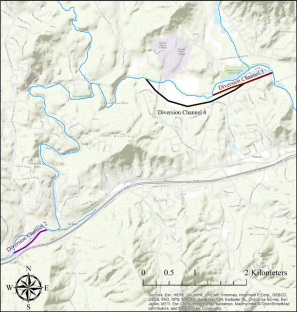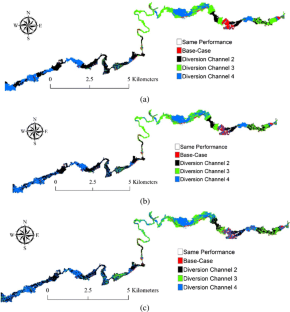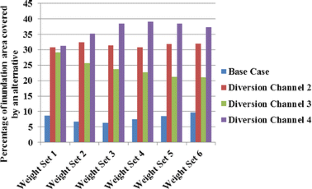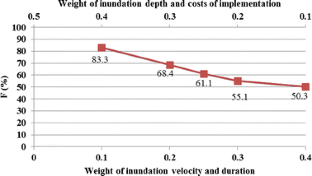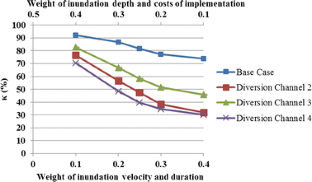 References
Ahmadisharaf E, Bhuiyan MNM, Kalyanapu AJ (2013) Impact of spatial resolution on downstream flood hazard due to dam break events using probabilistic flood modeling. 5th Dam Saf Conf. Association of State Dam Safety Officials (ASDSO), Providence

Bana E, Costa CA, Da Silva PA, Correia FN (2004) Multicriteria evaluation of flood control measures: the case of ribeira do livramento. Water Resour Manag 18:263–283

Bonnin G, Todd D, Lin B, Parzybok T, Yekta M, Riley D (2004) Precipitation frequency atlas of the United States. NOAA Atlas 14:2

Brouwer R, Van Ek R (2004) Integrated ecological, economic and social impact assessment of alternative flood control policies in the Netherlands. Ecol Econ 50:1–21

Chen YR, Yeh CH, Yu B (2011) Integrated application of the analytic hierarchy process and the geographic information system for flood risk assessment and flood plain management in Taiwan. Nat Hazards 59:1261–1276

Citeau JM (2003) A New control concept in the Oise catchment area definition and assessment of flood compatible agricultural activities. FIG Working Week, Paris

Cohen J (1960) A coefficient of agreement for nominal scales. Educ Psychol Meas 20:37–46

Dang MN, Mukand SB, Huynh TL (2011) Evaluation of flood risk parameters in the Day river flood diversion area, Red river delta, Vietnam. Nat Hazards 56:169–194

Dutta D, Herath S, Musiake K (2003) A mathematical model for flood loss estimation. J Hydrol 277:24–49

Fernandez DS, Lutz MA (2011) Urban flood hazard zoning in Tucuman Province, Argentina, using GIS and multicriteria decision analysis. Eng Geol 111:90–98

Ferziger JH, Peric M (2002) Computational methods for fluid dynamics, 3rd edn. Springer, Berlin

Forster S, Kuhlmann B, Lindenschmidt KE, Bronstert A (2008) Assessing flood risk for a rural detention area. Nat Hazards Earth Syst Sci 8:311–322

Hajkowicz S, Collins K (2007) A review of multiple criteria analysis for water resources planning and management. Water Resour Manag 21:1553–1566

Horritt MS (2000) Calibration of a two‐dimensional finite element flood flow model using satellite radar imagery. Water Resour Res 36:3279–3291

Horritt MS, Bates PD (2001a) Effects of spatial resolution on a raster based model of flood flow. J Hydrol 253:239–249

Horritt MS, Bates PD (2001b) Predicting floodplain inundation: raster‐based modelling versus the finite‐element approach. Hydrol Process 15:825–842

Jonkman SN, Vrijling JK, Vrouwenvelder ACWM (2008) Methods for the estimation of loss of life due to floods: a literature review and a proposal for a new method. Nat Hazards 46:353–389

Jonkman SN, Maaskant B, Kolen B, Zethof M, Lehman W (2013) Loss of Life, Evacuation and Emergency Management: Comparison and Application to Case Studies in the USA

Jun KS, Chung ES, Kim YG, Kim Y (2013) A fuzzy multi-criteria approach to flood risk vulnerability in South Korea by considering climate change impacts. Expert Syst Appl 40:1003–1013

Kalyanapu AJ, Shankar S, Stephens A, Judi DR, Burian S (2011) Assessment of GPU computational enhancement to a 2D flood model. J Environ Model Softw 26:1009–1016

Kalyanapu AJ, Shankar S, Stephens A, Judi DR, Burian S (2012) Monte Carlo-based flood modelling framework for estimating probability weighted flood risk. J Flood Risk Manag 5:37–48

Kalyanapu AJ, Hossain AA, Kim J, Yigzaw W, Hossain F, Shum CK (2013) Toward a methodology to investigate the downstream flood hazards on the American River due to changes in probable maximum flood due to effects of artificial reservoir size and land-use/land-cover patterns. Earth Interact 17:1–24

Kalyanapu AJ, Judi DR, McPherson TN, Burian SJ (2014) Annualised risk analysis approach to recommend appropriate level of flood control: application to Swannanoa river watershed. J Flood Risk Manag. doi:10.1111/jfr3.12108

Kourgialas NN, Karatzas GP (2012) Flood management and a GIS modeling method to assess flood hazard areas-a case study. Hydrol Sci J 56:212–225

Kreibich H, Piroth K, Seifert I, Maiwald H, Kunert U, Schwartz J, Merz B, Thieken AH (2009) Is flow velocity a significant parameter in flood damage modeling? Nat Hazards Earth Syst Sci 9:1679–1992

Lee GM, Jun KS, Chung ES (2013) Integrated multi-criteria flood vulnerability approach using Fuzzy TOPSIS and Delphi technique. Nat Hazards Earth Syst Sci 13:1293–1312

Lee GM, Jun KS, Chung ES (2014) Robust spatial flood vulnerability assessment for Han River using fuzzy TOPSIS with alpha-level sets. Expert Syst Appl 41:644–654

Lee GM, Jun KS, Chung ES (2015) Group decision making approach for flood vulnerability identification with the fuzzy VIKOR method. Nat Hazards Earth Syst Sci Discuss 2:6141–6171

Levy JK (2005) Multiple criteria decision making and decision support systems for flood risk management. Stoch Environ Res Risk Assess 19:438–447

Levy JK, Hartmann J, Li KW, An Y, Asgary A (2007) Multi-criteria decision support systems for flood hazard mitigation and emergency response in urban watersheds. J Am Water Resour Assoc 43:346–358

Lillywhite J, Kalyanapu, AJ (2011) Water supply reliability assessment using Monte Carlo Simulation. 47th Annu Water Resour Conf, Albuquerque, NM

McCuen RH (1998) Hydrologic analysis and design. Prentice-Hall, Englewood Cliffs

Merz B, Kreibich H, Thieken A, Schmidtke R (2004) Estimation uncertainty of direct monetary flood damage to buildings. Nat Hazards Earth Syst Sci 4:153–163

Meyer V, Scheuer S, Haase D (2009) A multicriteria approach for flood risk mapping exemplified at the Muddle River, Germany. Nat Hazards 48:17–39

Munda G (2006) Social multi-criteria evaluation for urban sustainability policies. Land Use Policy 23:86–94

National Weather Service (NWS) (2013) Hydrologic Information Center - Flood loss data. Available at: http://www.nws.noaa.gov/hic/index.shtml. Accessed 17 September 2013

North Carolina Floodplain Management Program (NCFMP) (2011) NCFMP Program Review, Appendix B. http://www.ncfloodmaps.com/program_review.htm. Accessed 12 September 2012

Pistrika AK, Jonkman SN (2010) Damage to residential buildings due to flooding of New Orleans after hurricane Katrina. Nat Hazards 54:413–434

Qi H, Altinakar MS (2012) GIS-based decision support system for dam break flood management under uncertainty with two-dimensional numerical simulations. J Water Resour Plan Manag 138:334–341

Radmehr A, Araghinejad S (2014) Developing Strategies for Urban Flood Management of Tehran City Using SMCDM and ANN. J Computing in Civil Eng. 28 DOI: 10.1061/(ASCE)CP.1943-5487.0000360

Schröter K, Kreibich H, Vogel K, Riggelsen C, Scherbaum F, Merz B (2014) How useful are complex flood damage models? Water Resour Res 50:3378–3395

Schubert JE, Sanders BF (2012) Building treatments for urban flood inundation models and implications for predictive skill and modeling efficiency. Adv Water Resour 41:49–64

Simonovic RJ (1989) Application of water resources systems concept to the formulation of a water master plan. Water Int 14:37–50

Sinha R, Bapalu GV, Singh LK, Rath B (2008) Flood risk analysis in the Kosi River Basin, North Bihar using multi-parametric approach of Analytical Hierarchy Process (AHP). J Indian Soc Remote Sens 36:335–349

Stefanidis S, Stathis D (2013) Assessment of flood hazard based on natural and anthropogenic factors using analytic hierarchy process (AHP). Nat Hazards 68(2):569–585

Sun R, Wang X, Zhou Z, Ao X, Sun X, Song M. (2014) Study of the comprehensive risk analysis of dam-break flooding based on the numerical simulation of flood routing. Part I: model development. Nat Hazards 1–22

Tecle A, Shrestha BP, Duckstein L (1998) A multiobjective decision support system for multiresource forest management. Group Decis Negot 7:23–40

Tkach RJ, Simonovic RJ (1997) A new approach to multi-criteria decision-making in water resources. J Geogr Inf Decis Anal 1:25–44

UDFCD (2010) Cost estimator for master planning (UD-MP Cost) User Manual. Denver, CO

United Nations International Strategy for Disaster Reduction (UN-ISDR) (2013) Flood – Data and Statistics. http://www.preventionweb.net/english/hazards/statistics/?hid=62. Accessed 16 September 2013

US Inflation Calculator (2014) http://www.usinflationcalculator.com/. Accessed 5 January 2014

Willette K, Sharda R (1991) Using the analytic hierarchy process in water resources planning selection of flood control projects. Socio-Econ Plan Sci 25:103–112

Yigzaw W, Hossain F, Kalyanapu AJ (2013) Comparison of PMP-driven probable maximum floods with flood magnitudes due to increasingly urbanized catchment: the case of american river watershed. Earth Interact 17:1–15

Yu D, Lane SN (2006) Urban fluvial flood modelling using a two‐dimensional diffusion‐wave treatment, part 1: mesh resolution effects. Hydrol Process 20:1541–1565

Zou Q, Zhou J, Zhou J, Song L, Guo J (2012) Comprehensive flood risk assessment based on set pair analysis-variable fuzzy sets model and fuzzy AHP. Stoch Environ Res Risk Assess 27:525–546
Acknowledgments
The authors are grateful to the support provided by the Center of Management Utilization and Protection of Water Resources. We also acknowledge the fruitful comments by the two anonymous reviewers.
About this article
Cite this article
Ahmadisharaf, E., Kalyanapu, A.J. & Chung, ES. Evaluating the Effects of Inundation Duration and Velocity on Selection of Flood Management Alternatives Using Multi-Criteria Decision Making. Water Resour Manage 29, 2543–2561 (2015). https://doi.org/10.1007/s11269-015-0956-4
Received:

Accepted:

Published:

Issue Date:
Keywords
Assessment of flood management alternatives

Flood2D-GPU

Spatial compromise programming (SCP)

Inundation velocity

Inundation duration