Abstract
The Reconnaissance Drought Index (RDI) is obtained by fitting a lognormal probability density function (PDF) to the ratio of accumulated precipitation over potential evapotranspiration values (αk) at different time scales. This paper aims to address the question of how a probability distribution may fit better to the αk values than a lognormal distribution and how RDI values may change in shorter (i.e.,3-month, and 6-month) and longer (i.e., 9-month, and annual) time scales during 1960–2010 period over various climate conditions (arid, semi-arid, and humid) in Iran. For this purpose, the series of RDI were initially computed by fitting a lognormal PDF to the αk values and the Kolmogorov–Smirnov (K-S) test was implemented to choose the best probability function in different window sizes from 3 to 12-months. The corresponding RDI values for the best distribution were then deriven based on an equiprobability transformation function. The differences between RDI values (the lognormal (RDIlog) and the best (RDIApp) distributions) were compared based on Nash-Sutcliffe efficiency (NSE) criterion. The results of goodness of fit test based on threshold value in the K-S test showed that the goodness of fit in the lognormal distribution may not be rejected at 0.01 and 0.05 significance levels while may only be rejected in a short term (Apr.-Jun.) period at humid station (Rasht station), and three-month (Oct.-Dec. and Apr.-Jun.) and six-month (Apr.-Sep.) periods in semi-arid station (Shiraz station) at significance levels of 0.10 and 0.20, correspondingly. Further a difference between RDIlog and RDIApp performed that RDI values may change if the best distribution employs and this may therefore lead to significant discrepant and/or displacement of drought severity classes in the RDI estimation.
Access options
Buy single article
Instant access to the full article PDF.
US$ 39.95
Tax calculation will be finalised during checkout.
Subscribe to journal
Immediate online access to all issues from 2019. Subscription will auto renew annually.
US$ 79
Tax calculation will be finalised during checkout.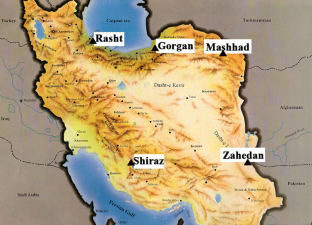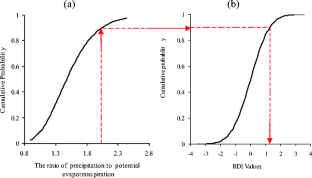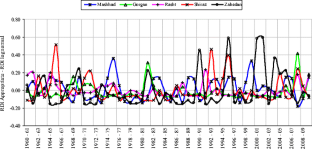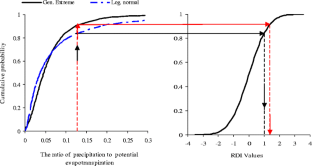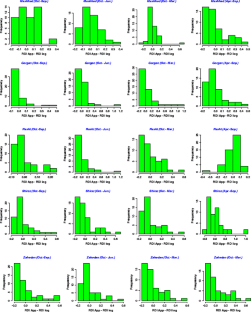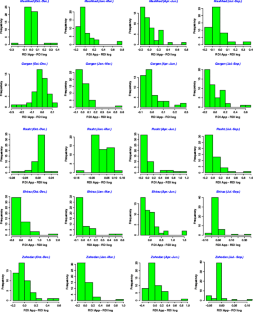 References
Allen RG, Pereira LS, Raes D, Smith M (1998) Crop Evapotranspiration: Guidelines For Computing Crop Water Requirements, vol 56. FAO Irrigation And Drainage Paper, Rome, p 300

Angelidis P, Maris F, Kotsovinos N, Hrissanthou V (2012) Computation of drought index SPI with alternative distribution functions. Water Resour Manag 26(9):2453–2473

Asadi Zarch MA, Malekinezhad H, Mobin MH, Dastorani MT, Kousari MR (2011) Drought monitoring by reconnaissance drought index (RDI) in Iran. Water Resour Manag 25(13):3485–3504

Banimahd SA, Khalili D (2013) Factors influencing Markov chains predictability characteristics, utilizing SPI, RDI, EDI and SPEI drought indices in different climatic zones. Water Resour Manag 27(11):3911–3928

Dai A (2011) Drought under global warming: a review. Wiley Interdiscip Rev Clim Chang 2(1):45–65

Edwards DC, Mckee TB (1997) Characteristics of 20th century drought in the United States at multiple time scales. Climatology Report Number 97(2), Colorado State University, Fort Collins, Colorado

Etemadi H, Samadi S, Sharifikia M (2014) Uncertainty analysis of statistical downscaling techniques in an arid region. Clim Dyn 42:2899–2920

Guttman N (1999) Accepting the standardized precipitation index: a calculation algorithm. J Am Water Resour Assoc 35(2):311–322

Heim RR (2002) A review of twentieth- century drought indices used in the United States. Bull Am Meteorol Soc 83(8):1149–1165

Kao SC, Govindaraju RS (2010) A copula-based joint deficit index for droughts. J Hydrol 380(1–2):121–134

Kysely J, Dubrovsky M (2005) Simulation of extreme temperature events by a stochastic weather generator: effects of Interdiurnal and Interannual variability reproduction. Int J Climatol 25:251–269

Khalili D, Farnoud T, Jamshidi H, Kamgar-Haghighi AA, Zand-Parsa SH (2011) Comparability analyses of the SPI and RDI meteorological drought indices in different climatic zones. Water Resour Manag 25:1737–1757

Lloyd-Hughes B, Saunders MA (2002) A drought climatology for Europe. Int J Climatol 22:1571–1592

Mckee TB, Doesken NJ, Kleist J (1993) The relationship of drought frequency and duration to time scales. Preprints, Eighth Conf. On Applied Climatology, Anaheim, CA, Am Meteorl Soc, 179–184

Mishra AK, Singh VP (2010) A review of drought concepts. J Hydrol 391(1–2):202–216

Moriasi DN, Arnold JG, Van Liew MW, Binger RL, Harmel RD, Veith T (2007) Model evaluation guidelines for systematic quantification of accuracy in watershed simulations. Trans ASABE 50(3):885–900

Morid S, Smakhtin V, Moghaddasi M (2006) Comparison of seven meteorological indices for drought monitoring in Iran. Int J Climatol 26:971–985

Roseberry AM, Burmaster DE (1992) Lognormal distributions for water intake by children and adults. Risk Anal 12(1):99–104

Potop V, Soukup J (2009) Spatiotemporal characteristics of dryness and drought in the Republic of Moldova. Theor Appl Climatol 96(3):305–318

Pereira AR, Pruitt WO (2004) Adaptation of the Thornthwaite scheme for estimating daily reference evapotranspiration. Agric Water Manag 66:251–257

Samadi S, Wilson CAME, Moradkhani H (2013) Uncertainty analysis of statistical downscaling models using Hadley centre coupled model. Theor Appl Climatol 114:673–690

Semenov MA, Brooks RJ, Barrow EM, Richardson CW (1998) Comparison of the WGEN and LARS-WG stochastic weather generators for diverse climates. Clim Res 10:95–107

Raziei T, Saghafian B, Paulo AA, Pereira, Bordi LS (2009) Spatial patterns and temporal variability of drought in Western Iran. Water Resour Manag 23:439–455

Tigkas D (2008) Drought characterisation and monitoring in regions of Greece. Eur Water Manag 23(24):29–39

Tsakiris G, Vangelis H (2005) Establishing a drought index incorporating evapotranspiration. Eur Water Manag 9(10):3–11

Tsakiris G, Pangalou D, Vangelis H (2007) Regional drought assessment based on the reconnaissance drought index (RDI). Water Resour Manag 21:821–833

Tsakiris G, Nalbantis I, Pangalou D, Tigkas D, Vangelis H (2008) Drought meteorological monitoring network design for the reconnaissance drought index (RDI). 1st International Conference "Drought Management: Scientific and Technological Innovations", Zaragoza, Spain, 57–62

Vangelis H, Tigkas D, Tsakiris G (2013) The effect of PET method on reconnaissance drought index (RDI) calculation. J Arid Environ 88:130–140

Vangelis H, Spiliotis M, Tsakiris G (2011) Drought severity assessment based on bivariate probability analysis. Water Resour Manag 25:357–371

Vicente-Serrano SM, Beguería S, Lopez-Moreno JI (2010) A multi-scalar drought index sensitive to global warming: the standardized precipitation evapotranspiration index – SPEI. J Clim 23(7):1696–1718

Wilhite DA, Svoboda MD, Hayes MJ (2007) Understanding the complex impacts of drought: a key to enhancing drought mitigation and preparedness. Water Resour Manag 21(5):763–774

Wu H, Svoboda MD, Hayes MJ, Wilhite DA, Wen F (2007) Appropriate application of the standardized precipitation index in arid locations and dry seasons. Int J Climatol 27:65–79
Acknowledgments
We express our gratitude to Climate Data office at Iranian Meteorological organization for contributing historical insight into the original climatic data records. With the same token, we would like to thank two anonymous reviewers for their constructive criticism and fruitful discussions.
About this article
Cite this article
Mosaedi, A., Zare Abyaneh, H., Ghabaei Sough, M. et al. Quantifying Changes in Reconnaissance Drought Index using Equiprobability Transformation Function. Water Resour Manage 29, 2451–2469 (2015). https://doi.org/10.1007/s11269-015-0944-8
Received:

Accepted:

Published:

Issue Date:
Keywords
Reconnaissance drought index (RDI)

Equiprobability transformation function

Probability density function

Drought monitoring