Abstract
Groundwater irrigation is the most predominant method used across India. The south Indian state of Tamil Nadu is one of the largest producers of agricultural products, and is largely dependent on groundwater for irrigation. The impact of increased irrigation due to intensification of agricultural activities on groundwater levels has not been well researched, both spatially and temporally. Hence this study has used remote sensing data from NASA's Gravity Recovery and Climate Experiment and the Global Land Data Assimilation Systems to assess the total change in groundwater storage across the state of Tamil Nadu over a period of 11 years, from 2002 to 2012. The results show groundwater depletion at the rate of 21.4 km3 yr−1, which is 8% more than the annual recharge rate (19.81 km3 yr−1) owing to the total rainfall of 1016 mm yr1. Maximum depletion was observed in 2008, while the least depletion was observed in 2002 with rates of 41.15 and 0.32 cm yr−1, respectively. Districts such as Dharmapuri, Vellore and Thiruvannamali encountered intense groundwater depletion. Observed spatiotemporal groundwater storage will benefit India's water resource managers and policymakers for the future management of groundwater resources to enhance food and water security.
Access options
Buy single article
Instant access to the full article PDF.
US$ 39.95
Tax calculation will be finalised during checkout.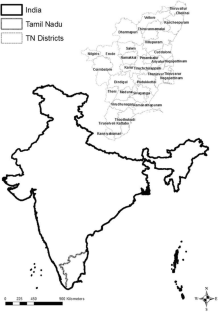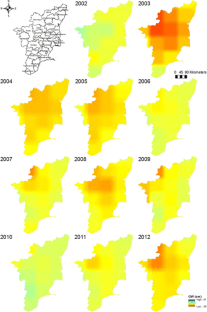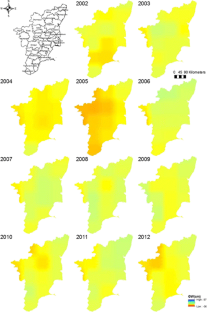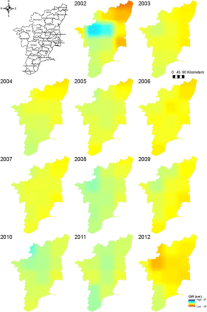 References
Agoramoorthy G, Hsu MJ (2008) Small size, big potential: check dams for sustainable development. Environ Sci Policy Sustain Dev 50:22–35

Agoramoorthy G, Hsu MJ (2013) Partnership for poverty reduction in Gujarat, India: a case study of Sadguru foundation's water resource development work. Asia Pac J Soc Work Dev 23:59–70

Awange JL, Sharifi MA, Ogonda G et al (2008) The falling Lake Victoria water level: GRACE, TRIMM and CHAMP satellite analysis of the Lake Basin. Water Resour Manag 22:775–796

Burness HS, Brill TC (2001) The role of policy in common pool ground water use. Resour Ener Econ 23:19–40

Census (2011) Provisional Population Totals, Paper 1 of 2011; available at www.censusindia.gov.in/2011-prov-results/census2011_paper1_states.html

CGWB (Central Ground Water Board) (2011) Ground water scenario in major cities of India. Report from the ministry of water resources. Government of India, Delhi

Cheng M, Ries JC, Tapley BD (2011) Variations of the Earth's figure axis from satellite laser ranging and GRACE. Journal of Geophysical Research: Solid Earth 1978–2012 116:B1

Chinnasamy P, Hubbart JA, Agoramoorthy G (2013) Using remote sensing data to improve groundwater supply estimations in Gujarat, India'. Earth Interact 17(1):1–17

Chowdary VM, Ramakrishnan D, Srivastava YK et al (2009) Integrated water resource development plan for sustainable management of mayurakshi watershed, India using remote sensing and GIS. Water Resour Manag 23:1581–1602

Francis PA, Gadgil S (2006) Intense rainfall events over the west coast of India. Meteorol Atmos Phys 94:27–42

GEC-Groundwater Resource Estimation Committee (2009) Ground water resource estimation methodology. Ministry of Water Resources Report. Government of India, Delhi

Groenfeldt D (2013) Water ethics: a values approach to solving the water crisis. Earthscan Publications Ltd, New York

Geruo A, Wahr J, Zhong S (2013) Computations of the viscoelastic response of a 3-D compressible Earth to surface loading: an application to Glacial Isostatic Adjustment in Antarctica and Canada. Geophysical Journal International 192:557–572

Hoekstra AY (2013) The water footprint of modern consumer society. Earthscan Publications Ltd, London

Jain HK (2010) Green revolution: history, impact and future. Stadium Press, Delhi

Jha MK, Chowdhury A, Chowdary VM, Peiffer S (2007) Groundwater management and development by integrated remote sensing and geographic information systems: prospects and constraints. Water Resour Manag 21:427–467

Landerer FW, Swenson SC (2012) Accuracy of scaled GRACE terrestrial water storage estimates. Water Resour Res 48:W04531. doi:10.1029/2011WR011453

Maheshwari B, Varua M, Ward J et al (2014) The role of transdisciplinary approach and community participation in village scale groundwater management: insights from Gujarat and Rajasthan, India. Water 6:3386–3408

Morrow E, Mitrovica J, Fotopoulos G (2011) Water storage, net precipitation, and evapotranspiration in the Mackenzie river basin from October 2002 to September 2009 inferred from GRACE satellite gravity data. J Hydrometeorol 12:467–473

Office of the Registrar General of India (2011) Provisional Population Totals, Paper1of 2011; available at www.censusindia.gov.in/2011-prov-results/census2011_paper1_states.html.

Poddar R, Qureshi ME, Shi T (2014) A comparison of water policies for sustainable irrigation management: the case of India and Australia. Water Resour Manag 28:1079–1094

Qureshi AS, McCornick PG, Sarwar A, Sharma BR (2010) Challenges and prospects of sustainable groundwater management in the Indus basin, Pakistan. Water Resour Manag 24:1551–1569

Rodell M, Famiglietti J (2002) The potential for satellite-based monitoring of groundwater storage changes using GRACE: the high plains aquifer, Central US. J Hydrol 263:245–256

Rodell M, Houser PR, Jambor U, Gottschalck J, Mitchell K, Meng CJ, Arsenault K, Cosgrove B, Radakovich J, Bosilovich M, Entin JK, Walker JP, Lohmann D, Toll D (2004a) The global land data assimilation system. Bull Am Meteorol Soc 85(3):381–394

Rodell M, Houser P, Jambor U, Gottschalck J, Mitchell K, Meng C, Arsenault K, Cosgrove B, Radakovich J, Bosilovich M (2004b) The global land data assimilation system. Bull Am Meteorol Soc 85:381–394

Rodell M, Chen J, Kato H, Famiglietti JS, Nigro J, Wilson CR (2007) Estimating groundwater storage changes in the Mississippi River basin (USA) using GRACE. Hydrogeol J 15:159–166

Rodell M, Velicogna I, Famiglietti JS (2009) Satellite-based estimates of groundwater depletion in India. Nature 460:999–1002

Shah T, Roy AD, Qureshi AS, Wang J (2003) Sustaining Asia's groundwater boom: an overview of issues and evidence. Nat Resour Forum 27(2):130–141

Singh RB (2000) Environmental consequences of agricultural development: a case study from the green revolution state of Haryana, India. Agric Ecosyst Environ 82:97–103

Subramanian KS, Selvan TA (2001) Geology of Tamil Nadu and Pondicherry. Geological Society of India, Bangalore

Swenson S, Wahr J (2006) Post-processing removal of correlated errors in GRACE data. Geophys Res Lett 33:L08402. doi:10.1029/2005GL025285

Swenson SC, Chambers DP, Wahr J (2008) Estimating geocenter variations from a combination of GRACE and ocean model output. J Geophys Res Solid Earth 113:B08410. doi:10.1029/2007JB005338

Tapley BD, Bettadpur S, Ries SC, Thompson PF, Watkins MM (2004a) GRACE measurements of mass variability in the earth system. Science 305:503–505

Tapley BD, Bettadpur S, Watkins M, Reigber C (2004b) The gravity recovery and climate experiment: mission overview and early results. Geophys Res Lett 31:L09607. doi:10.1029/2004GL019920

Tiwari V, Wahr J, Swenson S, Rao A, Singh B, Sudarshan G (2011) Land water storage variation over Southern India from space gravimetry. Curr Sci 101:536–540

United Nations (2002) Report of the world summit on sustainable development. Johannesburg, South Africa

United Nations Water (2007) Coping with water scarcity. Challenge of the twenty-first century. FAO, Rome

Velicogna I, Wahr J (2006) Acceleration of Greenland ice mass loss in spring 2004. Nature 443:329–331

World Bank (1999) The green revolution and the productivity paradox: evidence from the Indian Punjab. Policy Research Working Papers. http://dx.doi.org/10.1596/1813-9450-2234.
Acknowledgments
The authors thank Dr Mathew Rodell and the PO.DACC data team for discussions on GRACE and GLDAS data related queries. The authors also thank the anonymous reviewers for their comments to improve the quality of the manuscript.
About this article
Cite this article
Chinnasamy, P., Agoramoorthy, G. Groundwater Storage and Depletion Trends in Tamil Nadu State, India. Water Resour Manage 29, 2139–2152 (2015). https://doi.org/10.1007/s11269-015-0932-z
Received:

Accepted:

Published:

Issue Date:
Keywords
Green revolution

Groundwater use

GRACE

GLDAS

Remote sensing

India