Abstract
Climate change can have profound impacts on water availability. In order to assess the impacts on water resources in complex Alpine river basins, an integrated model that can simulate mutual interactions between natural hydrological processes and anthropogenic disturbances is required. The objective of this study is to show the potential of such an integrated approach in quantifying the impacts of climate change on water resources availability in the Upper Po river basin in Italy. Results show that in the time slice 2041–2050 summer river discharge is expected to decrease with respect to 2001–2010, due to a substantial decrease of seasonal precipitation and an accelerated snow melt that causes an earlier snow depletion. Glaciers volume is expected to decrease to half the current value in 2025, while the minimum elevation of the lowest point of the glaciers is expected to increase from 1890 m asl to about 2850 m asl. It is shown that this change can affect regulation of large artificial reservoirs at higher elevation that are mainly dependent on glacier melt for their supply. Increase of annual precipitation is expected to increase groundwater detention that can be used as supplement to diminished river discharge during summer.
This is a preview of subscription content, log in to check access.
Access options
Buy single article
Instant access to the full article PDF.
US$ 39.95
Price includes VAT for USA
Subscribe to journal
Immediate online access to all issues from 2019. Subscription will auto renew annually.
US$ 99
This is the net price. Taxes to be calculated in checkout.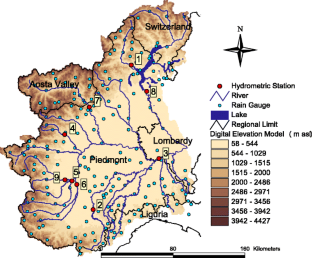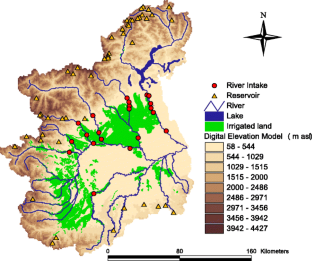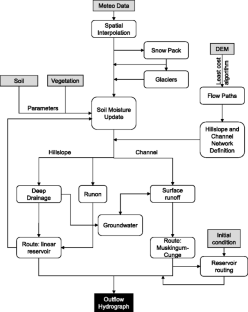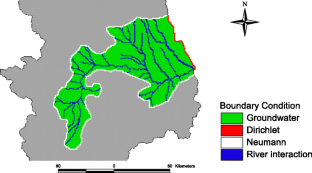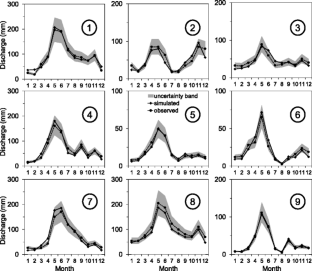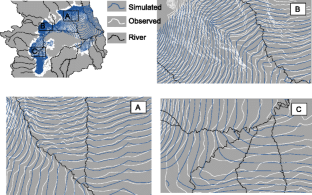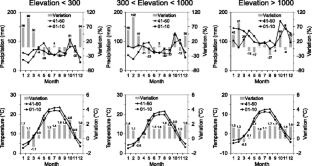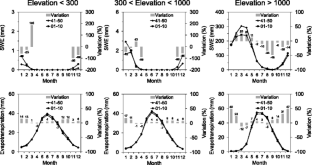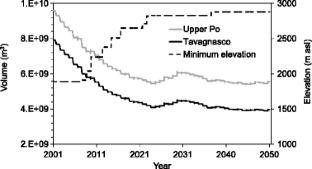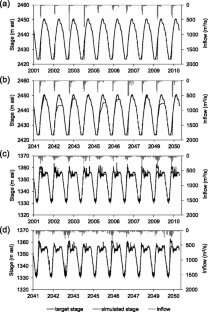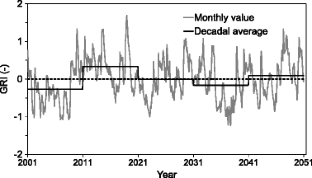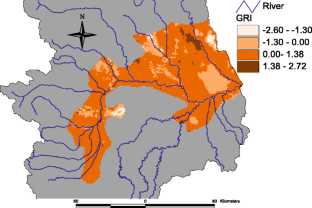 References
Arnold JG, Allen PM, Bernhardt G (1993) A comprehensive surface-groundwater flow model. J Hydrol 142:47–69

Bencala KE, Gooseff MN, Kimball BA (2011) Rethinking hyporheic flow and transient storage to advance understanding of stream-catchment connections. Water ResourRes 47:W00H03

Beniston M (2012) Impacts of climatic change on water and associated economic activities in the Swiss Alps. J Hydrol 412:291–296

Beniston M, Uhlmann U, Goyette S, Lopez-Moreno JI (2011) Will snow-abundant winters still exist in the Swiss Alps in an enhanced greenhouse climate? Int J Climatol 31:1257–1263

Boscarello L, Ravazzani G, Mancini M (2013) Catchment multisite discharge measurements for hydrological model calibration. Procedia Environ Sci 19:158–167

Boscarello L, Ravazzani G, Rabuffetti D (2014) Integrating glaciers dynamics raster based modelling in large catchments hydrological balance: the Rhone case study. Hydrol Process 28(3):496–508. doi:10.1002/hyp.9588

Bove A, Casaccio D, Destefanis E, De Luca DA, Lasagna M, Masciocco L, Ossella L, Tonussi M (2005) Idrogeologia della pianura piemontese "Hydrogeology of Piemonte plain". Regione Piemonte, Mariogros Industrie Grafiche S.p.A, Torino, p 15

Camporese M, Paniconi C, Putti M, Orlandini S (2010) Surface-subsurface flow modeling with path-based runoff routing, boundary condition-based coupling, and assimilation of multisource observation data. Water Resour Res 46, W02512. doi:10.1029/2008WR007536

Candela L, von Igel W, Elorza FJ, Aronica G (2009) Impact assessment of combined climate and management scenarios on groundwater resources and associated wetland (Majorca, Spain). J Hydrol 376:510–527

Capell R, Tetzlaff D, Essery R, Soulsby C (2014) Projecting climate change impacts on stream flow regimes with tracer-aided runoff models - preliminary assessment of heterogeneity at the mesoscale. Hydrol Process 28:545–558. doi:10.1002/hyp.9612

Carnahan B, Luther HA, Wilkes JO (1969) Applied numerical methods. Wiley, New York

Ceppi A, Ravazzani G, Salandin A, Rabuffetti D, Montani A, Borgonovo E, Mancini M (2013) Effects of temperature on flood forecasting: analysis of an operative case study in Alpine basins. Nat Hazards Earth Syst 13(4):1051–1062. doi:10.5194/nhess-13-1051-2013

Chow VT, Maidment DR, Mays LW (1988) Applied hydrology. McGraw-Hill, New York

Christensen F D (2004) Coupling between the river basin management model (MIKE BASIN) and the 3D hydrological model (MIKE SHE) with use of the OpenMI system, in 6th International Conference on Hydroinformatics, Singapore

Daniluk TL, Lautz LK, Gordon RP, Endreny TA (2013) Surface water–groundwater interaction at restored streams and associated reference reaches. Hydrol Process 27:3730–3746. doi:10.1002/hyp.9501

Debernardi L, De Luca DA, Lasagna M (2008) Correlation between nitrate concentration in groundwater and parameters affecting aquifer intrinsic vulnerability. Environ Geol 55(3):539–558. doi:10.1007/s00254-007-1006-1

Dedieu JP, Lessard-Fontaine A, Ravazzani G, Cremonese E, Shalpykova G, Beniston M (2014) Shifting mountain snow patterns in a changing climate from remote sensing retrieval. Sci Total Environ. doi:10.1016/j.scitotenv.2014.04.078

Di Baldassarre G, Montanari A (2009) Uncertainty in river discharge observations: a quantitative analysis. Hydrol Earth Syst Sci 13:913–921. doi:10.5194/hess-13-913-2009

Diolaiuti G, Bocchiola D, Magliasindi M, D'Agata C, Smiraglia C (2012) The 1975-2005 glacier changes in Aosta Valley (Italy) and the relations with climate evolution. Prog Phys Geogr 36(6):764–785. doi:10.1177/0309133312456413

Döll P (2002) Impact of climate change and variability on irrigation requirements: a global perspective. Clim Chang 54(3):269–293. doi:10.1023/A:1016124032231

Fatichi S, Rimkus S, Burlando P, Bordoy R, Molnar P (2013) Elevational dependence of climate change impacts on water resources in an Alpine catchment. Hydrol Earth Syst Sci Discuss 10:3743–3794. doi:10.5194/hessd-10-3743-2013

Finger D, Heinrich G, Gobiet A, Bauder A (2012) Projections of future water resources and their uncertainty in a glacierized catchment in the Swiss Alps and the subsequent effects on hydropower production during the 21st century. Water Resour Res 48. doi:10.1029/2011WR010733

Fiseha BM, Setegn SG, Melesse AM, Volpi E, Fiori A (2014) Impact of climate change on the hydrology of Upper Tiber river basin using bias corrected regional climate model. Water Resour Manag 28:1327–1343. doi:10.1007/s11269-014-0546-x

Francés F, Vélez JI, Vélez JJ (2007) Split-parameter structure for the automatic calibration of distributed hydrological models. J Hydrol 332:226–240

Gaudard L, Romerio F, Dalla Valle F, Gorret R, Maran S, Ravazzani G, Stoffel M, Volonterio M (2014) Climate change impacts on hydropower in the Swiss and Italian Alps. Sci Total Environ 493:1211–122. doi:10.1016/j.scitotenv.2013.10.012

Gobiet A, Kotlarski S, Beniston M, Heinrich G, Rajczak J, Stoffel M (2014) 21st century climate change in the European Alps—a review. Sci Total Environ 493:1138–1151. doi:10.1016/j.scitotenv.2013.07.050

Graham DN, Butts MB (2005) Flexible, integrated watershed modelling with MIKE SHE. In Watershed Models, Eds. VP Singh & DK Frevert, pp 245-272, CRC Press

Holman IP (2005) Climate change impacts on groundwater recharge—uncertainty, shortcomings, and the way forward? Hydrogeol J 14:637–647

Jacob D (2001) A note to the simulation of the annual and inter-annual variability of the water budget over the Baltic Sea drainage basin. Meteorog Atmos Phys 77:61–73

Kim NW, Chung IM, Won YS, Arnold JG (2008) Development and application of the integrated SWAT-MODFLOW MODEL. J Hydrol 356:1–16

Krause S, Bronstert A (2007) The impact of groundwater-surface water interactions on the water balance of a mesoscale lowland river catchment in northeastern Germany. Hydrol Process 21:169–184

Li L, Xu H, Chen X, Simonovic SP (2010) Streamflow forecast and reservoir operation performance assessment under climate change. Water Resour Manag 24:83–104. doi:10.1007/s11269-009-9438-x

McDonald MG, Harbaugh AW (1988) A modular three-dimensional finite-difference ground-water flow model. US Geological Survey Techniques of Water Resources Investigations Report Book 6, Chapter A1, p. 528

Mendicino G, Senatore A, Versace P (2008) A Groundwater Resource Index (GRI) for drought monitoring and forecasting in a Mediterranean climate. J Hydrol 357:282–302. doi:10.1016/j.jhydrol.2008.05.005

Nakicenovic N, Alcamo J, Davis G, de Vries B, Fenhann J, Gaffin S, Gregory K, Grbler A, Jung TY, Kram T, La Rovere EL, Michaelis L, Mori S, Morita T, Pepper W, Pitcher H, Price L, Raihi K, Roehrl A, Rogner H-H, Sankovski A, Schlesinger M, Shukla P, Smith S, Swart R, van Rooijen S, Victor N, Dadi Z (2000) IPCC special report on emissions scenarios. Cambridge University Press, Cambridge

Nash JE, Sutcliffe JV (1970) River flow forecasting through the conceptual models, Part 1: a discussion of principles. J Hydrol 10(3):282–290

Pianosi F, Ravazzani G (2010) Assessing rainfall-runoff models for the management of Lake Verbano. Hydrol Process 24(22):3195–3205

Rabuffetti D, Ravazzani G, Corbari C, Mancini M (2008) Verification of operational Quantitative Discharge Forecast (QDF) for a regional warning system–the AMPHORE case studies in the upper Po River. Nat Hazards Earth Syst Sci 8:161–173. doi:10.5194/nhess-8-161-2008

Ravazzani G (2013) MOSAICO, a library for raster based hydrological applications. Comput Geosci 51:1–6

Ravazzani G, Giudici I, Schmidt C, Mancini M (2011a) Evaluating the potential of quarry lakes for supplemental irrigation. J Irrig Drain Eng 137(8):564–571. doi:10.1061/(ASCE)IR.1943-4774.0000321

Ravazzani G, Rametta D, Mancini M (2011b) Macroscopic cellular automata for groundwater modelling: a first approach. Environ Model Softw 26(5):634–643. doi:10.1016/j.envsoft.2010.11.011

Ravazzani G, Corbari C, Morella S, Gianoli P, Mancini M (2012) Modified Hargreaves-Samani equation for the assessment of reference evapotranspiration in Alpine river basins. J Irrig Drain Eng 138(7):592–599. doi:10.1061/(ASCE)IR.1943-4774.0000453

Ravazzani G, Bocchiola D, Groppelli B, Soncini A, Rulli MC, Colombo F, Mancini M, Rosso R (2014a) Continuous stream flow simulation for index flood estimation in an Alpine basin of Northern Italy. Hydrol Sci J. doi:10.1080/02626667.2014.916405

Ravazzani G, Ghilardi M, Mendlik T, Gobiet A, Corbari C, Mancini M (2014b) Investigation of climate change impact on water resources for an Alpine basin in Northern Italy: implications for evapotranspiration modeling complexity. Plos One 9(10):e109053. doi:10.1371/journal.pone.0109053

Ravazzani G, Gianoli P, Meucci S, Mancini M (2014c) Assessing downstream impacts of detention basins in urbanized river basins using a distributed hydrological model. Water Resour Manag 28(4):1033–1044. doi:10.1007/s11269-014-0532-3

Schulla J (2007) Model description WaSiM (Water balance Simulation Model). Institute for Atmospheric and Climate Science, Zürich, p 181

Schulla J, Jasper K (2007) Model description WaSiM-ETH (Water balance Simulation Model ETH). Institute for Atmospheric and Climate Science, Zürich, 181

Senatore A, Mendicino G, Smiatek G, Kunstmann K (2011) Regional climate change projections and hydrological impact analysis for a Mediterranean basin in Southern Italy. J Hydrol 399:70–92. doi:10.1016/j.jhydrol.2010.12.035

Stocker TF, Qin D, Plattner G-K, Alexander LV, Allen S K, Bindoff NL, Bréon F-M, Church JA, Cubasch U, Emori S, Forster P, Friedlingstein P, Gillett N, Gregory JM, Hartmann DL, Jansen E, Kirtman B, Knutti R, Krishna Kumar K, Lemke P, Marotzke J, Masson-Delmotte V, Meehl GA, Mokhov II, Piao S, Ramaswamy V, Randall D, Rhein M, Rojas M, Sabine C, Shindell D, Talley LD, Vaughan DG, Xie S-P (2013) Technical summary. In: Climate change 2013: the physical science basis. Contribution of working group I to the fifth assessment report of the intergovernmental panel on climate change. Cambridge University Press, Cambridge, United Kingdom and New York, NY, USA

Sulis M, Paniconi C, Rivard C, Harvey R, Chaumont D (2011) Assessment of climate change impacts at the catchment scale with a detailed hydrological model of surface-subsurface interactions and comparison with a land surface model. Water Resour Res 47, W01513. doi:10.1029/2010WR009167

Themeßl MJ, Gobiet A, Heinrich G (2012) Empirical-statistical downscaling and error correction of regional climate models and its impact on the climate change signal. Clim Chang 112(2):449–468. doi:10.1007/s10584-011-0224-4

Vansteenkiste T, Tavakoli M, Ntegeka V, Willems P, De Smedt F, Batelaan O (2013) Climate change impact on river flows and catchment hydrology: a comparison of two spatially distributed models. Hydrol Process 27:3649–3662. doi:10.1002/hyp.9480

Veijalainen N, Dubrovin T, Marttunen M, Vehviläinen B (2010) Climate change impacts on water resources and lake regulation in the Vuoksi watershed in Finland. Water Resour Manag 24:3437–3459. doi:10.1007/s11269-010-9614-z

Verbunt M, Gurtz J, Jasper K, Lang H, Warmerdam P, Zappa M (2003) The hydrological role of snow and glaciers in alpine river basins and their distributed modelling. J Hydrol 282:36–55

Warscher M, Strasser M, Kraller U, Marke G, Franz T, Kunstmann H (2013) Performance of complex snow cover descriptions in a distributed hydrological model system: a case study for the high Alpine terrain of the Berchtesgaden Alps. Water Resour Res 49(5):2619–2637. doi:10.1002/wrcr.20219

Winter TC, Harvey JW, Franke OL, Alley WM (1998) Ground water and surface water; a single resource. U.S, Geological Survey Circular, p 79

Xu C-Y (2000) Modelling the effects of climate change on water resources in central Sweden. Water Resour Manag 14:177–189

Zagonari F (2010) Sustainable, just, equal, and optimal groundwater management strategies to cope with climate change: insights from Brazil. Water Resour Manag 24:3731–3756. doi:10.1007/s11269-010-9630-z
Acknowledgments
The work was supported in the framework of the ACQWA EU/FP7 project (grant number 212250) "Assessing Climate impacts on the Quantity and quality of Water". Consorzio Ticino is acknowledged for providing record of daily net inflow to the Lake Verbano. The authors thank Chiara Dionisio and Rossana Zanchi for the contribution in data elaboration, and the two anonymous reviewers for their helpful comments that contributed to improve the paper.
About this article
Cite this article
Ravazzani, G., Barbero, S., Salandin, A. et al. An integrated Hydrological Model for Assessing Climate Change Impacts on Water Resources of the Upper Po River Basin. Water Resour Manage 29, 1193–1215 (2015). https://doi.org/10.1007/s11269-014-0868-8
Received:

Accepted:

Published:

Issue Date:
Keywords
Climate change

Hydrological impact

Integrated model