Abstract
The coastal aquifer salinization is an urgent problem caused by groundwater resources overexploitation and climate change. This phenomenon is enhanced in areas lying below the sea level, like the polders in the Netherlands or the Po River lowland in Italy. In these reclaimed lands the saltwater intrusion is usually controlled by a network of irrigation canals that supplies freshwater to the shallow aquifer, maintaining soil salinity at acceptable levels. The 2012 was dramatic in terms of agricultural water supply, since the Po River plain experienced a prolonged drought. Despite this, continuous monitoring of piezometric heads and total dissolved solids (TDS) near a canal (Canale della Gronda) demonstrated that freshening was occurring in the shallow portion (first 4 m) of the unconfined aquifer, while the bottom part was characterized by elevated relic salinity. The two-dimensional model SEAWAT was calibrated using piezometric heads and TDS depth profiles measured along a transect perpendicular to the canal. The calibrated model was then used to predict the behaviour of this cross section using a multiple scenario approach: increase in evapotranspiration induced by temperature increase; increase in the frequency of extreme high rainfall events; extreme drought conditions; and canal dewatering due to salinization of the water courses. Moreover, for each scenario, two sub-scenarios were run to account for projected sea level rise. The first three scenarios had only a minor influence on the aquifer salinization rate, while the fourth one predicted serious upward flux of the high salinity groundwater actually residing in the bottom of the unconfined aquifer. The scenarios quantified the possible future effects on groundwater salinization and could be useful to find adaptation strategies to manage the water resources of this and similar areas.
Access options
Buy single article
Instant access to the full article PDF.
USD 39.95
Price excludes VAT (USA)
Tax calculation will be finalised during checkout.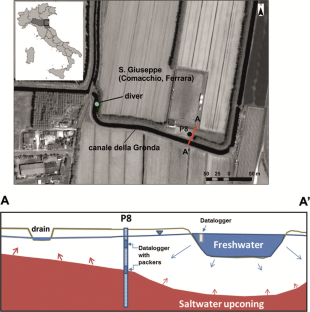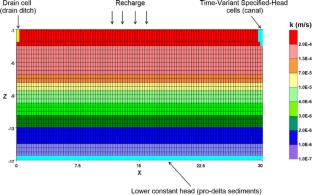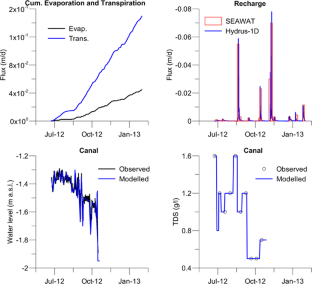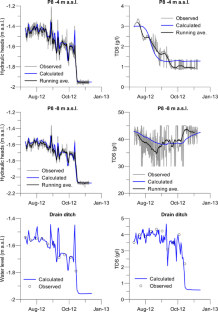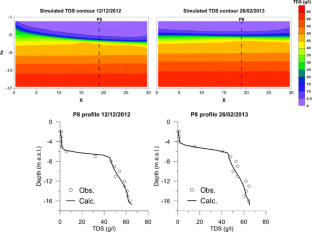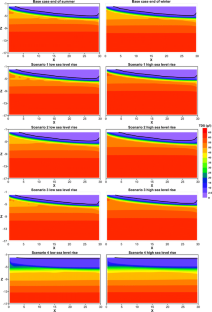 References
Allen RG, Pereira LS, Raes D, Smith M (1998) Crop evapotranspiration. Guidelines for computing crop water requirements. Irrig Drain Paper No. 56. FAO, Rome

Amorosi A, Centineo MC, Colalongo ML, Pasini G, Sarti G, Vaiani SC (2003) Facies architecture and latest Pleistocene–Holocene depositional history of the Po Delta (Comacchio area), Italy. J Geol 111:39–56

Antonellini M, Mollema PN (2010) Impact of groundwater salinity on vegetation species richness in the coastal pine forests and wetlands of Ravenna, Italy. Ecol Eng 36(9):1201–1211

Balugani E, Antonellini M (2011) Barometric pressure influence on water table fluctuations in coastal aquifers of partially enclosed seas: an example from the Adriatic coast, Italy. J Hydrol 400:176–186

Bondesan M, Favero V, Vignals MJ (1995) New evidence on the evolution of the Po-delta coastal plain during the Holocene. Quat Int 29(30):105–110

de Louw PGB, Eeman S, Siemon B, Voortman BR, Gunnink J, Van Baaren SE, Oude Essink GHP (2011) Shallow rainwater lenses in deltaic areas with saline seepage. Hydrol Earth Syst Sci 15:3659–3678

de Louw PGB, Eeman S, Oude Essink GHP, Vermue E, Post VEA (2013) Rainwater lens dynamics and mixing between infiltrating rainwater and upward saline groundwater seepage beneath a tile-drained agricultural field. J Hydrol 501:133–145

Doherty J (2002) PEST - model-independent parameter estimation: user's manual, 5th edn. Watermark Numer. Comput, Brisbane

Essink GHP, van Baaren ES, de Louw PGB (2010) Effects of climate change on coastal groundwater systems: a modeling study in the Netherlands. Water Resour Res 46. doi:10.1029/2009WR008719

Feddes RA, Kowalik PJ, Zaradny H (1978) Simulation of field water use and crop yield. Pudoc, Wageningen, the Netherlands

Fetter CW (2001) Applied hydrogeology, 4th edn. Prentice Hall, Englewood Cliffs, p 598

García-Ruiz JM, López-Moreno JI, Vicente-Serrano SM, Lasanta T, Beguería S (2011) Mediterranean water resources in a global change scenario. Earth Sci Rev 105:121–139

Giambastiani BMS, Colombani N, Mastrocicco M, Fidelibus MD (2013) Characterization of the lowland coastal aquifer of Comacchio (Ferrara, Italy): hydrology, hydrochemistry and evolution of the system. J Hydrol 501:35–44

Giorgi F, Lionello P (2008) Climate change projections for the Mediterranean region. Global Planet Chang 63:90–104

Gualdi S, Somot S, Li L, Artale V, Adani M, Bellucci A, Braun A, Calmanti S, Carillo A et al (2013) The CIRCE simulations–regional climate change projections with realistic representation of the Mediterranean Sea. Bull Am Meteorol Soc 94:65–81. doi:10.1175/BAMS-D-11-00136.1

Hanson RT, Flint LE, Flint AL, Dettinger DM, Faunt CC, Cayan D, Schmid W (2012) A method for physically based model analysis of conjunctive use in response to potential climate changes. Water Resour Res 48(2) Article number W00L08

Harbaugh AW (2005) MODFLOW-2005, the U.S. Geological survey modular ground-water model—the ground-water flow process: U.S. Geological survey techniques and methods 6-A16

IPCC (2013) Climate Change 2013: The physical science basis. Contribution of working group i to the fifth assessment report of the intergovernmental panel on climate change [Stocker, T.F., D. Qin, G.-K. Plattner, M. Tignor, S.K. Allen, J. Boschung, A. Nauels, Y. Xia, V. Bex and P.M. Midgley (eds.)]. Cambridge University Press, Cambridge, United Kingdom and New York, NY, USA, 1535pp

IPCC (2014a) Climate change 2014: impacts, adaptation, and vulnerability. Part A: global and sectoral aspects. contribution of working group ii to the fifth assessment report of the intergovernmental panel on climate change [Field CB, VR Barros, DJ Dokken, KJ Mach, MD Mastrandrea, TE Bilir, M Chatterjee, KL Ebi, YO Estrada, RC Genova, B Girma, ES Kissel, AN Levy, S MacCracken, PR Mastrandrea, LL White (eds.)]. Cambridge University Press, Cambridge, United Kingdom and New York, NY, USA

IPCC (2014b) Climate change 2014: impacts, adaptation, and vulnerability. Part B: regional aspects. contribution of working group II to the fifth assessment report of the intergovernmental panel on climate change [Barros, VR, CB Field, DJ Dokken, MD Mastrandrea, KJ Mach, TE Bilir, M Chatterjee, KL Ebi, YO Estrada, RC Genova, B Girma, ES Kissel, AN Levy, S MacCracken, PR Mastrandrea, LL White (eds.)]. Cambridge University Press, Cambridge, United Kingdom and New York, NY, USA

Lambeck K, Antonioli F, Anzidei M, Ferranti L, Leoni G, Scicchitano G, Silenzi S (2011) Sea level change along the Italian coast during the Holocene and projections for the future. Quat Int 232:250–257

Langevin CD, Thorne DTJr, Dausman AM, Sukop MC, Guo W (2007) SEAWAT version 4: a computer program for simulation of multi-species solute and heat transport: U.S. geological survey techniques and methods. Book 6, Chapter A22, pp 1–39

Mastrocicco M, Colombani N, Salemi E, Castaldelli G (2010) Numerical assessment of effective evapotranspiration from maize plots to estimate groundwater recharge in lowlands. Agric Water Manag 97(9):1389–1398

Mastrocicco M, Giambastiani BMS, Severi P, Colombani N (2012) The importance of data acquisition techniques in saltwater intrusion monitoring. Water Resour Manag 26(10):2851–2866

Mastrocicco M, Colombani N, Di Giuseppe D, Faccini B, Coltorti M (2013) Contribution of the subsurface drainage system in changing the nitrogen speciation of an agricultural soil located in a complex marsh environment (Ferrara, Italy). Agric Water Manag 119:144–153

Mollema P, Antonellini M, Gabbianelli G, Laghi M, Marconi V, Minchio A (2012) Climate and water budget change of a Mediterranean coastal watershed, Ravenna, Italy. Environ Earth Sci 65:257–276

Ritchie JT (1972) Model for predicting evaporation from a row crop with incomplete cover. Water Resour Res 8(5):1204–1213

Šimunek J, Šejna M, Saito H, Sakai M, van Genuchten MT (2008) The HYDRUS-1D software package for simulating the movement of water, heat, and multiple solutes in variably saturated media, version 4.0, HYDRUS software series 3. Department of Environmental Sciences, University of California Riverside, Riverside, p 315

Stefani M, Vincenzi S (2005) The interplay of eustasy, climate and human activity in the late quaternary depositional evolution and sedimentary architecture of the Po Delta system. Mar Geol 222–223:19–48

Teatini P, Ferronato M, Gambolati G, Bertoni W, Gonella M (2005) A century of land subsidence in Ravenna, Italy. Environ Geol 47(6):831–846

Vandenbohede A, Luyten K, Lebbe L (2008) Effects of global change on heterogeneous coastal aquifers: a case study in Belgium. J Coast Res 24(2 suppl B):160–170
Acknowledgments
We gratefully thank Paolo Severi from the Geological, Seismic and Soil Survey of Emilia-Romagna Region for his technical support and ARPA SIMC for the meteorological data. We would also thank three anonymous reviewers that contributed to improve the manuscript with their suggestions and comments.
About this article
Cite this article
Colombani, N., Mastrocicco, M. & Giambastiani, B.M.S. Predicting Salinization Trends in a Lowland Coastal Aquifer: Comacchio (Italy). Water Resour Manage 29, 603–618 (2015). https://doi.org/10.1007/s11269-014-0795-8
Received:

Accepted:

Published:

Issue Date:

DOI: https://doi.org/10.1007/s11269-014-0795-8
Keywords
Climate change

Groundwater salinization

Modelling recharge

SEAWAT