Abstract
Global warming affects the hydrological cycle and the long-term water budget of river basins. Flow variations have been noticed in the Danube River Basin, especially in its south-western parts where a downward trend in mean annual flows has been prevalent in the past several decades. Time series of mean annual and seasonal flows of the Sava River at hydrological stations Sremska Mitrovica and Zagreb are analysed in this paper. The trend is assessed with the Mann-Kendall test including the effect of serial correlation. Additionally, the trends are assessed in the multi-temporal framework. It is concluded that the long-term periodicity of annual flows has a considerable impact on the time series trend. Long-term component with cycles of 40 years in mean annual flows are detected by the time series analysis in frequency domain. Regression analysis showed a significant correlation between mean annual flows of the Sava River and annual precipitation, mean annual atmospheric pressure and air temperatures at meteorological station Ljubljana, as well as with the North Atlantic Oscillation (NAO) Index.
Access options
Buy single article
Instant access to the full article PDF.
USD 39.95
Price excludes VAT (USA)
Tax calculation will be finalised during checkout.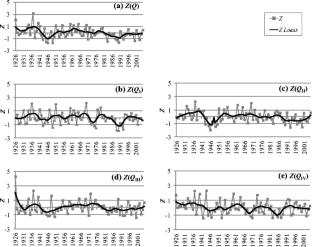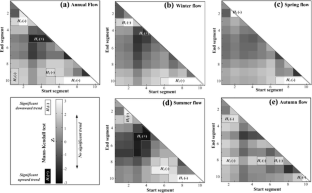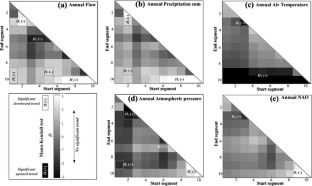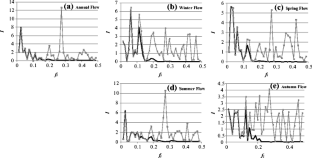 References
Bartlett MS (1963) Statistical estimation of density functions. Sankhya Ser A 25:245–254

Bates BC, Kundewicz ZW, Wu S, Palutikof JP (eds) (2008) Climate change and water, technical paper of the intergovernmental panel on climate change. IPCC Secretariat, Geneva

Becker A, Finger P, Meyer-Christoffer A, Rudolf B, Schamm K, Schneider U, Ziese M (2013) A description of the global land-surface precipitation data products of the global precipitation climatology centre with sample applications including centennial (trend) analysis from 1901–present. Earth Syst Sci Data 5:71–99. doi:10.5194/essd-5-71-2013

Birsan M-V, Molnar P, Burlando P, Pfaundler M (2005) Streamflow trends in Switzerland. J Hydrol 314(1–4):312–329

Bouwer LM, Vermaat JE, Aerts JCJH (2008) Regional sensitivities of mean and peak river discharge to climate variability in Europe. J Geophys Res 113, D19103. doi:10.1029/2008JD010301

Bower D, Hannah DM, McGregor GR (2004) Techniques for assessing the climatic sensitivity of river flow regimes. Hydrol Process 18(13):2515–2543

Daniell PJ (1946) Discussion on the symposium on autocorrelation in the time series. JRoy Stat Soc 8:88–90

Danilovich I, Wrzesinski D, Nekrasova L (2007) Impact of the north Atlantic oscillation on river runoff in the Belarus part of the Baltic Sea basin. Nord Hydrol 38(4–5):413–423

Djurdjević V, Rajković B (2010) Development of the EBU-POM coupled regional climate model and results from climate change experiments. In: Mihajlovic TD, Lalic B (eds) Advances in environmental modeling and measurements. Nova Publishers, Hauppauge NY, pp 23–32. ISBN 978-1-60876-599-7

Douglas EM, Vogel RM, Kroll CN (2000) Trends in floods and low flows in the united states: impact of spatial correlation. J Hydrol 240(1–2):90–105

Gudmundsson L, Tallaksen LM, Stahl K, Fleig AK (2011) Low-frequency variability of european runoff. Hydrol Earth Syst Sci 15(9):2853–2869

Hamed KH, Rao AR (1998) A modified Mann-Kendall trend test for autocorrelated data. J Hydrol 204(1–4):182–196

Hannaford J, Buys G (2012) Trends in seasonal river flow regimes in the UK. J Hydrol 475:158–174

Hannaford J, Buys G, Stahl K, Tallaksen LM (2013) The influence of decadal-scale variability on trends in long european streamflow records. Hydrol Earth Syst Sci 17(7):2717–2733

Hansen J, Sato M, Kharecha P, Schuckmann K (2011) Earth's energy imbalance and implications. Atmos Chem Phys 11:13421–13449

Hurrell JW (1995) Decadal trends in the north Atlantic oscillation and relationships to regional temperature and precipitation. Science 269(5224):676–679

ICPDR (2012) Danube Study – Climate Change Adaptation, Final Report. International Commission for the Protection of the Danube River, Vienna, Austria. http://www.icpdr.org/main/sites/default/files/nodes/documents/icpdr_climate-adaptation-strategy.pdf, accessed 8 July 2014

IPCC (2013) Fifth assessment report (AR5), intergovernmental panel on climate change, Geneva 2, Switzerland. http://www.ipcc.ch/report/ar5/index.shtml, accessed 8 July 2014

Jones PD, Lister DH, Osborn TJ, Harpham C, Salmon M, Morice CP (2012) Hemispheric and large-scale land-surface air temperature variations: an extensive revision and an update to 2010. J Geophys Res: Atmos 117, D05127. doi:10.1029/2011JD017139

Kendall MG (1962) Rank correlation methods, 3rd edn. Hafner Publishing Company, New York

Khaliq MN, Ouarda TBMJ, Gachon P, Sushama L, St-Hilaire A (2009) Identification of hydrological trends in the presence of serial and cross correlations: a review of selected methods and their application to annual flow regimes of Canadian rivers. J Hydrol 368(1–4):117–130

Krasovskaia I (1996) Sensitivity of the stability of river flow regimes to small fluctuations in temperature. Hydrol Sci J /J Sci Hydrol 41(2):251–264

Krasovskaia I, Sælthun NR (1997) Sensitivity of the stability of Scandinavian river flow regimes to a predicted temperature rise. Hydrol Sci J/J Sci Hydrol 42(5):693–711

Labat D (2006) Oscillations in land surface hydrological cycle. Earth Planet Sci Lett 242(1–2):143–154

Labat D, Godderis Y, Probst JL, Guyot JL (2004) Evidence for global runoff increase related to climate warming. Adv Water Resour 27(6):631–642

Loeb NG, Kato S, Su W, Wong T, Rose FG, Doelling DR, Norris JR, Huang X (2012) Advances in understanding Top-of-atmosphere radiation variability from satellite observations. Surv Geophys 33(3–4):359–385

McCabe GJ, Wolock DM (2002) A step increase in streamflow in the conterminous united states. Geophys Res Lett 29(24):2185

Milly PCD, Dunne KA, Vecchia AV (2005) Global pattern of trends in streamflow and water availability in a changing climate. Nature 438(7066):347–350

Moraes JM, Pellegrino GQ, Ballester MV, Martinelli LA, Victoria RL, Krusche AV (1998) Trends in hydrological parameters of a southern Brazilian watershed and its relation to human induced changes. Water Resour Manag 12(4):295–311

Nakićenović N, Swart R (eds) (2000) Special report on emissions scenarios: a special report of working group III of the intergovernmental panel on climate change. Cambridge University Press, Cambridge, UK

Pekarova P, Miklanek P, Pekar J (2003) Spatial and temporal runoff oscillation analysis of the main rivers of the world during the 19th–20th centuries. J Hydrol 274(1–4):62–79

Pekarova P, Miklanek P, Pekar J (2006) Long-term trends and runoff fluctuations of european rivers. In: climate variability and change—hydrological impacts (proceedings of the fifth FRIEND world conference held at Havana, Cuba). IAHS Publ 308:520–525

Petrow T, Merz B (2009) Trends in flood magnitude, frequency and seasonality in Germany in the period 1951–2002. J Hydrol 371(1–4):129–141

Prata F (2008) The climatological record of clear-sky longwave radiation at the Earth's surface: evidence for water vapour feedback? Int J Remote Sens 29(17–18):5247–5263

Prohaska S (2006) Hidrologija, II deo (Hydrology, Part II). Faculty of geology and mining, water resources development institute "Jaroslav Cerni", hydro-meteorological service of Serbia, Belgrade (in Serbian)

Renner M, Bernhofer C (2011) Long term variability of the annual hydrological regime and sensitivity to temperature phase shifts in Saxony/Germany. Hydrol Earth Syst Sci 15(6):1819–1833

Rimbu N, Boroneanţ C, Buta C, Dima M (2002) Decadal variability of the Danube river flow in the lower basin and its relation with the north Atlantic oscillation. Int J Climatol 22(10):1169–1179

Rodriguez-Puebla C, Encinas AH, Nieto S, Garmendia J (1998) Spatial and temporal patterns of annual precipitation variability over the Iberian peninsula. Int J Climatol 18(3):299–316

Rohde R, Muller R, Jacobsen R, Perlmutter S, Rosenfeld A, Wurtele J, Curry J, Wickham C, Mosher S (2013) Berkeley earth temperature averaging process. Geoinfor Geostat: An Overview 1(2):1–13

Salas JD, Delleur JW, Yevjevich V, Lane WL (1980) Applied modeling of hydrologic time series. Water Resources Publications, Littleton, Colorado

Sanjay KJ, Sarkar A, Garg V (2008) Impact of declining trend of flow on harike wetland, India. Water Resour Manag 22(4):409–421

Schmocker-Fackel P, Naef F (2010) More frequent flooding? changes in flood frequency in Switzerland since 1850. J Hydrol 381(1–2):1–8

Smith TM, Arkin PA, Ren L, Shen SP (2012) Improved reconstruction of global precipitation since 1900. J Atmos Ocean Technol 29(10):1505–1517

Stahl K, Hisdal H, Hannaford J, Tallaksen LM, Van Lanen HAJ, Sauquet E, Demuth S, Fendekova M, Jodar J (2010) Streamflow trends in Europe: evidence from a dataset of near-natural catchments. Hydrol Earth Syst Sci 14(12):2367–2382

Stojković M, Prohaska S, Plavšić J (2012) Stohastička analiza serija godišnjih proticaja na stanicama na Dunavu (Stochastic analysis of mean annual flow series at stations on the Danube River), Proc. 16th conf. of the serbian association for hydraulic research and serbian association for hydrology, ISBN 978-86-7518-159-0, pp. 527–543 (in Serbian)

Stojković M, Prohaska S, Plavšić J (2013) Stochastic modelling of time series of mean annual discharge in the 21st century: ase study of the River Ibar. Proc. Int. conf. climate change impacts on water resources, Belgrade, Serbia, ISBN 978-86-82565-41-3, pp. 55–63

Wang K, Dickinson R, Liang S (2009) Clear Sky visibility Has decreased over land globally from 1973 to 2007. Science 323(5920):1468–1470

Wild M, Grieser J, Schär C (2008) Combined surface solar brightening and increasing greenhouse effect support recent intensification of the global land-based hydrological cycle. Geophys Res Lett 35(17), L17706. doi:10.1029/2008GL034842

Wong T, Wielicki BA, Lee RB III, Smith G, Bush KA, Willis JK (2006) Reexamination of the observed decadal variability of the earth radiation budget using altitude-corrected ERBE/ERBS nonscanner WFOV data. J Clim 19(16):4028–4040

Yevjevich V (1972) Stochastic processes in hydrology. Water Resources Publications, Fort Collins, Colorado

Yue S, Wang CY (2004) The Mann–Kendall test modified by effective sample size to detect trend in serially correlated hydrological series. Water Res Manag 18(3):201–218

Zhang X, Zwiers FW, Hegerl GC, Lambert FH, Gillett NP, Solomon S, Stott PA, Nozawa T (2007) Detection of human influence, on twentieth century precipitation trends. Nature 448(7152):461–465
Acknowledgment
The research presented in this paper is funded by the Republic of Serbia Ministry of Education and Science as a part of a research project "Assessment of Climate Change Impact on Water Resources in Serbia" (TR-37005) for the period 2011–2014. The authors are also grateful to two anonymous reviewers for their constructive comments and suggestions for improving this paper.
About this article
Cite this article
Stojković, M., Ilić, A., Prohaska, S. et al. Multi-Temporal Analysis of Mean Annual and Seasonal Stream Flow Trends, Including Periodicity and Multiple Non-Linear Regression. Water Resour Manage 28, 4319–4335 (2014). https://doi.org/10.1007/s11269-014-0753-5
Received:

Accepted:

Published:

Issue Date:

DOI: https://doi.org/10.1007/s11269-014-0753-5
Keywords