Abstract
Cities in developed countries have increasingly adopted rainwater tanks as an alternative water source over the last 15 years. The rapid uptake of rainwater tanks has been driven by the need to reduce demand for centralised water services that are under pressure to adapt to population growth and climate change impacts. Rainwater tanks are part of integrated urban water management approach that considers the whole water cycle to provide water services on a fit for purpose basis that minimises the impact on the local environment and receiving waters. Rainwater tanks are typically applied at the household scale for non-potable water source uses such as toilet flushing and garden irrigation. However, this paper reports on a communal approach to rainwater harvesting, where the water is treated for potable use. A communal approach to rainwater harvesting can offer benefits, such as: economies of scale for capital costs, reduced land footprint, centralised disinfection and flexibility in matching supply and demand for different households. The analysis showed that the communal approach could provide a reliable potable water source to a small urban development. However, there was an energy penalty associated with this water source compared to centralised systems that could be addressed through more appropriate pump sizing. The outputs from this monitoring and modelling study demonstrated rainwater harvesting can be expanded beyond the current mainstream practices of household systems for non-potable use in certain development contexts. The analysis contained in this paper can be used for the improved planning and design of communal approaches to rainwater harvesting.
This is a preview of subscription content, log in to check access.
Access options
Buy single article
Instant access to the full article PDF.
US$ 39.95
Tax calculation will be finalised during checkout.
Subscribe to journal
Immediate online access to all issues from 2019. Subscription will auto renew annually.
US$ 99
Tax calculation will be finalised during checkout.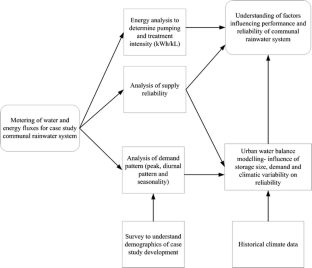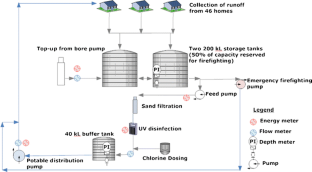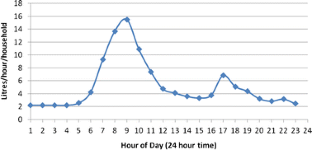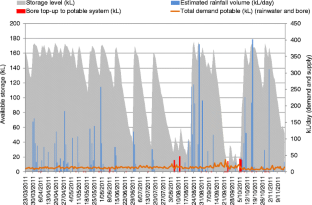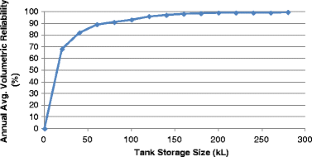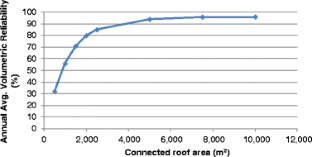 References
AbdelKhaleq RA, Alhaj Ahmed I (2007) Rainwater harvesting in ancient civilisations in Jordan. Water Sci Technol Water Supply 7(1):85–93

Abdulla FA, Al-Shareef AW (2009) Roof rainwater harvesting systems for household water supply in Jordan. Desalination 243(1–3):195–207

Aladenola O, Adeboye O (2010) Assessing the potential for rainwater harvesting. Water Resour Manag 24:2129–2137

Beal C, Hood B, Gardner T, Lane J, Christiansen C (2008) Energy and water metabolism of a sustainable subdivision in south east Queensland: a reality check. Proceedings of Enviro'08 Melbourne

Beal CD, Stewart RA, Huang T (2010) South East Queensland residential end use study: baseline results – winter 2010. Urban Water Security Research Alliance

Coombes PJ, Kuczera G (2003) Analysis of the performance of rainwater tanks in Australian capital cities. Paper presented at the 28th International Hydrology and Water Resources Symposium, Wollongong, NSW

Coombes PJ, Argue J, Kuczera G (2000) Figtree Place: a case study in water sensitive urban development (WSUD). Urban Water 1(4):335–343

Domènech L, Saurí D (2011) A comparative appraisal of the use of rainwater harvesting in single and multi-family buildings of the Metropolitan Area of Barcelona (Spain): social experience, drinking water savings and economic costs. J Clean Prod 19(6–7):598–608

Farreny R, Gabarrell X, Rieradevall J (2011) Cost-efficiency of rainwater harvesting strategies in dense Mediterranean neighbourhoods. Resour Conserv Recycl 55:686–694

Gardner EA, Millar G, Christiansen EC et al (2006) Energy and water use at a WSUD subdivision in Brisbane. Proceedings of the 7th International Conference on Urban Drainage Modelling and Water Sensitive Urban Design Melbourne

Hall MR, West J, Sherman B, Lane J, de Haas D (2011) Long-term trends and opportunities for managing regional water supply and wastewater greenhouse gas emissions. Environ Sci Technol 45(12):5434–5440

Imteaz MA, Shanableh A, Rahman A, Ahsan A (2011) Optimisation of rainwater tank design from large roofs: a case study in Melbourne, Australia. Resour Conserv Recycl 55(11):1022–1029

Imteaz MA, Rahman A, Ahsan A (2012) Reliability analysis of rainwater tanks: a comparison between South-East and Central Melbourne. Resour Conserv Recycl 66:1–7

Imteaz MA, Ahsan A, Shanableh A (2013) Reliability analysis of rainwater tanks using daily water balance model: variations within a large city. Resour Conserv Recycl 77:37–43

Jones MP, Hunt WF (2010) Performance of rainwater harvesting systems in the southeastern United States. Resour Conserv Recycl 54(10):623–629

Khastagir A, Jayasuriya N (2010) Optimal sizing of rain water tanks for domestic water conservation. J Hydrol 381(3–4):181–188

Kim J, Furumai H (2012) Assessment of rainwater availability by building type and water use through GIS-based scenario analysis. Water Resour Manag 26(6):1499–1511

Marlow DR, Beale DJ, Burn S (2010) A pathway to a more sustainable water sector: sustainability-based asset management. Water Sci Technol 61:1245–1255

Mitchell VG, Diaper C (2006) Simulating the urban water and contaminant cycle. Environ Model Softw 21(1):129–134

Mitchell V, Siriwardene N, Duncan H, Rahilly M (2008) Investigating the impact of temporal and spatial lumping on rainwater tank system modelling. Paper presented at the Water Down Under 2008, Modbury, South Australia

Moglia M, Cook S, Sharma A, Burn S (2011) Assessing decentralised water solutions: towards a framework for adaptive learning. Water Resour Manag 25:217–238

Moglia M, Sharma A, Tjandraatmadja G (2013) Exploring the need for rainwater tank maintenance: survey, review and simulations. Water Sci Technol Water Supply 13(2):191–201

Neumann LE, Coultas EH, Moglia M, Mashford J (2011) Errors in yield and overflow estimation in rainwater tank cluster modeling, 12th International Conference on Urban Drainage, 11–16 September 2011, Potre Alegre, Brazil

Queensland Department of Energy and Water Supply (2010) Planning guidelines for water supply and sewerage [Online]. Brisbane. Available: http://www.dews.qld.gov.au/__data/assets/pdf_file/0016/80053/water-sewerage-planning-guidelines.pdf. Accessed August 2013

Queensland Government (2011) SEQ—Scenic Rim Queensland Water Dashboard [Online]. Brisbane. Available: http://www.water.qld.gov.au/waterdashboard/scenic-rim.php. Accessed November 2011

Retamal ML, Glassmire J, Abeysuriya KR et al (2009) The water-energy nexus: investigation into the energy implications of household rainwater systems. The Institute for Sustainable Futures, Sydney

Roberts P (2004) Yarra Valley Water 2004 residential end use measurement study. Yarra Valley Water, Melbourne

Ruth M, Bernier C, Jollands N, Golubiewski N (2007) Adaptation of urban water supply infrastructure to impacts from climate and socioeconomic changes: the case of Hamilton, New Zealand. Water Resour Manag 21(6):1031–1045

Sharma AK, Grant AL, Grant T, Pamminger F, Opray L (2009) Environmental and economic assessment of urban water services for a greenfield development. Environ Eng Sci 26:921–934

Sharma AK, Cook S, Tjandraatmadja G, Gregory A (2012) Impediments and constraints in the uptake of water sensitive urban design measures in greenfield and infill developments. Water Sci Technol 65:340–352

Sullivan T (2011) Evaluating the current water sustainability practices of a small decentralised water system. A report submitted in partial fulfilment of the degree of Bachelor of Engineering. Griffith University, Brisbane

Tam VWY, Tam L, Zeng SX (2010) Cost effectiveness and tradeoff on the use of rainwater tank: an empirical study in Australian residential decision-making. Resour Conserv Recycl 54(3):178–186

Vialle C, Sablayrolles C, Lovera M, Huau M-C, Montréjaud-Vignoles M (2011) Modelling of a roof runoff harvesting system: the use of rainwater for toilet flushing. Water Sci Technol Water Supply 11(2):151–158

Villarreal EL, Dixon A (2005) Analysis of a rainwater collection system for domestic water supply in Ringdansen, Norrköping, Sweden. Build Environ 40(9):1174–1184

Watersecure (2011) Desalination and energy [Online]. Brisbane. Available: http://www.watersecure.com.au/pub/what-we-do/desalination-and-energy. Accessed November 2011

Willis R, Stewart RA, Panuwatwanich K, Capati B, Giurco D (2009a) Gold coast domestic water end use study. Water 36:84–90

Willis R, Stewart RA, Talebpour MR, Mousavinejad A et al (2009b) Revealing the impact of socio-demographic factors and efficient devices on end use water consumption: case of Gold Coast Australia. Proeceedings of the 5th IWA Specialist Conference 'Efficient 2009'. Sydney
About this article
Cite this article
Cook, S., Sharma, A. & Chong, M. Performance Analysis of a Communal Residential Rainwater System for Potable Supply: A Case Study in Brisbane, Australia. Water Resour Manage 27, 4865–4876 (2013). https://doi.org/10.1007/s11269-013-0443-8
Received:

Accepted:

Published:

Issue Date:
Keywords
Rainwater harvesting

Decentralised systems

Integrated urban water management

Energy-water nexus