Abstract
The main purpose of this paper is to evaluate the global performance and to assess the current trends in research of water resource management. The methods of informetric analysis were used to survey water resource management related articles in the Science Citation Index (SCI) and Social Science Citation Index (SSCI) during the past decades. The publication records, subjects, journals, countries, institutes, authors, citations and keywords were analyzed respectively for each paper. The number of papers related to water resource management in 2012 was approximately 8 times that of the year 2000 and hundreds of times more than early 1990s. Water resource management related papers were distributed unevenly by countries. The USA, P.R. China, Australia and UK were the top contributing countries, also present normalized by dividing with population that published most SCI papers as well as SSCI papers. The largest water resource management research center is located in the USA according to the number of publications and citations, with P.R. China becoming more proficient in water resource management according to the data from country and institute. In addition, the quality of papers produced by developed countries is more advanced than developing countries. All these efforts contributed to the indication in trends of water resource management research on a global scale. Earlier water resource management research appeared and was originally concentrated on engineering, irrigation and geography. Issues gradually transferred to management, economics and regime recently.
Access options
Buy single article
Instant access to the full article PDF.
USD 39.95
Price excludes VAT (USA)
Tax calculation will be finalised during checkout.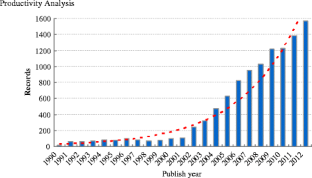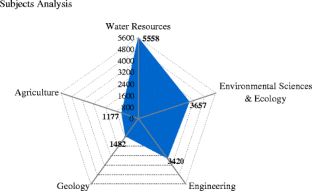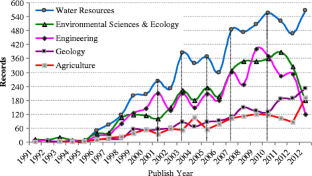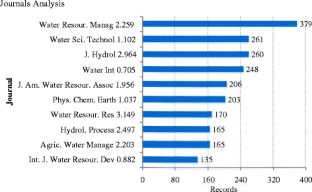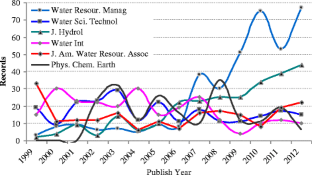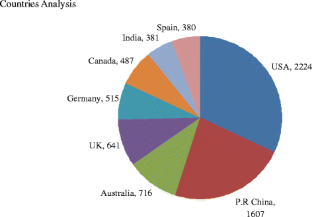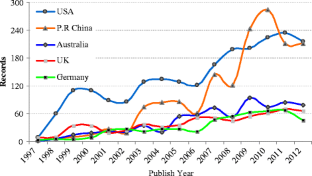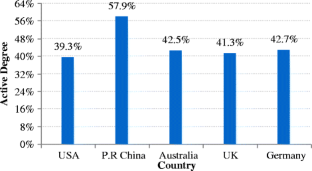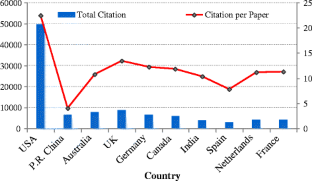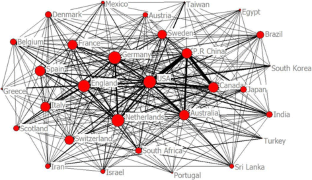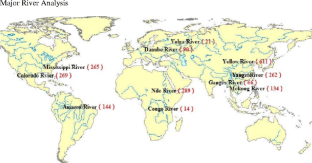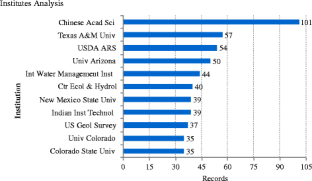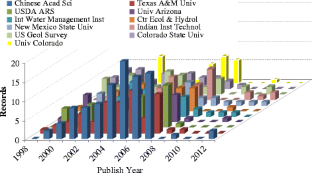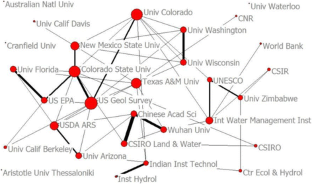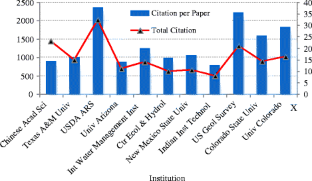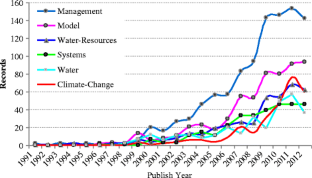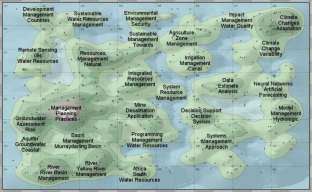 References
Bank AD (2007) Asian water development outlook 2007. Asian Development Bank, Manila

Biswas AK (2004) Integrated water resources management: a reassessment. Water Int 29(2):248–256

Biswas AK (2008) Integrated water resources management: is it working? Int J Water Resour Dev 24(1):5–22

Cao S, Liu X et al (2010) Dujiangyan irrigation system—a world cultural heritage corresponding to concepts of modern hydraulic science. J Hydro Environ Res 4(1):3–13

Foster S, Ait-Kadi M (2012) Integrated Water Resources Management (IWRM): how does groundwater fit in? Hydrogeol J 20(3):415–418

Giupponi C (2007) Decision support systems for implementing the european water framework directive: the Mulino approach. Environ Model Softw 22:248

Gleick PH (1993) Water and conflict—fresh-water resources and international security. Int Secur 18(1):79–112

Hoekstra AY, Hung PQ (2005) Globalisation of water resources: international virtual water flows in relation to crop trade. Glob Environ Chang 15(1):45–56

Jiazhu W (2002) Three Gorges Project: the largest water conservancy project in the world. Public Adm Dev 22(5):369–375

Loukas A, Vasiliades NML (2007) A modeling system for the evaluation of water resources management strategies in Thessaly, Greece. Water Resour Manage 10(21)1673–1072

Loukas A, Mylopoulos N et al (2006) A modeling system for the evaluation of water resources management strategies in Thessaly, Greece. Water Resour Manag 21(10):1673–1702

Marca Weinberg CLK, Wilen JE (1993) Water markets and water quality. Am J Agric Econ 75(2):278–291

Mohammad Karamouz FA, Kerachian R, Zahraie B (2004) Monthly water resources and irrigation planning: case study of conjunctive use of surface and groundwater resources. J Irrig Drain Eng 130(5):391

Mysiak J, Giupponi C et al (2005) Towards the development of a decision support system for water resource management. Environ Model Softw 20(2):203–214

Partnership GW (2000) Integrated water resources management, TAC background papers. GWP Secretariat, Stockholm, 4

Qin B, Zhu G et al (2010) A drinking water crisis in Lake Taihu, China: linkage to climatic variability and lake management. Environ Manag 45(1):105–112

Renwick ME, A. S. O. (1998) Demand side management policies for residential water use: who bears the conservation burden? Land Econ 73(3):343–359

Rojas-Sola JI, Jorda-Albinana B (2011) Bibliometric analysis of Mexican scientific production in hydraulic engineering based on journals in the Science Citation Index-Expanded database (1997–2008). Tecnol Cienc 2(4):195–213

Seckler D, Barker R et al (1999) Water scarcity in the twenty-first century. Int J Water Resour Dev 15(1–2):29–42

Teele RP (1900) Water rights in the arid west. J Polit Econ 8(4):524–534

Tenge AJ, De Graaff J et al (2005) Financial efficiency of major soil and water conservation measures in West Usambara highlands, Tanzania. Appl Geogr 25(4):348–366

Toraj Mohammadi AK (2003) Water shortage and seawater desalination by electrodialysis. Desalination 158:267–270

Vidyasagar D (2007) Global minute: water and health—walking for water and water wars. J Perinatol 27(1):56–58

Vorosmarty CJ, McIntyre PB et al (2010) Global threats to human water security and river biodiversity. Nature 467(7315):555–561

Wang M-H, Li J et al (2011) Research articles published in water resources journals: a bibliometric analysis. Desalin Water Treat 28(1–3):353–365

Yao Q, Chen J, Lyu P-H, Zhang S-J, Ma F-C, Fang J-G (2012) Knowledge map of artemisinin research in SCI and Medline database. J Vector Borne Dis 49(4):305–316
Acknowledgment
This work is supported by the Natural Science Foundation of China (Grant. No 71173249). The authors are grateful to Jie Li, Qian Cao and Gerard Joseph White for their helpful discussions and suggestions. The authors would also like to thank anonymous reviewers for their valuable comments.
Additional information
J.-L. Ren and P.-H. Lyu joint first authors.
About this article
Cite this article
Ren, JL., Lyu, PH., Wu, XM. et al. An Informetric Profile of Water Resources Management Literatures. Water Resour Manage 27, 4679–4696 (2013). https://doi.org/10.1007/s11269-013-0435-8
Received:

Accepted:

Published:

Issue Date:

DOI: https://doi.org/10.1007/s11269-013-0435-8
Keywords
Water resource management

Informetric study

Research trend

Web of Science

Knowledge mapping