Abstract
Social networks play an important role in environmental governance regimes, and they are a key to the adaptive capacity of systems that deal with complex, contextual and multi-faceted issues. Urban water systems are typical examples of complex systems facing many pressures, such as increased population, water quality deterioration, and climate change. This paper explores social networks of the key stakeholders engaged in urban water management, in Makassar City, Indonesia, in the context of exploring ways to improve management of an increasingly complex urban water system. Three social networks were explored; those constituted by formal and informal interactions and networks perceived by stakeholders to be "ideal". Formal networks were identified through an examination of the legislative instruments and government agencies' documents relating to water provision in Makassar, while the informal and "ideal" networks were investigated in collaboration with the stakeholders. The research found that the informal social network was more extensive than were the formally required networks, and the investigation of informal networks created a potentially more robust and adaptive water management system than would have occurred through inclusion of formal institutional arrangements. We suggest that in examination of the adaptive capacity of an urban water system, one also considers the informal arrangements and linkages, as this additional information about the system is necessary to enhance our understanding of potential adaptation of water management and improved urban water systems.
Access options
Buy single article
Instant access to the full article PDF.
USD 39.95
Price excludes VAT (USA)
Tax calculation will be finalised during checkout.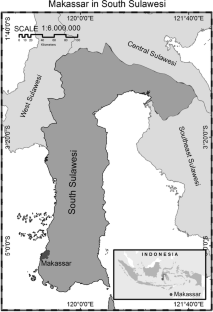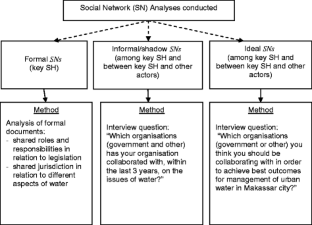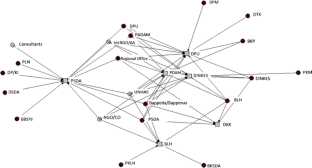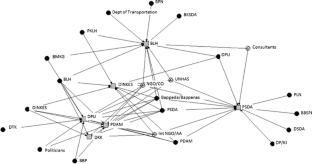 References
Agrawal A, Gibson CC (1999) Enchantment and disenchantment: the role of community in natural resource conservation. World Dev 27:629–649

AIP (2010) Introducing the Indonesia infrastructure initiative. Prakarsa: Journal of the Indonesia Instructure Initiative. Australia Indonesia Partnership, Jakarta

Alexander KS, Moglia M, Miller C (2010) Water needs assessment: learning to deal with scale, subjectivity and high stakes. J Hydrol 388:251–257

Armitage DR, Plummer R, Berkes F, Arthur RI, Charles AT, Davidson-Hunt IJ, Diduck AP, Doubleday N, Johnson DS, Marschke M, McConney P, Pinkerton E, Wollenberg E (2009) Adaptive co-management for social–ecological complexity. Front Ecol Environ 6:95–102

Bäckstrand K (2002) Civic Science for sustainability. Reframing the role of scientific experts, policymakers and citizens in environmental governance. Proceeding of the knowledge for sustainability. Challenges for social science, 6–7 December, Berlin

Barkey RA, Achmad A, Kaimuddin, Selintung M, Yudono A, Salman D (2011) Review on water service provision in Makassar city, Indonesia. Hasanuddin University, Makassar, Indonesia. A report submitted to CSIRO, Australia

Berkes F, Folke C (eds) (1998) Linking Social and Ecological Systems: Management Practices and Social Mechanisms for Building Resilience. Cambridge University Press, New York

Bodin Ö, Crona BI (2009) The role of social networks in natural resource governance: what relational patterns make a difference? Glob Environ Chang 19:366–374

Bodin Ö, Crona B, Ernstson H (2006) Social networks in natural resources management: what is there to learn from a structural perspective? Ecol Soc 11:r2

Bonacich P (1987) Power and centrality: a family of measures. Am J Sociol 92:1170–1182

Borgatti SP, Everett MG, Freeman LC (2002) UCINET 6 for windows: software for social network analysis

BPS Makassar (2007) Makassar in number. Makassar, Sulawesi, Indonesia

Carlsson L, Berkes F (2005) Co-management: concepts and methodological implications. J Environ Manage 75:65–76

CV Globalindo Konsultama (2006) State of environment of Makassar city. Makassar, Sulawesi, Indonesia (In Bahasa Indonesia)

Dietz T, Ostrom E, Stern PC (2003) The struggle to govern the commons. Science 302:1907–1912

Dimadama Z, Zikos D (2010) Social networks as Trojan horses to challenge the dominance of existing hierarchies: knowledge and learning in the water governance of Volos, Greece. Water Resour Manag 24(14):3853–3870

Ernstson H, Barthel S, Andersson E, Borgström ST (2010) Scale-crossing brokers and network governance of urban ecosystem services: the case of Stockholm. Ecol Soc 15(4):28

Folke C, Hahn T, Olsson P, Norberg J (2005) Adaptive governance of social-ecological system. Annu Rev Environ Resour 30:441

Freeman L (1979) Centrality in social networks. Conceptual clarifications. Soc Networks 1:215–239

Friedmann J (1998) The new political economy of planning: the rise of civil society. In: Douglass M, Friedmann J (eds) Cities for citizens: planning and the rise of civil society in a global age. Wiley, Chichester, pp 19–35

GoI (2004) Undang Undang Republik Indonesia Nomor 7 Tahun 2004 Tentang Sumber Daya Air. Government of Indonesia

Hanneman RA, Riddle M (2005a) Introduction to social network methods: chapter 10. Centrality and power. http://faculty.ucr.edu/~hanneman/nettext/C10_Centrality.html. Accessed June 2011

Hanneman RA, Riddle M (2005b) Introduction to social network methods: chapter 4. Working with NetDraw to visualize graphs. http://faculty.ucr.edu/~hanneman/nettext/C4_netdraw.html. Accessed June 2011

Kirono DGC, Larson S, Tjandraatmadja G, Leitch A, Neumann L, Maheepala S, Barkey R, Achmad A, Selintung M (2013) Adapting to climate change through urban water management: a participatory case study in Indonesia. Reg Environ Chang. doi:10.1007/s1011301304983

Larson S (2010) Designing robust water planning institutions in remote regions: a case of Georgina and Diamantina catchment in Australia. Water Policy 12:357–368

Larson S, Brake L (2011) Natural resources management arrangements in the Lake Eyre Basin: an enabling environment for community engagement? Rural Soc 21:32–43

Larson S, Stone-Jovicich S (2011) Community perceptions of water quality and current institutional arrangements in the Great Barrier Reef Region of Australia. Water Policy 13:411–424

Larson S, Alexander K, Djalante R, Tjandraatmadja G, Barkey R, Kirono D (2010a) Climate adaptation through sustainable urban development in Makassar, Indonesia. Report from Stakeholder Workshop - October 2010. CSIRO AusAId Alliance Project. Makassar, CSIRO, Australia

Larson S, Measham TG, Williams LJ (2010b) Remotely engaged? Towards a framework for monitoring the success of stakeholder engagement in remote regions. J Environ Plan Manag 53:827–845

Leavitt H (1951) Some effects of certain communication patterns on group performance. J Abnorm Soc Psych 46:38–50

Mitchell RK, Agle BR, Wood DJ (1997) Toward a theory of stakeholder identification and salience: defining the principle of who and what really counts. Acad Manag Rev 22:853–886

Moglia M, Perez P, Burn S (2010) Modelling an urban water system on the edge of chaos. Environ Model Softw 25:1528–1538

Moglia M, Cook S, Sharma A, Burn S (2011) Assessing decentralised water solutions: towards a framework for adaptive learning. Water Resour Manag 25:217–238

ODA (1995) Guidance note on how to do stakeholder analysis of aid projects and programmes

Olsson P, Gunderson LH, Carpenter S, Ryan P, Lebel L, Folke C, Holling CS (2006) Shooting the rapids: navigating transitions to adaptive governance of social-ecological systems. Ecol Soc 11:18

Orr P, Colvin J, King D (2007) Involving stakeholders in integrated river basin planning in England and Wales. Water Resour Manag 21:331–349

Ostrom E (2008) Frameworks and theories of environmental change. Glob Environ Chang 18:249–252

Ostrom E (2010) Polycentric systems for coping with collective action and global environmental change. Global Environmental Change 20(4):550–557

Pahl-Wostl C (2009) A conceptual framework for analysing adaptive capacity and multi-level learning processes in resource governance regimes. Glob Environ Chang 19:354–365

Pelling M, High C (2005a) Understanding adaptation: what can social capital offer assessments of adaptive capacity? Glob Environ Chang A 15:308–319

Pelling M, High C (2005b) Social learning and adaptation to climate change. Disaster studies working paper 11. Benfield Hazard Research Centre, London

Pelling M, High C, Dearing J, Smith D (2008) Shadow spaces for social learning: a relational understanding of adaptive capacity to climate change within organisations. Environ Plan A 40:867–884

Preston BL, Stafford-Smith M (2009) Framing vulnerability and adaptive capacity assessment: discussion paper. CSIRO Climate Adaptation Flagship Working paper No. 2. Available online at: http://www.csiro.au/files/files/ppgt.pdf. Accessed December 17, 2009

Ribot JC (2002) Democratic decentralization of natural resources: institutionalizing popular participation. World Resources Institute, Washington, DC

Sandström A, Carlsson L (2008) The performance of policy networks: the relation between network structure and network performance. Pol Stud J 36:497–524

Schiffer E, Hauck J (2010) Net-map: collecting social network data and facilitating network learning through participatory influence network mapping. Field Method 22:231–249

Smajgl A, Larson S (2007) Institutional dynamics and natural resource management. In: Smajgl A, Larson S (eds) Sustainable resource use: institutional dynamics and economics. Earthscan, London, pp 9–26

Stanghellini PSL (2010) Stakeholder involvement in water management: the role of the stakeholder analysis within participatory processes. Water Policy 12:675–694

Stein C, Ernston H, Barron J (2011) A social network approach to analyzing water governance: the case of the Mkindo catchment, Tanzania. Phys Chem Earth 36:1085–1092

Subandi R (2005) Towards the shifting paradigm of urban water supply policy in Indonesia. First policy forum on urban environmental management in Southeast Asia, Pathumthani, Thailand, Southeast Asia Urban Environmental Management Applications (SEA-UEMA) Project, Asian Institute of Technology

Warner J (2005) Multi-stakeholder platforms: integrating society in water resource management? Ambiente Soc 8:4–28

Wiek A, Larson KL (2012) Water, people, and sustainability—a systems framework for analyzing and assessing water governance regimes. Water Resour Manag 26(11):3153–3171

Wondolleck JM, Yaffee SL (2000) Making collaboration work: lessons from innovation in natural resource management. Island Press, Washington, DC
Acknowledgments
This study was funded by the AusAID CSIRO Research for Development Alliance's project entitled "Climate adaptation through sustainable urban development". Appreciation is expressed for significant contributions from the CSIRO project team members (in particular, Grace Tjandraatmadja) and research partners from the Hasanuddin University in Makassar (Profs Roland Barkey, Amran Ahmad, Mary Selintung, Ananto Yudono, Dharmawan Salman and Kaimuddin Mole, and the students). Figure 1 was kindly prepared by Muhammad Nur Iman. This study would not be possible without generous contribution of time by project stakeholders themselves. Useful comments on previous drafts were provided by Ms Liana Williams, Dr Tom Measham and Dr Tony Darbas.
About this article
Cite this article
Larson, S., Alexander, K.S., Djalante, R. et al. The Added Value of Understanding Informal Social Networks in an Adaptive Capacity Assessment: Explorations of an Urban Water Management System in Indonesia. Water Resour Manage 27, 4425–4441 (2013). https://doi.org/10.1007/s11269-013-0412-2
Received:

Accepted:

Published:

Issue Date:

DOI: https://doi.org/10.1007/s11269-013-0412-2
Keywords