Abstract
In this paper, bargaining process between different stakeholders involved in a waste load allocation problem is simulated using the Fallback Bargaining (FB) concept. The paper considers two main parties in a waste load allocation problem. On the one hand, there are wastewater dischargers intending to minimize their treatment costs and on the other hand, there is an environmental protection agency which monitors the river water quality at a checkpoint downstream of the location of dischargers. In this paper, different alternatives which are combinations of dischargers' treatment scenarios are defined. A water quality simulation model is utilized to estimate the concentration of the water quality indicator along the river based on a selected alternative. If the concentration of water quality indicator in the selected checkpoint violates the water quality standards, a penalty function is used to calculate the amount of penalty assigned to dischargers. The allocated cost to each discharger is computed considering his treatment scenario as well as the penalty allocated to him. Two kinds of Fallback bargaining procedure termed as Unanimity Fallback Bargaining (UFB) and Fallback bargaining with Impasse (FBI), which both aim at minimizing the maximum dissatisfaction of bargainers in a negotiation problem, are utilized for finding a Compromise Set (CS) of alternatives. In this paper, the best alternative (alternatives) among CS members is (are) selected using a social choice theory namely Condorcet winner. The results of these two approaches are compared and the final alternative is selected which shows the initial Tradable Discharge Permits (TDPs) allocated to dischargers. Finally, in order to decrease the total allocated cost to dischargers, initial allocated TDPs are exchanged between them using the Extended Trading Ratio System (ETRS) developed by Mesbah et al. (Environ Model Software 24:238–246, 2009). The applicability and efficiency of the proposed methodology is investigated by applying it to a case study of the Zarjub River in the northern part of Iran.
Access options
Buy single article
Instant access to the full article PDF.
US$ 39.95
Tax calculation will be finalised during checkout.
Subscribe to journal
Immediate online access to all issues from 2019. Subscription will auto renew annually.
US$ 79
Tax calculation will be finalised during checkout.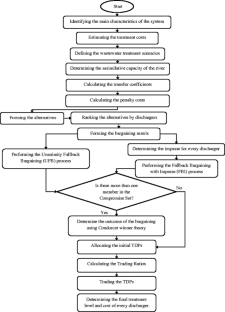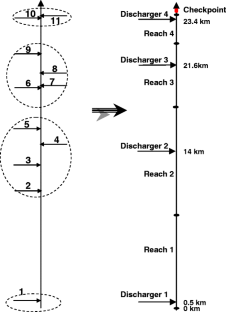 References
Abed-Elmdoust A, Kerachian R (2012a) Water resources allocation using a cooperative game with fuzzy payoffs and fuzzy coalitions. Water Resour Manag 26(13):3961–3976

Abed-Elmdoust A, Kerachian R (2012b) River water quality management under incomplete information: application of an n-person iterated signaling game. Environ Monit Assess 184(10):5875–5888

Brams SJ, Kilgour DM (2001) Fallback bargaining. Group Decis Negot 10:287–316

Brams SJ, Kilgour DM, Sanver M (2004) A minimax procedure for negotiating multilateral treaties. Department of Politics, New York University Press

Condorcet JAN (1785) An essay on the application of analysis to the probability of decisions rendered by a plurality of voters. Abridged and translated. In: McLean I, Urken AB (eds) Classics of social choice, 1995. University of Michigan Press, Ann Arbor

Hung M, Shaw D (2005) A trading ratio system for trading water pollution discharge permits. J Environ Manag 81:233–246

Iran Department of Environment (2005) Developing pollution discharge permits in the Zarjub river basin. Tech Rep

Madani K, Shalikarian L, Naeeni STO (2011) Resolving hydro-environmental conflicts under uncertainty using fallback bargaining procedures. International Conference on Environment Science and Engineering (IPCBEE). IACSIT Press, Singapore

Malakpour-Estalaki S, Kerachian R, Abed-Elmdoust A (2010) Application of evolutionary games in river water quality management. Proceedings of the Forth Conference and Exhibition of Environmental Engineering, October 23–25, Tehran, Iran

Mesbah SM, Kerachian R, Nikoo MR (2009) Developing real time operating rules for trading discharge permits in rivers: application of Bayesian networks. Environ Model Software 24:238–246

Mesbah SM, Kerachian R, Torabian A (2010) Trading pollutant discharge permits in rivers using fuzzy nonlinear cost functions. Desalination 250(1):313–317

Nikoo MR, Kerachian R, Karimi A (2012) A nonlinear interval model for water and waste load allocation in river basins. Water Resour Manag 26(10):2911–2926

Niksokhan MH, Kerachian R, Karamouz M (2009) A game theoretic approach for trading discharge permits in rivers. Water Sci Technol 60(3):793–804

Poorsepahy-Samian H, Kerachian R, Nikoo MR (2012) A nonlinear interval model for water and waste load allocation in river basins. Water Resour Manag 26(14):4241–4257

Sadegh M, Kerachian R (2011) Water resources allocation using solution concepts of fuzzy cooperative games: fuzzy least core and fuzzy weak least core. Water Resour Manag 25(10):2543–2573

Sheikhmohammady M, Madani K (2008) Bargaining over the Caspian Sea-the largest lake on the earth. Proceeding of the 2008 World Environmental and Water Resources Congress, Honolulu, Hawaii, doi: 10.1061/40976(316)262

Sheikhmohammady M, Kilgour DM, Hipel KW (2010) Modeling the Caspian Sea negotiations. Group Decis Negot 19(2):149–168

Tsagarakis KP, Mara DD, Angelakis AN (2003) Application of cost criteria for selection of municipal wastewater treatment systems. Water Air Soil Pollut 142:187–210

Zhang C, Wang G, Peng Y, Tang G, Liang G (2012) A negotiation-based multi-objective, multi-party decision-making model for inter-basin water transfer scheme optimization. Water Resour Manag 26(14):4029–4038
About this article
Cite this article
Mahjouri, N., Bizhani-Manzar, M. Waste Load Allocation in Rivers using Fallback Bargaining. Water Resour Manage 27, 2125–2136 (2013). https://doi.org/10.1007/s11269-013-0279-2
Received:

Accepted:

Published:

Issue Date:
Keywords
Waste load allocation

Fallback bargaining

Compromise Set (CS)

Tradable Discharge Permits (TDPs)

Condorcet winner, the Zarjub River