Abstract
Evidence of global dimming/brightening is mainly based upon few measurements of solar radiation. A need for more research supported and extended with the use of other climatic variables, such as sunshine duration, recorded for a longer time period and successfully used as a proxy for solar radiation over the past 80 years, has already been urged. Thus, in this study, residual sunshine duration series computed after removal of the cloudiness-related variability, from daily sunshine duration and cloudiness data measured at the National Observatory of Athens are used for highlighting global dimming or brightening periods in Athens, during the period 1951–2001. Furthermore, the consistency of trends in radiation records and their implications for the hydrological cycle and especially the trends in reference evapotranspiration are examined, during the period 1951–2001. The analysis focuses on the seasonal decadal variations, determines and explains the causes of the seasonal trends from the inter-annual and decadal variability of the sunshine duration during the last half past century, with a special emphasis in detecting possible sub-periods in Athens. The signs of trends in the modeled annual and seasonal reference evapotranspiration are estimated, according to the indicated global dimming/brightening periods.
Access options
Buy single article
Instant access to the full article PDF.
USD 39.95
Price excludes VAT (USA)
Tax calculation will be finalised during checkout.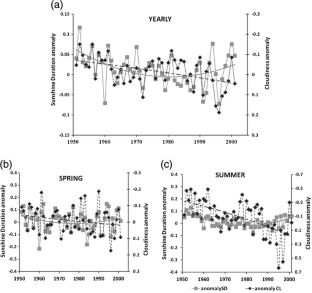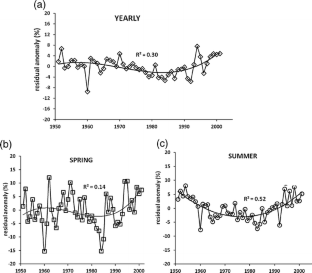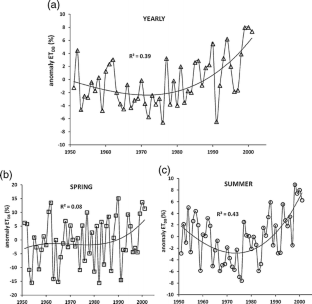 References
Allen RG, Pereira LS, Raes D, Smith M (1998) Crop evapotranspiration: guidelines for computing crop water requirements. FAO Irrig Drain. Food and Agric Org, Rome, p 56

Brutsaert W (2006) Indications of increasing land surface evaporation during the second half of the 20th century. Geophys Res Lett 33:L20403. doi:10.1029/2006GL027532

Brutsaert W, Parlange M (1998) Hydrologic cycle explains the evaporation paradox. Nature 396:30

Chen D, Gao G, Xu C, Guo J, Ren G (2005) Comparison of the Thornthwaite method and pan data with the standard Penman-Monteith estimates of reference evapotranspiration in China. Clim Res 28:123–132

Chiacchio M, Wild M (2010) Influence of NAO and clouds on long-term seasonal variations of surface solar radiation in Europe. J Geophys Res 115:D00d22. doi:10.1029/2009JD012182

Cohen S, Ianetz A, Stanhill G (2002) Evaporative climate changes at Bet Dagan, Israel. 1964 1998. Agric For Meteor 111:83–91

Diodato N, Bellocchi G (2007) Modeling reference evapotranspiration over complex terrains from minimum climatological data. Water Resour Res 43:W05444. doi:10.1029/2006WR005405

Donohue RJ, McVicar TR, Roderick ML (2010) Assessing the ability of potential evaporation formulations to capture the dynamics in evaporative demand within a changing climate. J Hydrol 386:186–197

Fu G, Charles SP, Yu J (2009) A critical overview of pan evaporation trends over the last 50 years. Clim Change 97:193–214. doi:10.1007/s10584-009-9579-1

Hatzianastassiou N, Gikas A, Mihalopoulos A, Torres O, Katsoulis B (2009) Natural versus anthropogenic aerosols in the eastern Mediterranean basin derived from multiyear TOMS and MODIS satellite data. J Geophys Res 114:D24202. doi:10.1029/2009JD0111982

Hobbins MT, Ramirez JA, Brown TC (2004) Trends in pan evaporation and actual evapotranspiration across the conterminous U.S,: paradoxical or complementary? Geophys Res Lett 31:L13503. doi:10.1029/2004GL019846

Hobbins MT, Dai A, Roderick ML, Farquhar GD (2008) Revising the parameterization of potential evaporation as a driver of long-term water balance trends. Geophys Res Lett 35:L12403. doi:10.1029/2008GL033840

Kirono DGC, Jones RN, Cleugh A (2008) Pan-evaporation measurements and Morton-point potential evaporation estimates in Australia: are their trends the same? Inter J Climatol. doi:10.1002/joc.1731

Liepert BG (2002) Observed reductions of surface solar radiation at sites in the United States and worldwide from 1961 to 1990. Geophys Res Lett 29(10):1421. doi:10.1029/2002GL014910

McKenney MS, Rosenburg NJ (1993) Sensitivity of some potential evapotranspiration estimation methods to climate change. Agric For Meteorol 64:81–101

Norris JR, Wild M (2007) Trends in aerosol radiative effects over Europe inferred from observed cloud cover, solar dimming and brightening. J Geophys Res 112:D08214. doi:10.1029/2006JD007794

Norris JR, Wild M (2009) Trends in aerosol radiative effects over China and Japan inferred from observed cloud cover solar dimming and brightening. J Geophys Res 114:D00D15. doi:10.1029/2008JD011378

Ohmura A, Wild M (2002) Is the hydrologic cycle accelerating? Science 298:1345–1346. doi:10.1126/science.1078972

Papaioannou G, Kitsara G, Athanasatos S (2011) Impact of global dimming and brightening on reference evapotranspiration in Greece. J Geophys Res 116. doi:10.1029/2010JD015525

Philandras C, Metaxas DA, Nastos PT (1999) Climate variability and urbanization in Athens. Theor Appl Climatol 63:65–72

Roderick ML, Farquhar GD (2002) The cause of decreased pan evaporation over the past 50 years. Science 298:1410–1411

Roderick ML, Rotstayn LD, Farquhar GD, Hobbins MT (2007) On the attribution of changing pan evaporation. Geophys Res Lett 34:L174303. doi:10.1029/2007GL031166

Roderick ML, Hobbins MT, Farquhar GD (2009a) Pan evaporation trends and the terrestrial water balance I. Principles and Observations. Geography Compass 3(2):746–760. doi:10.1111/j.1749-8198.2008.00213.x

Roderick ML, Hobbins MT, Farquhar GD (2009b) Pan evaporation trends and the terrestrial water balance II. Energy balance and interpretation. Geography Compass 3(2):761–780. doi:10.1111/j.1749-8198.2008.00214.x

Sanchez-Lorenzo A, Brunetti M, Calbó J, Martin-Vide J (2007) Recent spatial and temporal variability and trends of sunshine duration over the Iberian Peninsula from a homogenized data set. J Geophys Res 112:D20115. doi:10.1029/2007JD008677

Sanchez-Lorenzo A, Calbó J, Martin-Vide M (2008) Time evolution of sunshine duration over western Europe (1938–2004). J Climatol 21:6089–6098. doi:10.1175/2008JCLI24421

Sanchez-Lorenzo A, Brunetti M, Calbó J, Deser C (2009) Dimming/brightening over the Iberian Peninsula: trends in sunshine duration and cloud cover and their relations with atmospheric circulation. J Geophys Res 114:D00D09. doi:10.1029/2008JD011394

Stanhill G, Cohen S (2001) Global dimming: a review of the evidence for a widespread and significant reduction in global radiation with discussion of its probable causes and possible agricultural consequences. Agric For Meteorol 107:255–278. doi:10.1016/s0168-1923(00)00241

Stanhill G, Cohen S (2005) Solar radiation changes in the United States during the twentieth century: evidence from sunshine duration measurements. J Clim 18:1503–1512

Stanhill G, Moreshet S (1992) Global radiation climate changes: the world network. Clim Change 21:57–75. doi:10.1007/BF00143253

Wild M (2009) Global dimming and brightening: a review. J Geophys Res 114:D00D16. doi:10.1029/JD011470

Wild M (2012) Enlightening global dimming and brightening. Bull Amer Meteor Soc 93:27–37

Wild M, Liepert (2010) The Earth radiation balance as driver of the global hydrological cycle. Environ Ress Lett 5. doi:10.1088/1748-9326/5/02/0225003

Wild M, Gilgen H, Roesch A, Ohmura A, Long CN, Dutton EG, Forgan B, Kallis A, Russak V, Tsvetkov A (2005) From dimming to brightening: decadal changes in solar radiation at Earth's surface. Science 308:847–850. doi:10.1126/science.1103215

Wild M, Grieser JC, Schar C (2008) Combined surface solar brightening and increasing greenhouse effect support recent intensification of the global land-based hydrological cycle. Geophys Res Lett 35:L17706. doi:10.1029/2008GL034842

Zerefos CS, Eleftheratos K, Meleti C, Kazadzis S, Romanou A, Ichoku C, Tselioudis G, Bais A (2009) Solar dimming and brightening over Thessaloniki Greece, and Beijing, China. Tellus 61B:657–665
Acknowledgments
The authors thank the National Observatory of Athens for providing the data. This research has been co-financed by the European Union (European Social Fund – ESF) and Greek national funds through the Operational Program "Education and Lifelong Learning" of the National Strategic Reference Framework (NSRF) - Research Funding Program: Heracleitus II. Investing in knowledge society through the European Social Fund.
About this article
Cite this article
Kitsara, G., Papaioannou, G., Papathanasiou, A. et al. Dimming/brightening in Athens: Trends in Sunshine Duration, Cloud Cover and Reference Evapotranspiration. Water Resour Manage 27, 1623–1633 (2013). https://doi.org/10.1007/s11269-012-0229-4
Received:

Accepted:

Published:

Issue Date:

DOI: https://doi.org/10.1007/s11269-012-0229-4
Keywords