Abstract
The southern border of the Brazilian Amazon is one of the most sensitive areas to deforestation in Brazil. In addition to problems related to changes in land use, new issues are emerging, including climate change and its negative effects on the regional hydrological cycle. In recent years considerable research has been undertaken focusing on climate change and its effects on Amazon Biodiversity, carbon cycle, fire incidence and even on regional water resources, but there is very little research linking territorial planning and public policies to prospective planning scenarios and climate change and the necessary adaptation or mitigation actions to address climate vulnerability. This study examines issues pertaining to social, economic and environmental vulnerability, including new challenges posed by climate change. Examples of environmental problems related to climate dynamics of the Rio Acre Basin are floods and dry periods such as the major drought of 2005 and the 2009 flood. The use of methodology for integrated assessment of vulnerability to river basins in Amazon Region constitutes a valuable instrument for territorial planning, since it takes into account both the challenges of poverty and the environmental fragility, as well the possible aggravations of extreme climatic events in the future.
Access options
Buy single article
Instant access to the full article PDF.
USD 39.95
Price excludes VAT (USA)
Tax calculation will be finalised during checkout.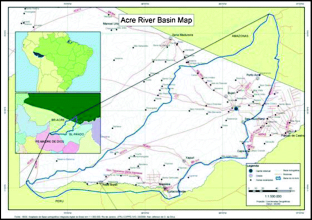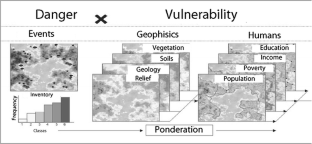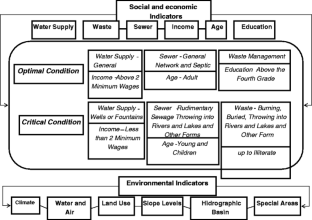 References
Acre (2000) Governo do Estado do Acre. Programa Estadual de Zoneamento Ecológico-Econômico do Estado do Acre. Zoneamento ecológico econômico: recursos naturais e meio ambiente – documento final. SECTMA. V1. 2000

Adger WN (2006) Vulnerability. Global Environmental Change 16(3):268–281

Alves HPF (2006) Vulnerabilidade socioambiental na metrópole paulistana: uma análise sociodemográfica das situações de sobreposição espacial de problemas e riscos sociais e ambientais. Revista Brasileira de Estudos de População, São Paulo, v. 23, n. 1, p. 43–59, jan./jun. 2006

Amaral EF et al (2005) Vulnerabilidade ambiental de uma área piloto na Amazônia ocidental: trecho da BR-364 entre Feijó e Mâncio lima, estado do Acre. Natureza & Desenvolvimento 1(1):87–102

Becker BK, Egler CAG (1997) Detalhamento da Metodologia para a Execução do Zoneamento Ecológico-Econômico pelos Estados da Amazônia Legal. MMA/SAE, Brasília

Ben (2008) Balanço Energético Nacional, Brasília, Ministério de Minas e Energia–MME

Brown IF, Brilhante SHC, Elsa Mendoza e Ivanir Ribeiro de Oliveira (2002) Estrada de Rio Branco, Acre, Brasil aos Portos do Pacífico: Como maximizar os benefícios e minimizar os prejuízos para o desenvolvimento sustentável da Amazônia Sul-Ocidental. Encuentro Internacional de Intergracion Regional - Bolívia, Brasil y Peru. Arequipa, Peru, 2 a 4 de setembro de 2001 Editora CEPEI (Centro Peruano de Estudios Internacionales), Lima

Crepani E et al (1998) Sensoriamento remoto e geoprocessamento aplicados ao zoneamento ecológico-econômico. INPE, São José dos Campos, p 65

Cutter SL (1996) "Vulnerability to Environmental Hazards" Progress in Human Geography. Association of American Geographers, Washington D.C

Freitas MAV, Soito JLS (2008) Energia e Recursos Hídricos. In: Mudança do Clima: Vulnerabilidade, Impactos e Adaptação, Parcerias Estratégicas, Centro de Gestão de Estudos Estratégicos (CGTE), Ministério da Ciência e Tecnologia - MCT, N. 27, Dezembro, Brasília, 2008

IBGE (1990) PMACI I. Projeto de Proteção do Meio Ambiente e das Comunidades Indígenas I: Diagnóstico Geoambiental e Sócio-Econômico. IBGE, Rio de Janeiro

IBGE (2000) Censo Demográfico 2000. Instituto Brasileiro de Geografia e Estatística - IBGE, Rio de Janeiro, Brasil

IHDP (2001) Population vulnerability and broad environmental climatic exposure. Pedro Reginaldo Prata. Avaliable at: http://www.ihdp.unu.edu/article/OM2001?menu=76

Liu LC, Hong Y, Bednarckzyk CN, Yong B, Shafer MA, Riley R, Hocekr JE (2012) Hydro-climatological drought analyses and projections using meteorological and hydrological drought indices: a case study in blue river basin, Oklahoma. Water Resour Manag 26(10):2761–2779

Logar C, Van Den Bergh JCJM (2012) Methods to assess costs of drought damages and policies for drought mitigation and adaptation: review and recommendations. Water Resources Management, online version

Lorena RB (2008) Linking spatial patterns of land-use to agents of deforestation in the Brazilian Amazon. Doctorate thesis University of Louvain, Belgium: Available at: http://hdl.handle.net/2078.1/6870

Kaztman R (1999) Activos y estructuras de oportunidades: estudios sobre las raíces de la vulnerabilidad social en Uruguay. Santiago de Chile

Marengo JA, Nobre CA, Tomasella J et al (2008) The drought of Amazonia in 2005. J Clim 21:495–516

Moser C (1998) The asset vulnerability framework: reassessing urban poverty reduction strategies. World Development, v.26, n.1

Oreskes N (2004) The scientific consensus on climate change. Science 306:1686

Pahl-Wostl C (2007) Transitions towards adaptive management of water facing climate and global change. Water Resources Management 21:49–62

Panagopoulos GP, Bathrellos GD, Skilodimou HD, Martsouka FA (2012) Mapping urban water demands using multi-criteria analysis and GIS. Water Resources Management 26:1347–1363

Radambrasil P (1976) Folha SC.19 - Rio Branco. Rio de Janeiro p. 171–274

Rocha S (2000) Estimação de linhas de indigência e de pobreza: opções metodológicas no Brasil. In: Henriques RO (ed) Desigualdade e pobreza no Brasil. IPEA, Rio de Janeiro, pp 109–127

SEMA, Acre (2006) Governo do Estado do Acre. Programa Estadual de Zoneamento Ecológico Econômico Fase II: documento Síntese – Escala 1:250.000. SEMA, Rio Branco, Acre. 356p

Sena JAN (2011) Vulnerabilidade a eventos climáticos extremos na Amazônia Ocidental: uma visão integrada na bacia do rio Acre. UFRJ/COPPE. XII, 285 p.: il.; 29,7 cm

Sena JAN, Deus LAB, Freitas MAV, Costa L (2012) Extreme events of droughts and floods in Amazonia: 2005 and 2009. Water Resour Manag 26(6):1665–1676

Wiek A, Larson KL (2012) Water, people, and sustainability—a systems framework for analyzing and assessing water governance regimes. Water Resour Manag 26:3153–3171
About this article
Cite this article
Sena, J.A., Freitas, M.A.V., de Berrêdo, D. et al. Evaluation of Vulnerability to Extreme Climatic Events in the Brazilian Amazonia: Methodological Proposal to the Rio Acre Basin. Water Resour Manage 26, 4553–4568 (2012). https://doi.org/10.1007/s11269-012-0166-2
Received:

Accepted:

Published:

Issue Date:

DOI: https://doi.org/10.1007/s11269-012-0166-2
Keywords