Abstract
From the water management perspective, water scarcity is an unacceptable risk of facing water shortages to serve water demands in the near future. Water scarcity may be temporary and related to drought conditions or other accidental situation, or may be permanent and due to deeper causes such as excessive demand growth, lack of infrastructure for water storage or transport, or constraints in water management. Diagnosing the causes of water scarcity in complex water resources systems is a precondition to adopt effective drought risk management actions. In this paper we present four indices which have been developed to evaluate water scarcity. We propose a methodology for interpretation of index values that can lead to conclusions about the reliability and vulnerability of systems to water scarcity, as well as to diagnose their possible causes and to propose solutions. The described methodology was applied to the Ebro river basin, identifying existing and expected problems and possible solutions. System diagnostics, based exclusively on the analysis of index values, were compared with the known reality as perceived by system managers, validating the conclusions in all cases.
Access options
Buy single article
Instant access to the full article PDF.
USD 39.95
Price excludes VAT (USA)
Tax calculation will be finalised during checkout.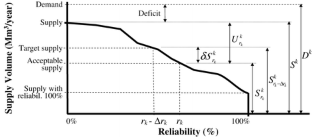 References
Cai X, McKinney DC, Lasdon LS (2002) A framework for sustainability analysis in water resources management and application to the Syr Darya Basin. Water Resour Res 38(6). doi:10.1029/2001WR000214

CHE (1998) Plan Hidrológico de la cuenca del Ebro, Confederación Hidrográfica del Ebro. http://www.chebro.es/contenido.visualizar.do?idContenido=6923&idMenu=2240 (original in Spanish)

Garen DC (1993) Revised Surface Water Supply Index (SWSI) for Western United States. J Water Resour Plan Manag-ASCE 119(4):437–454

Grigg NS (1996) Management framework for large-scale water problems. J Water Resour Plan Manag-ASCE 122(4):296–300

Guttman NB (1998) Comparing the palmer drought index and the standardized precipitation index. J Am Water Resour As 34(1):113–121

Hashimoto T, Sstedinger JR, Loucks DP (1982) Reliability, resiliency, and vulnerability criteria for water-resource system performance evaluation. Water Resour Res 18(1):14–20

Hsu SK (1995) Shortage indices for water-resources planning in Taiwan. J Water Resour Plan Manag-ASCE 121(2):119–131

Loucks DP (1997) Quantifying trends in system sustainability. Hydrol Sci J 42(4):513–530. doi:10.1080/02626669709492051

McKee TB, Doesken NJ, Kleist J (1993) The relationship of drought frequency and duration to time scales. 8th Conference on Applied Climatology, Anaheim, CA

MMARM (2008) Ministerio de Medio Ambiente, y Medio Rural y Marino, Orden ARM/2656/2008, de 10 de septiembre, por la que se aprueba la Instrucción de Planificación Hidrológica (original in Spanish)

Ohlsson L (2000) Water conflicts and social resource scarcity. Phys Chem Earth Part B- Hydrol Oceans Atmos 25(3):213–220

Quiring SM, Papakryiakou TN (2003) An evaluation of agricultural drought indices for the Canadian prairies. Agric For Meteorol 118(1–2):49–62

Shafer BA, Dezman LE (1982) Development of a surface water supply index (SWSI) to assess the severity of drought conditions in snowpack runoff areas. Proc Western Snow Conference:164–175

Wilchfort O, Lund JK (1997) Shortage management modelling for urban water supply systems. J Water Resour Plan Manag-ASCE 123(4):250–258
About this article
Cite this article
Martin-Carrasco, F., Garrote, L., Iglesias, A. et al. Diagnosing Causes of Water Scarcity in Complex Water Resources Systems and Identifying Risk Management Actions. Water Resour Manage 27, 1693–1705 (2013). https://doi.org/10.1007/s11269-012-0081-6
Received:

Accepted:

Published:

Issue Date:

DOI: https://doi.org/10.1007/s11269-012-0081-6
Keywords