Abstract
A methodology to incorporate long-term goals within the short-term reservoir operation optimization model is proposed. Two conflicting objectives for the management of hydropower generation in two different power plants are incorporated. A chance-constrained optimization model is used to derive long-term (annual) operation strategies. With the time horizon of operation for the short-term optimization model kept equal to a single time-step of the long-term optimization model, the optimum end storages derived from the long-term model are incorporated as constraints (storage lower bounds) within the short-term model. The long-term benefits accrued from such an operation model are illustrated for a small reservoir, in South India. The solutions are compared with the historic operation. These are also compared with the solutions of a short-term optimal operation model ignoring long-term goals. The optimization model is solved using a multi-objective genetic algorithm.
Access options
Buy single article
Instant access to the full article PDF.
US$ 39.95
Tax calculation will be finalised during checkout.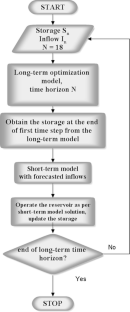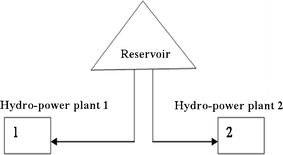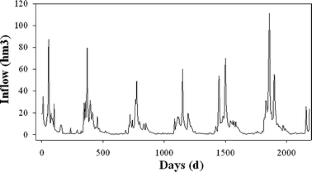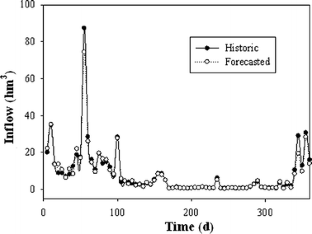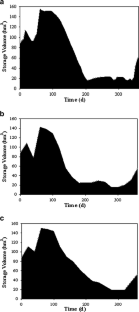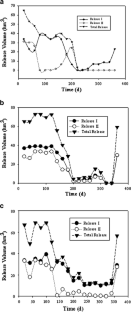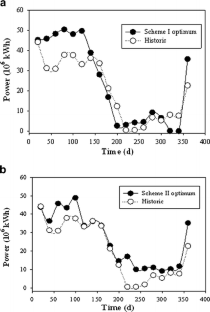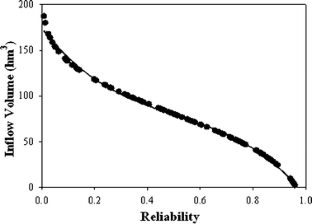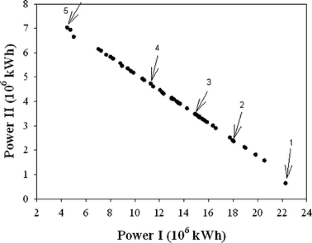 References
Afzali R, Mousavi SJ, Ghaheri A (2008) Reliability based simulation-optimization model for multi reservoir hydropower system operations: Khersan experience. J Water Resour Plann Manag 134(1):24–33

Ahmed JA, Sarma AK (2005) Genetic algorithm for optimal operating policy of a multipurpose reservoir. Water Resour Manag 19(2):145–161

Akter T, Simonovic SP (2004) Modeling uncertainties in short-term reservoir operation using fuzzy sets and a genetic algorithm. Hydrolog Sci J 49(6):1079–1081

Alcigeimes BC, Billib M (2012) Improving stochastic reservoir optimization models with long term mean inflow forecast. Water Resour Manag. doi:10.1007/s11269-012-0025-1

Alcigeimes BC, Suzuki K, Akihiro K (2008) Integrating long- and short-term reservoir operation models via stochastic and deterministic optimization: case study in Japan. J Water Resour Plann Manag 134(5):440–448

Barros MTL, Tsai FT-C, Yang Shu-li, Lopes JEG, Yeh WW-G (2003) Optimization of large scal hydropower system operation. J Water Resour Plann Manag 129(3):178–188

Chang F-J, Chen L, Chang Li Chiu (2005) Optimizing the reservoir operating rule curves by genetic algorithms. Hydrolog Process 19(11):2277–2289

Cheng C-T, Wang W-C, Xu D-M, Chau KW (2007) Optimizing hydropower reservoir operation using hybrid genetic algorithm and chaos. Water Resour Manag 22(7):895–909

Datta B, Burges SJ (1984) Short-termsingle multi-purpose reservoir operation: importance of loss functions and forecast errors. Water Resour Res 20(9):1167–1186

Deb K (2001) Multi-objective optimization using evolutionary algorithms. Wiley, New York

Duffuaa SO (1991) A chance-constrained model for the operation of the Aswan high dam. Eng Optim 17:109–121

Ferreira AR, Teegavarapu RSV (2012) Optimal and adaptive operation of a hydropower system with unit commitment and water quality constraints. Water Resour Manag 26(3):707–732

Grygier JC, Stedinger JR (1985) Algorithms for optimizing hydropower system operation. Water Resour Res 21(1):1–10

Jyothiprakash V, Shanthi G, Arunkumar R (2011) Development of operational policy for a multi-reservoir system in India using genetic algorithm. Water Resour Manag 25(10):2405–2423

Ko S-K, Fontane DG, Labadie JW (1992) Multi-objective optimization of reservoir systems operation. J Am Water Resour Assoc 28(1):111–127

Labadie JW (2004) Optimal operation of multi-reservoir systems: state-of-the-art review. J Water Resour Plann Manag 130(2):93–111

Louati MH, Sihem B, Lebdi F, Darko M (2011) Application of a Genetic Algorithm for the Optimization of a Complex Reservoir System in Tunisia. Water Resour Manag 25(10):2387–2404

Reddy JM, Kumar DN (2006) Optimal reservoir operation using multi-objective evolutionary algorithm. Water Resour Manag 20(6):861–878

Reddy JM, Nagesh Kumar D (2007a) Multi-objective differential evolution with application to reservoir system optimization. J Comput Civ Eng 21(2):136–146

Reddy JM, Nagesh Kumar D (2007b) Multi-objective particle swarm optimization for generating optimal trade-offs in reservoir operation. Hydrolog Process 21(21):2897–2909, Wiley InterScience

Reddy JM, Nagesh Kumar D (2009) Performance evaluation of elitist-mutated multi-objective particle swarm optimization for integrated water resources management. J Hydroinformatics 11(1):79–88, IWA Publishing

Sharif M, Wardlaw R (2000) Multi-reservoir systems optimization using genetic algorithms: case study. J Comput Civ Eng 14(4):255–263

Sreenivasan KR, Vedula S (1996) Reservoir operation for hydropower optimization: a chance constrained approach. Academy proceedings in Engineering Sciences 21(4):503–510

Vedula S, Mohan S (1990) Real-time multi-purpose reservoir operation: a case study. Hydrolog Sci 35(4):447–462

Yuan X, Yua Y, Zhang Y (2002) A hybrid chaotic genetic algorithm for short-term hydro system scheduling. Math Comput Simulat 59(4):319–327

Yun R, Singh VP, Dong Z (2010) Long-term stochastic reservoir operation using a noisy genetic algorithm. Water Resour Manag 24(12):3159–3172
About this article
Cite this article
Sreekanth, J., Datta, B. & Mohapatra, P.K. Optimal Short-term Reservoir Operation with Integrated Long-term Goals. Water Resour Manage 26, 2833–2850 (2012). https://doi.org/10.1007/s11269-012-0051-z
Received:

Accepted:

Published:

Issue Date:
Keywords
Reservoir operation

Short-term, long-term optimization

Hydro-power

Multi-objective genetic algorithm