Abstract
The present research is an attempt to find out the groundwater potential zones within an arid region of India supported by the scientific investigation of lithology, geomorphology, geohydrological characterization of geological formations and their interrelationship. Thematic layers of drainage, lithology, geomorphology, lineaments, slope, soil, digital elevation model, rainfall, landuse/land cover and well inventory have been generated by using ancillary data, digital satellite image, water level data of 90 observation wells for last 11 years (2000–2010), litholog data along with ground truthing. The groundwater potential zones have been classified into five categories like very poor, poor, moderate, good and excellent. The potential zones were obtained by weighted overlay combination using the spatial analyst tool in ArcGIS 9.2. During weighted overlay analysis, the ranking was given for each individual parameter of each thematic map and weights were assigned according to their influence such as lithology (20 %), geomorphology (15 %), lineament density (15 %), drainage density (15 %), soil (10 %), slope (10 %), rainfall (5 %), land use and land cover (5 %) and digital elevation model (DEM) (5 %) and it was found that the potential zones in terms of very poor, poor, moderate, good and excellent zones covered 13.7 %, 42.8 %, 27.3 %, 10.8% and 5.4% respectively of the total area. The result also has been validated by yield data collected from existing sources and it confirms that the higher yield categories are falling within excellent groundwater potential zones where yield ranges from 23 to 40.3 l/s and lower values ranging from 8.1 to 10.6 l/s are falling within poor groundwater potential zones.
This is a preview of subscription content, log in to check access.
Access options
Buy single article
Instant access to the full article PDF.
US$ 39.95
Price includes VAT for USA
Subscribe to journal
Immediate online access to all issues from 2019. Subscription will auto renew annually.
US$ 99
This is the net price. Taxes to be calculated in checkout.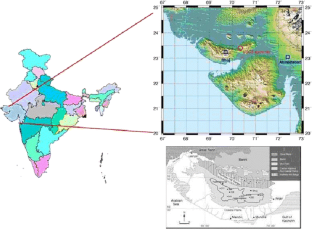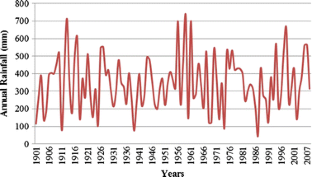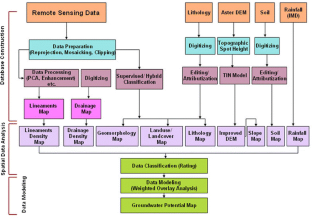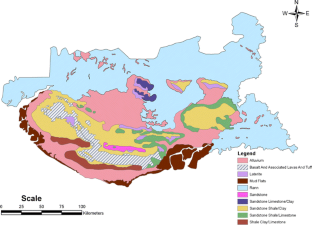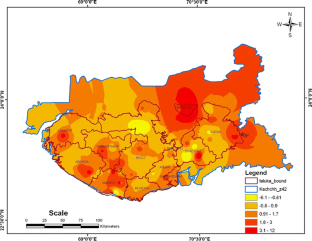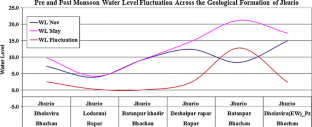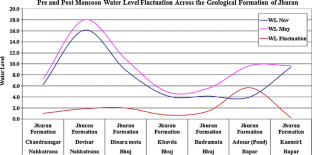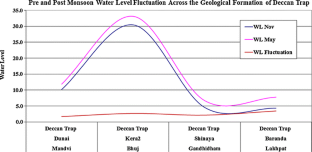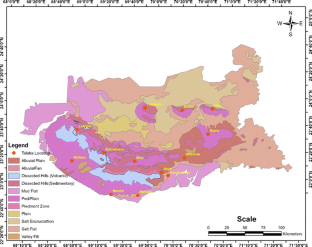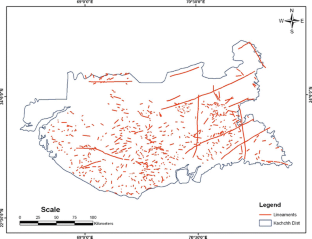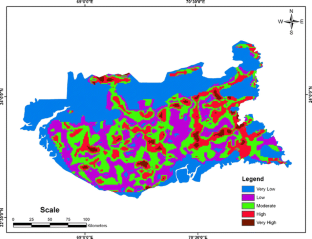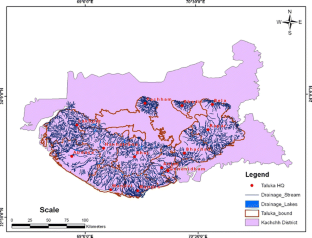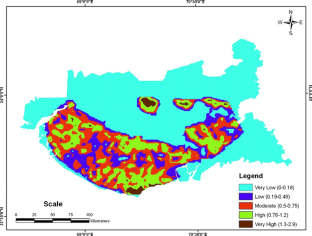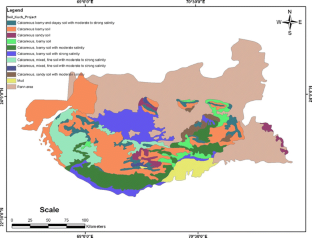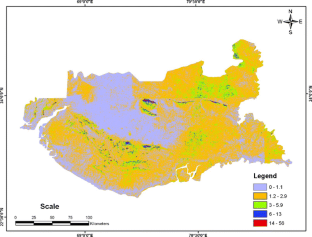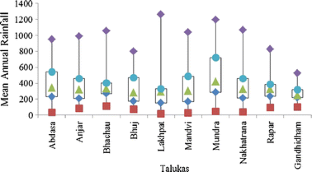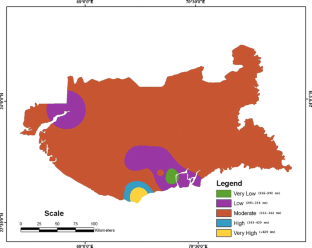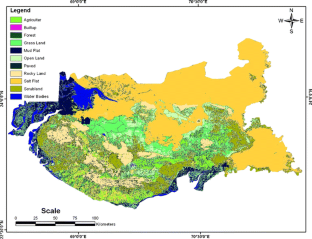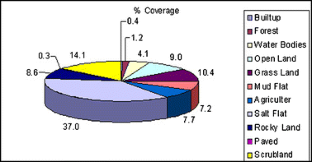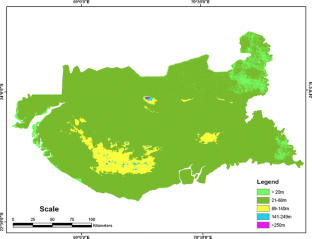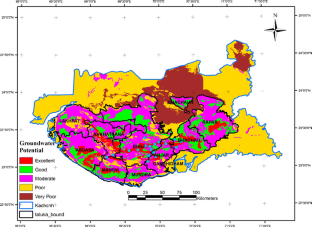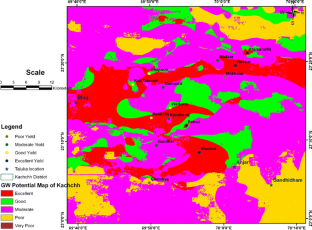 References
Bahuguna IM, Nayak S, Tamilarsan V, Moses J (2003) Groundwater prospective zones in basaltic terrain using remote sensing. J Indian Soc Remote Sens 31(2):107–118

Biswas SK (1980) Structure of Kutch-Kathiawar region, Western India. Proc. 3rd Indian Geological Congress, Pune, pp 255–272

Boutt DF, David WH, Bryan CP, David TL (2001) Identifying potential land use-derived solute sources to stream baseflow using groundwater models and GIS. Groundwater 39:24–34

CGWB (2006) Report on hydrogeology and groundwater potential of Gujarat Groundwater Year Book. Ministry of water resources

Charon JE (1974) Hydrogeological applications of ERTS satellite imagery. In: Proc UN/FAO regional seminar on remote sensing of earth resources and environment, Cairo. Commonw Sci Counc 439–456

Chenini I, Mammou AB, May ME (2010) Groundwater recharge zone mapping using GIS-based multi-criteria analysis: a case study in central Tunisia (Maknassy basin). Water Resour Manag 24:921–939

Chowdary VM, Ramakrishnan D, Srivastava YK, Chandran V, Jeyaram A (2009) Integrated water resource development plan for sustainable management of Mayurakshi Watershed, India using Remote Sensing and GIS. Water Resour Manag 23:1581–1602

Chowdhary VM, Rao NH, Sarma PBS (2003) GIS-based decision support system for groundwater assessment in large irrigation project areas. Agr Water Manag 62:229–252

Edet AE, Okereke CS, Teme SC, Esu EO (1998) Application of remote sensing data groundwater exploration: a case study of the Cross River State, Southeastern Nigeria. Hydrogeol J 6:394–404

El-Baz F, Himida I, Kusky T, Fielding L (1995) Groundwater potential of the Sinai Peninsula, Egypt. United States Agency for International Development, Cairo

El-Shazly EM, El-Raikaiby NM, El-Kassas IA (1983) Groundwater investigation of Wadi Araba area, eastern desert of Egypt, using landsat imagery. Proceedings of the 17th Symposium on Remote Sensing of the Environment, Michigan 9(13):003–1013

Frei C, Schar C (1998) A precipitation climatology of the Alps from high-resolution rain-gauge observations. Int J Climatol 18:873–900

Ganapurama S, Kumar GTV, Krishna IVM, Kahya E, Demirel MC (2009) Mapping of groundwater potential zones in the Musi basin using remote sensing data and GIS. Adv Eng Softw 40:506–518

Gleick PH (1993) Water and conflict: fresh water resources and international security. International Security. The MIT Press 18(1):79–112

Greenbaum D (1992) Structural influences on the occurrence of groundwater in SE Zimbabwe. In: Wright EP, Burges WG (eds) Hydrology of crystalline basement aquifers in Africa. Geological Society Special Publication. Bath 66:77–85

Gustafsson P (1993) High resolution satellite data and GIS as a tool for assessment of groundwater potential of semi-arid area. In: IXth thematic conference on geologic remote sensing, vol 1 Pasadena, pp 609–619

Hardcastle KC (1995) Photolineament factor: a new computer-aided method for remotely sensing the degree to which bedrock is fractured. Photogramm Eng Remote Sens 61(6):739–747

Jagadeeswara Rao P, Harikrishna P, Suryaprakasa Rao B (2004) An integrated study on groundwater resource of Pedda Gedda watershed. J Ind Soc Remote Sens 18(1&2):9–14

Jain PK (1998) Remote sensing techniques to locate groundwater potential zones in upper Urmil River basin, district Chatarpurcentral India. J Ind Soc Remote Sens 26(3):135–147

Jaiswal RK, Mukherjee S, Krishnamurthy J, Saxena R (2003) Role of remote sensing and GIS techniques for generation of groundwater prospect zones towards rural development-an approach. Int J Remote Sens 24(5):993–1008

Jha MK, Chowdhury A, Chowdary VM, Peiffer S (2007) Groundwater management and development by integrated remote sensing and geographic information systems: prospects and constraints. Water Resour Manag 21(2):427–467

Krishnamurthy J, Srinivas G (1995) Role of geological and geomorphological factors in groundwater exploration: a study using IRS LISS data. Int J Remote Sens 16(4):2595–2618

Krishnamurthy J, Venkatesa Kumar N, Jayaraman V, Manuvel M (1996) An approach to demarcate groundwater potential zones through remote sensing and a geographical information system. Int J Remote Sens 17(10):1867–1884

Machiwal D, Jha MK, Mal BC (2011) Assessment of groundwater potential in a semi-arid region of India using remote sensing, GIS and MCDM techniques. Water Resour Manag 25:1359–1386

Murthy KSR (2000) Groundwater potential in a semi-arid region of Andhra Pradesh: a geographical information system approach. Int J Remote Sens 21(9):1867–1884

Nobre RCM, Filho OCR, Mansur WJ, Nobre MMM, Cosenza CAN (2007) Groundwater vulnerability and risk mapping using GIS, modeling and a fuzzy logic tool. J Contam Hydrol 94:277–292

NRSC (2007) Manual for groundwater prospects mapping using remote sensing techniques and geographic information system-Rajiv Gandhi National Drinking Water Mission Project

Obi Reddy GP, Chandra Mouli K, Srivastav SK, Srinivas CV, Maji AK (2000) Evaluation of groundwater potential zones using remote sensing data a case study of Gaimukh watershed, Bhandara district, Maharashtra. J Indian Soc Remote Sens 28(1):19–32

Panigrahi B, Nayak AK, Sharma SD (1995) Application of remote sensing technology for groundwater potential evaluation. Water Resour Manag 9:161–173

Rokade VM, Kundal P, Joshi AK (2007) Groundwater potential modeling through remote sensing and GIS: a case study from Rajura Taluka, Chandrapur District, Maharastra. J Geol Soc India 69:943–948

Rudolf B, Rubel F (2005) Global precipitation, in observed global climate. In: Hantel M, Landolt-B¨ornstein: numerical data and functional relationships in science and technology-new series, Group 5: Geophysics Vol. 6(A), Springer, Berlin

Sander P, Chesley MM, Minor TB (1996) Groundwater assessment using remote sensing and GIS in a rural groundwater project in Ghana: lessons learned. Hydrogeol J 4(3):40–49

Sankar K (2002) Evaluation of groundwater potential zones using remote sensing data in upper Vaigai river basin, Tamil Nadu, India. J Indian Soc Remote Sens 30(3):119–129

Saraf AK, Choudhury PR (1998) Integrated remote sensing and GIS for groundwater exploration and identification of artificial recharge sites. Int J Remote Sens 19(10):1825–1841

Saraf AK, Choudhury PR, Roy B, Sarma B, Vijay S, Choudhury S (2004) GIS based surface hydrological modelling in identification of groundwater recharge zones. Int J Remote Sens 25(24):5759–5770

Sener A, Davraz A, Ozcelik M (2005) An integration of GIS and remote sensing in groundwater investigations: a case study in Burdur, Turkey. Hydrogeol J 13:826–834

Shahid S, Nath SK, Roy J (2000) Groundwater potential modeling in a softrock area using a GIS. Int J Remote Sens 21(9):1919–1924

Shen Y, Oki T, Utsumi N, Kanae S, Hanasaki N (2008) Projection of future world water resources under SRES scenarios: water withdrawal. Hydrol Sci 53(1):11–33

Singh CK, Shashtri S, Mukherjee S, Kumari R, Avatar R, Singh A, Singh RP (2011a) Application of GWQI to assess effect of land use change on groundwater quality in lower Shiwaliks of Punjab: remote sensing & GIS based approach. Water Resour Manag 25(7):1881–1898

Singh CK, Shashtri S, Singh A, Mukherjee S (2011b) Quantitative modeling of groundwater in Satluj River basin of Rupnagar district of Punjab using remote sensing and geographic information system. Environ Earth Sci 62:871–881

Solomon S (2003) Groundwater study using remote sensing and geographic information systems (GIS) in the central highlands of Eritrea, Doctoral Dissertation, Environmental and Natural Resources Information Systems, Royal Institute of Technology, SE-100 44 Stockholm, Sweden

Solomon S, Quiel F (2006) Groundwater study using remote sensing and geographic information systems (GIS) in the central highlands of Eritrea. Hydrogeol J 14:729–741

Subba Rao N (1992) Factors affecting optimum development of groundwaters in crystalline terrain of the eastern Ghats, Visakhapatnam area, Andhra Pradesh, India. J Geol Soc India 40(5):462–467

Subba Rao N (2006) Groundwater potential index in a crystalline terrain using remote sensing data. Environ Geol 50:1067–1076
Acknowledgement
The authors are very much thankful to the anonymous reviewers as the inputs provided by the reviewers helped us improve the manuscript. The author also acknowledges Remote Sensing Applications Laboratory, School of Environmental Sciences, Jawaharlal Nehru University for providing the opportunity for this research work.
About this article
Cite this article
Mukherjee, P., Singh, C.K. & Mukherjee, S. Delineation of Groundwater Potential Zones in Arid Region of India—A Remote Sensing and GIS Approach. Water Resour Manage 26, 2643–2672 (2012). https://doi.org/10.1007/s11269-012-0038-9
Received:

Accepted:

Published:

Issue Date:
Keywords
Groundwater potential

Remote sensing

Kachchh

GIS

Landsat image