Abstract
A comprehensive study on biodiversity and environmental characteristics of three different selected study sites located on different estuarine networks viz. Matla, Saptamukhi, and Hooghly on eastern, central, and western regions, having different environmental features of Sundarbans Mangrove Ecosystem, India, a World Heritage Site, was conducted through six seasons of consecutive 2 years. The different sites understudy have shown variable species composition. Special emphasis was made to record the population structure of benthic fauna, which exhibited maximum density during pre-monsoon followed by monsoon and post-monsoon. Physicochemical parameters displayed a wide range of fluctuation through different seasons and also revealed differences among different study sites. Biotic community structures of different study sites have been analyzed using different community indices like similarity index, dominance index, diversity index, and evenness index. Moreover, in order to evaluate the environmental stress on the environmental health of this dynamic mangrove ecosystem of global importance, species pollution value and community pollution value have been deduced as a new model of biotic indices based on the distribution patterns of both zooplanktons and benthic fauna. Canonical correspondence analysis revealed the cumulative influence of a group of environmental parameters on the abundance of different components of biodiversity. The study site II (Saptamukhi), encircled by undisturbed mangrove islands, revealed the least pollution stress and higher biological diversity followed by Jharkhali (study site I), which is in the process of eco-restoration and Bokkhali (study site III), which has been under anthropogenic stress especially from ecotourism.
This is a preview of subscription content,
to check access.
Access this article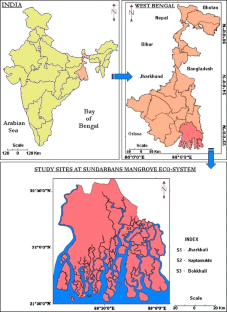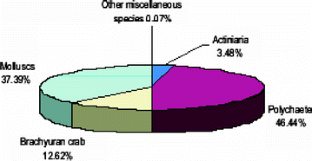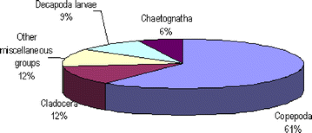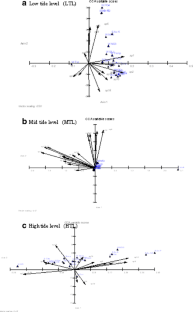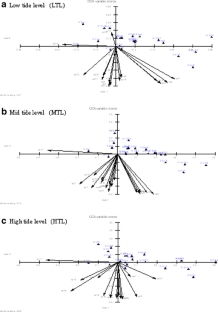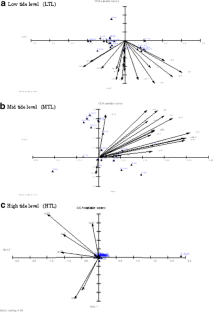 References
Annon. (2003). Mangrove ecosystem: Biodiversity and its influence on the natural recruitment of selected commercially important finfish and shellfish species in fisheries. National Agricultural Technology Project (NATP). Indian Council of Agriculture Research (ICAR). Principal Investigator: George, J.P.; Co-PI: Chakraborty, S.K. and Damroy, S.N. pp 1–514.

APHA (American Public Health Association). (2000). Standard methods for the examination of water and waste water (20th ed.). Washington D.C: American Water Works Association and Water Environment Federation.

Blasco, F. (1975). The mangroves of India. Institut Francais de Pondicherry. Pondicherry Travaux de la section. Scientific et Technique, 14, 1–175.

Chakraborty, S. K. (1995). Aquaculture potential of mangrove ecosystem of Sundarbans, India. Proceedings of Seminar on Fisheries—a multimillion dollar industry (pp. 72–83). Madras: AFI.

Chakraborty, S. K., & Choudhury, A. (1992). Ecological studies on the zonation of brachyuran crabs in a virgin mangrove island of Sundarbans, India. Journal of Marine Biological Association of India, 34(1 and 2), 189–194.

Chakraborty, S. K., & Choudhury, A. (1994). Community structure of macrobenthic polychaetes of intertidal region of Sagar Island, Hooghly Estuary, Sundarbans, India. Tropical Ecology, 35(1), 97–104.

Chandra, A., & Chakraborty, S. K. (2008). Distribution, density and community ecology of macrobenthic intertidal polychaetes in the coastal tract of Midnapore, West Bengal, India. Journal of Marine Biological Association of India, 50(1), 1–9.

Chaudhuri, A. B., & Choudhury, A. (1994). Mangroves of the Sundarbans, India, IUCN. Bangkok. Thailand, 1, 1–247.

George, J. P. (2005). Mangrove ecosystems – a manual for the assessment of biodiversity. CMFRI Special Publication, 83, 1–221.

Jiang, J., & Shen, Y. (2003). Application and validation of a new biotic index using data from several water systems. Journal of Environmental Monitoring, 5, 871–875.

Khalua, R. K., Chakraborty, G., & Chakraborty, S. (2008). Community structure of Macrobenthic molluscs of three contrasting intertidal belts of Midnapore Coast, West Bengal, India. Zoological research in Human Welfare., 6, 75–82.

Menhinick, E. F. (1964). A comparison of some species diversity indices applied to samples of field insect. Ecology, 45, 859–861.

Pielou, E. G. (1966). The measurement of diversity in different types of biological collections. Journal of Theoretical Biology, 13, 131–144.

Shannon, C. E., & Weiner, W. (1949). The mathematical theory of communications. Urbana: Illinois University Press.

Simpson, E. H. (1949). Measurement of diversity. Nature, 163, 688.

Sorensen, T. (1984). A method of establishing groups of equal amplitude in plant sociology based on similarity of species content and its application to analyses of the vegetation of Danish commons. Biol. Skr. (K. danske vidensk. Selsk. N. S.), 5, 1–34.
Acknowledgement
Authors are thankful to the authorities of Vidyasagar University for laboratory and library facilities. Second and third authors are grateful to ICAR-NATP for providing them with research fellowship during this research work.
About this article
Cite this article
Chakraborty, S.K., Giri, S., Chakravarty, G. et al. Impact of Eco-restoration on the Biodiversity of Sundarbans Mangrove Ecosystem, India. Water Air Soil Pollut: Focus 9, 303–320 (2009). https://doi.org/10.1007/s11267-009-9209-y
Received:

Revised:

Accepted:

Published:

Issue Date:

DOI: https://doi.org/10.1007/s11267-009-9209-y
Keywords