Abstract
A truism of modern organizational life is that organizations collaborate. They may collaborate to meet client needs, acquire resources, or gain legitimacy. They may be required to collaborate by funders, but have little direction beyond this basic mandate. In this situation, how do managers choose collaborative partners? What is important to them and when is it important? While institutional and resource-dependence theories emphasize environmental factors driving collaboration, only recently has attention has been given to factors individuals identify as important when making choices about who to collaborate with, and for what purpose. This study uses the repertory grid technique, an innovative method based on personal construct theory, to explore what is important in the minds of nonprofit managers when navigating the world of collaboration and partner selection. The results reveal that managers prioritize different traits when selecting partners depending on the type of collaboration. We conclude with a review of current collaboration theories, where the findings from this study support and deviate from them and offer five new propositions about the complex, situation-dependent nature of partner selection in the minds of nonprofit practitioners.
Access options
Buy single article
Instant access to the full article PDF.
USD 39.95
Price excludes VAT (USA)
Tax calculation will be finalised during checkout.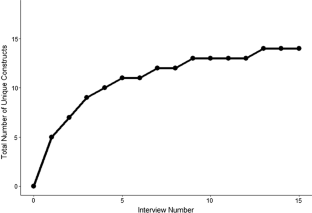 Notes
In line with the definition of collaboration adopted by Silvia (2017), we view collaboration in this paper as, "entities work[ing] across organizational boundaries to achieve something that they could not accomplish alone," (p. 122). This broad definition allows us to consider a wide range of different interorganizational collaborations that may be identified as important by practitioners.

With a population of 5.1 million, Cook is the second largest county in the USA by population and is home to a variety of workforce development organizations receiving federal funds, geographically dispersed throughout the city of Chicago and surrounding county.

Note, the total number listed in Table 2 does not sum to 114. This is because several respondents offered constructs that ended up being placed under the same construct. For example, one respondent provided the construct 'serves youth 14–21—serves youth under 14' as well as the construct of 'serves similar population—serve different population.' Because both of these constructs are really about client similarity, they are placed into that category and not double counted.

While it is possible that the original constructs determined by the research team to be types of collaborative activities (e.g., share financial resources, share non-financial resources, make or accept referrals, etc.) could really be indicative of underlying factors such as "shared collaborative history" that managers consider when deciding with whom they will collaborate; given the original phrasing of the constructs, the research team made the decision to retain the items not a as an inferred construct or potential organizational attractors, bur rather as types of collaboration in stage 2.

The construct "existing or established relationships" was not included in the stage 2 survey. Given that respondents were asked to name six organizations with whom they collaborate, the organizations they were commenting on already represented existing relationships.

We asked each respondent to name 6 collaborators which would result in 180 dyads. Based on the responses, there were a total of 14 missing dyads in the data as some respondents provided fewer than 6 collaborative partners.
References
Atouba, Y. C., & Shumate, M. D. (2019). Meeting the challenge of effectiveness in nonprofit partnerships: Examining the roles of partner selection, trust, and communication. VOLUNTAS: International Journal of Voluntary and Nonprofit Organizations, 1–15.

Atouba, Y. C., & Shumate, M. (2014). International nonprofit collaboration: Examining the role of homophily. Nonprofit and Voluntary Sector Quarterly, 44(3), 587–608.

Bass, G. D., Arons, D. F., Guinane, K., & Carter, M. F. (2007). Seen but not heard: Strengthening nonprofit advocacy. The Aspen Institute.

Berry, J. M., & Arons, D. F. (2003). A voice for nonprofits. Brookings Institution Press.

Chen, B., & Graddy, E. (2010). The effectiveness of nonprofit lead-organization networks for social service delivery. Nonprofit Management & Leadership, 20(4), 405–422.

Cheng, Y. (2019). Exploring the role of nonprofits in public service provision: Moving from coproduction to cogovernance. Public Administration Review, 79(2), 203–214.

Chrislip, D. D., & Larson, C. E. (1994). Collaborative leadership: How citizens and civic leaders can make a difference (Vol. 24). Jossey-Bass Inc Pub.

de Vries, T. A., Walter, F., Van der Vegt, G. S., & Essens, P. J. (2014). Antecedents of individuals' interteam coordination: Broad functional experiences as a mixed blessing. Academy of Management Journal, 57(5), 1334–1359.

Dunn, W. N., & Ginsberg, A. (1986). A sociocognitive network approach to organizational analysis. Human Relations, 39(11), 955–975.

Feiock, R. C., Lee, I. W., & Park, H. J. (2012). Administrators' and elected officials' collaboration networks: Selecting partners to reduce risk in economic development. Public Administration Review, 72(s1), S58–S68.

Fransella, F. (2003). International handbook of personal construct theory. England: Wiley, J.

Fransella, F., Bell, R., & Bannister, D. (2004). A Manual for Repertory Grid Technique (2nd ed.). Wiley.

Gazley, B. (2010). Why not partner with local government? Nonprofit managerial perceptions of collaborative disadvantage. Nonprofit and Voluntary Sector Quarterly, 39(1), 51–76.

Gazley, B. (2017). The current state of interorganizational collaboration: Lessons for human service research and management.

Gazley, B., & Brudney, J. L. (2007). The purpose (and perils) of government-nonprofit partnership. Nonprofit and Voluntary Sector Quarterly, 36(3), 389–415.

Gazley, B., & Guo, C. (2020). What do we know about nonprofit collaboration? A systematic review of the literature. Nonprofit Management and Leadership.

Giloth, R. P. (2000). Learning from the field: Economic growth and workforce development in the 1990s. Economic Development Quarterly, 14(4), 340–359.

Goffin, K. (2002). Repertory grid technique. In D. Partington (Ed.), Essential skills for management research (pp. 199–225). SAGE Publications Ltd, https://doi.org/10.4135/9781848605305.n11

Grice, J. W. (2002). Idiogrid: Software for the management and analysis of repertory grids. Behavior Research Methods, Instruments, & Computers, 34(3), 338–341.

Graddy, E. A., & Chen, B. (2009). Partner selection and the effectiveness of interorganizational collaborations. The collaborative public manager: New ideas for the twenty-first century, 53-70

Guo, C., & Acar, M. (2005). Understanding collaboration among nonprofit organizations: Combining resource dependency, institutional, and network perspectives. Nonprofit and Voluntary Sector Quarterly, 34(3), 340–361.

Hjern, B., & Porter, D. O. (1981). Implementation structures: A new unit for administrative analysis. Organizational Studies, 2, 211–227.

Holland, B. (2015). A workforce development systems model for unemployed job seekers. Journal of Adult and Continuing Education, 21(2), 55–76.

Hunt, D. E. (1951). Studies in Role Concept Repertory: Conceptual Consistency. Ohio State University. Unpublished master's thesis.

Illinois WorkNet. (2020, May 29). State of Illinois WIOA Unified State Plan. WIOA Works Illinois. From https://www.illinoisworknet.com/WIOA/Resources/Documents/Updated%20Final%20Combined%20USP%20Plan%20Document.pdf

Isett, K. R., & Provan, K. G. (2005). The evolution of dyadic interorganizational relationships in a network of publicly funded nonprofit agencies. Journal of Public Administration Research and Theory, 15(1), 149–165.

Jang, H. S., Feiock, R. C., & Saitgalina, M. (2016). Institutional collective action issues in nonprofit self-organized collaboration. Administration & Society, 48(2), 163–189.

Jasny, L., Johnson, M., Campbell, L. K., Svendsen, E., & Redmond, J. (2019). Working together: The roles of geographic proximity, homophilic organizational characteristics, and neighborhood context in civic stewardship collaboration networks in Philadelphia and New York City. Ecology and Society. https://doi.org/10.5751/es-11140-240408

Kania, J and Kramer, M. (2011). Winter. Collective impact. Stanford Social Innovation Review. Winter 2011, 36–41. Retrieved from http://ssir.org/articles/entry/collective_impact

Kearns, K. P., Bell, D., Deem, B., & McShane, L. (2014). How nonprofit leaders evaluate funding sources: An exploratory study of nonprofit leaders. Nonprofit and Voluntary Sector Quarterly, 43(1), 121–143.

Kearns, K. P., Livingston, J., Scherer, S., & McShane, L. (2015). Leadership skills as construed by nonprofit chief executives. Leadership & Organization Development Journal.

Klijn, E. H., Edelenbos, J., & Steijn, B. (2010). Trust in governance networks: Its impacts on outcomes. Administration & society, 42(2), 193–221.

Kelly, G. A. (1955). The psychology of personal constructs. Norton.

Kettl, D. F. (2006). Managing boundaries in American administration: The collaboration imperative. Public Administration Review, 66(s1), 10–19.

Kollock, P. (1994). The emergence of exchange structures: An experimental study of uncertainty, commitment, and trust. American Journal of Sociology, 100, 313–345.

König, C. J., Jöri, E., & Knüsel, P. (2011). The amazing diversity of thought: A qualitative study on how human resource practitioners perceive selection procedures. Journal of Business and Psychology, 26(4), 437–452.

Krackhardt, D., & Kilduff, M. (1990). Friendship patterns and culture: The control of organizational diversity. American anthropologist, 92(1), 142–154.

Margerum, R. D. (1999). Getting past yes: From capital creation to action. Journal of the American Planning Association, 65(2), 181–192.

Martinson, K. (1999, January 1). Literature Review on Service Coordination and Integration in the Welfare and Workforce Development Systems. Retrieved Feburuary 17, 2015, from Urban Institute: http://www.urban.org/publications/408026.html

McPherson, M., Smith-Lovin, L., & Cook, J. M. (2001). Birds of a feather: Homophily in social networks. Annual Review of Sociology, 27(1), 415–444.

Milward, H. B., & Provan, K. G. (2000). Governing the hollow state. Journal of Public Administration Research and Theory, 10(2), 359–380.

Milward, H. B., Provan, K. G., Fish, A., Isett, K. R., & Huang, K. (2010). Governance and collaboration: An evolutionary study of two mental health networks. Journal of Public Administration Research and Theory, 20(suppl_1), i125–i141.

Mosley, J. E., & Smith, S. (2018). Human service agencies and the question of impact: Lessons for theory, policy, and practice. Human Service Organizations: Management, Leadership, and Governance, 42(2), 113–122.

Mullineux, J. C., Taylor, B. J., & Giles, M. L. (2019). Probation officers' judgements: A study using personal construct theory. Journal of Social Work, 19(1), 41–59.

Oliver, C. (1990). Determinants of interorganizational relationships: Integration and future directions. Academy of Management Review, 15(2), 241–265.

Ostrom, E. (1998). A behavioral approach to the rational choice theory of collective action. American Political Science Review, 92(1), 1–22.

Pfeffer, J., & Salancik, G. (1978). The external control of organizations. Harper and Row.

Provan, K. G., & Milward, H. B. (2001). Do networks really work? A framework for evaluating public-sector organizational networks. Public administration review, 61(4), 414–423.

Provan, K. G., & Kenis, P. (2008). Modes of network governance: Structure, management, and effectiveness. Journal of public administration research and theory, 18(2), 229–252.

Reiter, V., Tzafrir, S. S., & Laor, N. (2018). Patterns of trust and collaboration among nonprofit organizations and health funds: A case study. Journal of Public and Nonprofit Affairs, 4(2), 134–155.

Rondinelli, D. A., & London, T. (2003). How corporations and environmental groups cooperate: Assessing cross-sector alliances and collaborations. Academy of Management Perspectives, 17(1), 61–76.

Sahal, D. (1981). Patterns of technological innovation. Addison-Wesley.

Schrock, G. (2013). Reworking workforce development Chicago's sectoral workforce centers. Economic Development Quarterly, 27(3), 163–178.

Shea, J. (2011). Taking nonprofit intermediaries seriously: A middle-range theory for implementation research. Public Administration Review, 71(1), 57–66.

Silvia, C. (2017). Picking the team: A preliminary experimental study of the activation of collaborative network members. Journal of Public Administration Research and Theory, 28(1), 120–137.

Silvia, C. (2018). Picking the team: A preliminary experimental study of the activation of collaborative network members. Journal of Public Administration Research and Theory, 28(1), 120–137.

Snavely, K., & Tracy, M. B. (2000). Collaboration among rural nonprofit organizations. Nonprofit Management and Leadership, 11(2), 145–165.

Sowa, J. E. (2009). The collaboration decision in nonprofit organizations: Views from the front line. Nonprofit and Voluntary Sector Quarterly, 38(6), 1003–1025.

U.S. Department of Labor. (2006, October 23). Definitions of Local Workforce Investment Areas. Retrieved February 17, 2015, from U.S. Department of Labor Employment and Training Administration: http://www.doleta.gov/reports/censusdata/area_definitions.cfm

U.S. Department of Labor. (2014). Budget of the United States Government, Fiscal Year 2014 - Appendix. Retrieved February 18, 2014, from U.S. Department of Labor Employment and Training Administration: http://www.doleta.gov/budget/docs/presidentfy14Budget.pdf

U.S. Department of Labor. (2015). Chapter 7: Nixon and Ford Administrations, 1969–1977. Retrieved February 18, 2015, from United States Department of Labor: http://www.dol.gov/dol/aboutdol/history/dolchp07.htm

Uzzi, B. (1996). The sources and consequences of embeddedness for the economic performance of organizations: The network effect. American Sociological Review, 61, 674–698.

Walker, B. M., & Winter, D. A. (2007). The elaboration of personal construct psychology. Annu. Rev. Psychol., 58, 453–477.

Whetten, D. A., & Mackey, A. (2002). A social actor conception of organizational identity and its implications for the study of organizational reputation. Business & Society, 41(4), 393–414.

Williamson, O. (1971). The vertical integration of production: Market failure considerations. American Economic Review, 61, 112–123.
Ethics declarations
Conflict of interests
The authors have no relevant financial or non-financial interests to disclose.
Additional information
Publisher's Note
Springer Nature remains neutral with regard to jurisdictional claims in published maps and institutional affiliations.
About this article
Cite this article
Langer, J., Siciliano, M. & LeRoux, K. Applying the Repertory Grid Technique to Advance Nonprofit Collaboration: A Situational Theory of Partner Selection. Voluntas 34, 402–417 (2023). https://doi.org/10.1007/s11266-021-00438-3
Accepted:

Published:

Issue Date:

DOI: https://doi.org/10.1007/s11266-021-00438-3
Keywords
Repertory grid technique

Nonprofit collaboration

Workforce development