Abstract
Volunteering leads to many positive outcomes, especially when one's reasons for volunteering are satisfied by one's volunteer experience. But does this match between motive and experience mitigate against negative outcomes? This study examined whether congruence between reasons for volunteering (i.e., Volunteer Functions) and outcomes of volunteering (i.e., Volunteer Outcome Satisfaction) predicted lower levels of volunteer-related burnout in a sample of 512 adult volunteers. Congruence predicted significantly lower levels of burnout only for the Understanding and Values functions. Volunteers who were highly motivated to volunteer for Understanding and Values functions and experienced satisfaction in these domains reported significantly lower levels of burnout than their counterparts. Contrary to hypotheses, participants who reported low motivation for Enhancement or Social functions but who endorsed high satisfaction of these functions reported lower levels of burnout than those who reported congruence between these motivations and outcomes. Additionally, the congruence hypothesis did not hold true for the Protective or Career functions. Volunteer organizations are urged to attend to the importance of satisfying desired functions of volunteering and to help volunteers identify best-fitting opportunities.
Access options
Buy single article
Instant access to the full article PDF.
US$ 39.95
Tax calculation will be finalised during checkout.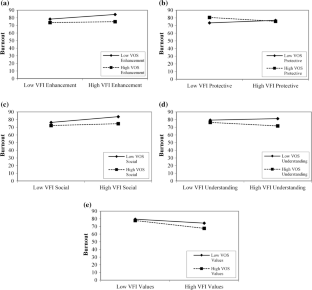 References
Aiken, L. S., & West, S. G. (1991). Multiple regression: Testing and interpreting interactions. New York: Sage.

Allison, L. D., Okun, M. A., & Dutridge, K. S. (2002). Assessing volunteer motives: A comparison of an open-ended probe and Likert rating scales. Journal of Community & Applied Social Psychology,12, 243–255.

Buhrmester, M., Kwang, T., & Gosling, S. D. (2011). Amazon's Mechanical Turk: A new source of inexpensive, yet high-quality, data? Perspectives on Psychological Science,6, 3–5.

Bureau of Labor Statistics. (2015). Volunteering in the United States News Release. Retrieved January 18, 2020 from https://www.bls.gov/news.release/volun.nr0.htm.

Burr, J. A., Tavares, J., & Mutchler, J. E. (2011). Volunteering and hypertension risk in later life. Journal of Aging and Health,23(1), 24–51.

Clary, E. G., & Orenstein, L. (1991). The amount and effectiveness of help: The relationship of motives and abilities to helping behavior. Personality and Social Psychology Bulletin,17(1), 58–64.

Clary, E. G., & Snyder, M. (1991). A functional analysis of altruism and prosocial behavior: The case of volunteerism. In M. S. Clark (Ed.), Prosocial behavior: Review of personality and social psychology (Vol. 12, pp. 119–148). Thousand Oaks, CA: Sage.

Clary, E. G., Snyder, M., Ridge, R. D., Copeland, J., Stukas, A. A., Haugen, J., et al. (1998). Understanding and assessing the motivations of volunteers: A functional approach. Journal of Personality and Social Psychology,74, 1516–1530.

Cornelis, I., Van Hiel, A., & De Cremer, D. (2013). Volunteer work in youth organizations: Predicting distinct aspects of volunteering behavior from self-and other-oriented motives. Journal of Applied Social Psychology,43(2), 456–466.

Davis, M. H. (2005). Becoming (and remaining) a community volunteer: Does personality matter? In A. M. Omoto (Ed.), Processes of community change and social action (pp. 67–82). Mahwah, NJ: Erlbaum.

Dawis, R. V., & Lofquist, L. H. (1984). A psychological theory of work adjustment: An individual-differences model and its applications. Minneapolis: University of Minnesota Press.

Demerouti, E., Bakker, A. B., Nachreiner, F., & Schaufeli, W. B. (2001). The job demands-resources model of burnout. Journal of Applied Psychology,86(3), 499.

Fuertes, F. C., & Jiménez, M. L. V. (2000). Motivation and burnout in volunteerism. Psychology in Spain,4(1), 75–81.

Güntert, S. T., Strubel, I. T., Kals, E., & Wehner, T. (2016). The quality of volunteers' motives: Integrating the functional approach and self-determination theory. The Journal of Social Psychology,156(3), 310–327.

Harris, A. H., & Thoresen, C. E. (2005). Volunteering is associated with delayed mortality in older people: Analysis of the longitudinal study of aging. Journal of Health Psychology,10(6), 739–752.

Hoffman, M. L. (2008). Empathy and prosocial behavior. In M. Lewis, J. Haviland-Jones, & L. Barrett (Eds.), Handbook of Emotions (pp. 440–455). New York, NY: Guilford Press.

Houle, B. J., Sagarin, B. J., & Kaplan, M. F. (2005). A functional approach to volunteerism: Do volunteer motives predict task preference? Basic and Applied Social Psychology,27(4), 337–344.

Ironson, G. (2007). Altruism and health in HIV. In S. Post (Ed.), Altruism and health (pp. 70–81). New York, NY: Oxford University Press.

Kreutzer, K., & Jager, U. (2010). Volunteering versus managerialism: Conflict over organizational identity in voluntary associations. Nonprofit and Voluntary Sector Quarterly,40(4), 634–661.

Kulik, L. (2007). Explaining responses to volunteering: An ecological model. Nonprofit and Voluntary Sector Quarterly,36(2), 239–255.

Moreno-Jiménez, M. P., & Villodres, M. (2010). Prediction of burnout in volunteers. Journal of Applied Social Psychology,40(7), 1798–1818.

Musick, M. A., Herzog, A. R., & House, J. S. (1999). Volunteering and mortality among older adults: Findings from a national sample. The Journals of Gerontology Series B: Psychological Sciences and Social Sciences,54(3), S173–S180.

Musick, M. A., & Wilson, J. (2003). Volunteering and depression: The role of psychological and social resources in different age groups. Social Science and Medicine,56(2), 259–269.

Omoto, A. M., & Snyder, M. (1995). Sustained helping without obligation: Motivation, longevity of service, and perceived attitude change among AIDS volunteers. Journal of Personality and Social Psychology,68(4), 671.

Omoto, A. M., & Snyder, M. (2002). Considerations of community: The context and process of volunteerism. American Behavioral Scientist, 45(5), 846–867.

Omoto, A. M., Snyder, M., & Hackett, J. D. (2010). Personality and motivational antecedents of activism and civic engagement. Journal of personality, 78(6), 1703–1734.

Paolacci, G., & Chandler, J. (2014). Inside the Turk: Understanding mechanical Turk as participant pool. Current Directions in Psychological Science,23, 184–188.

Pines, A. M. (1984). Shehika nafshit: Mahuta vedarkei hitmodedut ima [Burnout: Characteristics and patterns of coping]. Tel Aviv: Cherikover.

Robinson, J. P., Shaver, P. R., & Wrightsman, L. S. (1991). Criteria for scale selection and evaluation. Measures of Personality and Social Psychological Attitudes,1(3), 1–16.

Ross, M. W., Greenfield, S. A., & Bennett, L. (1999). Predictors of dropout and burnout in AIDS volunteers: A longitudinal study. AIDS Care,11(6), 723–731.

Rubin, A., & Thorelli, I. M. (1984). Egoistic motives and longevity of participation by social service volunteers. The Journal of Applied Behavioral Science,20(3), 223–235.

Ryan, R. M., & Deci, E. L. (2000). Self-determination theory and the facilitation of intrinsic motivation, social development, and well-being. American Psychologist,55(1), 68.

Schaufeli, W. B., & Bakker, A. B. (2004). Job demands, job resources, and their relationship with burnout and engagement: A multi-sample study. Journal of organizational behavior: The International Journal of Industrial, Occupational and Organizational Psychology and Behavior,25(3), 293–315.

Schaufeli, W. B., Leiter, M. P., & Maslach, C. (2009). Burnout: 35 years of research and practice. Career Development International,14(3), 204–220.

Shirom, A., & Melamed, S. (2006). A comparison of the construct validity of two burnout measures in two groups of professionals. International Journal of Stress Management,13(2), 176–200.

Snyder, M., Clary, E., & Stukas, A. (2000). The functional approach to volunteerism. In G. Maio & J. Olson (Eds.), Why we evaluate: Functions of attitudes (pp. 365–393). Mahwah, NJ: Erlbaum.

Southwick, S. M., Vythilingam, M., & Charney, D. S. (2005). The psychobiology of depression and resilience to stress: Implications for prevention and treatment. Annual Review of Clinical Psychology,1, 255–291.

Stukas, A. A., Hoye, R., Nicholson, M., Brown, K. M., & Aisbett, L. (2016). Motivations to volunteer and their associations with volunteers' well-being. Nonprofit and Voluntary Sector Quarterly,45(1), 112–132.

Stukas, A. A., Snyder, M., & Clary, E. G. (2015). Volunteerism and community involvement: Antecedents, experiences, and consequences for the person and the situation. In D. A. Schroeder & W. Graziano (Eds.), The Oxford handbook of prosocial behavior (pp. 459–493). New York, NY: Oxford University Press.

Tang, F. (2009). Late-life volunteering and the trajectories of physical health. Journal of Applied Gerontology,28, 524–533.

Thormar, S. B., Gersons, B. P. R., Juen, B., Marschang, A., Djakababa, M. N., & Olff, M. (2010). The mental health impact of volunteering in a disaster setting: A review. The Journal of Nervous and Mental Disease,198(8), 529–538.

Van den Broeck, A., Vansteenkiste, M., De Witte, H., & Lens, W. (2008). Explaining the relationships between job characteristics, burnout, and engagement: The role of basic psychological need satisfaction. Work & Stress,22(3), 277–294.

Wilson, J. (2012). Volunteerism research: A review essay. Nonprofits and Voluntary Sector Quarterly,41, 176–212.
Ethics declarations
Conflict of interest
The authors declare that they have no conflict of interest.
Ethics Approval
The authors complied with ethical standards, and this study received full ethical approval from Colorado State University Ethical Review Committee (IRB # 179 -17H).
Additional information
Publisher's Note
Springer Nature remains neutral with regard to jurisdictional claims in published maps and institutional affiliations.
About this article
Cite this article
Morse, J.L., Dik, B.J., Shimizu, A.B. et al. Volunteerism and Burnout: Does Satisfaction of Motives for Volunteering Protect Against Symptoms?. Voluntas (2020). https://doi.org/10.1007/s11266-020-00257-y
Keywords
Volunteer functions

Volunteer outcomes

Satisfaction

Burnout