Abstract
To cope with the new challenges inherent to their political role, civil society organizations must convince their stakeholders about their legitimacy, and meta-organizations (MOs) appear to play a central role in such a context (Ahrne and Brunsson in Scand J Manag 21(4):429–449, 2005; Bonfils in Scand J Disabil Res 13(1):37–51, 2011). In this paper, we aim to better understand the legitimating processes of a specific kind of MOs—namely civil society MOs (CSMOs)—considering that CSMOs feature some characteristics that reinforce both internal and external legitimacy issues. Our research is based on an in-depth case study of a French national federation (Fédération Addiction) formed by the merger of two former federations originating in different fields, alcoholism treatment and drug addiction professionals. We confirm the importance of stakeholders' representativeness in the governance of MOs and especially in multi-stakeholders CSMOs, and we corroborate the assertion that MOs closely relate to categorization-related issues and the categorization process itself in many ways: the legitimacy and the potential for action of MOs depend on the socially perceived appropriateness of the delimitation of the field that they claim to represent, and at the same time categorization is reinforced by the creation of MOs. We contribute to the current literature on MOs in two main ways. First, we show how a change in the relevant categorization may result from the dual and interacting actions of the MOs themselves and public authorities. Second, our case study illustrates how a restructuring of the MOs landscape may strengthen the salience of internal legitimacy issues federative actors are confronted with in order to maintain their representativeness and position in the expanded organizational field. In this dynamic context, external and internal legitimating processes appear closely intricate, and categorization and governance issues appear strongly interrelated.
This is a preview of subscription content, log in to check access.
Access options
Buy single article
Instant access to the full article PDF.
US$ 39.95
Price includes VAT for USA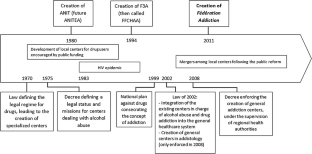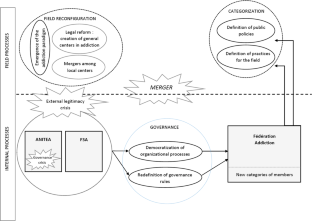 References
Ahrne, G., & Brunsson, N. (2005). Organizations and meta-organizations. Scandinavian Journal of Management,21(4), 429–449.

Ahrne, G., & Brunsson, N. (2008). Meta-organizations. Cheltenham: Edward Elgar Publishing.

Ahrne, G., & Brunsson, N. (2011). Organization outside organizations: The significance of partial organization. Organization,18(11), 83–104.

Ahrne, G., Brunsson, N., & Kerwer, D. (2016a). The paradox of organizing states: A meta-organization perspective on international organizations. Journal of International Organization Studies,7(1), 5–24.

Ahrne, G., Brunsson, N., & Seidl, D. (2016b). Resurrecting organization by going beyond organizations. In Management Research (pp. 121–140). Routledge.

Bailey, D., & Koney, K. M. (2000). Strategic alliances among health and human services organizations: From affiliations to consolidations (Vol. 41). Thousand oaks: Sage.

Bang, H., & Esmark, A. (2009). Good governance in network society: Reconfiguring the political from politics to policy. Administrative Theory & Praxis,31(1), 7–37.

Bergeron, H. (2001). Dispositifs spécialisés "alcool" et "toxicomanie", santé publique et nouvelle politique des addictions. Paris: Observatoire français des drogues et des toxicomanies.

Berkowitz, H. (2016). Les méta-organisations rendent-elles performatif le développement durable? Stratégies collectives dans le secteur pétrolier (Doctoral dissertation, Université Paris-Saclay).

Berkowitz, H., & Bor, S. (2017). Why meta-organizations matter: A response to Lawton et al. and Spillman. Journal of Management Inquiry, 1056492617712895.

Berkowitz, H., & Dumez, H. (2015). La dynamique des dispositifs d'action collective entre firmes: Le cas des méta-organisations dans le secteur pétrolier. L'Année Sociologique,65(2), 333–356.

Berkowitz, H., & Dumez, H. (2016). The concept of meta-organization: issues for management studies: The concept of meta-organization. European Management Review,13(2), 149–156.

Berkowitz, H., & Souchaud, A. (2017). Combler un vide organisationnel dans la fabrique d'une politique publique: l'émergence d'une méta-organisation. Politiques et Management public,34(1–2), 43–60.

Boléat, M. (1996). Trade association strategy and management. London: Association of British Insurers.

Bolkeat, M. (2003). Managing trade associations. London: Trade Association Forum.

Bonfils, I. S. (2011). Disability meta-organizations and policy-making under new forms of governance. Scandinavian Journal of Disability Research,13(1), 37–51.

Bovaird, T. (2005). Public governance: Balancing stakeholder power in a network society. International Review of Administrative Sciences,71(2), 217–228.

Brankovic, J. (2018). How do meta-organizations affect extra-organizational boundaries? The case of university associations. In Towards permeable boundaries of organizations? Vol. 57.

Brès, L., Raufflet, E., & Boghossian, J. (2018). Pluralism in organizations: Learning from unconventional forms of organizations. International Journal of Management Reviews,20(2), 364–386.

Brown, L. D. (2008). Creating credibility. Legitimacy and accountability for transnational civil society. Sterling: Kumarian Press.

Cotton, E., & Gumbrell-McCormick, R. (2012). Global unions as imperfect multilateral organizations: An international relations perspective. Economic and Industrial Democracy,33(4), 707–728.

Cropper, S., & Bor, S. (2018). (Un) bounding the meta-organization: co-evolution and compositional dynamics of a health partnership. Administrative Sciences,8(3), 42.

Deephouse, D. L., & Suchman, M. (2008). Legitimacy in organizational institutionalism. The Sage Handbook of Organizational Institutionalism,49, 77.

DiMaggio, P., & Powell, W. W. (1983). The iron cage revisited: Collective rationality and institutional isomorphism in organizational fields. American Sociological Review,48(2), 147–160.

Dumez, H. (2008). Les méta-organisations. Le Libellio d'Aegis,4(3), 31–36.

Ehlinger, S., Perret, V., & Chabaud, D. (2015). Quelle gouvernance pour les réseaux territorialisés d'organisations? Revue Française de Gestion,41(253), 369–386.

Einarsson, T. (2012). Membership and organizational governance. Stockholm: Stockholm School of Economics.

Evers, A., & Laville, J. L. (2004). Defining the third sector in Europe. Cheltenham: The Third Sector in Europe.

Fligstein, N. (2001). Social skill and the theory of fields. Sociological Theory,19(2), 105–125.

Fligstein, N. (2013). Understanding stability and change in fields. Research in Organizational Behavior,33, 39–51.

Fligstein, N., & McAdam, D. (2011). Toward a general theory of strategic action fields. Sociological Theory,29(1), 1–26.

Fortané, N. (2011). Genèse d'un problème public: les « addictions » . D un concept médical à une catégorie d'action publique ou la transformation des drug policies contemporaines. Lyon: Université Lyon 2.

Frandsen, F., & Johansen, W. (2015). Organizations, stakeholders, and intermediaries: Towards a general theory. International Journal of Strategic Communication,9(4), 253–271.

Gadille, M., Tremblay, D. G., & Vion, A. (2013). La méta-organisation territorialisée, moteur d'apprentissages collectifs. Revue Interventions économiques. Papers in Political Economy, 48.

Gimet, P., & Grenier, C. (2018). Gouvernance et leadership d'une méta-organisation innovante-Le cas d'un pôle dédié aux services médicosociaux à domicile. Revue Française de Gestion,44(273), 11–27.

Gulati, R., Puranam, P., & Tushman, M. (2012). Meta-organization design: Rethinking design in interorganizational and community contexts. Strategic Management Journal,33(6), 571–586.

Hardy, C., & Maguire, S. (2010). Discourse, field-configuring events, and change in organizations and institutional fields: Narratives of DDT and the Stockholm convention. Academy of Management Journal,53(6), 1365–1392.

Johnson, C. (2004). Legitimacy processes in organizations. In Legitimacy processes in organizations (Vol. 22, pp. 1–24). Emerald Group Publishing Limited.

Karlberg, E., & Jacobsson, K. (2015). A meta-organizational perspective on the europeanization of civil society: The case of the Swedish Women's Lobby. VOLUNTAS: International Journal of Voluntary and Nonprofit Organizations,26(4), 1438–1459.

Kerwer, D. (2013). International organizations as meta-organizations: The case of the European Union. Journal of International Organizations Studies,4(2), 40–53.

Kluttz, D. N., & Fligstein, N. (2016). Varieties of sociological field theory. In Handbook of contemporary sociological theory, (pp. 185–204). Springer, Cham.

König, A., Schulte, M., & Enders, A. (2012). Inertia in response to non-paradigmatic change: The case of meta-organizations. Research Policy,41(8), 1325–1343.

Lampel, J., & Meyer, A. D. (2008). Guest Editors' introduction: Field-configuring events as structuring mechanisms: How conferences, ceremonies, and trade shows constitute new technologies, industries, and markets. Journal of Management Studies, 45(6), 1025–1035.

Langley, A. (1999). Strategies for theorizing from process data. Academy of Management Review,24(4), 691–710.

Laville, J. L., Young, D., & Eynaud, P. (2015). Civil society, The Third Sector, Social Enterprise: Governance and democracy. Oxfordshire: The Third Sector, Social Enterprise.

Lawton, T. C., Rajwani, T., & Minto, A. (2018). Why trade associations matter: Exploring function, meaning, and influence. Journal of Management Inquiry,27(1), 5–9.

McInerney, P.-B. (2008). Showdown at Kykuit: Field-configuring events as loci for conventionalizing accounts. Journal of Management Studies, 45(6), 1089–1116.

Mena, S., & Suddaby, R. (2016). Theorization as institutional work: The dynamics of roles and practices. Human Relations,69(8), 1669–1708.

Meyer, M., Buber, R., & Aghamanoukjan, A. (2013). In search of legitimacy: Managerialism and Legitimation in Civil Society Organizations. VOLUNTAS: International Journal of Voluntary and Nonprofit Organizations,24, 167–193.

Miles, M. B., & Huberman, A. M. (2003). Analyse des données qualitatives. Paris: De Boeck Supérieur.

Mountford, N., & Geiger, S. (2018). Duos and duels in field evolution: How governments and interorganizational networks relate. Organization Studies.

Pallas, C. L., Gethings, D., & Harris, M. (2015). Do the right thing: The impact of INGO legitimacy standards on Stakeholder input. VOLUNTAS: International Journal of Voluntary and Nonprofit Organizations,26, 1261–1287.

Pfeffer, J., & Salancik, G. R. (1978). The external control of organizations: A resource dependence approach. New York: Harper and Row Publishers.

Powell, W., & Friedkin, R. (1987). Organizational change in nonprofit organizations. In W. Powell (Ed.), The nonprofit sector. New Haven: Yale University Press.

Radnejad, A. B., Vredenburg, H., & Woiceshyn, J. (2017). Meta-organizing for open innovation under environmental and social pressures in the oil industry. Technovation,66, 14–27.

Rajwani, T., Lawton, T., & Phillips, N. (2015). The "Voice of Industry": Why management researchers should pay more attention to trade associations. Strategic Organization,13(3), 224–232.

Rodrigues, S., & Child, J. (2003). Co-evolution in an institutionalized environment. Journal of Management Studies,40(8), 2137–2162.

Spillman, L. (2018). Meta-organization matters. Journal of Management Inquiry,27(1), 16–20.

Strauss, A., & Corbin, J. (1998). Basics of qualitative research techniques. Thousand Oaks: Sage publications.

Suchman, M. C. (1995). Managing legitimacy: Strategic and institutional approaches. The Academy of Management Review,20(3), 571.

Wang, P. (2010). Restructuring to repair legitimacy—A contingency perspective. Corporate Governance: An International Review,18(1), 6–82.

Yin, R. K. (2003). Case study research design and methods third edition. Applied social research methods series, 5.

Young, D. R. (2001). Organizational identity and the structure of nonprofit umbrella associations. Nonprofit Management and Leadership,11(3), 289–304.

Zilber, T. B. (2008). The work of meanings in institutional processes. The SAGE Handbook of Organizational Institutionalism,18, 151–168.
Additional information
Publisher's Note
Springer Nature remains neutral with regard to jurisdictional claims in published maps and institutional affiliations.
About this article
Cite this article
Laurent, A., Garaudel, P., Schmidt, G. et al. Civil Society Meta-organizations and Legitimating Processes: the Case of the Addiction Field in France. Voluntas 31, 19–38 (2020). https://doi.org/10.1007/s11266-019-00094-8
Keywords
Legitimacy

Legitimating process

Meta-organizations

Civil society organizations

Merger

Addictions

Addictology