Abstract
Recent legislation in the UK has placed an expectation on social purpose organisations (SPOs) to consider, monitor and evaluate the societal value they generate. However, meaningful engagement with the Social Value Act by the third sector is relatively low, which reflects both conceptual and methodological shortcomings. This paper describes a programme of action research which has developed a user-friendly tool to assist smaller SPOs to explore, evidence and value the benefits that they produce for society. Conceptualising social value through the lens of the localism, personalisation, deliberative democracy and social innovation agendas, the paper describes the process and experience of applying a Social Return Assessment tool and the lessons learnt for the three SPOs involved, the third sector, and for commissioning bodies. Recommendations reflect the need for a standardised monitoring and evaluation framework tailored to specific third sector interest groups and networks.
Résumé
Au Royaume-Uni, une loi a récemment été adoptée pour demander aux organismes à vocation sociale (OVS) de considérer, surveiller et évaluer la valeur sociétale qu'ils génèrent. L'engagement du tiers secteur dans le cadre de la Social Value Act (loi sur la valeur sociétale) est toutefois relativement faible, ce qui reflète des lacunes à la fois conceptuelles et méthodologiques. Le présent article décrit un processus de recherche de programmes d'action ayant élaboré un outil convivial permettant aux OVS d'explorer, de démontrer et d'évaluer les bienfaits qu'ils offrent à la société. En conceptualisant la valeur sociétale du point de vue du localisme, de la personnalisation, de la démocratie délibérative et de programmes d'innovation sociale, cet article décrit le processus et la méthode de mise en œuvre d'un outil d'évaluation du rendement social, ainsi que les leçons qu'en ont tirées les trois OVS concernés, le tiers secteur et les comités d'autorisation. Les recommandations reflètent la nécessité d'élaborer un cadre de surveillance et d'évaluation normalisé spécifique aux groupes d'intérêt et réseaux du tiers secteur.
Zusammenfassung
Nach den jüngst erlassenen Gesetzen in Großbritannien wird von Organisationen mit einem sozialen Zweck erwartet, dass sie den von ihnen generierten Sozialwert berücksichtigen, überwachen und bemessen. Allerdings findet eine bedeutungsvolle Auseinandersetzung des Dritten Sektors mit dem Social Value Act relativ selten statt, was sowohl konzeptuelle als auch methodische Defizite widerspiegelt. Dieser Beitrag beschreibt ein Aktionsforschungsprogramm, das ein benutzerfreundliches Instrument entwickelt hat, welches kleineren Sozialorganisationen helfen soll, die Leistungen, die sie für die Gesellschaft erbringen, zu untersuchen, nachzuweisen und zu bewerten. Der Beitrag konzeptualisiert den Sozialwert aus der Perspektive der Programme zum Lokalismus, zur Personalisierung, zur deliberativen Demokratie und zur sozialen Innovation und beschreibt den Prozess und die Erfahrung im Zusammenhang mit der Anwendung eines Instruments zur Bewertung der sozialen Rendite sowie die Lektionen, die man über die drei involvierten Sozialorganisationen, den Dritten Sektor und die Auftraggeber gelernt hat. Die Empfehlungen zeigen den Bedarf für ein standardisiertes Überwachungs- und Bewertungsrahmenwerk, das auf spezifische Interessengruppen und Netzwerke des Dritten Sektors zugeschnitten ist.
Resumen
La reciente legislación en el Reino Unido ha creado expectativas sobre las Organizaciones con Fines Sociales (SPO, por sus siglas en inglés) para que consideren, monitoricen y evalúen el valor societal que generan. Sin embargo, un compromiso significativo con la Ley del Valor Social por parte del sector terciario es relativamente bajo, lo que refleja una escasez tanto conceptual como metodológica. El presente documento describe un programa de investigación de acciones que ha desarrollado una herramienta sencilla para el usuario para ayudar a las SPO más pequeñas a explorar, evidenciar y valorar los beneficios que producen para la sociedad. Mediante la conceptualización del valor social a través de las lentes de las agendas del localismo, la personalización, la democracia deliberativa y la innovación social, el presente documento describe el proceso y la experiencia de aplicar una herramienta de Evaluación del Rendimiento Social y las lecciones aprendidas para las tres SPO implicadas, el sector terciario y para los organismos que realizan los encargos. Las recomendaciones reflejan la necesidad de un marco de monitorización y evaluación estandarizado hecho a la medida de las redes y grupos de interés del sector terciario específicos.
Chinese
英国最新的立法预期社会目的组织 (SPO) 考虑、监控和评估它们产生的社会价值。然而,第三部门与社会价值行为的有意义互动相对较低,反映出概念和方法缺点。本文描述了行动研究的计划,开发用户友好的工具帮助更小的SPO探索、证明和重视他们为社会带来的好处。通过本地化、个性化、深思熟虑的民主和社会创新日程的方式来概念化社会价值,本文介绍了应用社会回报评估工具的流程和经验,以及为三个参与的SPO、第三部门和学到机构学到的教训。建议反映了为特定第三部门兴趣小组和网络标准化监控和评估框架的需求。
Japanese
英国における近年の法令では、社会的価値の考察、監視、評価を行う社会的目的組織(SPO)に期待が集まっている。しかしながら、第三セクターによる社会価値法において意味のある事業は比較的少なく、概念的欠点と方法論的欠点が反映されている。本論文では、活動研究のプログラムについて記述するが、社会のために構築される論拠と利潤を調査する、小規模のSPO支援のためのユーザに優しいツールを開発してきた。本論文では、地方主義、個人化、慎重な民主主義、社会的革新の課題のレンズを通して、社会的価値を概念化して、社会変換評価のツールと3つのSPO、第三セクター、委任団体の関与から得られる教訓を適用させることによって、その過程と経験を記述する。標準化のモニタリングの必要性と特定の第三セクターの関連グループとネットワークに適合させる枠組みの評価を反映することを推奨する。
Arabic
لقد وضعت التشريعات الأخيرة في المملكة المتحدة توقع على المنظمات ذات الأغراض الإجتماعية (SPOs) للأخذ في الإعتبار وتقييم القيمة المجتمعية التي تنتجها. مع ذلك، فإن المشاركة الفعالة في قانون القيمة الإجتماعية من جانب القطاع الثالث منخفضة نسبيا"، مما يعكس أوجه قصور مفاهيمية ومنهجية على حد سواء. تصف هذه المقالة برنامج عمل البحوث التي وضعت أداة سهلة الإستخدام لمساعدة صغار المنظمات ذات الأغراض الإجتماعية (SPOs) لإكتشاف، الأدلة وقيمة الفوائد التي تنتجها للمجتمع. من خلال تصور القيمة الإجتماعية من خلال منظور المحلية ، التخصيص، الديمقراطية التداولية و برامج الإبتكار الإجتماعي، يصف البحث الإجراء والخبرة في تطبيق أداة تقييم العائد الإجتماعي والدروس المستفادة من المنظمات ذات الأغراض الإجتماعية (SPOs) الثلاث المعنية، القطاع الثالث، وتكليف الهيئات. تعكس التوصيات الحاجة إلى إطار موحد للرصد والتقييم مصمم خصيصا" لمجموعات وشبكات محددة من فئات القطاع الثالث.
This is a preview of subscription content, log in to check access.
Access options
Buy single article
Instant access to the full article PDF.
US$ 39.95
Tax calculation will be finalised during checkout.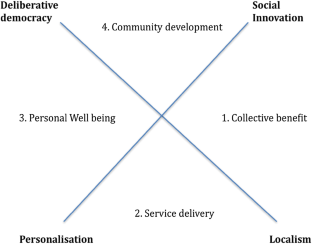 Notes
1.

Under UK Government policy between 2010 and 2015, the Right to Bid gave community groups and voluntary organisations the right to bid for and purchase community buildings and facilities that were important to them. The Right to Challenge allowed them to run Local Authority services where they believed they could do so better.

2.

Funded by the BIG Lottery and commissioned by South West Forum, an umbrella organisation for the Community and Voluntary Sector serving the South West region of England.

3.

Co-learning also took place throughout the research programme between the five sister partnerships, each consisting of academics and representatives of the Community and Voluntary sector.

4.

Time banks are community-based projects which meet everyday needs through the exchange of time, skills and opportunities.

5.

Scale data were transformed into an appropriate functional range of 0–1, whereby scaled variables were transformed in the form (X-min[X]/(max[X] − min[X]). This produced a transformation of the ordinal codes 1 through 5 (i.e. Strongly Disagree through Strongly Agree): 1 = 0; 2 = 0.25; 3 = 0.50; 4 = 0.75; 5 = 1.0.
References
Brunori, G., Rand, S., Proost, J., Barjolle, D., Granberg, L., & Dockes, A.-C. (2007). Towards a conceptual framework for agricultural and rural innovation policies. WP1 Synthesis Report of the EU project IN-SIGHT (strengthening innovation processes for growth and development). FP6-2005-SSA-5A-ct-44510. www.insightproject.net/files/Rapport_insight_WP1_final.pdf

Cabinet Office. (2015). Social value act review. Cabinet Office, London. https://www.gov.uk/government/uploads/system/uploads/attachment_data/file/403748/Social_Value_Act_review_report_150212.pdf

CAF (2015). Evaluating the impacts of BeHealthy Programme in Russia. Evaluation of Social Return on Investment for the Mondelēz Foundation. Published in July 2015 by the Russian branch of the Charities Aid Foundation (CAF). http://socialvalueint.org/wp-content/uploads/2016/08/CAF-SROI-Mondelez-Report-2016.pdf

Collins, H. M., & Evans, R. J. (2002). The third wave of science studies: Studies of expertise and experience. Social Studies of Science, 32(2), 235–296.

Courtney, P. (2014). The local food programme: A social return on investment approach. Final Report to the Royal Society of Wildlife Trusts.

Dunning, J. (2008). Personalisation. Community Care webpage. http://www.communitycare.co.uk/2008/08/07/personalisation/

Durose, C., Beebeejaun, Y., Rees, J., Richardson, J., & Richardson, L. (2011). Toward co-production in research with communities. Swindon AHRC

Elden, M., & Chisholm, R. (1993). Emerging varieties of action research: Introduction to the special issue. Human Relations, 46(2), 121–142.

Ercan, S., & Hendriks, C. (2013). The democratic challenges and potential of localism: Insight from deliberative democracy. Policy Studies, 34(4), 422–446.

Farmer, J., De Cotta, T., McKinnon, K., Barraket, J., Munoz, S.-A., Douglas, H., et al. (2005). Social enterprise and wellbeing in community life. Social Enterprise Journal, 12(2), 235–254.

Fischer, F. (2000). Citizens, experts, and the environment: The politics of local knowledge. Durham: Duke University.

Fujiwara, D. (2014). A short guide to social impact measurement. Simetrica.

Harlock, J. (2014). From outcomes-based commissioning to social value? Implications for performance managing the third sector. Third Sector Research Center—Working Paper 123, June 2014 http://www.birmingham.ac.uk/generic/tsrc/documents/tsrc/working-papers/working-paper-123.pdf

Heady, L. (2010). Social return on investment. Position Paper. New Philanthropy Capital.

Howaldt, J., & Schwarz, M. (2010). Social innovation: Concepts, research fields and international trends. International Monitoring. www.internationalmonitoring.com

Kirwan, J., Ilbery, B., Maye, D., & Carey, J. (2013). Grassroots social innovations and food localisation: An investigation of the Local Food programme in England. Global Environmental Change, 23, 830–837.

Maier, F., Schober, C., Simsa, R., & Millner, R. (2014). SROI as a method for evaluation research: Understanding merits and limitations. VOLUNTAS: International Journal of Voluntary and Nonprofit Organizations, 26, 1805–1830.

McCutcheon, G., & Jung, B. (1990). Alternative perspectives on action research. Theory into Practice, 24, 144–151.

Mook, L. (2013). Accounting for social value. Toronto: University of Toronto Press.

Moulaert, F., Martinelli, F., Swyngedouw, E., & Gonzalez, S. (2005). Towards alternative model(s) of local innovation. Urban Studies, 42, 1969–1990.

National Housing Foundation. (2012). Briefing—Public Services (Social Value) Act 2012.

Neumeier, S. (2012). Why do social innovations in rural development matter and should they be considered more seriously in rural development research? Proposal for a stronger focus on social innovations in rural development research. Sociologia Ruralis, 52, 48–69.

Naylor, C., Mundle, C., Weaks, L., & Buck, D. (2013). Volunteering in health and care: Securing a sustainable future. London: The Kings Fund.

Nicholls, J., Aeron-Thomas, D., Forster, S., Westall, A. (2004). Social return on investment: Valuing what matters; findings and recommendation from a pilot study. New Economics Foundation, London. http://www.neweconomics.org/gen/z_sys_PublicationDetail.aspx?PID=180

NVCO. (2015). Acting on social value. http://blogs.ncvo.org.uk/2015/02/24/acting-on-social-value/

Ostrom, E. (1996). Crossing the great divide: Co-production, synergy and development. World Development, 24(6), 1073–1088.

Owen, S., Moseley, M., & Courtney, P. (2007). Bridging the gap: an attempt to reconcile strategic planning and very local community-based planning in rural England. Local Government Studies, 33(1), 49–76.

Seyfang, G., & Haxeltine, A. (2012). Growing grassroots innovations: Exploring the role of community-based initiatives in governing sustainable energy transitions. Environment and Planning C: Government and Policy, 30, 381–400.

Singleton, R., Unwin, J., & Whitfield, L. (2014). Independence undervalued: The voluntary sector in 2014. London: The Baring Foundation.

Social Enterprise UK. (2012). Public Services (Social Value) Act: A brief guide.

Social Enterprise UK. (2014). The future of social value: A report from the Social Value Summit 2014.

Van Doosselaere, S. (2004). Participative democracy. Contributory paper to the Civil Society Task Force for the European Social Model. In Owen, S., Moseley, M., & Courtney P. (2007). Bridging the gap: An attempt to reconcile strategic planning and very local community-based planning in rural England. Local Government Studies, 33(1), 49–76.

Wright, J., & Schifferes, J. (2012). Growing Social Capital: A social return on investment analysis of the impact of the voluntary and community sector activities funded by grant aid. Final report to the Yorkshire and Humber Joint Improvement Partnership (JIP), nef consulting Ltd, London.
Acknowledgements
The author is grateful to the BIG Lottery for funding the Proving Our Value research programme, and to South West Forum (SWF) for commissioning and managing and project. He is also grateful to the three SPO partner organisations who took part in the action research, and to the members of the regional working group chaired by SWF for their ongoing support and informal peer review as the research progressed. Sincere thanks are also due to Malcolm Moseley and Carol Kambites for their role in the some of the action research reported in this paper, and to the two anonymous referees for their useful comments and suggestions. The views expressed in the paper are those of the author alone.
About this article
Cite this article
Courtney, P. Conceptualising Social Value for the Third Sector and Developing Methods for Its Assessment. Voluntas 29, 541–557 (2018). https://doi.org/10.1007/s11266-017-9908-3
Keywords
Social value

Monitoring and evaluation

Social Return on Investment

Social Value Act

Third sector

Well-being