Abstract
Dominant discourses and practices in international cooperation have been characterised by depoliticisation and unequal power relationships. However, a number of more transformative experiences of cooperation also exist, where joint work between Northern and Southern social organisations is linked with a more political perspective. These kinds of experiences can be considered processes of informal learning in social action: through shared actions, strategies and frameworks and through interaction between organisations, institutions and the grassroots, informal and multidimensional learning processes occur in the people and organisations engaged. The study approaches four cases of networks that have linked Spanish and Colombian organisations which promote advocacy and social mobilisation for the defence of human rights in Colombia. The results show that people engaged in the cases experience intense learning processes that are relevant for the construction of solidarities and a radical global citizenship, but that these processes are also replete with limitations, tensions and challenges.
Résumé
Les discours dominants et les pratiques dans le domaine de coopération internationale ont été caractérisés par la dépolitisation et des rapports de force inégaux. Toutefois, un certain nombre d'expériences de coopération plus transformatrices existent également, au cours desquelles un travail commun entre les organisations sociales du Nord et du Sud est associé à un point de vue plus politique. Ces expériences peuvent être considérées comme des processus informels d'apprentissage en action sociale: grâce à des actions, des stratégies et des cadres communs et grâce à l'interaction entre les organisations, les institutions et les populations locales, des processus d'apprentissage informels et multidimensionnels apparaissent parmi les personnes et les organisations engagées. Cette étude aborde quatre exemples de réseaux qui ont associé des organisations espagnoles et colombiennes promouvant la sensibilisation et la mobilisation sociale pour la défense des droits de l'homme en Colombie. Les résultats montrent que les personnes engagées dans ces exemples connaissent des processus d'apprentissage intenses pertinents pour la construction de solidarités et d'une citoyenneté mondiale radicale, mais aussi que ces processus sont remplis de limites, de tensions et de défis.
Zusammenfassung
Die vorherrschenden Diskussionen und Praktiken in der internationalen Zusammenarbeit zeichnen sich seit einiger Zeit durch eine Entpolitisierung und ungleiche Machtbeziehungen aus. Allerdings gibt es auch eine Reihe von transformativeren Erfahrungen bei der Zusammenarbeit, wo die Kooperation zwischen nördlichen und südlichen sozialen Organisationen mit einer politischeren Perspektive in Verbindung steht. Solche Erfahrungen können als Prozesse informalen Lernens im Rahmen sozialen Handelns betrachtet werden: Gemeinsames Handeln, gemeinsame Strategien und Systeme sowie die Wechselbeziehung zwischen Organisationen, Institutionen und Basisbewegungen führen bei den involvierten Personen und Organisationen zu informalen und multidimensionalen Lernprozessen. Die Studie betrachtet vier Netzwerke, die spanische und kolumbianische Organisationen zusammengeführt haben, welche sich für die Interessenvertretung und soziale Mobilisierung für die Verteidigung von Menschenrechten in Kolumbien einsetzen. Die Ergebnisse zeigen, dass die involiverten Personen intensive Lernprozesse durchmachen, die für den Aufbau von Solidarität und einer radikalen globalen Bürgerschaft relevant sind, jedoch auch durch zahlreiche Einschränkungen, Spannungen und Probleme geprägt sind.
Resumen
Los discursos y las prácticas dominantes en la cooperación internacional se han caracterizado por la despolitización y por relaciones de poder desiguales. Sin embargo, existen también un número de experiencias de cooperación más transformadoras, en las que el trabajo conjunto entre organizaciones sociales del norte y del sur está vinculado a una perspectiva más política. Estos tipos de experiencias pueden ser considerados procesos de aprendizaje informal en acción social: mediante acciones, estrategias y marcos compartidos y mediante la interacción entre organizaciones, instituciones y las bases, se producen procesos de aprendizaje informales y multidimensionales en las personas y organizadas implicadas. El estudio aborda cuatro casos de redes que han vinculado a organizaciones españolas y colombianas que promueven la defensa y la movilización social para la defensa de los derechos humanos en Colombia. Los resultados muestran que las personas implicadas en los casos experimentan procesos de aprendizaje intensos que son relevantes para la construcción de solidaridades y una ciudadanía global radical, pero que dichos procesos también están repletos de limitaciones, tensiones y desafíos.
Chinese
在国际合作中的主导话语和实践中,一直以去政治化和大国之间的不平等关系为特点, 但也存在一些更具改造意义的合作, 在这些合作中,北部社会机构和南部社会机构之间的 联合工作之间的联系更具政治性, 可以将这类合作看做一个非正式的社会行为习得过程,在合作中,通过共同的行动、战略和框架以及通过机构、组织和平民之间的互动,参加合作的过程就是参加合作的人员和机构的非正式的、多角度的学习过程。本研究考察了四个案例,每个案例都涉及将西班牙的机构和哥伦比亚的机构联系起来的网络,这些网络为了哥伦比亚人权保护而推动宣传和社会动员。 研究结果表明, 案例中的参与人员都经历了和推动团结以及激进的全球公民身份有关的高强度的学习过程, 但这些过程也充斥着限制、紧张和挑战。
Japanese
国際協力における支配的な慣習や対話は非政治化された不平等な力関係によって特徴づけられている。しかし、協力関係におけるトランスフォーマティブな経験は、南北の社会組織間の共同作業が政治的な観点と関連付けられており、多数存在する。この経験の社会的行動における非公式の学習の過程と見なすことができる。人や組織で発生する共通のアクション、戦略、フレームワーク、さらに草の根団体や機関間の相互作用を通じて、非公式および多次元の学習プロセスだと考えられている。本研究では、コロンビアの人権擁護における社会的な動向と擁護を促進するスペインとコロンビアの組織をリンクしている4事例のネットワークを提案する。結果から、本事例に従事する人々は強固な学習プロセスを経験するが、このプロセスは急進的なグローバルな市民権と団結の構築に関連しており、制約、不安、課題を十分に抱えていることがわかった。
Arabic
قد اتسمت الخطابات والممارسات المهيمنة في مجال التعاون الدولي بإزالة النفوذ السياسي وعلاقات القوة الغير المتكافئة. مع ذلك، هناك عدد من التجارب الأكثر تحويلية للتعاون أيضا" موجودة، حيث يرتبط العمل المشترك بين شمال وجنوب المنظمات الاجتماعية من منظور سياسي أكبر. يمكن إعتبار هذه الأنواع من الخبرات عمليات تعليم غير رسمية في العمل الإجتماعي: من خلال الإجراءات والإستراتيجيات و نظم العمل المشتركة ومن خلال التفاعل بين المنظمات والمؤسسات والقاعدة الشعبية، تحدث عمليات التعليم الرسمية ومتعددة الأبعاد في إشتراك الناس والمنظمات.تتناول الدراسة أربع حالات من الشبكات التي ربطت المنظمات الأسبانية والكولومبية التي تعزز الدعوة والتعبئة الإجتماعية من أجل الدفاع عن حقوق الإنسان في كولومبيا. أظهرت النتائج أن الأشخاص الذين يعملون في الحالات التي تواجه عمليات التعليم الشديدة التي هي ذات الصلة ببناء التضامن والمواطنة العالمية المتطرفة، لكن هذه العمليات هي أيضا مليئة بالقيود والتوترات والتح
Access options
Buy single article
Instant access to the full article PDF.
US$ 39.95
Tax calculation will be finalised during checkout.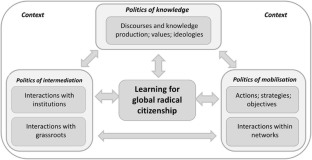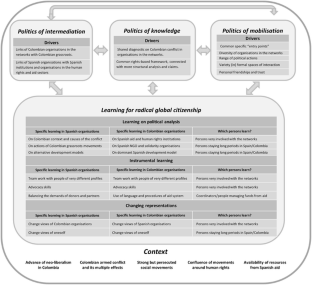 Notes
1.

We consider "grassroots" as organisations with an engaged social base, founded on certain issues or identities, and with participative organisational structures. This makes them different from NGOs and other organisations which lack a social base, are composed of a few members, are usually professionalised, and mobilise funding (Diani 1992).

2.

In 2012, the Colombian government and the FARC, the main guerrilla group in the country, publicly recognised that they were in the process of negotiating towards the end of the armed confrontation, which is still active.
References
AECID (2004). Plan Director de la Cooperación Española 2005-2008, AECID. http://www.aecid.es/. Accessed May 3 2013.

AECID (2005). Plan de Actuación Especial 2006–2008 Cooperación Española, Colombia, AECID. http://www.aecid.es/. Accessed October 15 2013.

AECID (2008). Plan Director de la Cooperación Española 2009-2012, AECID. http://www.aecid.es/. Accessed May 3 2013.

AECID (2010). Cooperación Española en Colombia. Marco de Asociación País 2011–2014, AECID. http://www.aecid.es/. Accessed October 14 2013.

AECID (2012). Plan Anual de Cooperación Internacional 2012, AECID. http://www.aecid.es/. Accessed October 14 2013.

AI, Amnistía Internacional (2014). Colombia. El conflicto que no cesa. https://www.es.amnesty.org/paises/colombia/el-conflicto-que-no-cesa/. Accessed March 24 2015.

Altieri, M. A., & Toledo, V. M. (2011). The agroecological revolution in Latin America: Rescuing nature, ensuring food sovereignty and empowering peasants. Journal of Peasant Studies, 38(3), 587–612.

Bauwens, T., & Lemaitre, A. (2014). Popular economy in Santiago de Chile: State of affairs and challenges. World Development, 64, 65–78.

Boni, A., & Taylor, P. (2011). Higher institutions as cosmopolitan spaces for transformative development: Reimagining international education. In H. Arts, T. Halvorsen, & P. Taylor (Eds.), Democratising knowledge for global development: the role of European higher education, Ocassional paper 23. Amsterdam: European Association for International Education.

Bringel, B., Landaluze, J., & Barrera, M. (2008). Solidaridades para el desarrollo: La política de "cooperación activista" con el MST brasileño. Revista Española de Desarrollo y Cooperación, 22, 195–209.

Carothers, T., & De Gramont, D. (2013). Development aid confronts politics: The almost revolution. Washington: Carnegie Endowment for International Peace.

Choudry, A. (2009). Learning in social action: Knowledge production in social movements. McGill Journal of Education/Revue des Sciences de l'éducation de McGill, 44, 5–18.

Choudry, A., & Shragge, E. (2011). Disciplining dissent: NGOs and community organizations. Globalizations, 8, 503–517.

Choudry, A., Hanley, J., & Shragge, E. (2012). Organize! Building from the local for global justice. Oakland: PM Press.

Clarke, P., & Oswald, K. (2010). Why reflect collectively on capacities for change? IDS Bulletin, 41, 1–12.

Corbetta, P. (2003). Metodología y técnicas de investigación social. Madrid: McGraw-Hill.

Curtis, S., Gesler, W., Smith, G., & Washburn, S. (2000). Approaches to sampling and case selection in qualitative research: examples in the geography of health. Social Science and Medicine, 50, 1001–1014.

Dar, S., & Cooke, B. (2008). The new development management: critiquing the dual modernization. London: Zed Books.

Dart, R. (2004). Being "business-like" in a nonprofit organization: A grounded and inductive typology. Nonprofit and Voluntary Sector Quarterly, 33, 290–310.

Diani, M. (1992). The concept of social movement. Sociological Review, 40(1), 1–25.

Eyben, R. (2006). Relationships for aid. London: Routledge.

Eyben, R. (2008). Power, mutual accountability and responsibility in the practice of international aid: A relational approach, Working paper 305, IDS, Brighton.

Eyben, R. (2013). Uncovering the politics of "evidence" and "results". A framing for development practitioners, IDS, Brighton. http://www.ids.ac.uk/. Accessed November 20 2013.

Fernández, G., Piris, S., & Ramiro, P. (2013). Cooperación internacional y Movimientos sociales emancipadores: bases para un encuentro necesario. Bilbao: UPV-EHE.

Foley, G. (1999). Learning in social action: A contribution to understanding informal education. London: Zed Books.

Foley, G. (2004). Dimensions of adult learning: Adult education and training in a global era. Maidenhead, Berkshire: Open University Press.

Gaventa, J., & Tandon, R. (2010). Globalising citizens: New dynamics of inclusion and exclusion. London: Zed Books.

Giovannini, M. (2015). Indigenous community enterprises in Chiapas: a vehicle for buen vivir? Community Development Journal, 50(1), 71–87.

Giri, A. K., & van Ufford, P. Q. (2003). A moral critique of development: In search of global responsibilities. London: Routledge.

Gómez Gil, C. (2005). Las ONG en España: de la apariencia a la realidad. Madrid: Los libros de la Catarata.

Gouin, R. (2009). An antiracist feminist analysis for the study of learning in social struggle. Adult Education Quarterly, 59, 158–175.

Gulrajani, N. (2010). New vistas for development management: examining radical–reformist possibilities and potential. Public Administration and Development, 30, 136–148.

Hall, B. (2009). A river of life: Learning and environmental social movements. Interface: A Journal for and About Social Movements, 1, 46–78.

Heater, D. (2004). World citizenship: Cosmopolitan thinking and its opponents. New York: Continuum Studies in Citizenship, Continuum.

Heron, T. (2008). Globalization, neoliberalism and the exercise of human agency. International Journal of Politics, Culture, and Society, 20(1–4), 85–101.

Hickey, S., & Mohan, G. (2005). Relocating participation within a radical politics of development. Development and Change, 36, 237–262.

Holst, J. D. (2002). Social movements, civil society and radical adult education. Westport: Praeger Pub Text.

Houtart, F. (2001). Hacia una sociedad civil globalizada: la de abajo o la de arriba. Conference at the Foro Mundial de las Alternativas, Davos. http://biblioteca.clacso.org.ar/ar/libros/osal/huttar.doc. Accessed November 28 2013.

Ibarra, M. E. (2007). Acciones colectivas de las mujeres contra la guerra y por la paz en Colombia. Sociedad y Economía, 13, 65–84.

Isin, E. F., & Wood, P. K. (1999). Citizenship and identity. London: Sage.

Kaldor, M. (2001). Las Nuevas Guerras, Violencia Organizada en la Era Global. Barcelona: Tusquets.

Kapoor, D., & Choudry, A. (2010). Learning from the ground up: Global perspectives on social movements and knowledge production. London: Palgrave Macmillan.

Margaret, J. (2010). Capacity development processes within a social movement: Päkehä treaty workers' movement. IDS Bulletin, 41, 68–78.

Massé, F., & Camargo, J. (2012). Actores Armados Ilegales y Sector Extractivo en Colombia: V Informe. CITpax Colombia, Observatorio Internacional DDR – Justicia y Paz, Bogotá.

Mawdsley, E., Townsend, J., Porter, G., & Oakley, P. (2002). Knowledge, power and development agendas: NGOs north and south. Oxford: Intrac.

McGee, R. (2010). An international NGO representative in Colombia: Reflections from practice. Development in Practice, 20, 636–648.

Merrifield, J. (2002). Learning Citizenship. IDS Working Paper 158, IDS, Brighton.

Mesa de trabajo Mujer y Conflicto Armado (2011), Informe sobre violencia sociopolítica contra mujeres y niñas en Colombia. Bogotá. http://www.coljuristas.org/. Accessed November 13 2013.

Mikkelsen, B. (2005). Methods for development work and research. London: Sage.

Mowles, C., Stacey, R., & Griffin, D. (2008). What contribution can insights from the complexity sciences make to the theory and practice of development management? Journal of International Development, 20, 804–820.

Ollis, T. (2011). Learning in social action: The informal and social learning dimensions of circumstantial and lifelong activists. Australian Journal of Adult Learning, 51, 248–268.

Osorio, F. E., & Villegas, H. (2010). Uno en el Campo tiene Esperanza, Mujeres rurales y recomposición en el acceso, tenencia y uso de la tierra por el conflicto armado en Buga, Colombia. Bogotá: Centro de Investigación y Educación Popular.

Pearce, J. (2010). Is social change fundable? NGOs and theories and practices of social change. Development in Practice, 20, 621–635.

Pettit, J. (2010). Multiple faces of power and learning. IDS Bulletin, 41, 25–35.

Programa Asturiano de Derechos Humanos en Colombia (2010). Diez años del Programa Asturiano de Derechos Humanos en Colombia. http://www.pachakuti.org/textos/hemeroteca/2010_2/imagen_10_2/folleto_colombia_10a.pdf. Accessed July 23 2013.

Revilla, M. (Ed.). (2002). Las ONG y la política. Madrid: Istmo.

Schattle, H. (2008). The practices of global citizenship. Plymouth: Rowman & Littlefield.

Steinklammer, E. (2012). Learning to resist: Hegemonic practice, informal learning and social movements. In B. D. Hall, D. E. Clover, J. Crowther, & E. Scandrett (Eds.), Learning and education for a better world. Rotterdam: Springer.

Villalba, U. (2013). Buen vivir vs development: A paradigm shift in the Andes? Third World Quarterly, 34(8), 1427–1442.

Wallace, T., Bornstein, L., & Chapman, J. (2007). The aid chain: Coercion and commitment in development NGOs. Kampala: Practical Action Publishing.
Acknowledgments
This study forms part of the research project 'La movilización social como dimensión estratégica de la educación para el desarrollo", funded in 2011 by the Spanish Agency of International Cooperation (AECID) in its call for research projects in development studies (11-CAP2-0995). We want to thank the persons and organisations that were interviewed, for their help and interest. We also acknowledge the support and advice of Rosemay McGee, as well as the very useful comments of the reviewers.
About this article
Cite this article
Belda-Miquel, S., Boni Aristizábal, A. & Sañudo Pazos, M.F. Informal Learning for Citizenship Building in Shared Struggles for Rights: Cases of Political Solidarity Between Colombian and Spanish Organisations. Voluntas 27, 249–272 (2016). https://doi.org/10.1007/s11266-015-9598-7
Keywords
Social organisations

International cooperation

Politics

Informal learning

Global citizenship