Abstract
In real life, trying a dress is generally physically exhausting and time consuming. In this study, a novel embedded virtual try-on system for ties and bowties is proposed, which will save time and enhance the shopping experience. The presented system is based on human computer interaction with embedded design, where the goal is to simulate tie/bowtie trial on a person in the camera view. Users can choose a tie/bowtie model available in the database via a touch screen. The system will then fit the selected model rapidly and accurately, and display the fitting result. Performance of the proposed system is experimentally evaluated on images acquired in a real-life scenario. The results showed that both fitting accuracy and process time vary almost-linearly with image resolution, where real-time and accurate (average error varies in the 0.5–5.0 cm range by resolution) performance can be achieved. In addition, the proposed system can handle fitting in videos, where experimental evaluations revealed real-time, accurate, and robust (to illumination change and image variations) performance even in the absence of collared garment.
This is a preview of subscription content, log in to check access.
Access options
Buy single article
Instant access to the full article PDF.
US$ 39.95
Price includes VAT for USA
Subscribe to journal
Immediate online access to all issues from 2019. Subscription will auto renew annually.
US$ 199
This is the net price. Taxes to be calculated in checkout.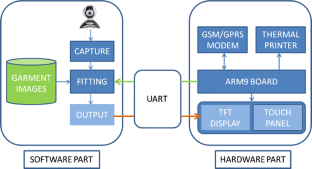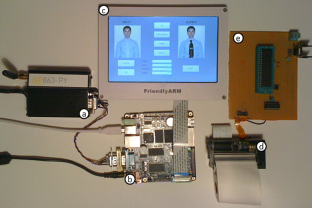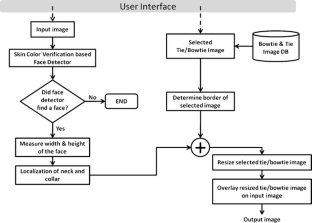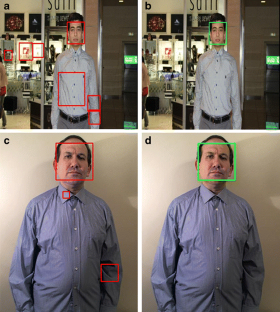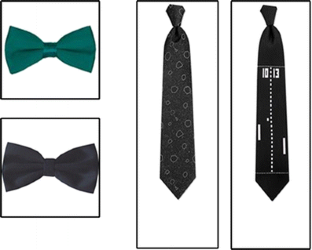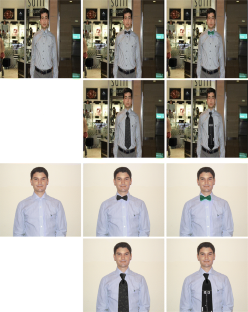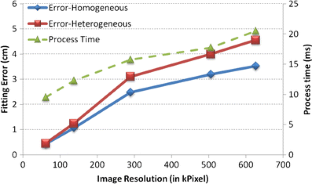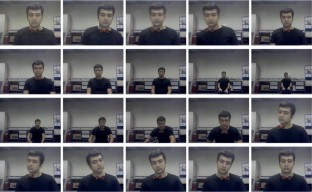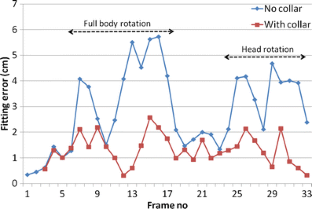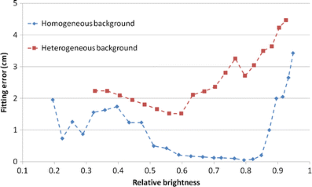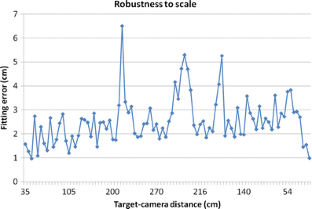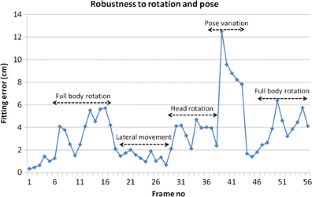 References
1.

Burke, R. R. (2002). Technology and the customer interface: what consumers want in the physical and virtual store. Journal of the Academy of Marketing Science, 30(4), 411–432.

2.

Meuter, M. L., Ostrom, A. L., Roundtree, R. I., & Bitner, M. J. (2000). Self-service technologies: understanding customer satisfaction with technology-based service encounters. Journal of Marketing, 64(3), 50–64.

3.

Cordier, F., Seo, H., & Magnenat-Thalmann, N. (2003). Made-to-measure technologies for an online clothing store. IEEE Computer Graphics and Applications, 23(1), 38–48.

4.

Fuhrmann, A., Gro, C., Luckas, V., & Weber, A. (2003). Interaction-free dressing of virtual humans. Computers and Graphics-UK, 27(1), 71–82.

5.

Meng, Y., Mok, P., & Jin, X. (2010). Interactive virtual try-on clothing design systems. Computer-Aided Design, 42(4), 310–321.

6.

Divivier A., Trieb D. R., Ebert A., Hagen H., Gross, C., Fuhrmann, A., et. al. (2004). Virtual try-on topics in realistic, individualized dressing in virtual reality, In Proceedings of the Virtual and Augmented Reality Status Conference.

7.

Eisert P., Rurainsky J., & Fechteler P. (2007). Virtual mirror: Real-time tracking of shoes in augmented reality environments. IEEE International Conference on Image Processing (ICIP), 2, 557–560.

8.

Yang, Y., Thalmann, N. M., Cui, M., Genve, U. D., & Thalmann, D. (1992). 3d garment design and animation—a new design tool for the garment industry. Computers in Industry, 19, 185–191.

9.

Wang, A. C. L., Wang, Y., & Yuen, M. M. F. (2002). Feature based 3d garment design through 2d sketches. Computer-Aided Design, 35(7), 659–672.

10.

Chittaro L. and Corvaglia D. (2003). 3D virtual clothing: from garment design to web3d visualization and simulation. Proceeding of the Eighth International Conference on 3D Web Technology, pp. 73–85.

11.

Decaudin, P., Julius, D., Wither, J., Boissieux, L., Sheffer, A., & Cani, M.-P. (2006). Virtual garments: A fully geometric approach for clothing design. Computers and Graphics Forum, 25(3), 625–634. special Issue: Eurographics'06.

12.

Durupinar, F., & Gudukbay, U. (2007). A virtual garment design and simulation system. Information Visualization, IV '07. 11th International Conference, pp. 862–870.

13.

Wang, J., Lu, G., Li, W., Chen, L., & Sakaguti, Y. (2009). Interactive 3D garment design with constrained contour curves and style curves. Computer-Aided Design, 41(9), 614–625.

14.

Sayem, A. S. M., Kennon, R., & Clarke, N. (2010). 3d cad systems for the clothing industry. International Journal Fashion Design, Technology Education, 3(2), 45–53.

15.

Wenpeng, X., & Xiaohuang, Q. (2010). Sketch-based parameterized garment modeling. Third International Conference on Information and Computing, 3, 248–251.

16.

Au, C. K., & Mab, Y.-S. (2010). Garment pattern definition, development and application with associative feature approach. Computers in Industry, 61(6), 524–531.

17.

Wang, J., Lu, G., Chen, L., Geng, Y., & Weiyan, D. (2011). Customer participating 3D garment design for mass personalization. Textile Research Journal, 81(2), 187–204.

18.

Haiqiao, H. (2011). Development of 2D block patterns from fit feature-aligned flattenable 3D garments. Ph.D. Thesis, The Hong Kong Polytechnic University, Institute of Textiles and Clothing.

19.

FriendlyARM mini2440 User Guide [online], Available: http://www.friendlyarm.net/, January 2012.

20.

Viola, P., & Jones, M. (2004). Robust real-time face detection. International Journal of Computer Vision, 57, 137–154.

21.

Erdem, C. E., Ulukaya, S., Karaali, A., & Erdem, A. T. (2011). Combining haar feature and skin color based classifiers for face detection. IEEE International. Conference of Acoustics, Speech and Signal Processing (ICASSIP), pp. 1497–1500.

22.

Sawangsri, T., Patanavijit, V., & Jitanpunkul, S. (2005). Face segmentation based on Hue-Cr components and morphological technique. IEEE International Symposium on Circuit and Systems (ISCAS), 6, 5401–5404.

23.

Frings, M. (2002). The golden section in architectural theory. Nexus Network Journal, 4, 9–32.

24.

Meng, Y., Wang, C. C. L., & Jin, X. (2012). Flexible shape control for automatic resizing of apparel products. Computer-Aided Design, 44(1), 68–76.
Acknowledgment
This work was supported in part by the Turkish Chamber of Electrical Engineers.
About this article
Cite this article
Kaya, M., Ünay, D. DressBoard: An Embedded Virtual Try-On System for Ties and Bowties. J Sign Process Syst 73, 143–152 (2013). https://doi.org/10.1007/s11265-013-0738-2
Received:

Revised:

Accepted:

Published:

Issue Date:
Keywords
Virtual try-on

Tie

Bowtie

Embedded system

Skin verification based face detection

GSM modem

Golden ratio