Abstract
In 2018 virus-like symptoms, typical of polerovirus infection were observed in several oilseed rape crops in northern Greece. In order to identify the etiological agent of these symptoms a polerovirus-generic RT-PCR assay was applied. Sequencing of the amplicons revealed the presence of virus isolates genetically close to turnip yellows virus (TuYV). Further molecular characterization of the near complete genome of '1–2', 'Geo1', 'Geo7' and 'Geo15' isolates revealed that they share > 96% nt identity with various TuYV sequences. On the other hand, the fifth, characterized isolate from oilseed rape, termed '1–1', showed higher sequence similarity to brassica yellows virus (BrYV) regarding the 5′ part of the complete coding sequence, whereas the 3′ part was closely related to TuYV isolates. A recombination analysis using RDP indicated the presence of a putative breakpoint (nucleotide position 2964) in '1–1' genome and it is proposed that the virus isolate '1–1' might be an interspecies recombinant between BrYV and TuYV. To our knowledge, this is the first time that the complete coding sequences of Greek TuYV isolates have been determined and the first detection of a BrYV/TuYV recombinant isolate infecting oilseed rape in Greece.
Access options
Buy single article
Instant access to the full article PDF.
US$ 39.95
Tax calculation will be finalised during checkout.
Subscribe to journal
Immediate online access to all issues from 2019. Subscription will auto renew annually.
US$ 79
Tax calculation will be finalised during checkout.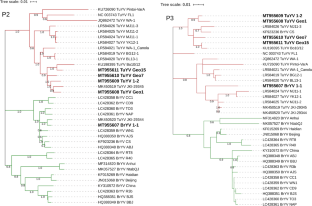 References
1.

Tsialtas JT, Papantoniou AN, Baxevanos D, Papadopoulos II, Karaivazoglou N, Maslaris N, Papakosta DK (2017) Determinants of yield and quality in winter rapeseed (Brassica napus L.) under Mediterranean conditions. J Agr Sci 155:1577–1593

2.

Latham LJ, Smith LJ, Jones RAC (2003) Incidence of three viruses in vegetable brassica plantings and associated wild radish weeds in south-west Australia. Australas Plant Pathol 32:387–391

3.

Shahraeen N, Farzadfar S, Lesemann D-E (2003) Incidence of viruses infecting winter oilseed rape (Brassica napus ssp oleifera) in Iran. J Phytopathol 151:614–616

4.

Schliephake E, Graichen K, Rabenstein F (2000) Investigations on the vector transmission of the Beet mild yellowing virus (BMYV) and the Turnip yellows virus (TuYV). J Plant Dis Prot 107:81–87

5.

Graichen K, Rabenstein F (1996) European isolates of Beet western yellows virus (BWYV) from oilseed rape (Brassica napus L. ssp napus) are non-pathogenic on sugar beet (Beta vulgaris L var altissima) but represent isolates of Turnip yellow virus (TuYV). J Plant Dis Prot 103:233–245

6.

Xiang H-Y, Dong S-W, Shang Q-X, Zhou C-J, Li D-W, Yu J-L, Han C-G (2011) Molecular characterization of two genotypes of a new polerovirus infecting brassicas in China. Arch Virol 156:2251–2255

7.

New S-A, Van Heerden AW, Pietersen G, Esterhuizen LL (2016) First report of a Turnip yellows virus in association with the brassica stunting disorder in South Africa. Plant Dis 100:2341

8.

Milošević D, Marjanović-Jeromela A, Ignjatov M, Jovičić D, Stanković I, Bulajić A, Krstić B (2015) First report of Turnip yellows virus on oilseed rape in Serbia. Plant Dis 99:1869

9.

Veerakone S, Tang J, Zheng A, Ward LI (2018) First report of Turnip yellows virus in Daphne odora in New Zealand. Plant Dis 102:1467

10.

Gaafar YZA, Ziebell H (2019) Two divergent isolates of Turnip yellows virus from pea and rapeseed and first report of Turnip yellows virus-associated RNA in Germany. Microbiol Resour Announce 8:e00214-e219. https://doi.org/10.1128/MRA.00214-19

11.

Stevens M, McGrann G, Clark B, Authority H (2008) Turnip yellows virus (syn Beet western yellows virus): an emerging threat to European oilseed rape production? HGCA Res Rev 69:1–37

12.

Graichen K, Peterka H (1999) Generation of oilseed rape with resistance to Turnip yellows luteovirus. In: Wratten N, Salisbury PA (eds) 10th International rapeseed congress. International Consultative Group for Rapeseed Research. ACT, Canberra, pp 1–13

13.

Jones RAC, Coutts BA, Hawkes J (2007) Yield-limiting potential of Beet western yellows virus in Brassica napus. Aust J Agric Res 58:788–801

14.

D'Arcy CJ, Domier LL (2005) Luteoviridae. In: Fauquet CM, Mayo MA, Maniloff J, Desselberger U, Ball LA (eds) Virus taxonomy, VIIIth Report of the ICTV. Elsevier/Academic Press, London, pp 891–900

15.

Zhang X-Y, Xiang H-Y, Zhou C-J, Li D-W, Yu J-L, Han C-G (2014) Complete genome sequence analysis identifies a new genotype of Brassica yellows virus that infects cabbage and radish in China. Arch Virol 159:2177–2180

16.

Smirnova E, Firth AE, Miller WA, Scheidecker D, Brault V, Rainbold C, Rakotondrafara AM, Chung BT-W, Ziegler-Graff V (2015) Discovery of a small non-AUG-initiated ORF in poleroviruses and luteoviruses that is required for long-distance movement. PLoS Pathog 11:e1004868. https://doi.org/10.1371/journal.ppat.1004868

17.

Chatzinasiou E, Dovas CI, Papanastassopoulou M, Georgiadis M, Psychas V, Bouzalas I, Koumbati M, Koptopoulos G, Papadopoulos O (2010) Assessment of bluetongue viraemia in sheep by real-time PCR and correlation with viral infectivity. J Virol Methods 169:305–315

18.

Lotos L, Efthimiou K, Maliogka VI, Katis NI (2014) Generic detection of poleroviruses using an RT-PCR assay targeting the RdRp coding sequence. J Virol Methods 198:1–11

19.

Stevens M, Freeman B, Liu H-Y, Herrbach E, Lemaire O (2005) Beet poleroviruses: close friends or distant relatives? Publications from USDA-ARS/UNL Faculty. 1445 https://digitalcommons.unl.edu/usdaarsfacpub/1445

20.

Beuve M, Stevens M, Liu HY, Wintermantel WM, Hauser S, Lemaire O (2008) Biological and molecular characterization of an American sugar beet-infecting Beet western yellow virus isolate. Plant Dis 92:51–60

21.

Lim S, Yoo RH, Igori D, Zhao F, Kim KH, Moon JS (2015) Genome sequence of a recombinant Brassica yellows virus infecting Chinese cabbage. Arch Virol 160:597–600

22.

Martin DP, Murrell B, Golden M, Khoosal A, Muhire B (2015) RDP4: detection and analysis of recombination patterns in virus genomes. Virus Evol 1:vev003. https://doi.org/10.1093/ve/vev003
Ethics declarations
Conflict of interest
The authors declare that they have no conflict of interests.
Ethical approval
This article does not contain any studies with human participants or animals performed by any of the authors.
Additional information
Publisher's Note
Springer Nature remains neutral with regard to jurisdictional claims in published maps and institutional affiliations.
Edited by Karel Petrzik.
Supplementary Information
Below is the link to the electronic supplementary material.
About this article
Cite this article
Orfanidou, C.G., Lotos, L., Tsiolakis, G. et al. Molecular characterization of poleroviruses isolated from oilseed rape in Greece. Virus Genes (2021). https://doi.org/10.1007/s11262-021-01832-1
Received:

Accepted:

Published:
Keywords
Oilseed rape

Poleroviruses

Molecular characterization

Turnip yellows virus

Brassica yellows virus

Recombination