Abstract
Feline herpesvirus type 1 (FHV-1) is a widespread cause of respiratory and ocular disease in domestic cats. A spectrum of disease severity is observed in host animals, but there has been limited prior investigation into viral genome factors which could be responsible. Stocks of FHV-1 were established from oropharyngeal swabs obtained from twenty-five cats with signs of infection housed in eight animal shelters around the USA. A standardized numerical host clinical disease severity scoring scheme was used for each cat from which an isolate was obtained. Illumina MiSeq was used to sequence the genome of each isolate. Genomic homogeneity among isolates was relatively high. A general linear model for fixed effects determined that only two synonymous single nucleotide polymorphisms across two genes (UL37/39) in the same isolate (from one host animal with a low disease severity score) were significantly associated (p ≤ 0.05) with assigned host respiratory and total disease severity score. No variants in any isolate were found to be significantly associated with assigned host ocular disease severity score. A concurrent analysis of missense mutations among the viral isolates identified three genes as being primarily involved in the observed genomic variation, but none were significantly associated with host disease severity scores. An ancestral state likelihood reconstruction was performed and determined that there was no evidence of a connection between host disease severity score and viral evolutionary state. We conclude from our results that the spectrum of host disease severity observed with FHV-1 is unlikely to be primarily related to viral genomic variations, and is instead due to host response and/or other factors.
Access options
Buy single article
Instant access to the full article PDF.
US$ 39.95
Tax calculation will be finalised during checkout.
Subscribe to journal
Immediate online access to all issues from 2019. Subscription will auto renew annually.
US$ 79
Tax calculation will be finalised during checkout.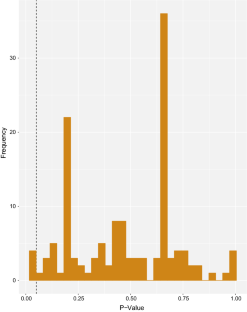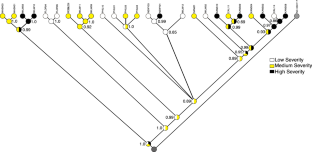 References
1.

Gaskell R, Dawson S, Radford A, Thiry E (2007) Feline herpesvirus. Vet Res 38(2):337–354. https://doi.org/10.1051/vetres:2006063

2.

Maggs DJ, Clarke HE (2005) Relative sensitivity of polymerase chain reaction assays used for detection of feline herpesvirus type 1 DNA in clinical samples and commercial vaccines. Am J Vet Res 66(9):1550–1555

3.

Gaskell RM, Povey RC (1977) Experimental induction of feline viral rhinotracheitis virus re-excretion in FVR-recovered cats. Vet Rec 100(7):128–133

4.

Gould D (2011) Feline herpesvirus-1: ocular manifestations, diagnosis and treatment options. J Feline Med Surg 13(5):333–346. https://doi.org/10.1016/j.jfms.2011.03.010

5.

Sebbag L, Thomasy SM, Woodward AP, Knych HK, Maggs DJ (2016) Pharmacokinetic modeling of penciclovir and BRL42359 in the plasma and tears of healthy cats to optimize dosage recommendations for oral administration of famciclovir. Am J Vet Res 77(8):833–845. https://doi.org/10.2460/ajvr.77.8.833

6.

Thomasy SM, Shull O, Outerbridge CA, Lim CC, Freeman KS, Strom AR, Kass PH, Maggs DJ (2016) Oral administration of famciclovir for treatment of spontaneous ocular, respiratory, or dermatologic disease attributed to feline herpesvirus type 1: 59 cases (2006-2013). J Am Vet Med Assoc 249(5):526–538. https://doi.org/10.2460/javma.249.5.526

7.

Stiles J (2003) Feline herpesvirus. Clin Tech Small Anim Pract 18(3):178–185. https://doi.org/10.1053/svms.2003.ysvms28

8.

Nasisse MP, Guy JS, Davidson MG, Sussman WA, Fairley NM (1989) Experimental ocular herpesvirus-infection in the cat—sites of virus-replication, clinical-features and effects of corticosteroid administration. Investig Ophthalmol Vis Sci 30(8):1758–1768

9.

Hamano M, Maeda K, Mizukoshi F, Une Y, Mochizuki M, Tohya Y, Akashi H, Kai K (2003) Experimental infection of recent field isolates of feline herpesvirus type 1. J Vet Med Sci 65(8):939–943

10.

Lewin AC, Kolb AW, McLellan GJ, Bentley E, Bernard KA, Newbury SP, Brandt CR (2018) Genomic, recombinational and phylogenetic characterization of global feline herpesvirus 1 isolates. Virology 518:385–397. https://doi.org/10.1016/j.virol.2018.03.018

11.

Kolb AW, Lewin AC, Moeller Trane R, McLellan GJ, Brandt CR (2017) Phylogenetic and recombination analysis of the herpesvirus genus varicellovirus. BMC Genom 18(1):887. https://doi.org/10.1186/s12864-017-4283-4

12.

Brandt CR (2005) The role of viral and host genes in corneal infection with herpes simplex virus type 1. Exp Eye Res 80(5):607–621. https://doi.org/10.1016/j.exer.2004.09.007

13.

Lee K, Kolb AW, Larsen I, Craven M, Brandt CR (2016) Mapping murine corneal neovascularization and weight loss virulence determinants in the herpes simplex virus 1 genome and the detection of an epistatic interaction between the UL and IRS/US regions. J Virol 90(18):8115–8131. https://doi.org/10.1128/Jvi.00821-16

14.

Kolb AW, Adams M, Cabot EL, Craven M, Brandt CR (2011) Multiplex sequencing of seven ocular herpes simplex virus type-1 genomes: phylogeny, sequence variability, and SNP distribution. Investig Ophthalmol Vis Sci 52(12):9061–9073. https://doi.org/10.1167/iovs.11-7812

15.

Kolb AW, Larsen IV, Cuellar JA, Brandt CR (2015) Genomic, phylogenetic, and recombinational characterization of herpes simplex virus 2 strains. J Virol 89(12):6427–6434. https://doi.org/10.1128/JVI.00416-15

16.

Kintner RL, Brandt CR (1994) Rapid small-scale isolation of herpes-simplex virus-DNA. J Virol Methods 48(2–3):189–196. https://doi.org/10.1016/0166-0934(94)90118-X

17.

Tai SHS, Niikura M, Cheng HH, Kruger JM, Wise AG, Maes RK (2010) Complete genomic sequence and an infectious BAC clone of feline herpesvirus-1 (FHV-1). Virology 401(2):215–227. https://doi.org/10.1016/j.virol.2010.02.021

18.

Garrison E, Marth G (2012) Haplotype-based variant detection from short-read sequencing

19.

Liu XT, Han SZ, Wang ZH, Gelernter J, Yang BZ (2013) Variant callers for next-generation sequencing data: a comparison study. PLoS ONE 8(9):e75619. https://doi.org/10.1371/journal.pone.0075619

20.

Ni GY, Strom TM, Pausch H, Reimer C, Preisinger R, Simianer H, Erbe M (2015) Comparison among three variant callers and assessment of the accuracy of imputation from SNP array data to whole-genome sequence level in chicken. BMC Genom 16:824. https://doi.org/10.1186/s12864-015-2059-2

21.

Hwang S, Kim E, Lee I, Marcotte EM (2015) Systematic comparison of variant calling pipelines using gold standard personal exome variants. Sci Rep 5:17875. https://doi.org/10.1038/srep17875

22.

Bradbury PJ, Zhang Z, Kroon DE, Casstevens TM, Ramdoss Y, Buckler ES (2007) TASSEL: software for association mapping of complex traits in diverse samples. Bioinformatics 23(19):2633–2635. https://doi.org/10.1093/bioinformatics/btm308

23.

Maddison WPJE (2008) Mesquite: a modular system for evolutionary analysis. Evolution 62:1103–1118

24.

Lewis PO (2001) A likelihood approach to estimating phylogeny from discrete morphological character data. Syst Biol 50(6):913–925. https://doi.org/10.1080/106351501753462876

25.

Papageorgiou KV, Suarez NM, Wilkie GS, McDonald M, Graham EM, Davison AJ (2016) Genome Sequence of Canine Herpesvirus. PLoS ONE 11(5):e0156015. https://doi.org/10.1371/journal.pone.0156015

26.

Doymaz MZ, Rouse BT (1992) Immunopathology of herpes-simplex virus-infections. Curr Top Microbiol 179:121–136

27.

Kastrukoff LF, Lau AS, Puterman ML (1986) Genetics of natural-resistance to herpes-simplex virus type-1 latent infection of the peripheral nervous-system in mice. J Gen Virol 67:613–621. https://doi.org/10.1099/0022-1317-67-4-613

28.

Pollara G, Katz DR, Chain BM (2004) The host response to herpes simplex virus infection. Curr Opin Infect Dis 17(3):199–203. https://doi.org/10.1097/01.qco.0000129616.14121.07

29.

Thompson RL, Williams RW, Kotb M, Sawtell NM (2014) A forward phenotypically driven unbiased genetic analysis of host genes that moderate herpes simplex virus virulence and stromal keratitis in mice. PLoS ONE 9(3):e92342. https://doi.org/10.1371/journal.pone.0092342

30.

Kruger JM, Sussman MD, Maes RK (1996) Glycoproteins gI and gE of feline herpesvirus-1 are virulence genes: safety and efficacy of a gI-gE(−) deletion mutant in the natural host. Virology 220(2):299–308. https://doi.org/10.1006/viro.1996.0318

31.

Thomasy SM, Lim CC, Reilly CM, Kass PH, Lappin MR, Maggs DJ (2011) Evaluation of orally administered famciclovir in cats experimentally infected with feline herpesvirus type-1. Am J Vet Res 72(1):85–95. https://doi.org/10.2460/ajvr.72.1.85

32.

Spertus CB, Pennington MR, Van de Walle GR, Badanes ZI, Judd BE, Mohammed HO, Ledbetter EC (2019) Effects of orally administered raltegravir in cats with experimentally induced ocular and respiratory feline herpesvirus-1 infection. Am J Vet Res 80(5):490–497

33.

Fontenelle JP, Powell CC, Veir JK, Radecki SV, Lappin MR (2008) Effect of topical ophthalmic application of cidofovir on experimentally induced primary ocular feline herpesvirus-1 infection in cats. Am J Vet Res 69(2):289–293. https://doi.org/10.2460/ajvr.69.2.289

34.

Hoover EA, Griesemer RA (1971) Experimental feline herpesvirus infection in pregnant cat. Am J Pathol 65(1):173

35.

Gaskell RM, Povey RC (1979) Dose-response of cats to experimental-infection with feline viral rhinotracheitis virus. J Comp Pathol 89(2):179–191. https://doi.org/10.1016/0021-9975(79)90057-4

36.

Koenigsberg AL, Heldwein EE (2018) The dynamic nature of the conserved tegument protein UL37 of herpesviruses. J Biol Chem 293(41):15827–15839. https://doi.org/10.1074/jbc.RA118.004481

37.

Mostafa HH, Thompson TW, Konen AJ, Haenchen SD, Hilliard JG, Macdonald SJ, Morrison LA, Davido DJ (2018) Herpes simplex virus 1 mutant with point mutations in UL39 is impaired for acute viral replication in mice, establishment of latency, and explant-induced reactivation. J Virol 92(7):e01654-17. https://doi.org/10.1128/jvi.01654-17

38.

Roizman B (1979) Structure and isomerization of herpes-simplex virus genomes. Cell 16(3):481–494. https://doi.org/10.1016/0092-8674(79)90023-0

39.

Maertzdorf J, Remeijer L, Van der Lelij A, Buitenwerf J, Niesters HGM, Osterhaus ADME, Verjans GMGM (1999) Amplification of reiterated sequences of herpes simplex virus type 1 (HSV-1) genome to discriminate between clinical HSV-1 isolates. J Clin Microbiol 37(11):3518–3523
Acknowledgements
The authors would like to thank Dr. Curtis Brandt, Aaron Kolb, Dr. Kristen Bernard, Dr. Sandra Newbury and the University of Wisconsin-Madison Biotechnology Center for their assistance and advice in obtaining samples, viral isolation and sequencing. The authors would also like to thank Kristen Cooley CVT, Dr. McLean Gunderson, Jenni Rose McKay, Dr. Aleisha Swartz, Dr. Sharon Ostermann, Dr. Sarah Frei, Dr. Christine Solis, Dr. Julie Andersen, Dr. Emily Purvis, Dr. Margaret Wixson, Dr. Lauren Park, Dr. Cooper Brookshire, Dr. Mark Verdino, Dr. Hillary Herendeen, Dr. Jen Dalmasso, Dr. Libby Gutting and Dr. Kimberly Woodruff for their assistance in acquiring the samples from the cats in this study. Finally the authors would like to thank the LSU Center for Computation and Technology and High-Performance Computing Clusters for computational resources and support.
Funding
This project was partially funded by a Grant from the University of Wisconsin-Madison Veterinary Teaching Hospital Companion Animal Fund; NIH Vision Research Core Grant, P30EY016665, and NIH National Center for Advancing Translational Sciences (NCATS), Grant UL1TR000427. This work was also supported by an unrestricted Grant from Research to Prevent Blindness, Inc. to the Department of Ophthalmology and Visual Sciences, University of Wisconsin-Madison. The content is solely the responsibility of the authors and does not necessarily represent the official views of the NIH.
Ethics declarations
Conflict of interest
None of the authors have any conflict of interest to report in regards to this manuscript.
Additional information
Publisher's Note
Springer Nature remains neutral with regard to jurisdictional claims in published maps and institutional affiliations.
Edited by Juergen A Richt.
Electronic supplementary material
Below is the link to the electronic supplementary material.
Supplementary material 1 (EPS 79402 kb) Fig. 1 – Reads coverage post-filtering when aligned to reference (FJ478159, Felid herpesvirus 1 strain C-27). Post filtering, read coverage was still high with more than 150x coverage for all samples. The datasets analyzed during the current study are available in the Genbank repository,
https://www.ncbi.nlm.nih.gov/genbank/
, with individual accession numbers listed in Table 1. All applicable international, national, and/or institutional guidelines for the care and use of animals were followed. All procedures performed in studies involving animals were in accordance with the ethical standards of the institution or practice at which the studies were conducted (University of Wisconsin-Madison V005353). This article does not contain any studies with human participants performed by any of the authors
About this article
Cite this article
Lewin, A.C., Coghill, L.M., McLellan, G.J. et al. Genomic analysis for virulence determinants in feline herpesvirus type-1 isolates. Virus Genes 56, 49–57 (2020). https://doi.org/10.1007/s11262-019-01718-3
Received:

Accepted:

Published:

Issue Date:
Keywords
Feline herpesvirus

Virulence

Herpes

Host response

Disease severity

Cat