Abstract
The strains of Newcastle disease virus (NDV) were isolated from five suspected outbreaks of ND in broiler (n = 3) and layers (n = 2) poultry farms. The egg-isolated viruses were subjected to biological and genetic characterization. Based on the biological characterization, isolates showed haemagglutination titer ≥log 27, mean death time <55 h, intracerebral pathogenecity index ≤1.8, and egg lethal dose 50 from 10−7.15 to 10−9.31/1 ml. Genetic characterization of the fusion (F) gene revealed that the isolates clustered with NDV strains of genotype VII (VIIf) within class II, which remained predominant genotype in the domestic poultry of Asia. The deduced amino acid sequence of the isolates confirmed virulent motif 112RRQKRF117 at the F protein cleavage site. A bioinformatics and pairwise comparison approach was applied to estimate the synonymous and non-synonymous substitution rates (dN/dS) and selective evolutionary pressure for the F protein. The dN/dS calculated for genotype VII indicate purifying selection, which resulted in a low evolution rate in F gene. The F protein shows a strong negative pressure throughout the length of the protein and no recombination event was determined. Collectively, the results suggest that very similar virulent strains of NDV are involved during current wave of disease outbreak throughout the country. From these results, in conjunction with our recent reports of NDV from Pakistan, it is possible to conclude that emergence of novel group may require revisiting the diagnostics and vaccine control strategies.
Access options
Buy single article
Instant access to the full article PDF.
US$ 39.95
Tax calculation will be finalised during checkout.
Subscribe to journal
Immediate online access to all issues from 2019. Subscription will auto renew annually.
US$ 79
Tax calculation will be finalised during checkout.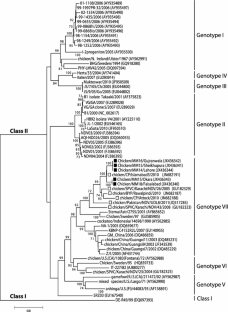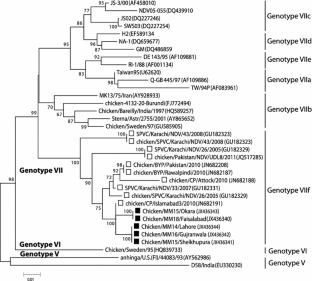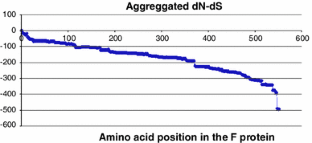 References
1.

D.J. Alexander, in Disease of poultry, ed. by Y.M. Saif (Iowa State University Press, Ames, 2003)

2.

M. van Boven, A. Bouma, T.H. Fabri, E. Katsma, L. Hartog, G. Koch, Avian Path. 37, 1–5 (2008)

3.

K.S. Choi, E.K. Lee, W.J. Jeon, J.J. Nah, Y.J. Kim, M.Y. Lee, H. Lee, J.H. Kwon, J. Wildl. Dis. 44, 193–198 (2008)

4.

E.W. Aldous, J.K. Mynn, J. Banks, D.J. Alexander, Avian Pathol. 32, 239–256 (2003)

5.

M. Munir, M. Cortey, M. Abbas, Z.U. Qureshi, F. Afzal, M.Z. Shabbir, M.T. Khan, S. Ahmed, S. Ahmad, C. Baule, K. Stahl, S. Zohari, M. Berg, Infect. Genet. Evol. 12, 1010–1019 (2012)

6.

S. Zhang, X. Wang, C. Zhao, D. Liu, Y. Hu, J. Zhao, G. Zhang, PLoS one 6, e25000 (2011)

7.

R.P. Hanson, Newcastle Disease (American Association of Avian Pathologists, Kennett Square, 1980)

8.

B.S. Seal, D.J. King, R.J. Meinersmann, Virus Res. 66, 1–11 (2000)

9.

M. Munir, M. Abbas, M.T. Khan, S. Zohari, M. Berg, Virology J. 9, 46 (2012)

10.

M. Munir, S. Zohari, M. Abbas, M. Berg, Arch. Virol. 157, 765–768 (2012)

11.

OIE Terrestrial Manual (2009). http://www.oie.int/eng/normes/mmanual/2008/pdf/2.03.14_NEWCASTLE_DIS.pdf. Accessed 5 Dec 2012

12.

L.J. Reed, L.H. Muench, Am. J. Hyg. 27, 493–497 (1938)

13.

B. Korber, HIV Signature and Sequence Variation Analysis. Computational Analysis of HIV Molecular Sequences (Kluwer Academic Publishers, Dordrecht, 2000)

14.

OIE. OIE Terrestrial Manual in OIE (ed), 2009

15.

M. Munir, S. Zohari, M. Berg, Indian J. Virol. (2012). doi:10.1007/s13337-012-0073-4

16.

M.G. Wise, D.L. Suarez, B.S. Seal, J.C. Pedersen, D.A. Senne, D.J. King, D.R. Kapczynski, E. Spackman, J. Clin. Microbiol. 42, 329–338 (2004)

17.

T.A. Khan, C.A. Rue, S.F. Rehmani, A. Ahmed, J.L. Wasilenko, P.J. Miller, C.L. Afonso, J. Clin. Microbiol. 48, 1892–1894 (2010)

18.

M. Mase, K. Imai, Y. Sanada, N. Sanada, N. Yuasa, T. Imada, K. Tsukamoto, S. Yamaguchi, J. Clin. Microbiol. 40, 3826–3830 (2002)

19.

Z.M. Qin, L.T. Tan, H.Y. Xu, B.C. Ma, Y.L. Wang, X.Y. Yuan, W.J. Liu, J. Clin. Microbiol. 46, 601–611 (2008)

20.

L.T. Tan, H.Y. Xu, Y.L. Wang, Z.M. Qin, L. Sun, W.J. Liu, Z.Z. Cui, J. Clin. Microbiol. 46, 750–753 (2008)

21.

J. Herczeg, E. Wehmann, R.R. Bragg, P.M. Travassos Dias, G. Hadjiev, O. Werner, B. Lomniczi, Arch. Virol. 144, 2087–2099 (1999)

22.

M. Munir, A.M. Linde, S. Zohari, K. Stahl, C. Baule, B. Engstrom, L.H. M Renström, Virus Genes 43, 261–271 (2011)

23.

M. Munir, A.M. Linde, S. Zohari, K. Stahl, C. Baule, K. Holm, B. Engstrom, M. Berg, Avian Dis. 54, 923–930 (2010)

24.

C. Abolnik, R.F. Horner, S.P. Bisschop, M.E. Parker, M. Romito, G.J. Viljoen, Arch. Virol. 149, 603–619 (2004)

25.

S. Hu, H. Ma, Y. Wu, W. Liu, X. Wang, Y. Liu, X. Liu, Vaccine 27, 904–910 (2009)

26.

N. Jindal, Y. Chander, A.K. Chockalingam, M. de Abin, P.T. Redig, S.M. Goyal, Virol. J. 6, 191 (2009)
Acknowledgments
The authors would like to acknowledge field veterinarians and poultry farmers for their help in sample collection. Additionally, help of Muhammad Arshad and Imran Shafique in sample processing and Martí Cortéy in evolutionary analysis is greatly acknowledged.
Additional information
Muhammad Zubair Shabbir and Muhammad Abbas equally contributed as first authors.
About this article
Cite this article
Shabbir, M.Z., Abbas, M., Yaqub, T. et al. Genetic analysis of Newcastle disease virus from Punjab, Pakistan. Virus Genes 46, 309–315 (2013). https://doi.org/10.1007/s11262-012-0862-2
Received:

Accepted:

Published:

Issue Date:
Keywords
Newcastle disease

Fusion protein

Phylogenetic analysis

Evolutionary analysis

Pakistan