Abstract
Apple fruit crinkle viroid (AFCVd) infects apples and hops. To analyze the genetic diversity of AFCVd, nine apple and six hop isolates were collected from several locations in Japan. In total, 76 independent cDNA clones were used for sequencing and phylogenetic analyses. Two major population clusters were identified. The first consisted of all four hop isolates from Akita and some from Yamagata. The second cluster consisted of some Yamagata hop and all apple isolates. On the basis of the polymorphism found in the nucleotide insertion between positions 142/143 of the AFCVd genome and the history of hop cultivation in the region, it appears likely that one of the AFCVd populations that pre-existed in the Yamagata hops served as a "founder" for the Akita hop cluster. In this scenario, a genetic bottleneck caused by vegetative propagation played an important role in the shaping of viroid populations in a cultivated crop.
Access options
Buy single article
Instant access to the full article PDF.
USD 39.95
Price excludes VAT (USA)
Tax calculation will be finalised during checkout.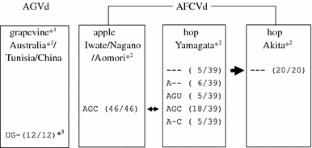 References
T. Ito, T. Sano, K. Yoshida, Ann. Phytopathol. Soc. Jpn. 64, 424–425 (1998)

T. Sano, H. Yoshida, M. Goshono, T. Monma, H. Kawasaki, K. Ishizaki, J. Gen. Plant. Pathol. 70, 181–187 (2004). doi:10.1007/s10327-004-0105-z

C.M. Fauquet, M.A. Mayo, J. Maniloff, U. Desselberger, L.A. Ball (eds.), in Virus Taxonomy. Eighth Report of the International Committee on Taxonomy of Viruses (Elsevier, 2005), 1259 pp

H. Koganezawa, Y. Ohnuma, T. Sakuma, H. Yanase, Bull Fruit Tree Res Stn. Ser. C 16, 57–62 (1989)

T. Ito, S. Kanematsu, H. Koganezawa, T. Tsuchizaki, K. Yoshida, Ann. Phytopathol. Soc. Jpn. 59, 520–527 (1993)

A. Iijima, Shokubutsu Boeki. 44, 130–132 (1990)

E. Sato, Shudai Chiri 48, 27–32 (2001) (ISSN:02865785)

M.A. Rezaian, Nucleic Acids Res. 18, 1813–1818 (1990). doi:10.1093/nar/18.7.1813

S. Kofalvi, J.F. Marcos, M.C. Canizares, V. Pallas, T. Candresse, J. Gen. Virol. 78, 3177–3186 (1997)

M. Roossinck, W.L. Schneider, Quasispecies: concept and implications for virology, in Current Topics in Microbiology and Immunology, vol. 299, ed. by E. Domingo, (Springer, Berlin, 2006), pp. 337–348. ISSN 0070-217X

J. Matousek, L. Orctová, J. Ptáek, J. Patzak, P. Ddi, G. Steger et al., J. Virol. 81, 11891–11899 (2007). doi:10.1128/JVI.01165-07

Y. Tomitaka, T. Yamashita, K. Ohshima, J. Gen. Plant Pathol. 73, 197–208 (2007). doi:10.1007/s10327-007-0003-2

A. Ali, H. Li, W.L. Schneider, D.J. Sherman, S. Gray, D. Smith et al., J. Virol. 80, 8345–8350 (2006). doi:10.1128/JVI.00568-06

B. Moury, F. Fabre, R. Senoussi, Proc. Natl. Acad. Sci. USA 104, 17891–17896 (2007). doi:10.1073/pnas.0702739104

M. Matsumoto, H. Yamamoto, S. Fuji, M. Inoue, J. Gen. Plant Pathol. 74, 76–80 (2008). doi:10.1007/s10327-007-0057-1

C. Jridi, J.-F. Martin, V. Marie-Jeanne, G. Labonne, S. Blanc, J. Virol. 80, 2349–2357 (2006). doi:10.1128/JVI.80.5.2349-2357.2006

M. Bar-Joseph, in Viroids, ed. by A. Hadidi, R. Flores, J.W. Randles, J.S. Semancik (CSIRO Publishing, Collingwood, Australia, 2003), pp. 246–251

J.A. Szychowski, J.P. Doazan, P. Leclair, M. Garnier, R. Credi, A. Minafra et al., Vitis 30, 25–36 (1991)

A. Elleuch, H. Fakhfakh, M. Pelchat, P. Landry, M. Marrakchi, J.-P. Perreault, Eur. J. Plant Pathol. 108, 815–820 (2002). doi:10.1023/A:1020855405948

R. Guo, T. Sano, Z. Cheng, S. Li, Plant Pathol. 56, 339 (2007). doi:10.1111/j.1365-3059.2007.01532.x
Acknowledgments
This work was supported in part by Grant-in Aid for Scientific Research B18380028 and 18658016 from Japan Society for the Promotion of Science, and Grant-in Aid-for Scientific Research of Priority Area, Hirosaki University 2004–2006. This work was also supported in part by a grant from the Brewers Association of Japan
About this article
Cite this article
Sano, T., Isono, S., Matsuki, K. et al. Vegetative propagation and its possible role as a genetic bottleneck in the shaping of the apple fruit crinkle viroid populations in apple and hop plants. Virus Genes 37, 298–303 (2008). https://doi.org/10.1007/s11262-008-0270-9
Received:

Accepted:

Published:

Issue Date:

DOI: https://doi.org/10.1007/s11262-008-0270-9
Keywords