Abstract
One hundred and twenty three cucurbit samples with one or more symptoms of leaf mosaic, leaf distortion, fruit mosaic, stunting, mottling and yellowing were collected from several locations in the northwest region of Iran. Screening by double-antibody sandwich enzyme-linked immunosorbent assay (DAS-ELISA) with a cucumber mosaic virus (CMV) polyclonal antibody, produced positive reactions from 13 samples. However, none of these positive samples reacted with a CMV subgroup-II (S-II)-specific monoclonal antibody in a triple antibody sandwich (TAS)-ELSIA. When total RNA from the CMV-infected samples was subjected to reverse transcription polymerase chain reaction (RT-PCR) with a pair of primers corresponding to the flanking regions of the virus coat protein (CP) gene, an expected DNA fragment of about 872 bp was amplified from 10 of the 13 isolates. This fragment covered the CP open reading frame (ORF) plus 92 and 123 bp of the 5′ and 3′ flanking regions, respectively. Restriction analysis with MspI (HpaII) was done on 9 of the PCR products and revealed a previously described CMV subgroup I (S-I) specific profile (537 and 335 bp fragments) for the isolates B13, B23, B5, SH5, SH17, S342 and S337, and an additional fragment, suggestive of combined profiles, was present for B13, SH5 and S342. Two other isolates, SH12 and B7 had a CMV S-II MspI profile (four visible fragments and a predicted non-visible 28-bp fragment on 2% agarose). Also, BsuRI (HaeIII) did not cut the PCR products characteristic of the CMV S-I specific MspI profile, whereas for the S-II isolates, BsuRI gave two fragments with sizes of approximately 559 and 313 bp. Nucleotide (nt) sequences of clones from the isolates B13, B23, SH5, SH17, S337 and SH12 were determined and aligned with those of previously published CMV strains and isolates. Consensus parsimonious trees constructed on the basis of the whole amplified region (841 nt excluding the primer sequences), CP ORF (nt or deduced amino acid data), or either of the flanking regions confirmed the RFLP data so that B13, B23, S337, SH5 and SH17 were placed in the CMV S-IA subclade, and SH12 in the S-II Clade. These analyses showed that both CMV S-I and S-II variants occur in the northwest region of Iran although S-I variants appeared to have a higher incidence.
Access options
Buy single article
Instant access to the full article PDF.
USD 39.95
Price excludes VAT (USA)
Tax calculation will be finalised during checkout.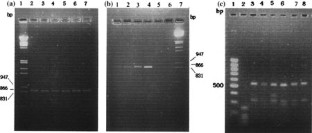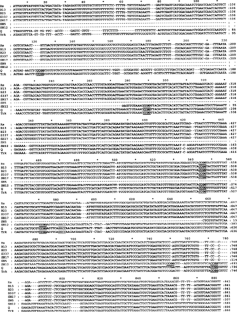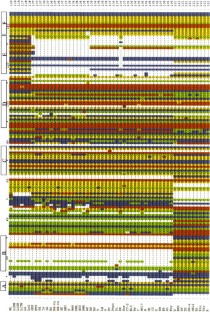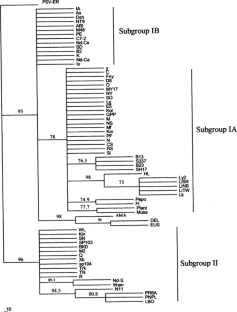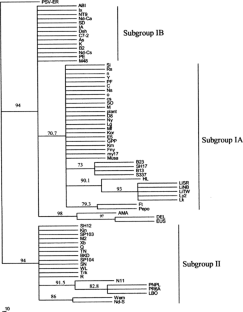 References
M.H.V. Regenmortel ParticleVan C.M. Faquet D.H.L. Bishop E.B. Carstens M.K. Estes S.M. Lemon J. Maniloff M.A. Mayo D.J. McGeoch C.R. Pringle K.B. Wickner (Eds) (2000) Virus Taxonomy EditionNumber1 Academic Press London

A. Tidona G. Darai (Eds) (2002) The Springer Index of Viruses Springer Berlin

Plant Virus Online. http://image.fs.uidaho.edu/VIDE/sppindex.htm

P. Palukaitis M.J. Roosinck R.G. Dietzgen R.I.B. Francki (1992) Adv. Virus Res. 41 281–348 Occurrence Handle1575085 Occurrence Handle1:CAS:528:DyaK3sXjsVGn

J.C.K. Ng S. Liu R.L. Perry (2000) Virology 276 395–403 Occurrence Handle11040130 Occurrence Handle1:CAS:528:DC%2BD3cXntl2nurs%3D Occurrence Handle10.1006/viro.2000.0569

M.J. Roossinck (2002) J. Virol. 76 3382–3387 Occurrence Handle11884564 Occurrence Handle1:CAS:528:DC%2BD38Xit1Kjsrg%3D Occurrence Handle10.1128/JVI.76.7.3382-3387.2002

J.C. Devergne L. Cardin (1973) Ann. Phytopathol. 5 409–430

J. Owen K. Palukaitis (1988) Virology 166 495–502 Occurrence Handle3176343 Occurrence Handle1:CAS:528:DyaL1MXhvVag Occurrence Handle10.1016/0042-6822(88)90520-X

P. Piazzola J.R. Diaz-Ruiz J.M. Kaper (1979) J. Gen. Virol. 45 361–369

J. Richter K. Schmelzer E. Proll (1971) Arch. Phytopathol. Pflanzenschutz 8 421–428 Occurrence Handle10.1080/03235407209431819

A.D. Wilson R.S. Halliwell (1985) Plant Dis. 69 751–754

A. Yordanova D. Hristova E. Stoimenova (2000–2002) J. Culture Col. 3 84–91

R.D. Pares M.R. Gillings L.V. Gunn (1992) Intervirology 34 23–29 Occurrence Handle1428753 Occurrence Handle1:STN:280:DyaK3s%2FltlCktQ%3D%3D

H. Rizos L.V. Gunn R.D. Pares M.R. Gillings (1992) J. Gen. Virol. 73 2099–2103 Occurrence Handle1645146 Occurrence Handle1:CAS:528:DyaK38XlsVCntbs%3D

Z. Singh R.A. Jones M.G.K. Jones (1995) Plant Dis. 79 713–716 Occurrence Handle1:CAS:528:DyaK2MXnsVentLw%3D Occurrence Handle10.1094/PD-79-0713

Z. Deyong P. Willingmann C. Heinze G. Adam M. Pfunder B. Frey J.E. Frey (2005) J. Virol. Methods 123 101–108 Occurrence Handle15582705 Occurrence Handle1:CAS:528:DC%2BD2cXhtVClt7jP Occurrence Handle10.1016/j.jviromet.2004.09.021

M.J. Roossinck L. Zhang K. Hellwald (1999) J. Gen. Virol. 73 6752–6758 Occurrence Handle1:CAS:528:DyaK1MXksFKnurs%3D

F. García-Arenal F. Escriu M.A. Aranda J.L. Alonso-Prados J.M. Malpica A. Fraile (2000) Virus Res. 71 1–8 Occurrence Handle11137157 Occurrence Handle10.1016/S0168-1702(00)00183-0

M.F. Clark A.N. Adams (1977) J. Gen. Virol. 34 475–483 Occurrence Handle323416 Occurrence Handle1:STN:280:DyaE2s7mslWntQ%3D%3D

R.K. Khetarpel, C.A. Kumar, in Molecular Methods in Plant Pathology, eds. by P.R. Singh, S.U. Singh (Lewis Publishers, Boca Raton, 1995), pp. 329–341

C. Davies R.H. Symons (1988) Virology 165 216–224 Occurrence Handle3388769 Occurrence Handle1:CAS:528:DyaL1MXitVKksb0%3D Occurrence Handle10.1016/0042-6822(88)90675-7

N. Sokhandan-Bashir, PhD Thesis, The University of Sydney, Australia (1999)

C.T. Chung S.A. Niemela R.H. Miller (1989) Proc. Natl. Acad. Sci. USA 86 2172–2175 Occurrence Handle2648393 Occurrence Handle1:CAS:528:DyaL1MXitV2iurY%3D

N. Sokhandan M.R. Gillings J.W. Bowyer (1997) Austral. Plant Pathol. 26 155–164 Occurrence Handle10.1071/AP97026

H.C. Birboin J. Doly (1979) Nucleic Acids Res. 7 1513–1523

D. Ish-Horwicz J.F. Burke (1981) Nucleic Acids Res. 9 2989–2998

K.B. Nicholas, H.B. Nicholas Jr., Distributed by the author (1997)

R.A. Naidu C.-C. Hu R.E. Pennington S.A. Ghabrial (1995) Phytopathology 85 502–507 Occurrence Handle1:CAS:528:DyaK2MXlvFCrtrs%3D

J. Felsenstein (2004) PHYLIP (Phylogeny Inference Package) version 3.6. Distributed by the author Department of Genome Sciences, University of Washington Seattle

R.D.M. Page (1996) Comput. Appl. Biosci. 12 357–358 Occurrence Handle8902363 Occurrence Handle1:STN:280:DyaK2s%2FlvVSgtg%3D%3D

L. Bos (1999) Plant Viruses, Unique and Intriguing Pathogens – A Textbook of Plant Virology Backhuys Publishers The Netherlands 368

C. Yu J. Wu X.J. Zhou (2005) Virol. Methods 123 155–161 Occurrence Handle1:CAS:528:DC%2BD2cXhtFGht7zE Occurrence Handle10.1016/j.jviromet.2004.09.014

N. Nitta C. Masuta S. Kuwata Y. Takanami (1988) Ann. Phytopathol. Soc. Jpn. 54 516–522 Occurrence Handle1:CAS:528:DyaL1MXktVWltbg%3D

W.L. Schneider M.R. Roossinck (2001) J. Virol. 75 6566–6571 Occurrence Handle11413324 Occurrence Handle1:CAS:528:DC%2BD3MXkvFSitL8%3D Occurrence Handle10.1128/JVI.75.14.6566-6571.2001

T. Hayakawa M. Mizukami M. Nakajima M. Suzuki (1989) J. Gen. Virol. 70 499–504 Occurrence Handle2732698 Occurrence Handle1:CAS:528:DyaL1MXmtV2rsLo%3D Occurrence Handle10.1099/0022-1317-70-2-499

J. Bonnet A. Fraile S. Sacristán J.M Malpica F. Garcia-Arenal (2005) Virology 332 359–368 Occurrence Handle15661167 Occurrence Handle1:CAS:528:DC%2BD2MXmslGjtA%3D%3D Occurrence Handle10.1016/j.virol.2004.11.017

H. Li M.J. Roossinck (2004) Virology 78 10582–10587 Occurrence Handle1:CAS:528:DC%2BD2cXotVemtro%3D Occurrence Handle10.1128/JVI.78.19.10582-10587.2004

A. Haas J. Richter F. Rabenstein (1989) J. Phytopathol. 127 129–136
Acknowledgement
We would like to thank Dr John W. Bowyer for critically reviewing this manuscript.
Additional information
The nucleotide sequence data reported in this paper have been submitted to the GenBank nucleotide sequence database and have been assigned the accession numbers AY871067, AY871068, AY871069, AY871070, AY871071 and AY871072 for the isolates SH12, SH17, S337, B13, B23 and SH5, respectively.
About this article
Cite this article
Bashir, N.S., Kalhor, M.R. & Zarghani, S.N. Detection, Differentiation and Phylogenetic Analysis of Cucumber Mosaic Virus Isolates from Cucurbits in the Northwest Region of Iran. Virus Genes 32, 277–288 (2006). https://doi.org/10.1007/s11262-005-6912-2
Received:

Accepted:

Issue Date:

DOI: https://doi.org/10.1007/s11262-005-6912-2
Keywords