Abstract
Fungal detection in equine airways may be performed on either tracheal wash (TW) or bronchoalveolar lavage fluid (BALF) by either cytology or culture. However, method comparisons are sparse. Our objective was to determine the prevalence of fungi in airways of horses according to the sample site and laboratory methodology. Sixty-two adult horses, investigated in the field or referred for respiratory disease, were included. Tracheal wash, and BALF collected separately from both lungs, were collected using a videoendoscope. Fungi were detected in cytologic samples examined by light microscopy, and by fungal culture. Hay was sampled in the field. Prevalence of fungi was of 91.9% in TW and 37.1% in BALF. Fungi were cultured from 82.3% of TW and 20.9% of BALF. Fungal elements were observed cytologically in 69.4% of TW and 22.6% of BALF. In 50% of horses, the same fungi were detected in both TW and hay, but fungi detected in BALF and hay differed in all horses. Poor agreement was found for the detection of fungi between TW and BALF and between fungal culture and cytologic examination (Cohen's kappa coefficient (κ) < 0.20). Moderate agreement was found between cytologic examination of left and right lungs (κ = 0.47). The prevalence of fungi detected cytologically on pooled BALF was significantly different (p = 0.023) than on combined left and right BALF. Fungi were more prevalent in the TW than BALF, and results suggest that hay might not be the primary source of fungi of the lower respiratory tract of horses.
Access options
Buy single article
Instant access to the full article PDF.
USD 39.95
Price excludes VAT (USA)
Tax calculation will be finalised during checkout.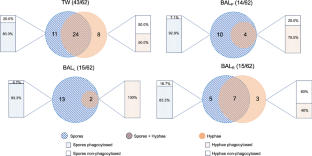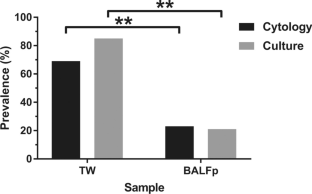 Data availability
The data that support the findings of this study are available from the corresponding author upon reasonable request.
References
Bain FT (1997) Cytology of the respiratory tract. Vet Clin North Am: Equine Pract 13:477–486. https://doi.org/10.1016/S0749-0739(17)30225-0

Borman AM, Palmer MD, Delhaes L, Carrère J, Favennec L, Ranque S, Gangneux J-P, Horré R, Bouchara J-P (2010) Lack of standardization in the procedures for mycological examination of sputum samples from CF patients: a possible cause for variations in the prevalence of filamentous fungi. Med Mycol 48:S88–S97. https://doi.org/10.3109/13693786.2010.511287

Cha ML, Costa LRR (2017) Inhalation therapy in horses. Vet Clin North Am: Equine Pract 33:29–46. https://doi.org/10.1016/j.cveq.2016.11.007

Cian F, Monti P, Durham A (2015) Cytology of the lower respiratory tract in horses: an updated review. Equine Vet Educ 27:544–553. https://doi.org/10.1111/eve.12376

Couëtil LL, Cardwell JM, Gerber V, Lavoie J-P, Léguillette R, Richard EA (2016) Inflammatory airway disease of horses—revised consensus statement. J Vet Intern Med 30:503–515. https://doi.org/10.1111/jvim.13824

Couetil LL, Thompson CA (2020) Airway diagnostics. Veterinary clinics of North America. Equine Pract 36:87–103. https://doi.org/10.1016/j.cveq.2019.12.006

Dauvillier J, Woort F, van Erck-Westergren E (2019) Fungi in respiratory samples of horses with inflammatory airway disease. J Vet Intern Med 33:968–975. https://doi.org/10.1111/jvim.15397

Denning DW, Pashley C, Hartl D, Wardlaw A, Godet C, Del Giacco S, Delhaes L, Sergejeva S (2014) Fungal allergy in asthma–state of the art and research needs. Clin Translational Allergy 4:14. https://doi.org/10.1186/2045-7022-4-14

Depecker M, Richard EA, Pitel P-H, Fortier G, Leleu C, Couroucé-Malblanc A (2014) Bronchoalveolar lavage fluid in standardbred racehorses: influence of unilateral/bilateral profiles and cut-off values on lower airway disease diagnosis. Vet J 199:150–156. https://doi.org/10.1016/j.tvjl.2013.10.013

Derksen F (1991) Equine respiratory disorders. In: Beech J (ed) Applied respiratory physiology. Lea & Febiger, Philadelphia (PA), p 1–26

Di Pietro R, Dubuc V, Manguin E, Giroux-Lafond R, Bédard C, Boivin R, Lavoie J-P, Vesper SJ, Leclere M (2022) Characterization of fungal exposure and dectin-1 expression in healthy horses and horses with severe asthma. Am J Vet Res 83. https://doi.org/10.2460/ajvr.21.09.0143

Dial SM (2007) Fungal diagnostics: current techniques and future trends. Vet Clin North Am: Small Anim Pract 37:373–392. https://doi.org/10.1016/j.cvsm.2006.11.002

Doubli-Bounoua N, Richard EA, Léon A, Pitel P-H, Pronost S, Fortier G (2016) Multiple molecular detection of respiratory viruses and associated signs of airway inflammation in racehorses. Virol J 13:197. https://doi.org/10.1186/s12985-016-0657-5

Gerber V, Straub R, Marti E, Hauptman J, Herholz C, King M, Imhof A, Tahon L, Robinson NE (2010) Endoscopic scoring of mucus quantity and quality: observer and horse variance and relationship to inflammation, mucus viscoelasticity and volume. Equine Vet J 36:576–582. https://doi.org/10.2746/0425164044864525

Hansen S, Honoré ML, Riihimaki M, Pringle J, Ammentorp AH, Fjeldborg J (2018) Seasonal variation in tracheal mucous and bronchoalveolar lavage cytology for adult clinically healthy stabled horses. J Equine Vet Sci 71:1–5. https://doi.org/10.1016/j.jevs.2018.09.001

Hermange T, Le Corre S, Bizon C, Richard EA, Couroucé A (2019) Bronchoalveolar lavage fluid from both lungs in horses: diagnostic reliability of cytology from pooled samples. Vet J 244:28–33. https://doi.org/10.1016/j.tvjl.2018.12.002

Heyder J (2004) Deposition of inhaled particles in the human respiratory tract and consequences for regional targeting in respiratory drug delivery. Proc Am Thorac Soc 1:315–320. https://doi.org/10.1513/pats.200409-046TA

Ivester KM, Couëtil LL, Zimmerman NJ (2014) Investigating the link between particulate exposure and airway inflammation in the horse. J Vet Intern Med 28:1653–1665. https://doi.org/10.1111/jvim.12458

Jocelyn NA, Wylie CE, Lean M, Barrelet A, Foote AK (2018) Association of neutrophil morphology with bacterial isolates in equine tracheal wash samples. Equine Vet J 50:752–758. https://doi.org/10.1111/evj.12837

Kang H, Bienzle D, Lee GKC, Piché É, Viel L, Odemuyiwa SO, Beeler-Marfisi J (2022) Flow cytometric analysis of equine bronchoalveolar lavage fluid cells in horses with and without severe equine asthma. Vet Pathol 59:91–99. https://doi.org/10.1177/03009858211042588

Kutasi O, Balogh N, Lajos Z, Nagy K, Szenci O (2011) Diagnostic approaches for the assessment of equine chronic pulmonary disorders. J Equine Vet Sci 31:400–410. https://doi.org/10.1016/j.jevs.2011.03.018

Malikides N, Hughes K, Hodgson D, Hodgson J (2003) Comparison of tracheal aspirates and bronchoalveolar lavage in racehorses 2. Evaluation of the diagnostic significance of neutrophil percentage. Australian Vet J 81:685–687. https://doi.org/10.1111/j.1751-0813.2003.tb12540.x

McGorum BC, Dixon PM, Halliwell REW (1993) Responses of horses affected with chronic obstructive pulmonary disease to inhalation challenges with mould antigens. Equine Vet J 25:261–267. https://doi.org/10.1111/j.2042-3306.1993.tb02960.x

Nardoni S, Mancianti F, Sgorbini M, Taccini F, Corazza M (2005) Identification and seasonal distribution of airborne fungi in three horse stables in Italy. Mycopathologia 160:29–34. https://doi.org/10.1007/s11046-005-2669-3

Olave CJ, Ivester KM, Couetil LL, Kritchevsky JE, Tinkler SH, Mukhopadhyay A (2021) Dust exposure and pulmonary inflammation in standardbred racehorses fed dry hay or haylage: a pilot study. Vet J 271:105654. https://doi.org/10.1016/j.tvjl.2021.105654

Orard M, Depecker M, Hue E, Pitel P-H, Couroucé-Malblanc A, Richard EA (2016) Influence of bronchoalveolar lavage volume on cytological profiles and subsequent diagnosis of inflammatory airway disease in horses. Vet J 207:193–195. https://doi.org/10.1016/j.tvjl.2015.09.027

Pashley CH, Fairs A, Morley JP, Tailor S, Agbetile J, Bafadhel M, Brightling CE, Wardlaw AJ (2012) Routine processing procedures for isolating filamentous fungi from respiratory sputum samples may underestimate fungal prevalence. Med Mycol 50:433–438. https://doi.org/10.3109/13693786.2011.615762

Pirie RS, Collie DDS, Dixon PM, McGorum BC (2002) Evaluation of nebulised hay dust suspensions (HDS) for the diagnosis and investigation of heaves. 2: Effects of inhaled HDS on control and heaves horses. Equine Vet J 34:337–342. https://doi.org/10.2746/042516402776249074

Pirie RS, Collie DDS, Dixon PM, McGorum BC (2003) Inhaled endotoxin and organic dust particulates have synergistic proinflammatory effects in equine heaves (organic dust-induced asthma): Dust particulates in equine heaves. Clin Experimental Allergy 33:676–683. https://doi.org/10.1046/j.1365-2222.2003.01640.x

Raidal S, Bailey G, Love D (1997) Effect of transportation on lower respiratory tract contamination and peripheral blood neutrophil function. Australian Vet J 75:433–438. https://doi.org/10.1111/j.1751-0813.1997.tb14349.x

Raidal SL, Love DN, Bailey G (1996) Effects of posture and accumulated airway secretions on tracheal mucociliary transport in the horse. Australian Vet J 73:45–49. https://doi.org/10.1111/j.1751-0813.1996.tb09963.x

Raker CW, Boles CL (1978) Pharyngeal lymphoid hyperplasia in the horse. J Equine Med Surg 2(4):202–207

Richard EA, Fortier GD, Lekeux PM, Erck EV (2010) Laboratory findings in respiratory fluids of the poorly-performing horse. Vet J 185:115–122. https://doi.org/10.1016/j.tvjl.2009.05.003

Richard EA, Maillard K (2009) Syndrome d'inflammation trachéale: évaluation clinique et bactériologique. Pratique Vétérinaire Équine 41:45–49

Robinson NE, Chairperson W (2001) International workshop on equine chronic airway disease Michigan State University 16–18 June 2000. Equine Vet J 33:5–19. https://doi.org/10.2746/042516401776767412

Rossi H, Virtala A-M, Raekallio M, Rahkonen E, Rajamäki MM, Mykkänen A (2018) Comparison of tracheal wash and bronchoalveolar lavage cytology in 154 horses with and without respiratory signs in a referral hospital over 2009 – 2015. Front Vet Sci 5:61. https://doi.org/10.3389/fvets.2018.00061

Secombe C, Lester G, Robertson I, Cullimore A (2015) Retrospective survey of bronchoalveolar lavage fluid cytology in western australian horses presented for evaluation of the respiratory tract: effect of season on relative cell percentages. Aust Vet J 93:152–156. https://doi.org/10.1111/avj.12315

Stewart AJ, Cuming RS (2015) Update on fungal respiratory disease in horses. Vet Clin North Am: Equine Pract 31:43–62. https://doi.org/10.1016/j.cveq.2014.11.005

Westermann CM, Laan TT, van Nieuwstadt RA, Bull S, Fink-Gremmels J (2005) Effects of antitussive agents administered before bronchoalveolar lavage in horses. ajvr 66:1420–1424. https://doi.org/10.2460/ajvr.2005.66.1420
Acknowledgements
Preliminary results were presented to the ECEIM Virtual Congress 2021 (poster with oral communication, November 2021), the 11th ICEEP (poster, Uppsala, June 2022) and the BEVA Congress 2022 (oral presentation, Liverpool, September 2022).
Funding
Financial support was provided by the IFCE (French Institute for Horses and Equestrians), Fonds EPERON, LABÉO and CISCO-Oniris.
Ethics declarations
Statement of animal ethics
The study was approved by the regional Ethic Committee for Clinical and Epidemiological Veterinary Research (CERVO-2020-3-V). A consent form was also signed by the owner.
Ethical approval
The study was approved by the regional Ethic Committee for Clinical and Epidemiological Veterinary Research (CERVO-2020-3-V).
Consent to participate
Informed consent was obtained from all individual participants included in the study.
Consent to publish
Not applicable.
Competing interests
The authors have no relevant financial or non-financial interests to disclose.
Conflict of interest
Authors declare no conflict of interest.
Additional information
Publisher's Note
Springer Nature remains neutral with regard to jurisdictional claims in published maps and institutional affiliations.
Supplementary information
Below is the link to the electronic supplementary material.
Rights and permissions
Springer Nature or its licensor (e.g. a society or other partner) holds exclusive rights to this article under a publishing agreement with the author(s) or other rightsholder(s); author self-archiving of the accepted manuscript version of this article is solely governed by the terms of such publishing agreement and applicable law.
About this article
Cite this article
Lemonnier, L.C., Couroucé, A., Cessans, M. et al. Detection of fungi in the airways of horses according to the sample site: a methodological study. Vet Res Commun (2023). https://doi.org/10.1007/s11259-023-10213-y
Received:

Accepted:

Published:

DOI: https://doi.org/10.1007/s11259-023-10213-y
Keywords