Abstract
The aim of the present study was to describe the gill morphology of the gilthead sea bream and sea bass fishes that showed the same feeding habits. Our study focused on the gross morphological, scanning and light microscopical features of the gills, where a many differences in the gill arches and gill rakers surface in both species were explained. Our results marked that; there was an interbranchial median elevation appeared in sea bream. The gill arches length and the gaps between decreased medial wards in both species. The gill rakers had similar arrangement and varied number in both species. The first lateral rakers row was the longest one in sea bass. However the gill filaments appeared in double rows. Gill filaments were long at middle and short at extremities of gill arch in both species. Scanning electron microscopy revealed the surfaces of gill arch covered by a mosaic of pavement cells, varied sized pores of chloride cells and many pointed spines on the rakers ventral border in both species. Two types of taste buds marked on the gill arches and rakers in sea bass. Many lamellae appeared on filaments in both species.
Access options
Buy single article
Instant access to the full article PDF.
US$ 39.95
Tax calculation will be finalised during checkout.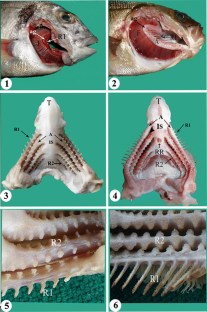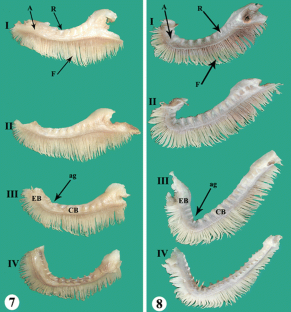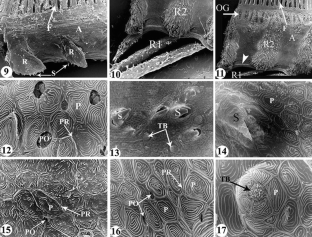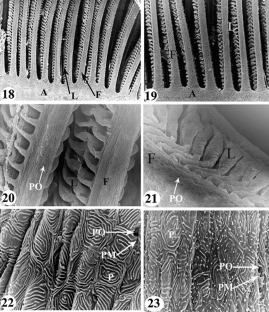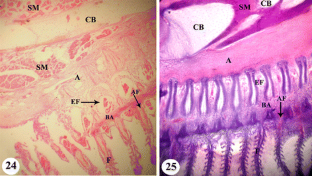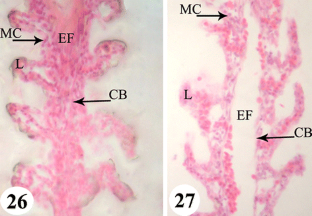 References
Abuzinadah OA (1995) Gill raker morphology in some Red Sea fish of different feeding preferences. J KAU Mar Sci 6:193–122

Ahmed A, Kassab M, Sayed A, Fayed M (2008) Anatomical, light and scanning electron microscopic studies on the Air breathing dendretic organ of the sharp tooth catfish (Clarias gariepinus). J Vet Anat 1(1):29–37

Balm PHM (1996) Trycophrya intermedia on the gills of rainbow trout acclimating to low ambient pH. J Fish Biol 48:147–150

Bermudez R, Losada AP, Vazquez S, Redondo MJ, Alvarez-Pellitero P, Quiroga MI (2010) Light and electron microscopic studies on turbot Psetta maxima infected with Enteromyxum scophthalmi: histopathology of turbot enteromyxosis. Dis Aquat Org 89:209–221

Carmona R, Gallego MG, Sanz A, Domezain A (2004) Chloride cells and pavement cells in gill epithelia of Acipenser naccarii: ultrastructural modifications in seawater-acclimated specimens. J Fish Biol 64:553–566

Eiras-Stofella DR, Charvet-Almeida P (2000) Gills scanning images of the seawater fish Eugerres brasilianus (Gerreidae). Braz Arch Biol Technol 43:421–423

El-Shebly A (2009) Aquaculture potential of Sea bass (Dicentrarchus Labrax) in BrackishWater fish farms in Egypt. J Appl Sci Res 5(7):765–769

Ezeasor DN (1982) Distribution and ultra structure of taste buds in the oropharyngeal cavity of the rainbow trout, Salmon gairdneri Richardson. J Fish Biol 20:53–68

FAO (2006) Fish Stat. http://www.fao.org/fi/statist/FISOFT/FISHPLUS.asp

Fernandes MN (1996) Morpho-functional adaptations of gills in tropical fish. In: Val AL, Almeida-Val VMF, Randall DJ (eds) Physiology and biochemistry of fishes of the Amazon. Manaus, INPA, pp 181–190

Freyhof J, Kottelat M (2008) Abramis brama. In: IUCN 2008. IUCN Red List of Threatened Species

GAFRD (1997) General Authority of Fish Research Development in Egypt. Annual report for country fish production

Ghosh TK, Singh ON, Roy PK, Munshi JSD (1988) Morphometrics and surface ultrastructure of gill rakers of three Indian teleostean fishes. Proc Indian Natl Sci Acad B 54:331–336

Goss GG, Laurent P, Perry SF (1992) Gill morphology and acid base regulation during hypercapnic acidosis in the brown bull head. Ictalurus nebulosus. Cell Tissue Res 268:539–552

Grau A, Crespo S, Saraquete JSD, Gonzalez De Canales ML (1992) The digestive tract of the amberjack Seriola dumerili. Risso: a light and scanning electron microscope study. J Fish Biol 41:287–303

Hoar WS, Randall DJ (1984) Fish physiology, Vol. X A. B. Academic Press, Orlando

Hossler FE, Musll G, Karl J, Karnaky JR, Epstein FH (1985) Surface ultra structure of the gill arch of the killifish, fundulus heteroclitus, from seawater and freshwater, with special reference to the morphology of apical crypts of chloride cells. J Morphol 185:377–386

Hughes GM, Morgan M (1973) The structure of fish gills in relation to their respiratory function. Biol Rev 48:419–475

Kumari U, Yashpal M, Mittal S, Mittal AK (2005) Morphology of the pharyngeal cavity, especially the surface ultrastructure of gill arches and gill rakers in relation to the feeding ecology of the catfish Rita rita (siluriformes, bagridae). J Morphol 265:197–208

Laurent P, Hebibi N (1989) Gill morphometry and fish osmoregulation. Can J Zool 67:3055–3063

Monteiro FM, Dutkiewicz S, Follows MJ (2011) Biogeographical controls on the marine nitrogen fixers. Glob Biogeochem Cycles 25:GB2003. doi:10.1029/2010GB003902

Moodie GEE (1985) Gill raker variation and the feeding niche of some temperate and tropical freshwater fishes. Environ Biol Fish 13(1):71–76

Moyle PB, Cech JJ (1996) Fishes: An introduction to ichthyology, 3rd edn. Prentice Hall, Upper Saddle River

Mummert JR, Drenner RW (1986) Effect of size on filtering efficiency and selective particle ingestion of filter feeding clupeid. Trans Am Fish Soc 115:522–528

Murray HM, Wright GM, Goff GP (1994) A study of the posterior oesophagus in the winter flounder, Pleuronectes americanus and the yellowtail flounder, Pleuronectes ferrugineus: morphological evidence for pregastric digestion? Can J Zool 72:1191–1198

Perry SF (1997) The chloride cell: structure and function in the gills of freshwater fishes. Annu Rev Physiol 59:325–347

Podkowa D, Goniakowska-Witalinska L (2003) Morphology of the air-breathing stomach of the catfish Hypostomus plecostomus. J Morphol 257:147–163

Saliu JK, Olonire GT (2008) A comparative study of the gill anatomy of Clarias anguillaris, Chrysichthys longifilis and Synodontis membranaceus from Asa reservoir and Kainji reservoir, Nigeria. Life Sci J 5(1):85–87

Salman NA, AL-Mahdawi GJ, Heba HM (2005) Gill rakers morphology and filtering mechanism in some marine teleosts from Red Sea coasts of Yamen. Egypt J Aquat Res 31:286–296

Sanderson SL, Cech JJ, Patterson MR (1991) Fluid dynamics in Suspension feeding blackfish. Science 251:1346–1348

Tibbetts IR (1997) The distribution and function of mucous cells and their secretions in the alimentary tract of Arrhamphus sclerolepis krefftii. J Fish Biol 50:809–820

Varsamos S (2002) Tolerance range and osmoregulation in hyper saline conditions in the European sea bass Dicentrarchus labrax. L. Mar Biol 138:909–915

Varsamos S, Diaz J, Charmantier G, Flik G (2002) Branchial chloride cells in Sea bass (Dicentrarchus labrax) adapted to fresh water, seawater, and doubly concentrated seawater. J Exp Zool 293:12–26

Vigliano FA, Bermudez R, Quiroga MI, Nieto JM (2006) Evidence for melano-macrophage centres of teleost as evolutionary precursors of germinal centres of higher vertebrates: an immunohistochemical study. Fish Shellfish Immunol 21(4):467–471

Zayed AE, Salma AM (2004) Morphological study on the gills of two species of fresh water fishes: Oreochromis niloticus and Clarias gariepinus. Ann Anat 186:295–304
About this article
Cite this article
Alsafy, M.A.M. Gill morphology in two Mediterranean Sea fishes of similar feeding preferences: sea bream (Sparus aurata L) and sea bass (Dicentrarchus labrax). Vet Res Commun 37, 163–170 (2013). https://doi.org/10.1007/s11259-013-9561-2
Accepted:

Published:

Issue Date:
Keywords
Gilthead sea bream

Sea bass

Gills

Morphology

Light microscopy

Scanning electron microscopy