Abstract
Saprolegnia species have been implicated for significant fungal infections of both living and dead fish as well as their eggs. In the present study, an oomycete water mould (strain HP) isolated from yellow catfish (Peleobagrus fulvidraco) eggs suffering from saprolegniosis was characterized both morphologically and from ITS sequence data. It was initially identified as a Saprolegnia sp. isolate based on its morphological features. The constructed phylogenetic tree using neighbour joining method indicated that the HP strain was closely related to Saprolegnia ferax strain Arg4S (GenBank accession no. GQ119935), that had previously been isolated from farming water samples in Argentina. In addition, the zoospore numbers of strain HP were markedly influenced by a variety of environmental variables including temperature, pH, formalin and dithiocyano-methane. Its zoospore formation was optimal at 20 °C and pH 7, could be well inhibited by formalin and dithiocyano-methane above 5 mg/L and 0.25 mg/L, respectively. To our knowledge, this is the first report on the S. ferax infection in the hatching yellow catfish eggs.
Access options
Buy single article
Instant access to the full article PDF.
USD 39.95
Price includes VAT (USA)
Tax calculation will be finalised during checkout.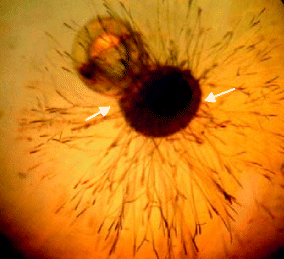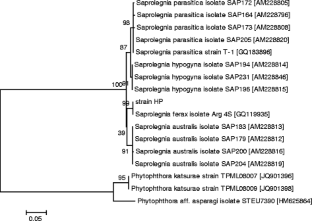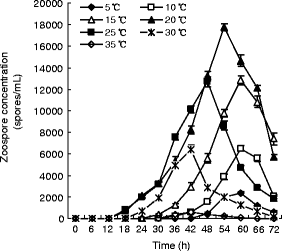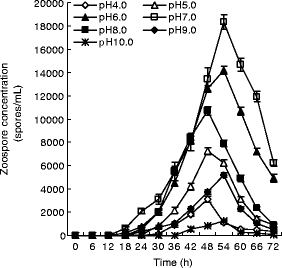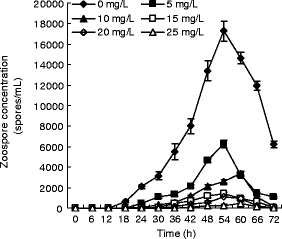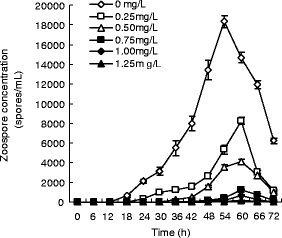 References
Ali EH (2005) Morphological and biochemical alterations of oomycete fish pathogen Saprolegnia parasitica as affected by salinity, ascorbic acide and their synergistic action. Mycopathologia 159:231–243

Bangyeekhun E, Pylkko P, Vennerstrom P, Kuronen H, Cerenius L (2003) Prevalence of a single fish-pathogenic Saprolegnia sp. colne in Finland and Sweden. Dis Aquat Org 53:47–53

Beakes G (1982) A comparative account of cyst coat ontogeny in saprophytic and fish-lesion (pathogenic) isolates of the Saprolegnia declina-parasitica complex. Can J Bot 61:603–625

Chen X, Xu J, Ai C (2011) Study on nutrient requirement and formulated feed of Yellow catfish, Pelteobagrus fulvidraco. Feed Indus 32(10):48–51

Cooke DEL, Drenth A, Duncan JM, Wagels G, Brasier CM (2000) A molecular phylogeny of Phytophthora and relelated oomycetes. Fungal Genet Biol 30:17–32

Diéguez-Uribeondo J, Fregeneda-Grandes JM, Cerenius L, Pérez-Iniesta E, Aller-Gancedo JM, Tellería MT, Söderhäll K, Martín MP (2007) Re-evaluation of the enigmatic species complex Saprolegnia diclina–Saprolegnia parasitica based on morphological, physiological and molecular data. Fungal Genet Biol 44:585–601

Forneris G, Bellardi S, Palmegiano GB, Saroglia M, Sicuro B, Gasco L, Zoccarato I (2003) The use of ozone in trout hatchery to reduce saprolegniosis incidence. Aquaculture 221:157–166

Ghiasi M, khosravi AR, Soltani M, Binaii M, Shokri H, Tootian Z, Rostamibashman M, Ebrahimzademousavi H (2010) Characterization of Saprolegnia isolates from Persian sturgeon (Acipencer persicus) eggs based on physiological and molecular data. J Med Mycol 20:1–7

Gieseker CM, Serfling SG, Reimschuessel R (2006) Formalin treatment to reduce mortality associated with Saprolegnia parasitica in rainbow trout, Oncorhynchus mykiss. Aquaculture 253(1–4):120–129

Hanjavanit C, Kitancharoen N, Rakmanee C (2008) Experimental infection of aquatic fungi on eggs of African catfish (Clarias gariepinus Burch). KKU Sci J 36:36–43

Hussein MMA, Hatai K (2002) Pathogenicity of Saprolegnia species associated with outbreaks of salmonid saprolegniosis in Japan. Fish Sci 68:1067–1072

Johnson TW, Seymour RL, Padgett DE (2003) Biology and systematics of the saprolegniaceae. University of North Carolina, Wilmington

Ke X, Wang J, Li M, Gu Z, Gong X (2010) First report of Mucor circinelloides occurring on yellow catfish (Pelteobagrus fulvidraco) from China. FEMS Microbiol Lett 302(2):144–150

Ke X, Wang J, Gu Z, Li M, Gong X (2009) Morphological and molecular phylogenetic analysis of two Saprolegnia sp. (Oomycetes) isolated from silver crucian carp and zebra fish. Mycol Res 113:637–644

Kitancharoen N, Yuasa K, Hatai K (1996) Effects of pH and temperature on growth of Saprolegnia declina and S. parasitica isolated from various sources. Mycoscience 37:385–390

Koeypudsa W, Phadee P, Tangtrongpiros J, Hatai K (2005) Influence of pH, temperature and sodium chloride concentration on growth rate of Saprolegnia sp. J Sci Res Chula Univ 30(2):123–130

Lee OK, Lee SM (2005) Effects of the dietary protein and lipid levels on growth and body composition of bagrid catfish, Pseudobagrus fulvidraco. Aquaculture 243:323–329

Mousavi HAE, Soltani M, Khosravi A, Mood SM, Hosseinifard M (2009) Isolation and characterization of saprolegniaceae from Rainbow trout (Oncorhynchus mykiss) eggs in Iran. J Fish Aqua Sci 4(6):330–333

Noga EJ (1993) Water mold infection of freshwater fish: Recent advance. Annu Rev Fish Dis 3:291–304

Oláh J, Farkas J (1978) Effect of temperature, pH, antibiotics, formalin and malachite green on the growth and survival of Saprolegnia and Achlya parasitic on fish. Aquaculture 13(3):273–288

Peduzzi R, Bizzozero S (1977) Immunohistochemical investigation of four Saprolegnia species with parasitic activity in fish: serological and kinetic characterization of chymotrypsin-like activity. Microb Ecol 3:107–119

Pickering AD, Wiloughby LG (1982) Saprolegnia infections of salomonid fish. In: Roberts RJ (ed) Microbial diseases of fish. Academic, London

Rach JJ, Valentine JJ, Schreier TM, Gaikowski MP, Crawford TG (2004) Efficacy of hydrogen peroxide to control saprolegniosis on channel catfish (Ictalurus punctatus) eggs. Aquaculture 238:135–142

Ruso AR (1987) Role of habitat complexity in mediating predation by the gray damselfish Abudefduf sordidus on epiphytal amphipods. Mar Ecol Prog Ser 36:101–105

Smith SN, Armstrong RA, Rimmer JJ (1984) Influence of environmental factors on zoospores of Saprolegnia diclina. Trans Brit Mycol Soc 82(3):413–421

Stueland S, Hatai K, Skaar I (2005) Morphological and physiological characteristics of Saprolegnia spp. strains pathogenic to Atlantic salmon, Salmo salar L. J Fish Dis 28:445–453

Van West P (2006) Saprolegnia parasitica, an oomycete pathogen with a fishy appetite: New challenges for an old problem. Mycologist 20:99–104

Walker CA, Van West P (2007) Zoospore development in the oomycetes. Fungal Biol 21(1):10–18

Whisler HC (1996) Identification of Saprolegnia spp. pathogenic in Chinook salmon. Final report, DE-AC79-90BP02836. US Department of Energy, Washington D.C

Wu S, Gao T, Zheng Y, Wang W, Cheng Y, Wang G (2010) Microbial diversity of intestinal contents and mucus in yellow catfish (Pelteobagrus fulvidraco). Aquaculture 303:1–7

Ye S, Li H, Qiao G, Li Z (2009) First case of Edwardsiella ictaluri infection in China farmed yellow catfish Pelteobagrus fulvidraco. Aquaculture 292:6–10

Zhang J, Xu Y (2006) The use of dithiocyano-methane in fish diseases. Inl Fish 31(5):38–39
Acknowledgments
This work has been contributed equally by W.D. Zheng and financially supported by the National High-tech R&D Program, P.R. China (No. 2011AA10A216), earmarked fund for Modern Agro-industry Technology Research System, P.R. China (No. CARS-46), the Special Fund for the Agro-scientific Research in the Public Interest (No. 201203085) and Shanghai Key Technology Program for Agriculture, P.R. China.
Additional information
Haipeng Cao and Weidong Zheng are contributed equally to this work.
About this article
Cite this article
Cao, H., Zheng, W., Xu, J. et al. Identification of an isolate of Saprolegnia ferax as the causal agent of saprolegniosis of Yellow catfish (Pelteobagrus fulvidraco) eggs. Vet Res Commun 36, 239–244 (2012). https://doi.org/10.1007/s11259-012-9536-8
Accepted:

Published:

Issue Date:
Keywords
Saprolegnia ferax

Causal agent

Phylogenetic analysis

Yellow catfish egg

Saprolegniosis